TV This Week, Jan. 28-Feb. 3: 'The Simone Biles Story,' the Grammys and more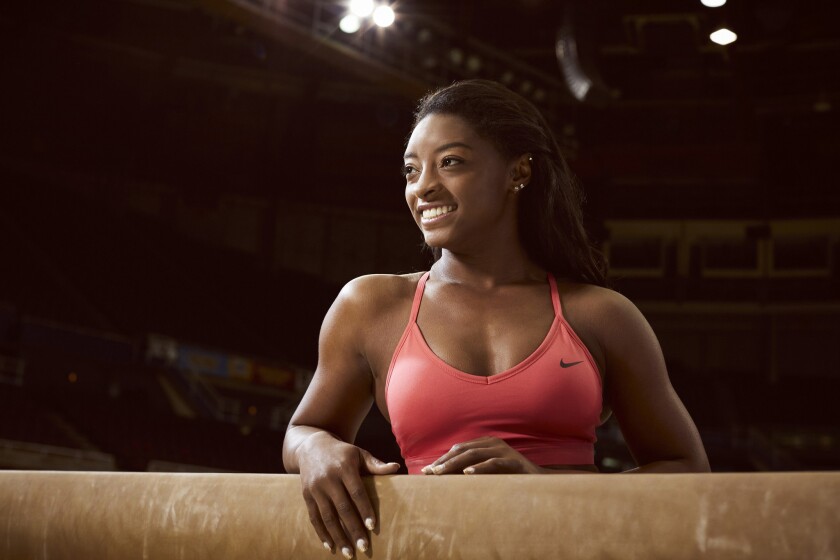 SUNDAY
The NFL's best will leave some of it, but not all of it, on the field at the "2018 Pro Bowl" in Orlando. 11:50 a.m. ABC, ESPN
P!nk, Lady Gaga and Broadway legend Patti LuPone are among the scads of performers slated for "The 60th Annual Grammy Awards." "The Late Late Show's" James Corden hosts the music industry event at New York's Madison Square Garden. 4:30 p.m. CBS
The twisted tale of Branch Davidians cult leader David Koresh and the group's deadly 1993 standoff with federal agents is retold in the two-part special "Waco: Madman or Messiah." 9 p.m. A&E; also Mon.
You can check out any time you like, but you can never leave in the imported mystery drama "Grand Hotel." In Spanish with English subtitles. 10 p.m. KCET
"Queen Elizabeth's Secret Agents" hunt down conspirators, Catholics and any one else who poses a threat to Her Majesty's reign in this three-part documentary series. 10 p.m. KOCE
The 1986 loss of the space shuttle Challenger is revisited in the debut of the anthology series "Days That Shaped America." 10 p.m. History Channel
MONDAY
The 2017 rock doc "May It Last: A Portrait of the Avett Brothers" gets up close and personal with the sibling-led Americana stalwarts. 8 p.m. HBO
A Chinese filmmaker gets up close and personal with a twentysomething American drifter in the documentary "I Am Another You" on a new "Independent Lens." 10 p.m. KOCE
Pulitzer Prize-winning journalist Charlie LeDuff sounds the alarm about the resurgence of heavily armed militia movements in the U.S. in the new special "America on Fire." 11 p.m. A&E
TUESDAY
Broadcast networks and cable news outlets offer live coverage as President Trump delivers his first "State of the Union" address to a joint session of Congress. 6 p.m. various channels
A word from our sponsors: Classic ads are on display in the new special "Super Bowl Greatest Commercials 2018." Boomer Esiason and Daniela Ruah host. 8 p.m. CBS
Hell hath no fury like Rose McGowan. The actress-activist, in the thick of the Harvey Weinstein sex-abuse scandal, takes center stage in the new reality series "Citizen Rose." 8 p.m. E!
WEDNESDAY
Creatures great and small are ready for their closeups in "Animals With Cameras, A Nature Miniseries." 8 p.m. KOCE
The two-part special "Buried: Knights Templar and the Holy Grail" digs into the history of the militaristic religious order that rose and fell during the Crusades. 8 p.m. History Channel; concludes next Wed.
The sky's the limit: "Nova" tracks "The Impossible Flight" of the first solar-powered airplane to circle the globe in this new episode. 9 p.m. KOCE
THURSDAY
Football coaches and former colleagues Bill Belichick and Bill Parcells are "The Two Bills" profiled in this sports documentary airing on a new "30 for 30." 6 p.m. ESPN
"Brooklyn Nine-Nine's" Terry Crews hosts "Puppy Bowl: Super Animal Commercials" to kick off a night of shows featuring super-cute canines. 7 p.m. Animal Planet
An unhappy L.A. couple set their marital woes to music in director-star Zoe Lister-Jones' bittersweet 2017 indie comedy "Band Aid." With Adam Pally and "Portlandia's" Fred Armisen. 8:25 p.m. Showtime
The Kristen Bell-Ted Danson fantasy comedy "The Good Place" wraps its sophomore season. 8:30 p.m. NBC
The Anna Faris-Allison Janney sitcom "Mom" hits the 100-episode mark. 9 p.m. CBS
The long-running Louisiana-set reality series "Swamp People" dredges up another season. 9 p.m. History Channel
A self-centered Harvard scholar (Glenn Howerton) is reduced to teaching "A.P. Bio" to a bunch of high schoolers in Toledo, Ohio, in this new sitcom. Patton Oswalt also stars. 9:30 p.m. NBC
FRIDAY
Gone girl: "Castle's" Stana Katic plays an FBI agent who vanished without a trace only to resurface six years later in the new mystery drama "Absentia." Any time, Amazon
"The Killing's" Joel Kinnaman is a super soldier tasked with solving a rich man's murder in the new futuristic action series "Altered Carbon." James Purefoy ("Rome") also stars. Any time, Netflix
A man and a woman, coworkers at a slaughterhouse in Hungary, meet nightly in the same shared dream in the imported 2017 fantasy drama "On Body and Soul." Any time, Netflix
The new five-part series "#MeToo, Now What?" surveys the seismic shift in societal attitudes about sexual abuse and harassment. 7:30 p.m. KOCE
The latest winner is revealed as the Gordon Ramsay-hosted culinary competition "Hell's Kitchen" concludes another season. 8 p.m. Fox
The rapper Nas, with an assist from the National Symphony Orchestra, revisits his landmark 1994 debut album "Illmatic" on a new "Great Performances." 9 p.m. KOCE
"K.C. Undercover," we hardly knew ye. The spy comedy starring Zendaya airs its series finale. 9 p.m. Disney Channel
The national opioid-addiction epidemic is viewed from a variety of angles in the new docu-series "The Trade." 9 p.m. Showtime
Section 20 is back in the counter-terrorism business, with a few new members to boot, in a fifth season of the action drama "Strike Back." 10 p.m. Cinemax
Phoebe Robinson and Jessica Williams are "2 Dope Queens" in a new series of comedy-variety specials based on their popular podcast. Williams' former "Daily Show" boss Jon Stewart is the first guest. 11:30 p.m. HBO
SATURDAY
"Saturday Night Live" comes to prime time with batch of classic football-themed specials. 8 p.m. NBC
"Captain America's" Chris Evans fights for custody of his math-whiz niece in director Marc Webb's 2017 dramedy "Gifted." With Mckenna Grace, Jenny Slate and Octavia Spencer. 8 p.m. HBO
Golden girl: The TV movie "The Simone Biles Story: Courage to Soar" celebrates the American gymnast who won multiple medals at the 2016 Rio Olympics. Jeanté Godlock stars. 8 p.m. Lifetime
'Tis the night before the Super Bowl, which means it's time for this year's "NFL Honors." From Minneapolis. 9 p.m. NBC
Someone's got a crush on Lacey Chabert in the new made-for-cable romantic fable "My Secret Valentine." With Andrew Walker. 9 p.m. Hallmark Channel
Customized TV Listings are available here: www.latimes.com/tvtimes
Click here to download: TV listings for the week of Jan. 28 - Feb. 3, 2018, in PDF format
---
From the Emmys to the Oscars.
Get our revamped Envelope newsletter, sent twice a week, for exclusive awards season coverage, behind-the-scenes insights and columnist Glenn Whipp's commentary.
You may occasionally receive promotional content from the Los Angeles Times.