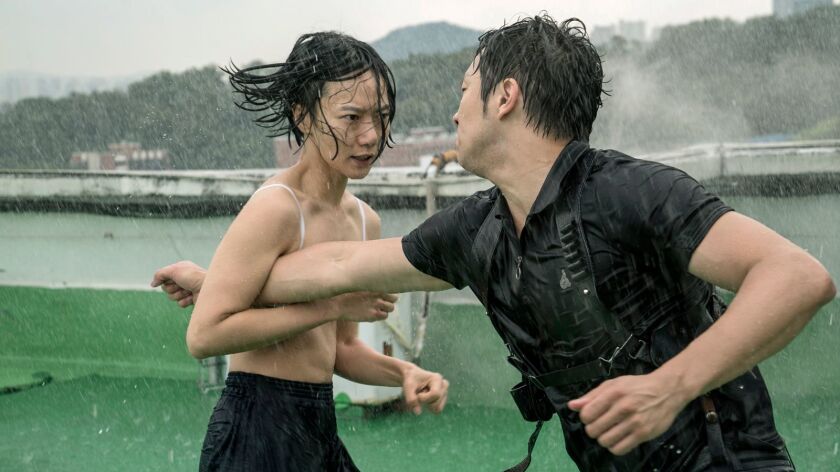 SUNDAY
Your not-so-humble host finds himself in L.A. on the return of "Anthony Bourdain: Parts Unknown." 6 and 9 p.m. CNN
Hailee Steinfeld, Miley's kid sister Noah Cyrus and "America's Got Talent" winner Grace Vanderwaal are among the youthful performers at "The 2017 Radio Disney Music Awards." 7 p.m. Disney Channel
The new special "Sexual Assault in College: Tamron Hall Investigates" uncovers a crisis on campuses across the country. 8 p.m. Investigation Discovery
The reality series "Return to Amish" returns with a two-hour fourth-season premiere. 8 p.m. TLC
The bewitching Cassie Nightingale (Catherine Bell) is back in a new season of "Good Witch." 9 p.m. Hallmark Channel
The origins of Batman, Superman and other caped and noncaped crusaders are recalled in the two-night special "Superheroes Decoded." 9 p.m. History Channel; also Mon.
The fire last time: The 2017 documentary "LA 92" uses raw footage to reconstruct events surrounding the 1992 Los Angeles riots. 9 and 11 p.m. National Geographic Channel
Bow down before "American Gods." Emily Browning, Gillian Anderson and "Deadwood's" Ian McShane head the cast of this multi-character fantasy drama based on Neil Gaiman's award-winning, mythologically inspired novel. 9 and 10:05 p.m. Starz
It's case closed on the third-season finale of the anthology series "American Crime." 10 p.m. ABC
MONDAY
The shrimps are at the barbie, not on it, on a new season of "Kids BBQ Championship." 8 p.m. Food Network
The devil (Tom Ellis) is in the details as the supernatural detective drama "Lucifer" returns with new episodes. 9 p.m. Fox
The Joel McHale sitcom "The Great Indoors" sets up camp on a new night and time. 9:30 p.m. CBS
America's controversial drone-war program is targeted in the new exposé "National Bird" airing on "Independent Lens." 10 p.m. KOCE
"Warning: This Drug May Kill You" is the takeaway from this new documentary about the national opioid-addiction epidemic. 10 p.m. HBO
TUESDAY
If you lived here, you'd have have cholera by now: The new unscripted series "Victorian Slum House" subjects modern-day Brits to the same sort of substandard living conditions their forebears endured 150 years ago. 8 p.m. KOCE
"Fashion Police" dish on the good, the glam and the what-were-they-thinking? at the 2017 Met Gala. With Melissa Rivers. 8 p.m. E!
The reality series "Little People, Big World" and "7 Little Johnstons" return with new seasons. 9 and 10 p.m. TLC
First, Andrew Zimmern takes Manhattan, then he takes Berlin on "Bizarre Foods: Delicious Destinations." 9 and 9:30 p.m. Travel Channel
"Frontline" examines a 2016 Supreme Court ruling on juveniles sentenced to life without parole in the new episode "Second Chance Kids." 10 p.m. KOCE
Comic Iliza Shlesinger explains it all for you, with a little help from her guests, in her topical new late-night talk show "Truth & Iliza." 10 p.m. Freeform
WEDNESDAY
"Nature" gets up close and personal with sea creatures of the cetacean persuasion in the new two-part episode "Dolphins: Spy in the Pod." 8 p.m. KOCE
The new two-part nature series "Plants Behaving Badly" looks into what carnivorous plants and orchids get up to when they think no one is watching. David Attenborough narrates. 10 p.m. KOCE
The debut of "Andy Cohen's Then & Now" sets the way-back machine for 1997 as Cohen and assorted celebs reminisce about pop-culture. 10 p.m. Bravo
THURSDAY
"War, what is it good for?" A new "Soundtracks: Songs That Defined History" turns its attention to the Vietnam War and Kent State. 7 and 10 p.m. CNN
The Muppets' Miss Piggy and the Swedish Chef join the fun on a new "MasterChef Junior." 8 p.m. Fox
The royal they: The 2016 documentary "Princes of the Palace" profiles Britain's Prince Philip, his son Prince Charles, and Charles' sons William and Harry. 9 p.m. KOCE
We ain't saying that they're gold diggers, they're just the "Second Wives Club" in this new reality series. 9 and 10 p.m. E!
FRIDAY
Nerdy teens hoping to one day slip the surly bonds of Earth and journey to the Red Planet tell why in the new documentary "The Mars Generation." Any time, Netflix
You can count on them: Our psychically interconnected heroes and heroines are back in action in a second season of "Sense8," the Wachowskis' trippy and touching sci-fi drama. With Bae Doona, Tuppence Middleton, Miguel Angel Silvestre, et al. Any time, Netflix
Idris Elba and "Game of Thrones' " Richard Madden turn Paris upside down in the 2016 spy drama "The Take." 8 p.m. Cinemax
"Al Madrigal: Shrimpin' Ain't Easy" showcases the comic and former "Daily Show" correspondent in an all-new stand-up special. 9 p.m. Showtime
The Tom Selleck cop drama "Blue Bloods" ends another season. 10 p.m. CBS
SATURDAY
The new documentary "Batman & Bill" profiles comic-book writer Bill Finger, unsung co-creator of the aforementioned Dark Knight. Any time, Hulu
They probably shouldn't have pledged in the new thriller "Deadly Sorority." With Greer Grammer, Chloe Babcook and Moira Kelly. 8 p.m. Lifetime
"Miracle on the Hudson" pilot Capt. Chesley "Sully" Sullenberger (Tom Hanks) sets 'er down nice and easy in director Clint Eastwood's 2016 docudrama "Sully." 8:20 p.m. HBO
"Chris Gethard: Career Suicide" is a filmed version of the comic and "Broad City" co-star's funny and very frank off-Broadway solo show. 10 p.m. HBO
"Hardcore Henry" is half-man, half-machine in this 2015 action tale filmed like a first-person-shooter video game. With Sharlto Copley and Tim Roth. 10 p.m. Showtime
She's leaving home, bye bye, in the 2017 TV movie "Running Away." With Holly Deveaux and Paula Trickey. 10 p.m. Lifetime
---
Customized TV Listings are available here: www.latimes.com/tvtimes
Click here to download
TV listings for the week of April 30 - May 6, 2017 in PDF format
---