TV This Week, July 8-14: 'Harlots' on Hulu and more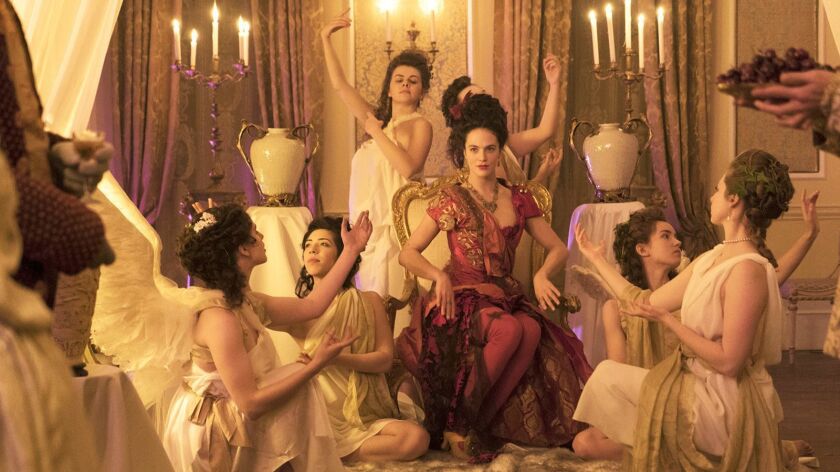 SUNDAY
Motocross rider Travis Pastrana gives Evel Knievel his due by performing three of the legendary daredevil's death-defying stunts in the new special "Evel Live." From Las Vegas. 5 and 8 p.m. History Channel
Tennis great Roger Federer goes "Running Wild With Bear Grylls" through the Swiss Alps on a new episode of the celebrity outdoor-adventure series. 7 p.m. NBC
The seven-part docu-series "The 2000s" offers a refresher course in major events of the decade including the Sept. 11 attacks, Hurricane Katrina and the introduction of the iPhone. 6 and 9 p.m. CNN
Young love takes a dark turn in the new thriller "Murdered at 17." With Cristine Prosperi ("Degrassi: The Next Generation") and Blake Burt. 8 p.m. Lifetime
"Nocturnal Animals' " Amy Adams plays a reporter investigating the murders of two young girls in her hometown in "Sharp Objects," a new eight-part mystery drama based on "Gone Girl" author Gillian Flynn's debut novel. Patricia Clarkson, Chris Messina and Elizabeth Perkins also star. 9 p.m. HBO
Kristin Cavallari leaves "Laguna Beach" and "The Hills" behind and sets up shop in Nashville in her latest reality series "Very Cavallari." 10 p.m. E!
MONDAY
History Channel's annual "Car Week" rolls on with the new special "Hot Rods and Muscle Cars." 8 p.m. History Channel
"Jerry! Jerry! Jerry!" A new edition of "Cultureshock" explores the tabloid-talk show phenomenon. Interviewees include Jerry Springer, Maury Povich and Sally Jessy Raphael. 9 p.m. A&E
"POV" presents the new documentary "The Workers Cup," which tells the stories of African and Asian migrant workers enduring harsh conditions to help help Qatar prepare to host soccer's 2022 World Cup. 10 p.m. KOCE
TUESDAY
Give your regards to Broadway — and Wilshire Boulevard, etc., etc. — in the new special "10 Streets That Changed America." Geoffrey Baer is the host. 8 p.m. KOCE
A long time ago, in a galaxy not so far away… "Truck Wars." This new special looks at car companies' efforts to build a better pickup truck than their competition. 8 p.m. History Channel
The Busbys are still "Outdaughtered" by their quintuplets in a new season of this reality series. 8 p.m. TLC
Vengeance is hers, or it will be once she tracks down the baddies who wiped out her whole tribe, in the new fantasy drama "The Outpost." With Jessica Green. 9 p.m. KTLA
Celebrity chef Marcus Samuelsson takes a culinary tour of diverse cultures right here at home, "No Passport Required," in this six-part foodie travelogue. First up: Middle Eastern food in Detroit. 9 p.m. KOCE
Folks're still gettin' hitched from the git-go in new episodes of "Married at First Sight." 9 p.m. Lifetime
They've been standing at attention for centuries, as you will see in the new special "China's Megatomb: Secrets of the Terracotta Army." 9 p.m. National Geographic Channel
The Los Angeles Devil Girls jump from VH1 to BET for a fourth season of the drama "Hit the Floor." 10 p.m. BET
The satirical series "Drunk History" goes medieval with tales of such historical figures as Joan of Arc and Genghis Khan. 10 p.m. Comedy Central
The new game show "Paid Off With Michael Torpey" gives recent college grads a shot at wiping out their student-loan debt. So… where do we sign up? 10 p.m. TruTV
WEDNESDAY
The bawds are back in town for a second season of "Harlots." Samantha Morton, Lesley Manville, Jessica Brown Findlay and new cast member Liv Tyler ("The Leftovers") star in this saucy drama set in 18th-century London. Any time, Hulu
Contestants dodge wacky projectiles while running an equally wacky obstacle course in the new Kevin Hart-hosted reality competition "TKO: Total Knock Out." 8 p.m. CBS
A new season of the docu-series "Earth's Natural Wonders" surveys what it takes for people and animals to survive in some of the most extreme climates our planet has to offer. 8 p.m. KOCE
Trek into the Rockies, the Himalayas, and then, the Andes in the new three-part nature series "Kingdoms of the Sky." 9 p.m. KOCE
The new series "Seatbelt Psychic" is kind of like "Cash Cab," but instead of trivia questions, you get messages from your dead grandma. Thomas John is your host/medium/driver. 10 p.m. Lifetime
"Dr. Pimple Popper" plies her trade in this new unscripted series featuring dermatologist and YouTube star Dr. Sandra Lee. We don't know what else to say except "Ew, gross." 10 p.m. TLC
The new comedy-anthology series "Bobcat Goldthwait's Misfits & Monsters" promises a weird and warped tale each week as well as guest stars like Michael Ian Black, Dave Foley, Danny Pudi, Seth Green and Melissa Joan Hart. 10 p.m. truth
THURSDAY
"The Disappearance" of a 10-year-old boy from a small community sets events in motion in this six-part mystery drama. With Peter Coyote and "Rectify's" Aden Young. 7 and 10 p.m. WGN America
The new documentary "Hot Wheels: 50th Anniversary Special" tracks the development of those miniature toy cars — each sold separately. 8 p.m. History Channel
Too many cooks! The judges themselves will line up for the chance to "Beat Bobby Flay" in the culinary competition's season premiere. 10 p.m. Food Network
Karrueche Tran ("Claws") and comic Deon Cole face off in an all-new "Lip Sync Battle." 10:30 p.m. Paramount Network
FRIDAY
Sean Astin ("Stranger Things") narrates "The Epic Tales of Captain Underpants" in this animated series based on the popular children's books. Any time, Netflix
A worried father (Forest Whitaker) and his daughter's boyfriend ("Divergent's" Theo James) go on a road trip/rescue mission — watch out for spoilers! — in apocalyptic thriller "How It Ends." Any time, Netflix
Bakers beat their batter while trying to beat the clock in the new fast-paced baking competition series "Sugar Rush." Any time, Netflix
SATURDAY
Tennis, anyone? The "2018 Wimbledon Championships" begin winding down with the ladies' final. From the All-England Lawn Tennis and Croquet Club in Wimbledon, England. 6 a.m. ESPN
More tennis, anyone? Emma Stone portrays Billie Jean King and Steve Carell is Bobby Riggs in a re-creation of their famed 1973 "Battle of the Sexes" in this fact-based 2017 comedy-drama. 8 p.m. HBO
A home invasion is streamed live on the internet and people "Keep Watching" in the 2017 found-footage thriller. With Bella Thorne and Natalie Martinez. 8 p.m. Starz
Customized TV listings are available here: www.latimes.com/tvtimes
Click here to download TV listings for the week of July 8 - 14, 2018, in PDF format
---
The complete guide to home viewing
Get Screen Gab for weekly recommendations, analysis, interviews and irreverent discussion of the TV and streaming movies everyone's talking about.
You may occasionally receive promotional content from the Los Angeles Times.