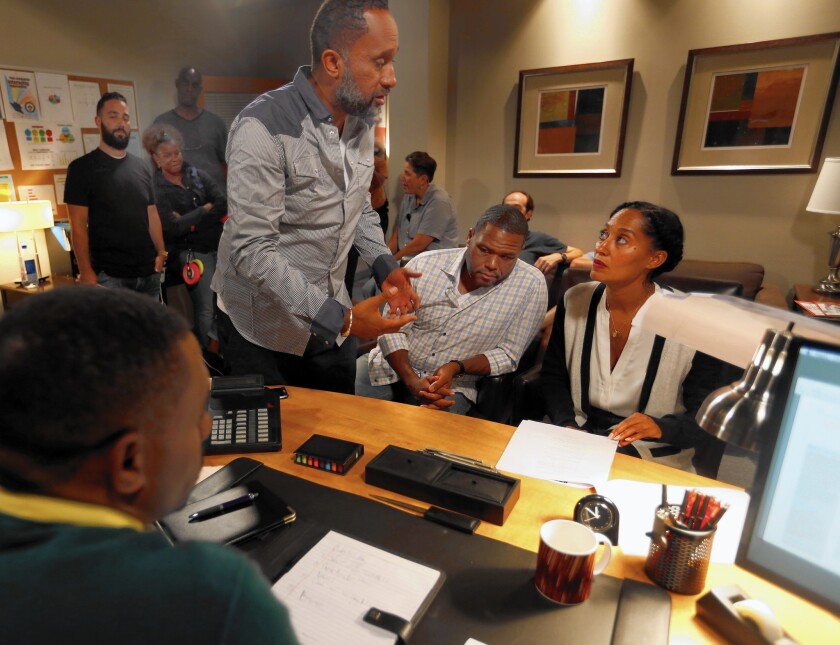 ABC's "black-ish" proved that even in a broadcast network landscape dominated by white people, black shows matter.
A mix of social commentary and family high jinks, the sitcom about the multigenerational Johnson family grappling with life in a predominantly white, upper-class neighborhood impressed critics and viewers with its often lighthearted but nevertheless incisive observations on cultural identity and assimilation.
With its glittery cast that includes Anthony Anderson, Tracee Ellis Ross and Laurence Fishburne, the series was one of the first renewals among last fall's freshman class. And more good news may come at Sunday's Emmy Awards — Anderson is nominated for lead actor in a comedy.
SIGN UP for the free Indie Focus movies newsletter >>
But in the show's second season premiere Wednesday, the comedy underlines the point that it isn't hitting cruise control on its narratives. Instead, it's taking on arguably the most inflammatory epithet in America today: The N-word.
In the episode, titled "THE Word," 6-year-old Jack Johnson (Miles Brown), the youngest son of Andre "Dre" Johnson (Anderson) and Rainbow Johnson (Ross), faces expulsion from his private prep school after mimicking Kanye West's "Gold Digger" during a talent show. In the infectious chorus, West raps, "I ain't sayin' she a gold digger, but she ain't messin' with no broke n—."
Even though the school has a zero tolerance policy against offensive language — a policy that Rainbow initiated — the parents publicly defend their son's performance while privately examining their own differing and conflicted feelings about the word.
Kenya Barris, the creator and executive producer of "black-ish," is aware that injecting humor into an epithet grounded in a history of hatred, violence and pain is a delicate and risky business: The word is so explosive that it's mostly referred to by its first letter.
"I admit, the word makes me nervous," Barris said while sitting in his office on the Burbank lot of Walt Disney Studios, where 'black-ish" is filmed. "It's the most galvanizing and polarizing word in American history."
Fishburne, who is also an executive producer of the series, added in a separate interview: "It's part of the legacy of slavery, and it's one of the things carried from that era that is unfortunately still with us."
The word is spoken 10 times in the 30-minute episode, though that figure could go up or down a bit; the final version of the program was still being edited at press time. Although Barris initially thought the word should be heard at least once, he decided to bleep it out every time. That way, the word has more comedic effect without the shock value.
"The main goal is to make people laugh," he said. "But we also want to start a conversation. We know this is a problem. We're supposed to be becoming more evolved as a society, and we're actually becoming less evolved. There are some things that are part of the DNA of this country that we haven't addressed, and that word is at the heart of it."
A tense backdrop
The episode airs during a time of heightened racial tensions across the country, a mood sparked by a series of widely publicized police shootings of unarmed black men. The troubling atmosphere became more grim this summer after nine black parishioners were massacred at a church in Charleston, S.C., an event that led to a fierce debate over the display of the Confederate battle flag and spurred further support for the Black Lives Matter movement.
The controversial word was prominently invoked recently and by someone with more power than a television program. President Obama employed the word during a June podcast with comedian Marc Maron to illustrate the country's continuing discomfort with race. Meanwhile, "Straight Outta Compton," a film about the origins of the gangsta rap group N.W.A, led the summer box office for several weeks and featured the word more than 75 times. (The "N" in the group's name stands for the hip-hop variation of the N-word, one that ends in an "a" instead of an "er.")
The word has a resonance for Barris, who considers himself a member of the "hip-hop generation."
"We took a word of condemnation that belittled people and co-opted it," said Barris, who co-created "America's Next Top Model" and served as a writer on the comedies "The Game" and "Are We There Yet?" "For me, it's like my tribal call. It connected me with a group of people who shared some of the same journey as me."
But he is aware that the word carries an explosive negative power and that African Americans have varying opinions about it: "Black people have a schizophrenic and complicated relationship with that word," Barris said.
Indeed. Chris Rock, in his "Bring the Pain" HBO special in 1996, declared, "There's like a civil war going on with black people, and there's two sides — black people and n—. And n— have got to go."
Jabari Asim, author of "The N Word: Who Can Say it, Who Shouldn't, and Why," said that the word has always been a provocative issue and probably always will be.
"People always ask me if these various explorations of the N-word will result in its eventually losing its venom and becoming another word," said Asim, an associate professor of writing, literature and publishing at Emerson College in Boston. "Although I would never say never, I would add it's highly unlikely. Or even extremely unlikely because of the persistence of racism. All the factors that continue to the perpetuation of the word are ultimately more important."
Its use can end or at the very least severely tarnish an otherwise successful career. When court documents revealed two years ago that celebrity chef Paula Deen used the racial slur, she got booted from the Food Network (she has returned, as a contestant on this season's "Dancing With the Stars.") Also earlier this year, after wrestler Hulk Hogan was heard tossing around the word on a leaked audiotape, he was fired.
But some artists, both African American and white, who have played with the term publicly have been given more latitude.
The late comedian Richard Pryor made the word a staple of his sold-out performances, and his style and usage were copied by a generation of African American comedians. (Pryor eventually swore off the word after a visit to Africa.) Filmmaker Quentin Tarantino dropped the N-word about 140 times in his slave western "Django Unchained" in 2012 and went on to win an Oscar for his screenplay, despite criticism from director Spike Lee and others.
Young hip-hop fans of all races mimic the lyrics of songs containing the word often with little or no awareness of its hurtful legacy. Terrence Howard, star of Fox's hit hip-hop drama "Empire," said in an Entertainment Weekly interview that he hopes the show uses the word in its upcoming second season.
"I'm mad that we don't say n— in the show," said Howard. "Why is TV showing something different from reality? Why is there a thing called censorship that stops people from hearing everyday talk. We use n— every day."
Another discussion
"Black-ish" is not the only broadcast series this fall that will explore use of the N-word. The pilot of NBC's new series "Truth Be Told," about two diverse couples, features an energetic exchange between Mitch (Mark-Paul Gosselaar), who is white, and his best friend, Russell (Tone Bell), who is black.
The scene takes off when Mitch starts reciting a Jay Z song with lyrics that contain the N-word. Russell warns Mitch it is not OK to use the word, even in recitation.
DJ Nash, who is white and an executive producer of the show, which premieres in October, said, "I've never said that word in my life. I wanted that scene to show that these two are such good friends and love each so much that no topic is off-limits."
The "black-ish" episode was inspired by Barris' 16-year-old daughter, who was receiving text messages intended to be friendly and not hurtful from white schoolmates with the word. When he confronted her, she remarked, "'It's just a word, Dad. A lot of my friends say it. It's on this song and that song.' It shocked me. She was right in some aspects."
He added, "This younger generation has given the word the ultimate pass, meaning anyone can say it. They have no concept of its history. It's just a cool word to them. As a writer, I'm all for the integrity of the artist, but do we have a certain responsibility, and where does that land, and is there a responsibility for the listener?
Barris later pitched ABC on the idea of an episode built around the N-word. The network approved without hesitation.
"They've been totally supportive," said Barris. "The biggest thing is, it's a corporation. It's Disney."
Paul Lee, ABC Entertainment Group president, praised the upcoming episode, saying Barris has "tackled an interesting subject and done it brilliantly. It's hilarious, and moving."
The pointed episode also prompted the show's cast members to examine their own feelings about the word.
"I'm not a fan of it — it's hate speech," said Ross. "I feel strongly about that word, the B-word, any kind of hate speech. I don't use it. It's a provocative and inflammatory word."
Fishburne said, "I have a lot of mixed feelings about it. It's not a word I use often. But sometimes, it's the only word to use in certain circumstances."
MORE:
'Key & Peele' 'quit before it dips' after finding laughs in fraught topics
---