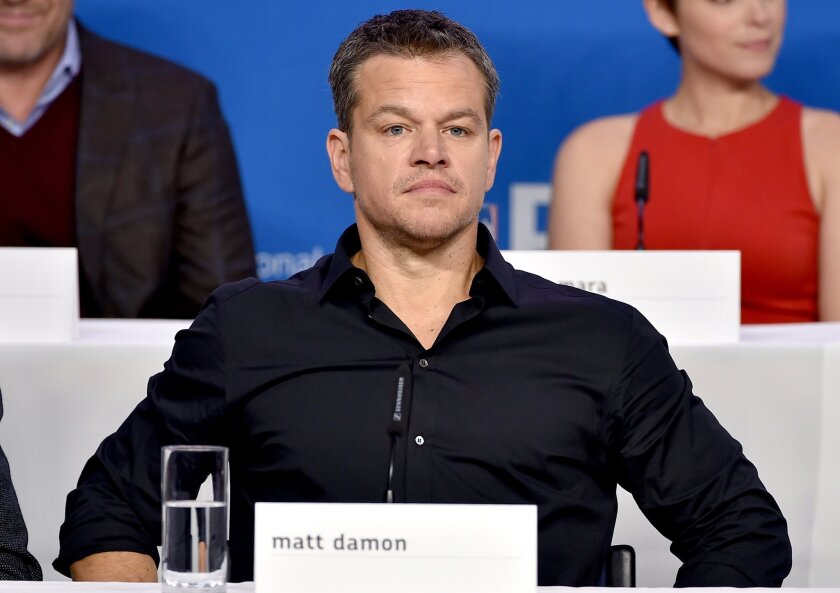 Matt Damon released a statement Wednesday addressing the backlash surrounding comments he made about diversity on Sunday's Season Four premiere of HBO's "Project Greenlight," the reality television series he produces with Ben Affleck.
The heart of the conflict centers around Damon dismissing a point about being mindful of diversity raised by producer Effie Brown, saying to her, "When we're talking about diversity, you do it in the casting of the film, not in the casting of the show." Internet reaction to Damon's comments were fevered, with Twitter dubbing the incident "Damonsplaining," a hyper-specific take on mansplaining.
------------
FOR THE RECORD
An earlier version of this post said identified Effie Brown as Effie White.
------------
In his statement, Damon claims that his comments were part of a larger conversation about diversity that did not make it into the show and that while he's sorry what he said upset people, he's grateful that they sparked further conversation on the matter. No clarification was made regarding what greater point Damon was trying to make on diversity.
SIGN UP for the free Indie Focus movies newsletter >>
The Damon statement in full read, "I believe deeply that there need to be more diverse filmmakers making movies. I love making movies. It's what I have chosen to do with my life and I want every young person watching 'Project Greenlight' to believe that filmmaking is a viable form of creative expression for them too.
"My comments were part of a much broader conversation about diversity in Hollywood and the fundamental nature of 'Project Greenlight' which did not make the show. I am sorry that they offended some people, but, at the very least, I am happy that they started a conversation about diversity in Hollywood. That is an ongoing conversation that we all should be having."
Follow me on Twitter at @midwestspitfire.
---