Jeffrey Dean Morgan thinks Negan's charismatic, but even he had a hard time watching 'Walking Dead'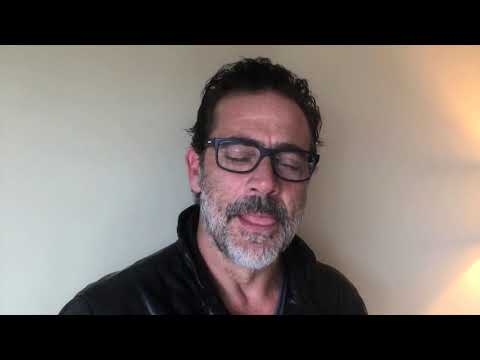 Jeffrey Dean Morgan: From breaking hearts on 'Grey's Anatomy' to breaking bad on 'The Walking Dead'. (Mel Melcon / Los Angeles Times)
Everybody hates Jeffrey Dean Morgan. And he's all right with that.
Morgan understands that when your first order of business as the newest cast member of AMC's monster hit "The Walking Dead" is to bash in the skulls of two beloved characters with a baseball bat wrapped in barbed wire, there's bound to be a little backlash.
That horrific deed was the centerpiece of the season opener Oct. 23; it marked Morgan's first full episode outing as Negan, the charismatic ruler of the brutal Saviors tribe. The character was introduced in the sixth season cliffhanger, where he trapped the courageous band of survivors led by Sheriff Rick Grimes (Andrew Lincoln) in a forest clearing and shattered their spirits by beating a character — whose identity was shrouded — to death with his lethal weapon Lucille.
The premiere revealed that Negan had bludgeoned not only Sgt. Abraham Ford (Michael Cudlitz) but also Glenn Rhee (Steven Yeun), who has been with the series since the first season. He also toyed with forcing Grimes to cut off the arm of his teen son Carl (Chandler Riggs). Morgan played Negan with sadistic glee, taunting his traumatized captives into submission as he carried out his savage vendetta.
The viciousness of the murders, depicted in graphic detail, exceeded the already considerable level of violence on the series. The episode was barely over before outraged fans were flooding Twitter, some proclaiming that they would never watch "The Walking Dead" again.
The next afternoon, Morgan was still largely oblivious to the furor: "I haven't been out in public yet, and haven't been on the Internet — I wanted to keep myself in a little bubble. But I saw ['Walking Dead' co-star] Norman [Reedus] this morning, and he told me, 'Oh, bro, everybody hates you.' "
He displayed a relaxed calm, indulging in several cigarettes inside a poolside cabana at the Four Seasons Hotel in Beverly Hills. Morgan's tall, lanky frame was clad in a black leather jacket and black jeans.
Not to say I want people to hate me, but to do a role that elicits that kind of reaction is a big reason why I wanted to do it.
— Jeffrey Dean Morgan
"Not to say I want people to hate me, but to do a role that elicits that kind of reaction is a big reason why I wanted to do it," Morgan said. "However, the more you get to know Negan, after this initial shock wears off, there are going to be aspects people will be attracted to. I really hope I can portray him in a way that people will hate themselves for liking him."
It's been a heady year for the ruggedly handsome actor. In addition to Negan, Morgan is also breaking bad on the big screen in the indie thriller "Desierto" as a vigilante "patriot" stalking a group of Mexicans trying to cross into the United States through a treacherous, barren desert. The film, which also stars Gael García Bernal and was co-written and directed by Jonas Cuarón, son of Oscar winner Alfonso Cuarón ("Gravity") — has received added attention due to the immigration platform of Republican presidential candidate Donald Trump.
But it's the hoopla accompanying his "Walking Dead" entrance that has rocked Morgan. "It's a little bit embarrassing, to be honest with you," he said of the promotional billboards spotlighting him and Lucille with the tagline, "We're just getting started." He's more comfortable with his "private, very quiet" life on his farm in upstate New York with his wife, actress Hilarie Burton ("One Tree Hill") and their 6-year-old son.
Although he anticipated a strong response to Negan and his killing of two key characters, he was unprepared for the volcanic feedback.
"I've never been a part of anything like this to this extreme and with this kind of viewership and fan base," he said. "It's a cultural phenomena. It's quite bigger than I ever thought — and I watch the show!"
The reaction is the polar opposite of what he experienced when he first pierced pop culture 10 years ago, melting and then breaking hearts on ABC's long-running medical drama "Grey's Anatomy" with his smooth and sexy portrayal of Denny Duquette, the doomed heart transplant patient who romanced surgical resident Izzie Stevens (Katherine Heigl).
When Duquette suddenly died after a stroke, scores of the show's 19.9 million fans swarmed the network switchboard with complaints. Some viewers circulated petitions asking for Duquette to be resuscitated.
Duquette and Negan are bookends to a steady run of roles for the Seattle native on film (he played the edgy Comedian in "Watchmen") and television ("Supernatural," "Weeds," "Magic City" and "Extant"). Just prior to "The Walking Dead," Morgan played a love interest for attorney Alicia Florrick (Julianna Margulies) on "The Good Wife."
But it's "The Walking Dead" that has caused the biggest stir. And despite all the "hate," there's still plenty of love for Morgan. Critics have largely praised his acting as Negan. At the show's rain-soaked premiere screening at Hollywood Forever Cemetery, thousands of fans greeted him with a rousing ovation (mixed in with a few scattered boos).
Morgan can sympathize with the legions of "Walking Dead" viewers upset at the episode.
For me, it wasn't even the gore. It was what Andy [Lincoln] did, seeing it all through his eyes, seeing our hero break.
— Jeffrey Dean Morgan
"We all knew it was going to be harsh — look, I hated seeing those two characters go," he said. "Steven is the heart and conscience of 'The Walking Dead.' Michael was a leader with a sense of humor that grounded the situation. They will be missed, no doubt, and it's up to us still on the show to keep alive what they meant."
He admits that even he had a hard time watching the brutal scene.
"I was there! I filmed the damn thing! My first viewing of it was watching it on my phone, and I finally had to put it to the side. It was too much. For me, it wasn't even the gore. It was what Andy did, seeing it all through his eyes, seeing our hero break," he says in admiration of costar Lincoln. "He blew me away. It's a tribute to what a brilliant actor he is. To those people complaining, I think it's as much about his performance as it is going through the loss and the grotesque shots."
(It is unlikely that the outrage will have any significant effect on the show's popularity. "The Walking Dead" is cable's top-rated show, and the season launch drew 17 million viewers, just shy of the record ratings for the Season 5 opener, which attracted 17.3 million viewers.)
If the show had been following Negan instead of Rick and his gang, then Negan would be our hero.
— Jeffrey Dean Morgan
Fans of "The Walking Dead" comic book have been anticipating Negan's entrance for years, and Morgan was determined to invest the villain with a humanity and dimension.
"The problem with Negan, is that he is such a larger-than-life character," he said. "Putting that in the landscape of 'The Walking Dead' has a tendency to stand out. I was so aware that I needed him to fit in the world and not come off as cartoon-y."
He maintained that Negan and Rick were two sides of the same coin. "This is a guy who has had a very parallel path to what Rick Grimes has had in order to get this far and have people follow him. If the show had been following Negan instead of Rick and his gang, then Negan would be our hero, and we would love and embrace him because of his charisma and wit."
Morgan was still working on "The Good Wife" in New York when he was summoned on short notice to "The Walking Dead" set in Atlanta to film the cliffhanger.
Scott M. Gimple, executive producer and show runner for the series, said Morgan had little time to prepare for the critical scene.
"It had to come together quickly," Gimple said. "We fitted him, did hair and makeup, and in the course of 48 hours, he was standing in front of everybody as Negan. What's really remarkable was that in the comic, Negan comes into the story and claims it as his own. Jeffrey is amazing. You just see him take the show over."
Despite the horror of the season opener, Morgan said he hopes fans will stick with the show: "There's some really great storytelling coming. We're certainly not out to offend people. But we are telling a story, and sometimes in this world there's going to be things you don't necessarily want to see."
He chuckled, "I still hope people tune in to see their heroes. Even I hope they win, for God's sake, and I'm Negan!!"
He added with a mischievous smile, "But let's not let them win for awhile. I gotta torture them a bit."
Twitter:@GeBraxton
Get our L.A. Goes Out newsletter, with the week's best events, to help you explore and experience our city.
You may occasionally receive promotional content from the Los Angeles Times.