'The Loudest Voice' turns the spotlight on Roger Ailes — the man who made President Trump possible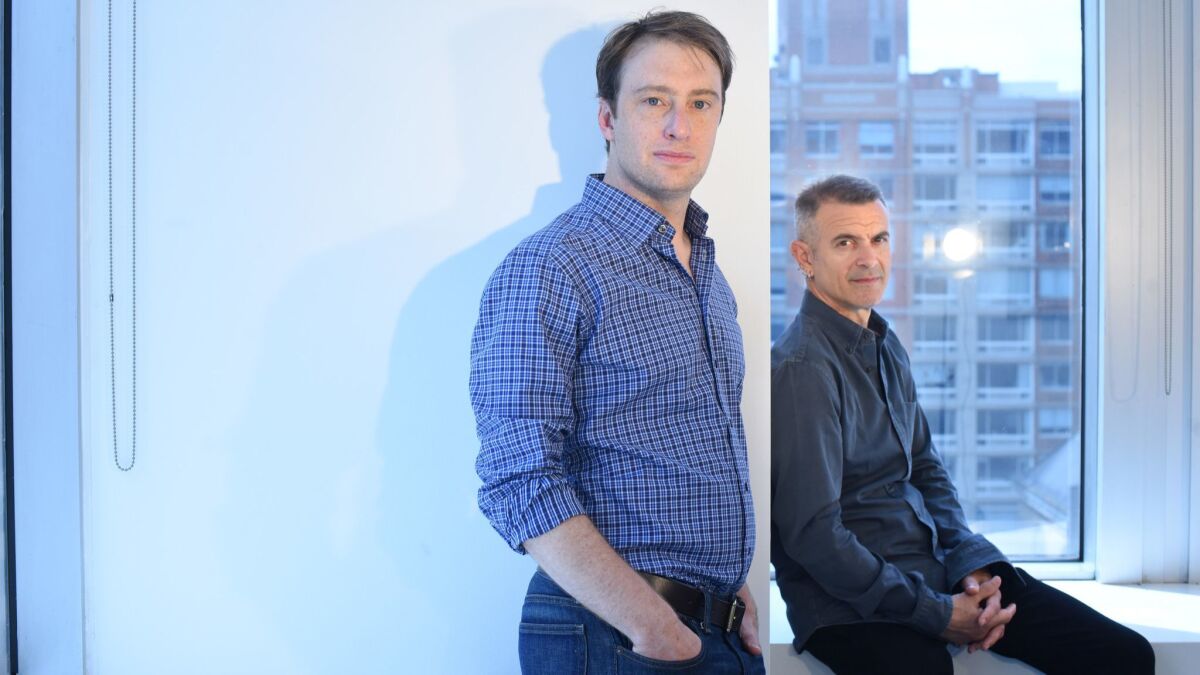 Reporting from New York —
It was 2014 and Gabriel Sherman was in a funk.
The journalist, then at New York magazine, had just published "The Loudest Voice in the Room: How the Brilliant, Bombastic Roger Ailes Built Fox News — and Divided a Nation," a critical biography of one of the most powerful and polarizing figures in American media.
Drawn from more than 600 interviews, the book detailed how Ailes, whose work as an executive producer on "The Mike Douglas Show" led to a job advising Richard Nixon on his television appearances, turned Fox News Channel into the most-watched cable news network in the country after less than six years on the air.
Ailes did not exactly welcome Sherman's investigation, declining to sit for an interview, reportedly compiling a 400-page dossier of opposition research and enlisting allies such as Roger Stone in an effort to discredit Sherman. When it was released, Sherman's portrait of Ailes as an evil genius, which also included multiple on-the-record allegations of sexual harassment dating back to his pre-Fox television career, was met with skepticism and even outright scorn by many in the media.
The process had been "incredibly stressful and emotionally taxing," Sherman recalled recently. "I felt really defeated."
So he focused on a new goal: learning to write screenplays. Rising at 5 a.m. each day, he began hammering out a script for what he envisioned as a darkly comic feature inspired by Ailes' takeover of the Putnam County News and Recorder, a small upstate New York newspaper.
Five years and many dramatic twists later, a vastly different version of that project has come to fruition. Premiering Sunday on Showtime, "The Loudest Voice" is a seven-part limited series starring Russell Crowe as Ailes, Sienna Miller as his devoted wife, Elizabeth, and Naomi Watts as Gretchen Carlson, the anchor whose sexual harassment lawsuit ultimately led to Ailes' departure from the network in 2016.
While numerous TV shows have crafted fictional story lines inspired by the #MeToo movement, "The Loudest Voice" is the first major scripted project to dramatize one of the real-life cases that helped spark a cultural reckoning. It is also a fact-based work of entertainment that aims to turn the mundane ingredients of TV news production — graphic packages and news tickers — into high drama, and is critical of a network that, in the view of its detractors, has eschewed journalism for ideological spin.
So how do you a tell a compelling story with a strong political perspective without distorting the truth?
"I think we have a very clear point of view about the damage Roger Ailes and Fox News have done to our culture," Sherman said. "But that's not why I wanted to write the show. We constantly wanted to draw the viewers in through the humanity, and that is nonpartisan."
It helped that key creatives on the series had experience with controversial subject matter. Oscar-winning "Spotlight" filmmaker Tom McCarthy co-wrote the pilot episode with Sherman and serves as an executive producer, while "The Handmaid's Tale" director Kari Skogland helmed three installments, including the premiere. Showrunner Alex Metcalf was a writer-producer on the caustic reality TV satire "UnREAL."
McCarthy, a self-described "media junkie," signed on without hesitation. "Gabe's research was so thorough and so deep and in some ways ahead of its time. I don't think people completely believed the book when it came out, just like we wouldn't believe some of the things that maybe our president is doing now."
Rather than creating a cradle-to-grave biopic, the writers chose to focus on the last two decades of Ailes' life, beginning with his ouster from CNBC in 1995 and ending with his death in 2017 — the timeline that best captured his influence on the country's political discourse. Scenes of Ailes promising to "make America great again" during a visit to his depressed hometown of Warren, Ohio, foreshadow the election of Donald Trump, who "comes out of the id of Fox News," Sherman said.
"We now have a reality TV celebrity in the White House, and that's the legacy of Roger Ailes."
ALSO: The controversial life and career of Roger Ailes »
As played by Crowe, Ailes is a charismatic but abrasive personality with a streak of wild paranoia and a penchant for inflammatory remarks. Skogland, who is also an executive producer, worked closely with Crowe, "making sure the character had dignity and we weren't making him a twirly mustache villain," she said. "It was very important to have a balanced perspective. You present the characters with their flaws and their foibles, and let the audience decided how they relate to that character."
Early in the series Ailes tells his charges, "People don't want to be informed, they want to feel informed." According to Sherman, Ailes believed that "Fox News would fundamentally be a marketing and communications operations and not a newsroom" and understood that people ultimately "want their news to confirm and conform to their worldview."
"You could call it cynical, you could call it manipulative," he added, "But it was undeniable that it worked."
For Sherman, making the leap to screenwriting — where taking dramatic license is not only permissible but necessary — was a major adjustment. He'd employed two fact-checkers and included 100 pages of end notes in his book because he knew it would face intense scrutiny. "It is literally as connected to the record as you can be," he said.
But in the writers' room for "The Loudest Voice," events were compressed and chronologies shuffled for the sake of the narrative. Further complicating the process, some of those events involved Sherman himself, who is a character in the series, played by Fran Kranz.
"In the beginning, we would watch Gabe's head explode," Metcalf said. Every embellishment or omission was preceded by painstaking conversations in the writers' room, which included Sherman's wife, Jennifer Stahl, a former fact-checker at the New Yorker who vetted Lawrence Wright's Scientology exposé for the magazine.
"If we could land on a fact, we'd land on a fact; if we couldn't, we'd talk through the importance of that fact and why we should move it and where we should move it," Metcalf added.
Sherman pointed to a scene from the second episode, set on 9/11 — a pivotal turning point in the history of Fox News. In the series, Rupert Murdoch (Simon McBurney) spends the night at Ailes' house because the city is shut down, and the two men have a conversation about how the network will respond to the terrorist attacks. In reality, Sherman explained, the sleepover happened, but not until two years later, during the blackout of 2003.
"We took a real event and we moved it to fit the dramatic frame of our story," he said. "I was nervous when the process started there was going to be some cliché Hollywood adaptation that was going to cheapen the work. The opposite happened. I think it actually elevated it, because they were able to take the raw material of the journalism and turn it into drama."
Sherman also provided access to additional sources. Some came in for sit-downs with the writers. Others got cold feet about speaking on the record.
"I'm sure it's what reporters go through all the time when they're trying to follow a story, especially about something that's sensitive and people worry about their careers and legal retaliation," McCarthy said, "but we felt very grateful for the people who did come forward and talked to us."
The series was deep in the development process while Ailes was still alive, and McCarthy tried not to think about the legal minefield presented by the project. "We were touching stories people didn't want us to touch. We just respectfully ignored it and kept doing our work," he said.
Although Ailes' death granted the writers some leeway, they had to tread more lightly when it came to virtually every other character in the series — including some figures who are still employed by Fox News, such as host Sean Hannity (played by Patch Darragh) and current chief executive Suzanne Scott (Lucy Owen). "All of these people are living, breathing human beings we need to be responsible to on some level," Metcalf said.
A Fox News representative said that Showtime did not reach out to fact-check material from the 2014 book or New York magazine stories. Laurie Luhn, a former Fox News booker and one of Ailes' alleged victims, has filed suit against Showtime over her portrayal in the series. (A Showtime representative declined to comment on ongoing litigation.)
And Hollywood will soon offer a competing take on the Ailes saga: Lionsgate's as yet-untitled film about Fox News directed by Jay Roach ("Game Change") and starring Charlize Theron as Megyn Kelly, slated for release later this year. It will reportedly focus more on Kelly's role in Ailes' downfall. (Metcalf said he hadn't read the script for Roach's film, but noted that "from my point of view, Gretchen pushed over the first domino.")
Whether there is an appetite for these stories beyond the chattering classes is an open question. But the creators of "The Loudest Voice" believe its message has relevance well outside their coastal bubble — to anyone who consumes TV or social media.
"We tend to take media as just what it is; if it's on a screen, we believe it," Metcalf said. "We never take a moment to recognize who is making the media and why."
'The Loudest Voice'
Where: Showtime
When: 10 p.m. Sunday
Rating: TV-MA (may be unsuitable for children younger than 17)
Follow me @MeredithBlake
---
UPDATES:
5:35 p.m.: This article was updated with clarification of a Fox News representative's statement about Showtime fact-checking.
Get our L.A. Goes Out newsletter, with the week's best events, to help you explore and experience our city.
You may occasionally receive promotional content from the Los Angeles Times.