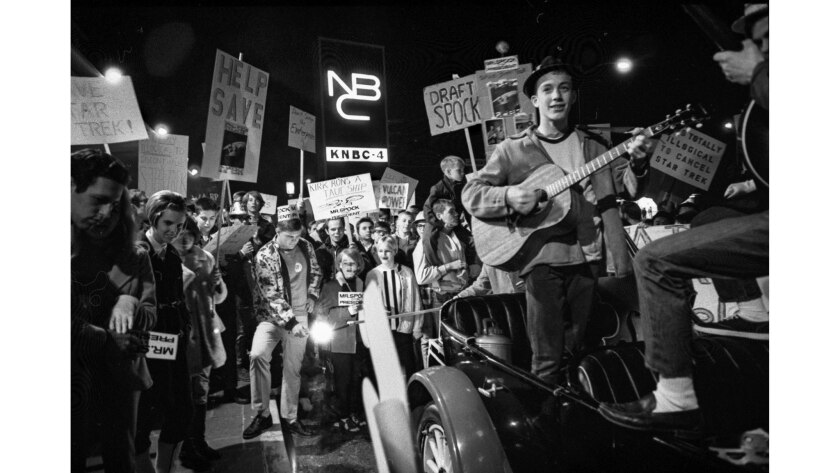 After two seasons and low ratings, "Star Trek" was facing cancellation by NBC. Fans led a national campaign, including this Caltech protest, to save it.
In the Jan. 8, 1968, Los Angeles Times, staff writer Jerry Ruhlow reported:
Students at Caltech have found little time for demonstrations, protests and draft card burnings rampant on many of the nation's campuses.
But Saturday night, a throng of more than 200 chanting, banner-waving Caltech scholars conducted a torchlight procession through the streets of Burbank to carry a protest to the steps of the National Broadcasting Company.
In what some observers suggest may be the emergence of the college's social conscience, the enraged students voiced opposition to rumored canceling of NBC's science fiction series Star Trek.
"It Is Totally Illogical to Cancel Star Trek," read the sign of one bespectacled protester…
The campaign to save "Star Trek" worked. NBC picked up the series for the 1968-69 season, but aired it at 10 p.m. Fridays -- the so-called ratings "death slot."
After "Star Trek's" third season, NBC canceled the show. But with 79 episodes, the series went into syndication - followed by five spin-off series and 11 movies.
This photo, by former Los Angeles Times staff photographer Harry Chase, was not published with the story that is excerpted above.
The protest occurred on a Saturday night, missing the early Sunday edition deadlines. The story was published in the Monday edition of The Los Angeles Times.
This post was originally published on April 25, 2011.
---