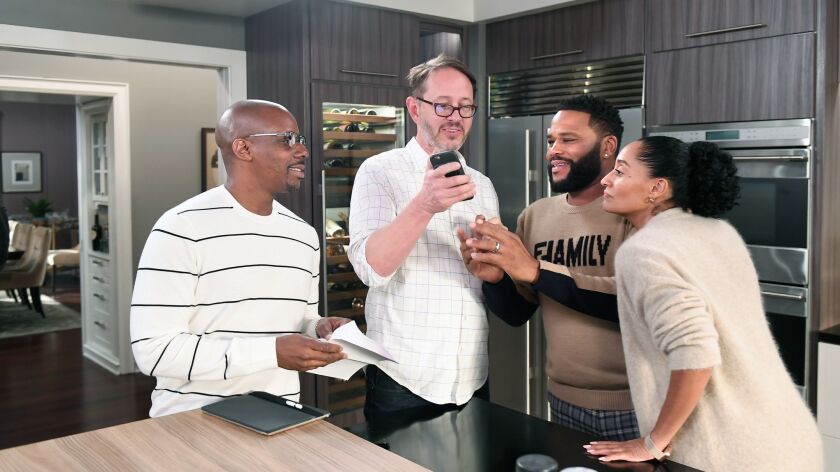 A bit of optical magic happened last spring when Alba, the Venezuelan matriarch in "Jane the Virgin," was sworn in as an American citizen. A portrait of President Trump morphed into a picture of Barack Obama, who, with a sly smile, winked at Alba. The fleeting scene was a playful yet provocative nod to the nation's immigration debate and TV's role in deciphering our corrosive political times.
"We changed the face of Trump to Obama because, for Alba, Obama was somebody who was inclusive," says Jennie Snyder Urman, creator of the telenovela, which traces three generations of Latinas in Miami. "It was painful for us to have Trump's face up in such an emotional story. Changing the portraits felt right about returning to the ideals of the country."
Those ideals are battled over hourly by liberals and conservatives in recriminations that hurtle across the news and ignite presidential tweets. There often appears no refuge, no calm or thoughtful space to explore and reconcile the country's many troubles including racism, economic inequality, opioid addiction, immigration, LGBTQ discrimination, global warming and whether Trump and his campaign conspired with Russia ahead of the 2016 election.
The best TV dramas and sitcoms — on broadcast networks, cable channels and streaming platforms — are examining themes that define, bind and divide us, whether it's Dan in "The Conners" fretting over undocumented workers, Dre in "black-ish" complaining that his children don't know African American history or Offred in "The Handmaid's Tale" fighting to keep her soul in a misogynist dystopia. And behind the scenes, TV creators and showrunners have wrestled with ways to lend perspective and insight to the national conversation.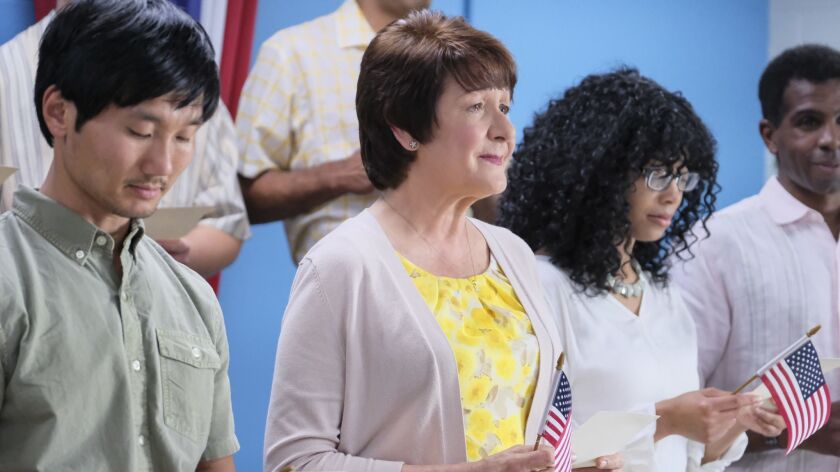 Cultural Divide series: Conversations across America ahead of the 2020 election »
The shows that resonate most reveal the idiosyncratic breadth of the American cultural landscape. Once limited to three networks, which were dominated by white narratives, today's splintered TV universe is increasingly reflective of who we are: "Fresh off the Boat" and "One Day at a Time" parse the immigrant experience; "The Conners" and "Shameless" echo the white working class; "black-ish" and "The Neighborhood" deal with a legacy of racism; "The Man in the High Castle" warns of the specter of authoritarianism; and "SMILF" depicts the scrappiness of single motherhood.
The characters in these shows represent the voices of the land, the ones beyond the headlines, playing out in living rooms, churches, taverns, soccer fields and on smartphones. They are our imagined selves, seeking truths in fiction, as if parables conjured around ancient campfires.
At times, though, the real and the make-believe collide. ABC did not air a "black-ish" episode that would deal with moral and political questions, including whether black athletes should take a knee during the National Anthem. The network also canceled "Roseanne" last year after public anger over the racist tweeting of its star Roseanne Barr, who on the show and in real life was a Trump supporter.
The decisions highlight the challenges TV faces in a fractious era when misreading the national mood can be costly. Since Trump's election, the lines between liberals and conservatives have hardened and the nation's baser tendencies — racism, intolerance and greed — have spurred identity politics and unsteady common ground. Social media propel these differences into a dangerous, ricocheting hyper-speed of score-settling and pundit outrage.
"People are talking inside of echo chambers," says Jonathan Groff, who shared showrunner duties on "black-ish" with creator Kenya Barris, and now oversees the show with Kenny Smith after Barris exited ABC for a lucrative Netflix deal. "It seems there's progress wanting to be undone in parts of our country by elements fearful or resistant to change. There's real pain economically that has not been solved. We're in a crazy time. We feel all this in our writers room when we come in and say 'Have you seen the latest? What's happening?'"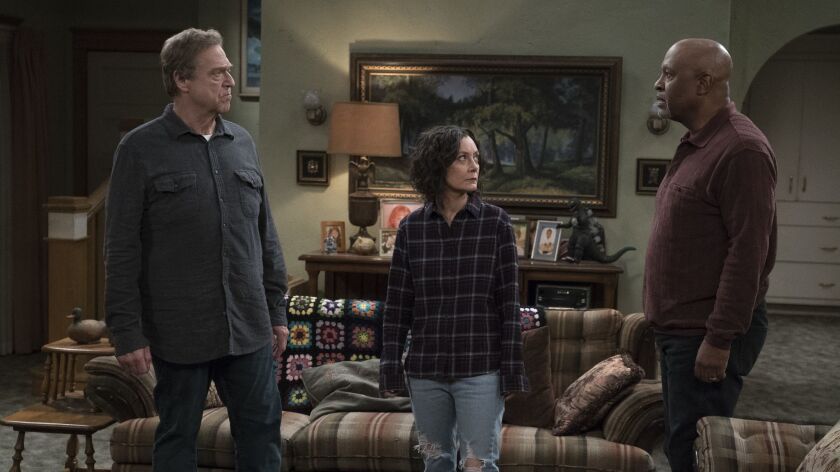 Similar tremors over the nation's fate in the 1970s — an era of Watergate and Vietnam — led to Norman Lear's "All in the Family." The rigid conservatism and racial epithets of its protagonist, Archie Bunker, forced the country to confront itself. Archie was at once repugnant and sympathetic, a man whose flaws were the symptoms of his bewilderment at a changing world. He was an ancestor of a Trump voter. The irony today is that sitcoms and dramas, with the advent of #MeToo and Black Lives Matter, are often more politically correct than the rhetoric and asides coming from the former reality TV star now in the White House.
"The kinds of things Archie Bunker said could not be said today. Comedy in a PC age is trickier," says Bruce Helford, who was the showrunner of "Roseanne" and is the co-creator and showrunner of its follow-up, "The Conners." "We have the advantage of having a family that's beloved. If this were a brand-new show, I'd think it'd be very difficult. You have to build a lot of trust with an audience before you can say things where they don't just knee-jerk react but listen to what you have to say."
"The Conners" suggests a working-class household can be both Trumpian and progressive. Like many American families, passions, beliefs, joys and anxieties of the Conners family are more nuanced than red-state stereotypes. They've dealt with opioid abuse, economic fears, interracial marriage, fake news, Obamacare and patriarch Dan's worries that a man's hard work may not be enough. The third chapter in the "Roseanne" saga, which began airing a year after the 1987 recession, "The Conners" can be read as a diary of the American worker since the rise of globalization.
It's about "how much society has changed and how difficult it is for the working class," Helford says. "Dan obviously is dealing with illegal immigration because they're fighting him for jobs. They've got a kid living in the house — Darlene's son — who dresses against traditional gender roles. So how do people who just go bowling on Friday nights and struggle day to day deal with higher ideas than they've ever had to mess with? A lot of it is about culture shock."
Dre Johnson's family in "black-ish" navigates different racial and economic terrain. The family is affluent but rooted in the prejudice and discrimination that has run through the country's history. Dre's mother and father are a glimpse of the segregated past, Dre is the torn and conflicted present, and his children are stepping toward a forbidding future. Together they represent the aggrieved and the hopeful — wise enough to know that the American promise is as confounding and cruel as it is seductive.
"Black-ish" has dealt poignantly with police brutality, slavery, colorism, the N-word and "micro-aggression," a subtle but potent form of racism that can hide inside a smile. Dre is schooled by his children when he says he wants to sit "Indian style"; they tell him the term is pejorative and that he should say "crisscross-applesauce." The show is working on a script that will include a joke about how humans, similar to iPhones, should have system updates for navigating political correctness.
The generational divides in the family examine "profoundly different ways of looking at the world," says Groff. "Who are my children and why are they so different? And how do I make sense of this world that I've worked so hard to put them in yet it feels so different? I celebrate it and embrace it, but I'm still grappling with it. That's Dre's fundamental struggle."
Dre, like Dan Conner, must confront that children seek their own paths and that the complexities and cruelties of the world leave marks even as they are battled. Life is celebration and setback; a family is its own nation. "Black-ish," "The Conners" and other shows use that prism to tell the larger American story. In a "black-ish" episode that takes place immediately after Trump's election, the family and its friends and co-workers, some of whom are of different political persuasions, are stunned by what has unfolded.
But more than two years after that election, the national dialogue that "black-ish" writers hoped the episode would spark has yet to occur. "People told us, 'You set us up to continue to have a conversation and not hate and mistrust each other,' says Groff. "I don't know if the country has lived up to what we aspired to or hoped would happen."
People told us, 'You set us up to continue to have a conversation and not hate and mistrust each other.'
Jonathan Groff, co-showrunner of 'black-ish'
Much of that turmoil is centered on the essence of America: the immigrant experience. "Fresh off the Boat," the sitcom about an Asian American family, and "Jane the Virgin," the story of a family with Venezuelan roots, were delving into that theme in the years before Trump began talking about his $5.7-billion wall. Going into its fifth and final season, "Jane's" matriarch, Alba, has gone through the emotional and legal gradations of an undocumented worker to a U.S. citizen.
"It was a story we were always dealing with but then with all the [national] vitriol our purpose and the need to tell her story strengthened even more," says Snyder Urman. "We started to explore the effect on the family more and to explain to the kids in the show about why do people not want my great-grandmother in this country."
She adds: "It's a scary and bad time. A lot of it was there before, and maybe my privilege kept me from understanding the depth of division. One of my writers said, 'Oh, I'm always mistaken for my kids' nanny.' That was something I would have never thought about. But now that we know and so many things are out in the open in such an ugly way we have to act."
At a party after Alba becomes a citizen, she tells friends and relatives that over the years she learned the meaning of the U.S. motto: e pluribus unum (out of many, one). Most Americans would likely agree with that sentiment. But these days the "many" who can be considered part of the "one" are provoking anger and division over national identity. The best TV shows and their creators are tapping into our conflicted soul, looking for reflection amid the clamor.
This is the fifth in an occasional series about cultural touchstones reflecting the tumultuous political times across America.
See the most-read stories this hour »
Twitter: @JeffreyLAT
ALSO
Cultural Divide: How Alabama rapper Rubberband OG navigates racism and violence on his hometown streets
Cultural Divide: This wrestling villain praises Hillary and invokes Obamacare. Meet the Progressive Liberal, who's body-slamming his way through Trump country
Cultural Divide: Immigration. Technology. Trump. A lot has changed in small-town America. One Iowa town drew the line at its movie theater
---