From the Archives: A 1967 interview with Don Rickles, the ever-busy insult comic who never writes anything down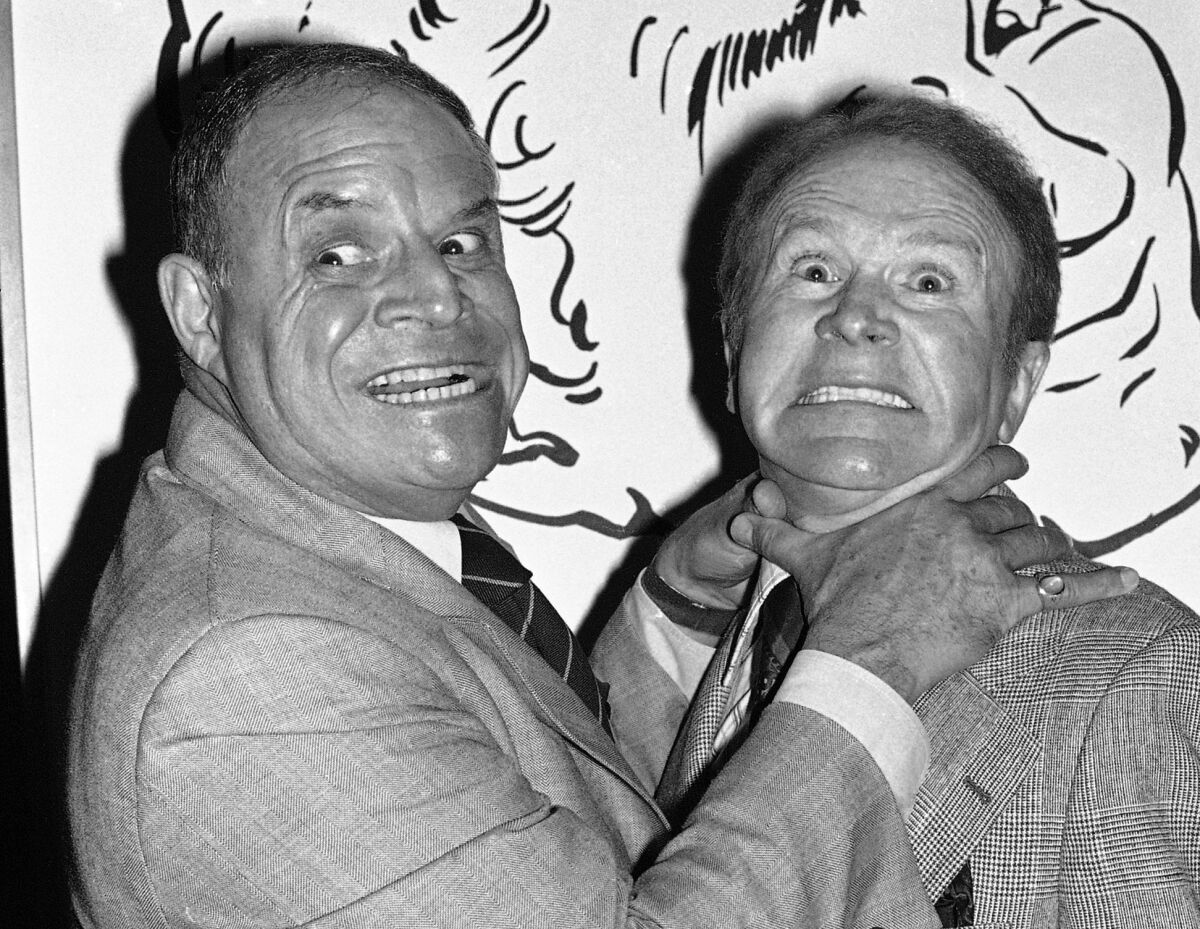 Legendary comedian Don Rickles died Thursday at his home in Los Angeles. In 1967, Los Angeles Times staff writer Don Page visited the prolific Rickles while on various TV sets and in his Westwood home, where he admitted that Frank Sinatra and Bob Hope were among his favorite targets, and revealed that he never writes any of his jokes down.
The scene was a smoky Hollywood jazz club called Zardi's, about a million laughs ago. On stage ws a comic who looked like an inflated ex-middleweight fighter. Perspiring, with eyes intensely piercing the audience, Don Rickles searched for a victim. Frank Sinatra twisted nervously at his table.
"There he is, folks," Rickles smiled deceptively, "Frank Sinatra. Hey, Frank, I saw you in 'The Pride and Passion' and I want to tell you the cannon was wonderful!"
Rickles then opened fire, insult after insult, zinger upon zinger. Sinatra wilted with laughter, hysterically destroyed. Rickles had successfully demolished the leader of the clan and it marked the beginning of a career that made him the most popular nightclub comic on the local circuit.
Hollywood's aristocracy jammed the clubs: Slate Bros., Crescendo, Las Vegas' Sahara, begging to be insulted. The casualties were heavy and the laughs deafening.
These days, Don Rickles only plays two club circuits — Las Vegas and Miami. In between he is one of television's busiest actors, an outstanding character performer, comedy or drama.
This season alone Rickles has already played "The Dean Martin Show," "I Spy," "Run For Your Life," "I Dream of Jeannie," plus panel appearances on "The Dating Game" and "Hollywood Squares." This month he'll tape appearances on the Jerry Lewis and Jackie Gleason shows, in addition to Danny Thomas' Sea World special.
Also, Don will continue his frequent visits to the Johnny Carson and Joey Bishop shows.
Rickles, left, cracks up "Tonight Show" host Johnny Carson on May 12, 1974.
(Gary Null / NBCU Photo Bank via Getty Images)
Rickles, left, pretends to strangle fellow comedian Red Buttons before the annual Stag Roast in Los Angeles on Nov. 10, 1977.
(Lennox McLendon / Associated Press)
Rickles speaks during the Hollywood Walk of Fame star ceremony for "Toy Story" director John Lasseter in Los Angeles on Nov. 1, 2011.
(Robyn Beck / AFP / Getty Images)
Comedians Phyllis Diller and Rickles say goodbye at the Van Nuys Airport after a quick trip to Las Vegas to celebrate the 45th anniversary of the Stardust Hotel, in 2003.
(Béatrice de Géa / Los Angeles Times)
Rickles poses before signing copies of his new book ''Rickle's Book'' at Book Soup on May 31, 2007, in West Hollywood, Calif.
(Mark Mainz / Getty Images)
Rickleswas the subject of the documentary "Mr. Warmth," which ran on HBO in December 2007.
(Anne Cusack / Los Angeles Times)
Rickles won an Emmy for performance in a variety or music program for "Mr. Warmth: The Don Rickles Project" at the 60th Primetime Emmy Awards in Los Angeles on Sept. 21, 2008.
(Mark J. Terrill / Associated Press)
Rickles attends the AFI Lifetime Achievement Award Honoring Shirley MacLaine at Sony Studios in Culver City onJune 7, 2012.
(Chris Pizzello / Invision / Associated Press)
Rickles relaxes at the Four Seasons Hotel in Beverly Hills on June 12,2013.
(Wally Skalij / Los Angeles Times)
Rickles is photographed in his Los Angeles home on Oct. 12, 2015, around the release of a box set of Rickles' 1970s-era TV specials and his TV series, "CPO Sharkey."
(Jay L. Clendenin / Los Angeles Times)
When Rickles was taping his first "Dean Martin Hour," he took a break from rehearsal and stepped across the hall to the Jerry Lewis stage. Walking in front of Lewis' band, he stopped to count.
"Gee, too bad, Jerry," he said to a startled Lewis, "Dean has 40 musicians in his orchestra!" The crew fell down.
Obviously, Rickles is in demand for two purposes, (a) he's a good actor and (b) the cast gets a free show.
His "I Dream of Jeannie" appearance nearly cost the series time and money as it threatened to go into extra-day's filming. The rehearsals were minor versions of his nightclub act. At one point, co-star Larry Hagman (Mary Martin's son) blew a line. Rickles attacked: "You do that again, dummy, and I'll have to cut the wire to Peter Pan!"
In his Westwood penthouse overlooking Wilshire Boulevard, Rickles paused between insults to discuss his flourishing career, and his favorite victims.
"I was always the guy who made jokes and ribbed people at parties," he recalled. "After I went to the American Academy of Dramatic Arts I got sidetracked into clubs and started doing comedy.
"Sometimes I knew generally what I was going to do, but I've never written anything down. Call it a sixth sense, the lines just come."
Rickles' pet targets are Frank Sinatra, Milton Berle, Bob Hope and Johnny Carson. "Hope laughs harder than anyone — he goes to pieces when i hit him. But Carson's a great slave and he never gets mad."
Don has carte blanche on the Joey Bishop program, often walking on the show unannounced. "With Joey," he said, "you just attack, attack, attack. He's beautiful."
You may think, because of the insult image, that Rickles often performs blue material, but he is not a risque performer. Some of his lines would not be funny delivered by anyone else. It's the manner in which he does it by relating to the situation or personality that really makes him funny.
Now, a decade after Frank Sinatra took a (verbal) rap in the mouth, Rickles is savoring his most productive year. He is slim, wealthy, a gentleman actor.
"By the way," he said as we were leaving, "I know your circulation manager and if you do a nice job, I'll get you a better corner."
ALSO:
From the Archives Don Rickles talks Frank Sinatra, impersonations and his film debut
From the Archives 'It's important to keep working': Don Rickles in one of his last interviews
From the Archives TV's newest odd couple: Richard Lewis and Don Rickles to portray father and son in 'Daddy Dearest'
From the Archives Honors for this hockey puck? Insult comic turned institution Don Rickles is saluted for lifetime achievement
---
The complete guide to home viewing
Get Screen Gab for everything about the TV shows and streaming movies everyone's talking about.
You may occasionally receive promotional content from the Los Angeles Times.