Dear Oscars, award shows need hosts, and Alicia Keys is proof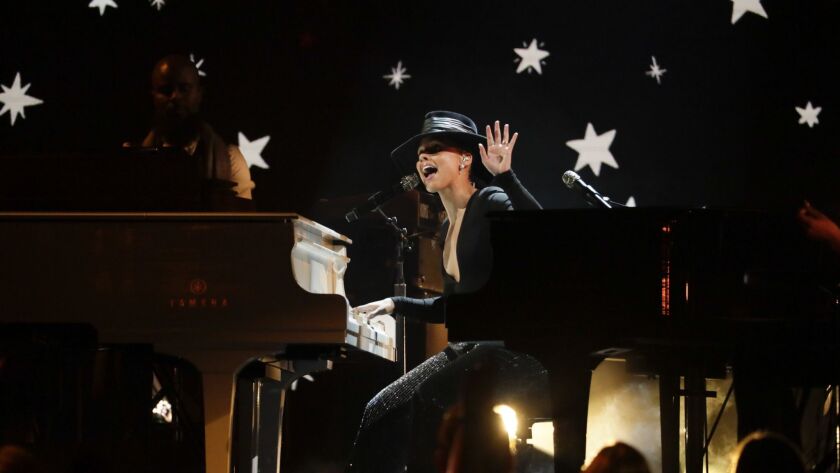 Television Critic
Alicia Keys had never hosted an awards show, big or small, when she stepped on the Staples Center stage last week to serve in that capacity for the 61st Grammy Awards. The singer-songwriter had, of course, been invited up several times over the years to perform and receive awards — 15 Grammys, to be exact — but running a show that's been described as a runaway train is another matter.
Most everyone knows that Keys can sing and play like nobody's business, but did she have any business being on that stage? To the surprise of many in the business, the answer was a resounding yes.
The "Girl on Fire" singer dared to be warm and personable for her hosting debut, veering away from the usual deprecating humor, snack gags and political barbs that often drive major awards shows. She won over a notoriously cool crowd, and she set the tone for the most critically lauded Grammys in recent history.
"There is definitely a magic in creating the energy," said Keys, 38, explaining how she approached the challenge. "When you go to somebody's house, they invite you in, and it smells beautiful and they're cooking something. They ask you to sit on the couch, and while you sit on the couch, they bring you something to drink. They talk about how your day was, and the next guest comes, and they bring everybody together. The person cares about who's in their house, so that everyone feels welcome there. And that really matters. In essence, it's the same thing. I wanted everybody to come into the house, sit on the couch, take off their shoes and have a ball, man. The world is stressful enough."
FULL COVERAGE: Countdown to the Oscars »
Escapism aside, the multi-platinum performer also called attention to how critical a host can be to the success of an awards ceremony — two weeks before the Oscars arrives without one at the helm.
The Academy Awards is going commando for the first time in 30 years after its scheduled host, Kevin Hart, stepped down last month following a flap over old homophobic remarks he'd made on Twitter surfaced. It's no secret that it's a tough, if not thankless gig — just ask Whoopi, Hugh, Jimmy or Seth. And after a fruitless effort to find a replacement, the new film academy motto seems to be: Who needs a host anyway?
Well, the Oscars, for starters… and they need look no further than the Grammys to see why.
Keys was an unexpected choice, said the show's executive producer, Ken Ehrlich, who was contacted by members of Key's camp last year about the prospect. But it was intriguing given that she brought an insider "credibility" to the role. It wasn't until he saw her at rehearsals that it was clear she'd elevated the game by being an emotionally invested part of the show.
Sandra Oh left a similar impression after co-hosting the Golden Globes in January. In between the scripted jokes, she addressed the room and cameras as if they were intimate friends. Both Keys and Oh presented shows that paid particular attention to female artists, who have traditionally been overlooked in their respective industries.
"Nobody knows that room better than me," Keys said of the Grammy crowd from her home in New York. "I'm an artist like all the artists that are there, and I'm a creative person like all the creative people that are there. So I understand what it takes to get yourself in that room, to psych yourself up, to be potentially disappointed, to bring your A game and perform in a way that exceeds everybody's expectations, even when only God knows what is happening in your personal life at the moment. All of us have been to enough of these things to know, it can be so plastic. And when I say, 'All of us,' I literally mean people at home. They know better than anybody that sometimes it's just like 'What am I watching?'"
What they saw was Keys joke with John Mayer about losing a song of the year Grammy to him way in 2005, sing with Smokey Robinson for a transcendent second or two and play two pianos at once during a five-minute performance segment. Keys, who said she was honoring pianist Hazel Scott, was also emulating former hosts she admired.
"When I'd watch some of the greats like Sammy Davis or Carol Burnett or Dean Martin," she said, "it was inspirational that they were just able to do everything. They could be funny, could sing, could play an instrument, could play the piano. It was allowed to be a full experience. … I really wanted to bring the energy of those really classic, legendary performers, their flow of moving between many styles and many things. That's what they mean by a master of ceremonies."
And it translated in numbers. Ratings were up slightly on terrestrial TV, but on social media, it was a different story. According to social media analytics platform Netbase, the Grammys were the most social television event in the last two years. Conversation related to performers, presenters and the program drove more social impressions the day of the event than any awards show or Super Bowl in 2018 or 2019.
"In person, she really is special, and she's always had that," said Ehrlich. "But in all honesty, I didn't expect it to translate to such a huge group of people. That's really unusual. She put a warmth and kind of like universal positive attitude out there in a big way, and that is something you dream about in a host for a show like this."
It's worth noting that Ellen DeGeneres hosted the Grammys before she landed the Oscars. So did Billy Crystal. So it's only natural to ask, because film's big night has a job vacancy…
"Are they going to need me to do the Oscars?" she asks rhetorically. "Yes, they've been calling. I said I'm not going be able to do it," she laughs.
---
The complete guide to home viewing
Get Screen Gab for weekly recommendations, analysis, interviews and irreverent discussion of the TV and streaming movies everyone's talking about.
You may occasionally receive promotional content from the Los Angeles Times.