Saturday's TV highlights and weekend talk shows: 'Snowcoming' on Hallmark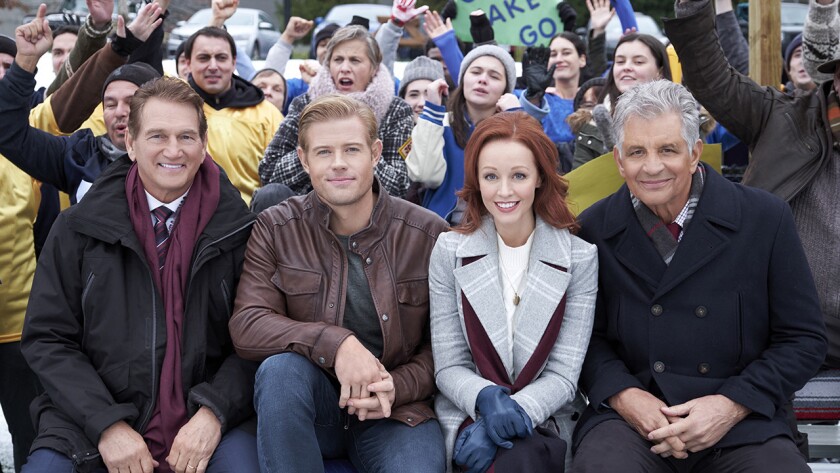 SERIES
Saturday Night Live James McAvoy ("Glass") hosts, with musical guest Meek Mill. 8:29 p.m. NBC
Planet Earth: Dynasties An animal power struggle in Senegal, West Africa, drives a fascinating new episode about chimpanzees. 9 p.m. BBC America, AMC, IFC and Sundance
SPECIALS
Amanda Seales: I Be Knowin' The actress, comic and recording artist featured in the HBO series "Insecure," in her first comedy special, filmed at the Edison Ballroom in New York. 10 p.m. HBO
MOVIES
Book Club Four veteran Oscar- and Emmy-winning actresses star in director and co-writer Bill Holderman's 2018 romantic comedy about four friends (Diane Keaton, Jane Fonda, Candice Bergen and Mary Steenburgen) who read "Fifty Shades of Grey" for their book club and start to consider changing some aspects of their personal relationships. Don Johnson, Craig T. Nelson and Richard Dreyfuss also star. 8 p.m. EPIX
Snowcoming A cookbook editor who is an advocate for adult literacy (Lindy Booth) returns home for an annual winter festival, where her father (Ed Marinaro) is retiring and being honored for his long career as the local high school football coach, an event that leads to a reunion with her old flame Jake (Trevor Donovan), who is now a professional quarterback, in this 2019 romance. 8 p.m. Hallmark
Love You to Death Based on a true story, this 2018 crime drama stars Marcia Gay Harden as Camile, a loving mother and doting caregiver to her wheelchair-bound daughter, Esme (Emily Skeggs). The community is stunned when the family falls victim to horrific crime. Tate Donovan and Brennan Keel Cook also star. 8 p.m. Lifetime
Tag Jeff Tomsic made his directorial debut with this 2018 comedy, based on a true story about a group of adult friends ( Jeremy Renner, Ed Helms, Jon Hamm, Jake Johnson and Hannibal Buress) who still devote one month a year to continuing a game of "tag" that started when they were 9 years old. Annabelle Wallis and Isla Fisher also star. 8:15 p.m. HBO
WEEKEND TALK
SATURDAY
Good Morning America (N) 7 a.m. KABC
SUNDAY
Good Morning America (N) 6 a.m. KABC
State of the Union With Jake Tapper Guest: Sen. Marco Rubio (R-Fla.). Panel: Rick Santorum; Nina Turner; Paul Begala; Linda Chavez. (N) 6 and 9 a.m. CNN
CBS News Sunday Morning (N) 6:30 a.m. KCBS
Fox News Sunday Sen. Joe Manchin (D-W.V.). Sen. Roy Blunt (R-Mo.). NATO Secretary General Jens Stoltenberg. Panel: Jason Riley, the Wall Street Journal; Julie Pace, the Associated Press; Gillian Turner; Juan Williams. Guest anchored by John Roberts. (N) 7 a.m. KTTV; 11 a.m., 4 and 11 p.m. FNC
Fareed Zakaria GPS The war in Afghanistan: Ashraf Ghani, President of the Islamic Republic of Afghanistan. Canada's strained relations with China and Saudi Arabia; negotiating the USMCA: Chrystia Freeland, Canadian Minister of Foreign Affairs: World Economic Forum at Davos: primatologist and anthropologist Jane Goodall. (N) 7 and 10 a.m. CNN
Face the Nation Acting White House chief of staff Mick Mulvaney. Sen. Susan Collins (R-Maine). Sen. Joe Manchin (D-W.V.). Mayor Dee Margo (R-El Paso, Texas). Mayor Michael Passero (D-New London, Con.). Panel: Molly Ball, Time; Ramesh Ponnuru, National Review; David Sanger, the New York Times; Shawna Thomas, Vice News. (N) 8 a.m. KCBS
Meet the Press House Minority Leader Kevin McCarthy (R-Bakersfield). Rep. Hakeem Jeffries (D-N.Y). Sen. Marco Rubio (R-Fla.). Panel: Yamiche Alcindor; Tom Brokaw; Hugh Hewitt; Kristen Welker. (N) 8 a.m. and 1:30 a.m. KNBC; 3 p.m. MSNBC
This Week With George Stephanopoulos (N) 8 a.m. KABC
Reliable Sources with Brian Stelter Mueller indicts Stone; CNN video of the raid; what right-wing media reacts to the end of the shutdown: Shelby Holliday, Wall Street Journal; Oliver Darc; Jess McIntosh. New books by Trump insiders; the "media primary" for Democratic presidential candidates: Olivier Knox, SiriusXM; ;Charlotte Alter, Time magazine; Laura Bassett. Polls on Trump and the wall: Ann Selzer. When journalists become hostages: Author Jason Rezaian ("Prisoner"); authro Joel Simon ("We Want to Negotiate"). CNN documentary "Three Identical Strangers": Howard Schneider. (N) 8 a.m. CNN
MediaBuzz Mollie Hemingway, the Federalist; Jessica Tarlov; Beverly Hallberg, District Media Group; Buck Sexton; Mara Liasson; Dana Perino; Britt McHenry. (N) 8 a.m. and midnight FNC
60 Minutes Howard Schultz; privately produced satellites collect data; a retired couple wins state lotteries. (N) 7 p.m. KCBS
SPORTS
College Basketball Arizona State visits USC, 5 p.m. ESPN2; Arizona visits UCLA, 7 p.m. ESPN2. Also: Georgia Tech at Duke, 9 a.m. KDOC; Iowa State at Mississippi, 9 a.m. ESPN; Florida at TCU, 9 a.m. ESPN2; Ohio State at Nebraska, 9 a.m. FS1; Virginia at Notre Dame, 10 a.m. CBS; Clemson at North Carolina State, 11 a.m. KDOC; Kansas State at Texas A&M, 11 a.m. ESPN; Texas at Georgia, 11 a.m. ESPN2; Marquette at Xavier, 11 a.m. FS1; West Virginia at Tennessee, 1 p.m. ESPN; Vanderbilt at Oklahoma, 1 p.m. ESPN2; Boston College at Wake Forest, 1 p.m. FS Prime; Portland at Pacific, 1 p.m. SportsNet; Kansas at Kentucky, 3 p.m. ESPN; Arkansas at Texas Tech, 3 p.m. ESPN2; Syracuse at Virginia Tech, 5 p.m. ESPN; Colorado at Stanford, 5 p.m. FS1; Saint Mary's (Calif.) at Pepperdine, 5 p.m. SportsNet
Winter X Games 10 a.m. ABC; 7 p.m. ESPN. From Aspen, Colo.
2019 Australian Open Tennis Men's Final. From Melbourne, 12:30 a.m. ESPN
For more sports on TV, see
the Sports section.
Customized TV listings are available here: www.latimes.com/tvtimes
Click here to download TV listings for the week of Jan. 27 - Feb. 2, 2019, in PDF format
---
From the Emmys to the Oscars.
Get our revamped Envelope newsletter, sent twice a week, for exclusive awards season coverage, behind-the-scenes insights and columnist Glenn Whipp's commentary.
You may occasionally receive promotional content from the Los Angeles Times.