Thursday's TV highlights: 'Will & Grace' on NBC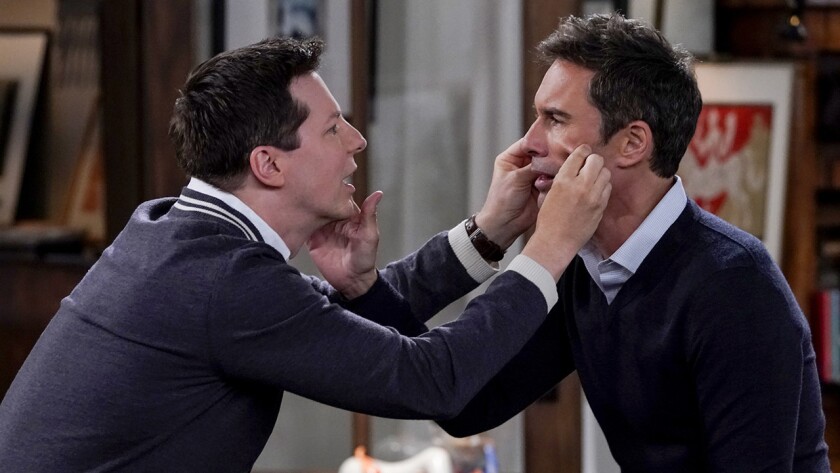 SERIES
The Big Bang Theory Sheldon (Jim Parsons) is thrilled to help Bernadette (Melissa Rauch) and Wolowitz (Simon Helberg) navigate bureaucratic paperwork until he discovers they are breaking the law in this new episode. Johnny Galecki and Kaley Cuoco also star. 8 p.m. CBS
Top Chef This new episode takes the chefs on a road trip to Nashville, where they cook on the stage of the Grand Ole Opry for country music star Hunter Hayes. With Caleb Followill, model Lily Aldridge and chef Jonathan Waxman. 8 p.m. Bravo
Siren Ben (Alex Roe), Maddie (Fola Evans-Akingbola) and Ryn (Eline Powell) try to keep the sudden arrival of the mermaid pack hidden from the townspeople. Sarah-Jane Redmond and Rena Owen also star in this new episode. 8 p.m. Freeform
Young Sheldon Sheldon (Iain Armitage) forges an unlikely friendship with his school's biggest bully (guest star Ryan Cargill) and tries to use this alliance to settle some scores with Georgie (Montana Jordan). Also, Missy (Raegan Revord) steals Meemaw's (Annie Potts) makeup to spruce up her "look" for school pictures. 8:30 p.m. CBS
Legacies The arrival of a new monster who feeds off their darkest fears wreaks havoc for Hope (Danielle Rose Russell), Rafael (Peyton Alex Smith), Landon (Aria Shahghasemi) and MG (Quincy Fouse). 9 p.m. KTLA
The Orville Claire's (Penny Johnson Jerald) shipmates share her happiness when her personal life unexpectedly takes an upswing in this new episode. Seth MacFarlane, Scott Grimes, Peter Macon, Adrianne Palicki, Jessica Szohr and Halston Sage also star. 9 p.m. Fox
Bring It! It's time for a showdown as Coach D gives four veterans who are about to graduate a chance to choreograph a trio, with the winner's routine to represent the team in a national competition. 9 p.m. Lifetime
Will & Grace The rebooted sitcom returns from its midseason hiatus with Will (Eric McCormack), Karen (Megan Mullally) and Jack (Sean Hayes) unwittingly ingesting a hallucinogenic drug. Also, Karen gives her final "performance" as Mrs. Stanley Walker, and Grace (Debra Messing) is shocked when her client (guest star Chelsea Handler) takes up with her sister (guest star Mary McCormack). 9:30 p.m. NBC
How to Get Away With Murder Nate (Billy Brown) sets out to confirm his suspicion about the real culprit in his father's murder, while Bonnie (Liza Weil) is beset with a wave of self-doubt. Viola Davis also stars with guest star Melinda Page Hamilton. 10 p.m. ABC
Music City While Jessica and Dre officially start their new life, Rachyl and Kerry's tumultuous relationship reaches its final boiling point in the season finale of the unscripted series. 10 p.m. CMT
TALK SHOWS
CBS This Morning (N) 7 a.m. KCBS
Today Giphy headquarters; Bahar Takhtehchian; Michele Leone. (N) 7 a.m. KNBC
KTLA Morning News (N) 7 a.m. KTLA
Good Morning America Tennis player Serena Williams; Super Bowl tailgating: Jeff Mauro and Alex Guarnaschelli. (N) 7 a.m. KABC
Good Day L.A. Environmental activist Erin Brockovich; Dr. Drew Pinsky; eliminated contestant from "The Masked Singer"; Paul W. Downs ("Broad City"). (N) 7 a.m. KTTV
Live With Kelly and Ryan Megan Mullally ("Will & Grace"); Max Greenfield ("The Neighborhood"). (N) 9 a.m. KABC
The View Presidential candidate Mayor Pete Buttigieg (D-South Bend, Ind.). (N) 10 a.m. KABC
The Wendy Williams Show Cody Simpson; Carson Kressley, AJ Gibson, Lilliana Vazquez and Nicole Byer. (N) 10 a.m. KTTV
The Real Mo'Nique ("Mo'Nique Does Vegas"). (N) 11 a.m. KTTV
The Doctors Weightlifting and depression; a food to eat to reduce the risk of cancer and heart disease. (N) 11 a.m. KCOP
The Talk Dr. Phil McGraw. (N) 1 p.m. KCBS
The Real Mo'Nique. (N) 1 p.m. KCOP
Steve Intuitive specialists help women find love; chef Aaron McCargo. (N) 2 p.m. KNBC
Rachael Ray Giada De Laurentiis; Beth Stern ("Kitten Bowl VI"). (N) 2 p.m. KTTV
Dr. Phil The siblings of a boy who was held captive in a tiny closet reveal how they saved his life. (N) 3 p.m. KCBS
The Ellen DeGeneres Show Johnny Galecki, Jim Parsons, Kaley Cuoco, Simon Helberg, Kunal Nayyar, Melissa Rauch, Mayim Bialik ("The Big Bang Theory"). (N) 3 p.m. KNBC
The Dr. Oz Show Bethenny Frankel discusses an allergic reaction that almost took her life. (N) 3 p.m. KTTV
Amanpour and Company (N) 10 p.m. KVCR; 11 p.m. KOCE; 1 a.m. KLCS
The Daily Show With Trevor Noah Rep. Ilhan Omar (D-Minn.). (N) 11 p.m. Comedy Central
Conan Matt LeBlanc; Gary Gulman. (N) 11 p.m.
The Tonight Show Starring Jimmy Fallon Seth Meyers; Danai Gurira; magician Dan White. (N) 11:34 p.m. KNBC
The Late Show With Stephen Colbert Ellen Page; Radhika Jones; Django Gold. (N) 11:35 p.m. KCBS
Jimmy Kimmel Live Viggo Mortensen; Rita Moreno; Summer Walker performs. (N) 11:35 p.m. KABC
Late Night With Seth Meyers Michael Moore; Busy Phillips; Conan Gray performs; Brendan Buckley performs. (N) 12:37 a.m. KNBC
Nightline (N) 12:37 a.m. KABC
SPORTS
NBA Basketball The Clippers host the Lakers, 7:30 p.m. FS Prime and SportsNet
For more sports on TV, seethe Sports section.
Customized TV listings are available here: www.latimes.com/tvtimes
Click here to download TV listings for the week of Jan. 27 - Feb. 2, 2019, in PDF format
---
Inside the business of entertainment
The Wide Shot brings you news, analysis and insights on everything from streaming wars to production — and what it all means for the future.
You may occasionally receive promotional content from the Los Angeles Times.