Thursday's TV highlights: 'Young Sheldon' on CBS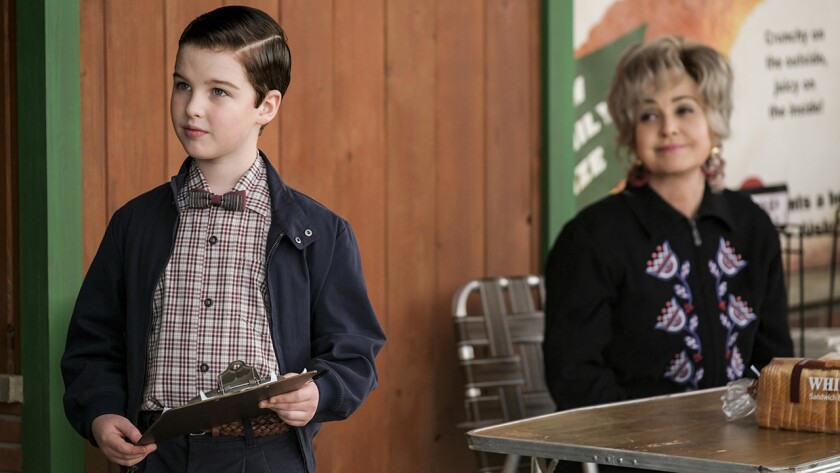 Sheldon (Iain Armitage) launches a boycott in "Young Sheldon" on CBS. With Annie Potts.
SERIES
The Big Bang Theory The guys (Johnny Galecki, Jim Parsons, Kunal Nayyar, Simon Helberg) hear that Wil Wheaton (guest starring as himself) is hosting a celebrity game of Dungeons and Dragons and there's one open seat. Among the guest stars are William Shatner, Joe Manganiello, Kareem Abdul-Jabbar and Kevin Smith (all appearing as themselves). 8 p.m. CBS
Gotham Gordon (Ben McKenzie) races to uncover the criminal element threatening Gotham's reunification with the mainland in this new episode. David Mazouz and Donal Logue also star. 8 p.m. Fox
Top Chef Tom Colicchio ambushes sleeping chefs and challenges them to make a dish using ingredients harvested from their gardens in this new episode. 8 p.m. Bravo
Siren When Ryn (Eline Powell) encounters resistance from some of the mermaids she's trying to help assimilate into the community, she starts to wonder whether she is forsaking her true nature and becoming too human in this new episode. Fola Evans-Akingbola, Alex Roe and Ian Verdun also star. 8 p.m. Freeform
Young Sheldon Sheldon's (Iain Armitage) boycott of his favorite bread company gets out of hand in this new episode of the spinoff comedy. Zoe Perry, Lance Barber, Annie Potts, Montana Jordan and Raegan Revord also star, and Jim Parsons narrates. 8:30 p.m. CBS
Mom Christy (Anna Faris) finds it difficult to quit smoking in this new episode. Allison Janney also stars. 9 p.m. CBS
Brooklyn Nine-Nine Jake and Holt (Andy Samberg, Andre Braugher) clash over the merits of a new hire at the 99th precinct in this new episode of the police comedy. 9 p.m. NBC
Legacies When Alaric (Matthew Davis) decides to postpone the school's annual talent show, Lizzie and Josie (Jenny Boyd, Kaylee Bryant) are determined to make sure the show goes on in this new episode. 9 p.m. KTLA
The Orville The science fiction parody begins a two-episode story arc. Seth MacFarlane, Adrianne Palicki, Penny Johnson Jerald and Mark Jackson star. 9 p.m. Fox
Lip Sync Battle "Superstore" stars Ben Feldman and Lauren Ash clash in this new episode. 9 p.m. Paramount
Fam During their engagement party, Clem and Nick (Nina Dobrev, Tone Bell) are both shocked to learn that the other has been keeping an embarrassing secret about how they met. Odessa Adlon also stars in this new episode of the family comedy. 9:30 p.m. CBS
Broad City Abbi (Abbi Jacobson) is invited to a fancy art event at MoMA while Ilana and Lincoln (Ilana Glazer, Hannibal Buress) have a one-year relationship checkup in this new episode. 10 p.m. Comedy Central
Flack Anna Paquin stars as an American public relations wizard working in London, who is great at getting her clients publicity, and even better at cleaning up messes and keeping her celebrity clients out of the tabloid headlines. Sophie Okonedo, Genevieve Angelson ("Good Girls Revolt") and Lydia Wilson ("Requiem") also star in this new drama. 10 p.m. POP
SPECIALS
Into the Grand Canyon Two journalists traverse the Grand Canyon by foot, hoping this 750-mile trek will help them better understand one of America's most revered landscapes and the threats, which may soon alter it forever. 8 p.m. National Geographic
TALK SHOWS
CBS This Morning (N) 7 a.m. KCBS
Today Adam Levine; Blake Shelton; Kelly Clarkson; John Legend. (N) 7 a.m. KNBC
KTLA Morning News (N) 7 a.m. KTLA
Good Morning America Ken Jeong; Alex Trebek; Oscar fashion predictions; deals and steals with Tory Johnson. (N) 7 a.m. KABC
Good Day L.A. Cheryl Hines; writer Stephen Merchant ("Fighting with My Family"); Jamie Greenberg; Denny Hamlin. (N) 7 a.m. KTTV
Live With Kelly and Ryan Alex Trebek ("Jeopardy!"); Lisa Rinna ("The Real Housewives of Beverly Hills"). (N) 9 a.m. KABC
The View (N) 10 a.m. KABC
The Wendy Williams Show Milly Almodovar. (N) 10 a.m. KTTV
The Real Cory Hardrict, Ryan Kwanten and Leona Lewis ("The Oath"); Killer Mike. (N) 11 a.m. KTTV
The Doctors Dandruff; hangovers; genital herpes; rare hair condition; life expectancy; preventing heart attack. (N) 11 a.m. KCOP
The Talk Wendi McLendon-Covey ("The Goldbergs"). (N) 1 p.m. KCBS
The Real Cory Hardrict, Ryan Kwanten and Leona Lewis ("The Oath"); Killer Mike. (N) 1 p.m. KCOP
Steve Moments in black history: Mae C. Jemison. (N) 2 p.m. KNBC
Rachael Ray Craig Ferguson. (N) 2 p.m. KTTV
Dr. Phil Relationships of young people are suffering because of their online personas. (N) 3 p.m. KCBS
The Ellen DeGeneres Show Milo Ventimiglia ("This Is Us"); Florida Georgia Line. (N) 3 p.m. KNBC
The Dr. Oz Show Six sisters say the same priest abused them since childhood; people who hoard animals. (N) 3 p.m. KTTV
Amanpour and Company (N) 11 p.m. KOCE; 1 a.m. KLCS
The Daily Show With Trevor Noah Mark Duplass. (N) 11 p.m. Comedy Central
Desus & Mero (Premiere) Rep. Alexandria Ocasio-Cortez (D-N.Y.). 11 p.m. Showtime
The Tonight Show Starring Jimmy Fallon Ken Jeong; Kate Upton; Anderson Paak performs. (N) 11:34 p.m. KNBC
The Late Show With Stephen Colbert Annette Bening; Ana Navarro; Ben Platt performs. (N) 11:35 p.m. KCBS
The Late Late Show With James Corden Kal Penn; Chris O'Dowd. (N) 12:37 a.m. KCBS
Late Night With Seth Meyers James Spader; Glenda Jackson; Brad Leone; Jeff Friedl. (N) 12:37 a.m. KNBC
Nightline (N) 12:37 a.m. KABC
Last Call With Carson Daly Larry Charles; Blackberry Smoke performs; Seana Kerslake. (N) 1:38 a.m. KNBC
SPORTS
College Basketball Oregon visits USC, 6 p.m. ESPN; UCLA hosts Oregon State, 8 p.m. FS1
NBA Basketball The Boston Celtics visit the Milwaukee Bucks, 5 p.m. TNT; the Lakers host the Houston Rockets, 7:30 p.m. TNT
For more sports on TV, see
the Sports section.
Customized TV listings are available here: www.latimes.com/tvtimes
Click here to download TV listings for the week of Feb. 17 - 23, 2019, in PDF format
---
From the Emmys to the Oscars.
Get our revamped Envelope newsletter, sent twice a week, for exclusive awards season coverage, behind-the-scenes insights and columnist Glenn Whipp's commentary.
You may occasionally receive promotional content from the Los Angeles Times.