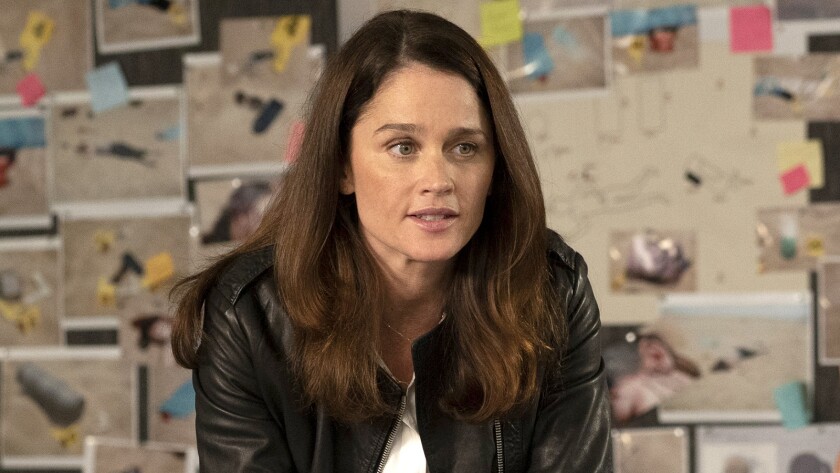 SERIES
The Neighborhood After a curmudgeonly neighbor who had few fans in the community dies, Gemma and Dave (Beth Behrs, Max Greenfield) step up to host a memorial and Calvin (Cedric the Entertainer) learns something unexpected about himself. 8 p.m. CBS
DC's Legends of Tomorrow When Mona (Ramona Young) discovers that her favorite author might be at the epicenter of a magical alert, she, Sara, Charlie and Zari (Caity Lotz, Anjli Mohindra and Tala Ashe) land in 1809. 8 p.m. CW
American Idol The seven contestants with the most votes take their spots in the top 10, while the other seven remaining contestants sing to impress the judges. 8 p.m. ABC
The Resident Devon (Manish Dayal) is concerned when a mother's complaints go unaddressed after her delivery, and he pushes Bell (Bruce Greenwood) to take drastic measures. 8 p.m. Fox
Shadowhunters A demon outbreak hits New York on Halloween, and the Institute staff springs into action in this new episode. Dominic Sherwood, Katherine McNamara, Matthew Daddario and Harry Shum Jr. star. 8 p.m. Freeform
Hostile Planet In "Oceans: Storms of Change," the first of two new episodes of the nature documentary series, camera crews battle wind, rain and other hardships to capture breathtaking footage. 8 p.m. National Geographic. "Grasslands" follows at 9.
The Code A Marine is charged with abandoning his post during combat, which resulted in the deaths of three soldiers, in this new episode. Anna Wood, Ato Essandoh and Phillipa Soo star. 9 p.m. CBS
Arrow Accused of murder, Laurel (Katie Cassidy) teams up with Shadow Thief (guest star Carmel Amit), a shady old acquaintance, to launch a crime spree in this new episode. 9 p.m. CW
9-1-1 A systemwide power outage cripples the emergency response operation in a new episode. Rockmond Dunba and Peter Krause star. 9 p.m. Fox
Frontline "Marcos Doesn't Live Here Anymore," a new documentary from filmmaker David Sutherland ("The Farmer's Wife"), examines the state of the U.S. immigration system through the prism of a family whose lives have been devastated by current policies. Elizabeth Perez, a decorated U.S. Marine living in Cleveland, is fighting a desperate battle to reunite her family since the deportation of her undocumented husband, who is alone in Mexico, struggling with depression. 9 p.m. KOCE and KPBS
Bull Danny (Jaime Lee Kirchner) enlists Bull's (Michael Weatherly) help in the assault trial of her former FBI mentor, now a bounty hunter who kidnapped the wrong person on his first assignment. 10 p.m. CBS
The Enemy Within Flashbacks reveal the events that led Shepherd (Jennifer Carpenter) to betray her country and the investigation that put her on a collision course with Will Keaton (Morris Chestnut) in this new episode of the espionage thriller. 10 p.m. NBC
The Fix The district attorney's office makes everyone take a lie detector test in an effort to find the mole feeding information to Ezra Wolf (Scott Cohen). Robin Tunney, Merrin Dungey, Adewale Akinnuoye-Agbaje, Taylor Kalupa and Mouzam Makkar star. 10 p.m. ABC
Duff Takes the Cake In this new series, "Ace of Cakes" star Duff Goldman and his team deliver dazzling bakery delights to deserving people. In the premiere, cakes are delivered to kids who survived the Northern California wildfires. 10 p.m. Food Network
TALK SHOWS
CBS This Morning Author David Brooks. (N) 7 a.m. KCBS
Today (N) 7 a.m. KNBC
KTLA Morning News (N) 7 a.m. KTLA
Good Morning America (N) 7 a.m. KABC
Good Day L.A. Jeff Garlin ("Curb Your Enthusiasm"); Darren Franich, Entertainment Weekly; Sean Astin ("Malibu Rescue"). (N) 7 a.m. KTTV
Live With Kelly and Ryan Ed Helms ("Penguins"); Ato Essandoh ("The Code"); Andy Cohen. (N) 9 a.m. KABC
The Real Lil Yachty ("How High 2"). (N) 11 a.m. KTTV; 1 p.m. KCOP
The Doctors CBD investigation; the pros and cons of subscription prescriptions; bacteria beauty blender. (N) 11 a.m. KCOP
The Talk Brittany Snow; Pat Harvey. (N) 1 p.m. KCBS
Steve (N) 2 p.m. KNBC
Dr. Phil A woman is haunted by the murders of her two eldest sons and four other people. (N) 3 p.m. KCBS
The Ellen DeGeneres Show Bill Hader ("Barry"). (N) 3 p.m. KNBC
The Dr. Oz Show Women who had 60- and 70-pound fibroids and didn't know it; hair products and fibroids. (N) 3 p.m. KTTV
To the Contrary With Bonnie Erbé The Family Story Project. (N) 6 p.m. KVCR
Amanpour and Company (N) 11 p.m. KOCE; midnight KVCR; 1 a.m. KLCS
Conan Taylor Schilling. (N) 11 p.m. TBS
The Tonight Show Starring Jimmy Fallon Cher performs; a performance from "The Cher Show." (N) 11:34 p.m. KNBC
The Late Show With Stephen Colbert Molly Shannon; Gary Cole; Paul Simon performs; Trevor Noah. (N) 11:35 p.m. KCBS
Jimmy Kimmel Live (N) 11:35 p.m. KABC
The Late Late Show With James Corden Max Minghella; Sean Paul and J Balvin perform. (N) 12:37 a.m. KCBS
Late Night With Seth Meyers Tracy Morgan; Willie Geist; Ingrid Andress performs. (N) 12:37 a.m. KNBC
Nightline (N) 12:37 a.m. KABC
SPORTS
Baseball The New York Mets visits the Philadelphia Phillies, 4 p.m. ESPN; the Angels visits the Texas Rangers, 5 p.m. Fox Sports Net; the Dodgers host the Cincinnati Reds, 7 p.m. ESPN (subject to blackout) and SNLA
NHL Hockey Playoffs: Washington Capitals at Carolina Hurricanes, 4 p.m. CNBC; Boston Bruins at Toronto Maple Leafs, 4 p.m. NBCSP; Nashville Predators at Dallas Stars, 6:30 p.m. NBCSP; Calgary Flames at Colorado Avalanche, 7 p.m. CNBC
NBA Basketball Playoffs: Brooklyn Nets at Philadelphia 76ers, 5 p.m. TNT; the Clippers visit the Golden State Warriors, 7:30 p.m. FS Prime and TNT
For more sports on TV, see
the Sports section.
Customized TV listings are available here: www.latimes.com/tvtimes
Click here to download TV listings for the week of April 14 - 20, 2019, in PDF format
---