Saturday's TV highlights and weekend talk shows: 'Ransom' on CBS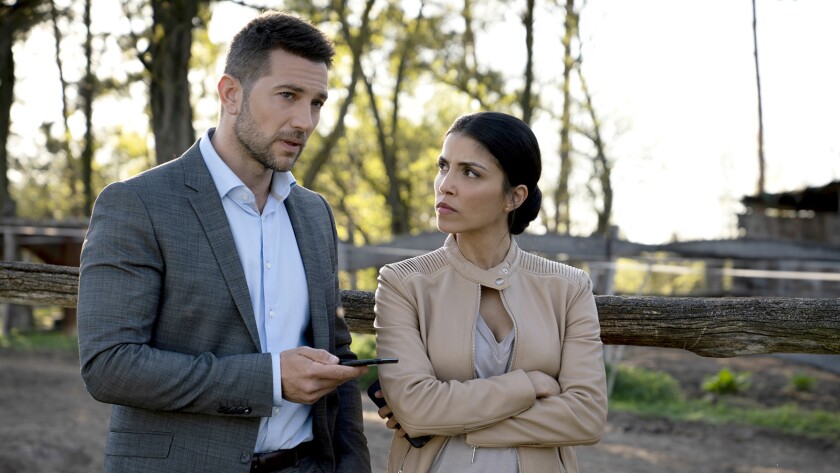 SERIES
Ransom The action drama ends its run with two back-to-back episodes. In the first, Eric (Luke Roberts) is taken captive by human smugglers who are pursuing illegal immigrants who had escaped them. Then, Eric's daughter Evie (Morgan Kohan) becomes a pawn of Damian Delaine (guest star Carlos Rota) as the villain plots to attack the global economy. Brandon Jay McLaren, Nazneen Contractor and Karen LeBlanc also star. 8 and 9 p.m. CBS
Taken Mills (Clive Standen) and the team work to thwart an active plot to kill a politician — which could touch off a war — while Hart (Jennifer Beals) is in danger in the season finale. Peter Outerbridge and Brittany Allen guest star. Adam Goldberg and Jessica Camacho also star. 8 p.m. NBC
Dr. Jeff: Rocky Mountain Vet In the office, Dr. Jeff must perform a rare surgery to save a pup with a deadly illness, and a pregnant woman counts on Dr. Amy to help her injured cat. Then Dr. Jeff and the team head to a wildlife sanctuary to treat a pride of lions. 8 p.m. Animal Planet
SPECIALS
Planet Earth: Blue Planet II This new special revisits the most memorable scenes from the documentary series. 9 p.m. BBC America
MOVIES
Suburbicon Oscar winners George Clooney and the Coen Brothers collaborated on this 2017 black comedy, which Clooney directed and co-wrote, loosely based on a real-life incident in 1957 Pennsylvania. The film stars Matt Damon as a husband and father whose world is rocked by a home invasion that ends in the death of his wife (Julianne Moore). Things get crazy after her twin sister (also Moore) moves in and tries to take her late sister's place. 8 p.m. Epix
It Previously adapted into a successful TV miniseries, Stephen King's 1986 novel about seven kids being terrorized by a shape-shifting creature stalking their hometown in Maine became one of 2017's biggest hits in this big-screen adaptation from director Andy Muschiett. Bill Skarsgard stars as Pennywise, the creepy-clown incarnation of the title creature, while Jaeden Lieberher plays the ringleader of the local kids. Jeremy Ray Taylor also stars. 8 p.m. HBO
Killer Ending A writer's daughter is kidnapped in a crime that echoes the plot of one of her novels in this new thriller. With Chelsea Hobbs and Kayla Wallace. 8 p.m. Lifetime
Roman J. Israel, Esq. Denzel Washington stars as an idealistic defense lawyer in writer-director Dan Gilroy's 2017 legal drama. Colin Farrell and Carmen Ejogo also star. 8 p.m. Starz
Cinderella Disney's 2015 live-action reenvisioning of the fairy tale, directed by Kenneth Branagh, casts Lily James as the heroine who endures the cruelty of her stepmother (Cate Blanchett) to become the belle of the ball. Richard Madden ("Game of Thrones") plays the prince. Helena Bonham Carter, Nonso Anozie, Stellan Skarsgard, Ben Chaplin and Hayley Atwell ("Marvel's Agent Carter") co-star. 8 p.m. TNT
My Big Fat Greek Wedding 2 Trying to find documentation supporting his claim to be a descendant of Alexander the Great, family patriarch Gus (Michael Constantine) is shocked to discover his wedding certificate never was signed by the priest who married Gus and Maria (Lainie Kazan) 50 years ago. Their daughter Toula (Nia Vardalos) and the rest of the clan race to put things right in this 2016 sequel to the 2002 comedy hit. John Corbett and Andrea Martin also star. 10:15 p.m. TNT
TALK SHOWS
SATURDAY
Good Morning America (N) 7 a.m. KABC
SUNDAY
Fox News Sunday With Chris Wallace Headlines: National security advisor John Bolton; the Supreme Court: Leonard Leo, Federalist Society; the Supreme Court: Sen. Richard J. Durbin (D-Ill.). (N) 5 a.m. KTTV; (N) 11 a.m. and 4 p.m. Fox News Channel
Good Morning America (N) 6 a.m. KABC
State of the Union With Jake Tapper (N) 6 and 9 a.m. CNN
CBS News Sunday Morning Scientists' efforts to save old-growth redwood trees; Cynthia Nixon ("Sex and the City") on her campaign to win the Democratic nomination for governor of New York; musician John Mellencamp; the National Museum of the American Indian in Washington, D.C.; new movies in theaters this holiday week; the history of ketchup. (N) 6:30 a.m. KCBS
Fareed Zakaria GPS (N) 7 and 10 a.m. CNN
Face the Nation (N) 8 a.m. KCBS
Meet the Press Sen. Lindsey Graham (R-S.C.); Sen. Maria Cantwell (D-Wash.); Alexandria Ocasio-Cortez, Democratic nominee for New York's 14th congressional district. (N) 8 a.m. KNBC; 3 p.m. MSNBC
This Week With George Stephanopoulos The Supreme Court: Sen. Susan Collins (R-Maine); the Supreme Court: Sen. Amy Klobuchar (D-Minn.). (N) 8 a.m. KABC
Reliable Sources (N) 8 a.m. CNN
MediaBuzz (N) 8 a.m. Fox News Channel
60 Minutes Memorable moments from the newsmagazine's five decades on air. 7 p.m. KCBS
SPORTS
2018 FIFA World Cup France faces Argentina and Uruguay plays Portugal as the Round of 16 continues. 7 and 11 a.m. Fox
Baseball The Angels battle the Baltimore Orioles, 1 p.m. FSN; the Dodgers host the Colorado Rockies, 4 p.m. Fox.
For more sports on TV, see the Sports section.
Customized TV listings are available here: www.latimes.com/tvtimes
Click here to download TV listings for the week of July 1 - 7, 2018, in PDF format
---
Inside the business of entertainment
The Wide Shot brings you news, analysis and insights on everything from streaming wars to production — and what it all means for the future.
You may occasionally receive promotional content from the Los Angeles Times.