Thursday's TV highlights: 'I'm Coming Home' on ABC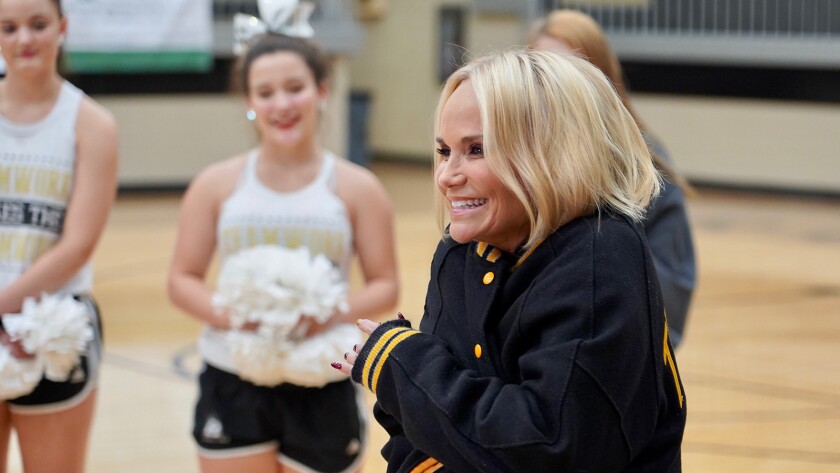 SERIES
20/20 The new episode "Mary Poppins Returns: Behind the Magic" previews the new sequel to Disney's Oscar-winning "Mary Poppins" which opens in theaters a week before Christmas. Emily Blunt stars as the magical nanny. Emily Mortimer, Ben Whishaw, Lin-Manuel Miranda and Julie Walters also star, with appearances by Dick Van Dyke, Meryl Streep and Angela Lansbury. 8 p.m. ABC
Murphy Brown Murphy (Candice Bergen) hosts a Thanksgiving dinner and her reluctant guests fear the worst in this special episode of the rebooted comedy. Faith Ford, Joe Regalbuto, Charles Kimbrough and Grant Shaud also star. 9:30 p.m. CBS
SPECIALS
Uncle Dan's Thanksgiving Day Parade. Chicago's annual holiday event kicks off the season with balloons, marching bands and floats. 6 a.m. WGN America
The 92nd Annual Macy's Thanksgiving Day Parade Savannah Guthrie, Hoda Kotb and Al Roker host this year's edition. In addition to colorful floats, character balloons and marching bands, the three-hour telecast also will feature appearances by John Legend, Barenaked Ladies, Leona Lewis, Martina McBride, Rita Ora, Pentatonix, Anika Noni Rose and the "Sesame Street" Muppets. 9 a.m. and 2 p.m. NBC
The Thanksgiving Day Parade on CBS Kevin Frazier and Keltie Knight anchor Macy's annual parade in New York. (Tape) 1 p.m. CBS
Journey to the Macy's Parade Florida's Tarpon Springs Marching Band is one of 10 marching bands chosen to perform in the Macy's Thanksgiving Day Parade. 5 p.m. KLCS
MasterChef Junior: Celebrity Showdown In this new Thanksgiving special, celebrities, their kids and some fan-favorite "MasterChef Junior" alumni compete in a series of culinary contests for charity. Terrence Howard ("Empire") and young Season 6 finalist Avery team up to battle Eric Stonestreet ("Modern Family") and Season 5 contestant Shayne. In another face-off, Alyson Hannigan ("How I Met Your Mother") and her daughter challenge Lil Rel Howery ("Rel") and his daughter. Emmitt Smith and Jerry Rice each team with a former "MasterChef Junior" winner. Also, Chef Gordon Ramsay and Martha Stewart swap holiday-themed recipes. 8 p.m. Fox
Meghan's New Life: The Real Princess Diaries This new special offers a glimpse of how Meghan Markle, the Duchess of Sussex, has been adjusting to her new life, new role and new family. 9 p.m. ABC
Chimp Sanctuary Sue Perkins ("The Great British Bake Off") travels to Louisiana to visit Chimp Haven, the U.S. national chimpanzee sanctuary in this new documentary special, part of a full day of Nature documentaries. 9 p.m. BBC America. "Chimps of the Lost Gorge" follows at 10.
I'm Coming Home Kristin Chenoweth, Jake Owen and Daymond John each take a trip back to their childhood homes in this new Thanksgiving special. 10 p.m. ABC
'Tis the Season: A One Tree Hill Cast Reunion Several alumni of the long-running nighttime soap "One Tree Hill" are appearing in Lifetime Christmas movies this season, and they reconnect in this new one-hour special. Appearances by Hilarie Burton, Danneel Ackles, Antwon Turner, Tyler Hilton and Stephen Colletti are featured. 10 p.m. Lifetime
MOVIES
Christmas at the Palace A choreographer and a celebrity ice skater (Merritt Patterson, Brittany Bristow) are in the tiny country of San Senova for the last show of their tour when they bump into a handsome gentleman (Andrew Cooper), who suffers from a lack of holiday spirit in this 2018 romance. India Fowler also stars. 8 p.m. Hallmark
The Christmas Contract A web designer (Hilarie Burton) is nervous about returning to her Louisiana hometown for the first time since a breakup with her old flame, so her best friend (Daneel Ackles) enlists her charming brother (Robert Buckley) to accompany her and they draw up an agreement between them to make things less awkward. Cheryl Ladd, Bruce Boxleitner and Antwon Tanner also star in this new romantic comedy. 8 p.m. Lifetime
TALK SHOWS
CBS This Morning (N) 7 a.m. CBS
Today Thanksgiving Day parade; Hugh Jackman and wife Deborra Jackman; Marlo Thomas; chefs Sunny Anderson and Anthony Scotto. (N) 7 a.m. NBC
KTLA Morning News (N) 7 a.m. KTLA
Good Morning America Chefs Eddie Jackson, Geoffrey Zakarian and Jamika Pessoa cook Thanksgiving dinner; the Philadelphia Thanksgiving Day parade; the Macy's Thanksgiving Day parade. (N) 7 a.m. ABC
Good Day LA Megan Colarossi. (N) 7 a.m. Fox
Live With Kelly and Ryan Jennifer Hudson ("The Voice"); Elsie Fisher ("Eighth Grade"); chef Joseph Yoon demonstrates some "Creepy Crawly Cuisine." 9 a.m. ABC
The Wendy Williams Show Lil Rel Howery; Alex Guarnaschelli shares Thanksgiving recipes. (N) 10 a.m. Fox
Amanpour and Company (N) 11 p.m. KOCE; midnight KPBS; 1 a.m. KLCS
The Tonight Show Starring Jimmy Fallon Jerry Seinfeld; Brian Regan; wildlife expert Robert Irwin. (N) 11:34 p.m. NBC
The Late Show With Stephen Colbert Lin-Manuel Miranda; Brooke Baldwin; Laura Benanti. 11:35 p.m. CBS
Late Night With Seth Meyers Seth's brother/actor Josh Meyers; Seth's parents Hilary and Larry Meyers. (N) 12:37 a.m. NBC
Nightline 12:37 a.m. ABC
SPORTS
NFL Football The Detroit Lions host the Chicago Bears, 9:30 a.m. CBS; Washington visits the Dallas Cowboys, 1:30 p.m. Fox; the New Orleans Saints host the Atlanta Falcons. 5:15 p.m. NBC
College Basketball Las Vegas Invitational: UCLA versus Michigan State, Second semifinal, 7 p.m. FS1
For more sports on TV, see the Sports section.
Customized TV listings are available here: www.latimes.com/tvtimes
Click here to download TV listings for the week of Nov. 18 - 24, 2018, in PDF format
---
Inside the business of entertainment
The Wide Shot brings you news, analysis and insights on everything from streaming wars to production — and what it all means for the future.
You may occasionally receive promotional content from the Los Angeles Times.