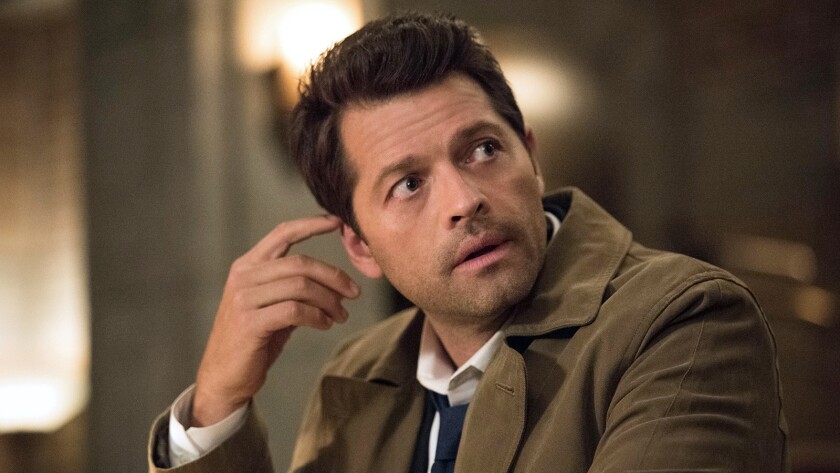 SERIES
Supernatural Sam and Castiel (Jared Padalecki, Misha Collins) team up to find a shaman (guest star Dimitri Vantis) who may be able to help one of their friends. Elsewhere, Nick's (Mark Pellegrino) search for answers about the deaths of his wife and son send him into a downward spiral on a very dark path. Alexander Calvert and Jensen Ackles also star. 8 p.m. KTLA
Mom Christy (Anna Faris) competes with her law school classmates for a prestigious internship in this new episode of the situation comedy. Allison Janney also stars. 9 p.m. CBS
Will & Grace Grace (Debra Messing) is offended when her boyfriend Noah (guest star David Schwimmer) refuses to let her meet his young daughter. Also, Will's (Eric McCormack) mother (guest star Blythe Danner) visits after her beloved dog dies, seeking sympathy from her son. Sean Hayes also stars in this new episode with guest star Derek Gaines. 9 p.m. NBC
Baroness Von Sketch Show Some 18th-century British ladies are attracted to the same gentleman in the first of two new episodes of this comedy series. 9 and 9:30 p.m. IFC
Murphy Brown Frank (Joe Regalbuto) is physically attacked while covering a political rally, and that leaves Murphy (Candice Bergen) afraid to dispute the opposing viewpoint of a guest on her show. Faith Ford also stars in this new episode. 9:30 p.m. CBS
SPECIALS
LEGO Jurassic World: The Secret Exhibit In this animated prequel, two of Jurassic World's top employees team up to move three dinosaurs across the island for the grand opening of a new super-secret exhibit in this two-part special. 8 and 8:30 p.m. NBC
The Wonderful World of Disney: Magical Holiday Celebration Sarah Hyland ("Modern Family"), singer-songwriter Jordan Fisher ("Dancing With the Stars: Juniors") and Jesse Palmer host this two-hour special from Walt Disney World in Florida and Disneyland. Among the highlights, Gwen Stefani sings "Feliz Navidad" and Meghan Trainor performs a medley of her hits, then joins country artist Brett Eldredge for a duet. Andrea Bocelli, Becky G, Aloe Blacc and "American Idol" winner Maddie Poppe also perform. 9 p.m. ABC
Dolly & Friends: The Making of a Soundtrack This new behind-the-scenes music documentary features Dolly Parton in duets with Miranda Lambert, Elle King, Macy Gray, Mavis Staples, Alison Krauss and Rhonda Vincent. 9 p.m. CMT
MOVIES
Ice Age: The Meltdown A woolly mammoth, a sloth and a saber-tooth tiger (Ray Romano, John Leguizamo and Denis Leary) learn their home is about to be flooded and try to warn their friends. The voice of Queen Latifah is also featured in this 2006 animated sequel. 5 and 11 p.m. AMC
Teenage Mutant Ninja Turtles: Out of the Shadows Leonardo, Raphael, Michelangelo and Donatello (Pete Ploszek, Alan Ritchson, Noel Fisher and Jeremy Howard) are still living in the sewers beneath New York in this 2016 sequel to the 2014 reboot "Teenage Mutant Ninja Turtles," combining live action with motion-capture animation. Megan Fox, Tyler Perry, Brian Tee and Will Arnett also star. 9 p.m. Nickelodeon
TALK SHOWS
CBS This Morning (N) 7 a.m. KCBS
Today Rossen Reports; Pentatonix. (N) 7 a.m. KNBC
KTLA Morning News (N) 7 a.m. KTLA
Good Morning America Tyra Banks ("Life-Size 2"). (N) 7 a.m. KABC
Good Day L.A. Jamie Krell; Ashley Iaconetti. (N) 7 a.m. KTTV
Live With Kelly and Ryan Tyra Banks ("Life-Size 2"); Nick Kroll ("Big Mouth"). (N) 9 a.m. KABC
The View Rachel Brosnahan; Tony Shalhoub. (N) 10 a.m. KABC
The Dr. Oz Show Bow Wow discusses cough syrup addiction; collagen powder. (N) 10 a.m. KCOP; 1 p.m. KTTV
The Real Jasmine Guy and Kadeem Hardison ("The Christmas Pact"). (N) 11 a.m. KTTV
The Talk Vivica A. Fox; Jaymes Vaughan; Ayesha Curry. (N) 1 p.m. KCBS
Steve Stylist Timothy Snell; Stevie Wonder's vegan chef. (N) 2 p.m. KNBC
Rachael Ray Melissa Joan Hart; David Venable, QVC; Bobby Berk ("Queer Eye"). (N) 2 p.m. KTTV
Dr. Phil A woman claims that her husband's anger is out of control and that it's destroying their marriage. (N) 3 p.m. KCBS
The Ellen DeGeneres Show Jennifer Lopez ("Second Act") performs. (N) 3 p.m. KNBC
The Daily Show With Trevor Noah Author-activist Lindy West. (N) 11 p.m. Comedy Central
The Tonight Show Starring Jimmy Fallon Claire Foy; Mike Birbiglia; Jourdain Fisher. (N) 11:34 p.m. KNBC
The Late Show With Stephen Colbert Garth Brooks; Tim Meadows; Emma Willmann. (N) 11:35 p.m. KCBS
The Late Late Show With James Corden Kermit the Frog; Minka Kelly; Sampha performs. (N) 12:37 a.m. KCBS
Nightline (N) 12:37 a.m. KABC
Amanpour and Company (N) 1 a.m. KOCE
SPORTS
NFL Football The New Orleans Saints visit the Dallas Cowboys, 5 p.m. Fox and 5:20 p.m. NFL.
NHL Hockey The Kings visit the Edmonton Oilers, 6 p.m. FSN
NBA Basketball The Golden State Warriors visit the Toronto Raptors, 5 p.m. TNT; the Lakers host the Indiana Pacers, 7:30 p.m. SPST; the Clippers visit the Sacramento Kings, 7:30 p.m. TNT.
For more sports on TV, see the Sports section.
Customized TV listings are available here: www.latimes.com/tvtimes
Click here to download TV listings for the week of Nov. 24 - Dec. 1, 2018, in PDF format
---