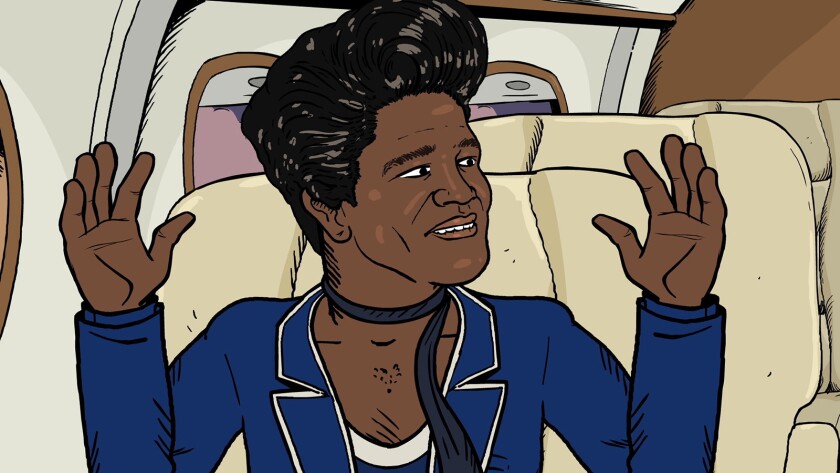 SERIES
MacGyver When a vial containing a deadly virus is stolen from the Centers for Disease Control in Atlanta, MacGvyer (Lucas Till) and his team race to recover it before the thief unleashes a global pandemic. Tristin Mays, Justin Hires and George Eads also star in this new episode of the rebooted adventure. 8 p.m. CBS
Blindspot Remi's (Jaimie Alexander) schemes put her and Weller (Sullivan Stapleton) in danger, while Patterson and Rich (Ashley Johnson, Ennis Esmer) find the solution to a complicated puzzle at the FBI. Rob Brown guest stars, and Audrey Esparza also stars. 8 p.m. NBC
Dynasty Fallon (Elizabeth Gillies) embarks on a new business venture and inadvertently collides with Culhane's (Robert Christopher Riley) secret life. Rafael de la Fuente, Maddison Brown, Nicollette Sheridan, Grant Show and Nathalie Kelley also star. 8 p.m. KTLA
Hawaii Five-0 When an infamous urban vigilante is killed after making a citizen's arrest, the investigation leads to the world of superheroes and comic books. Alex O'Loughlin and Scott Caan star in this new episode of the police drama. 9 p.m. CBS
Crazy Ex-Girlfriend Josh (Vincent Rodriguez III) house-sits for Rebecca (Rachel Bloom) when she takes a trip to visit her mother (Tovah Feldshuh) in this new episode of the musical comedy. 9 p.m. KTLA
Austin City Limits Singer and actress Janelle Monáe performs songs from her album "Dirty Computer" in this new episode of the musical showcase series. 9 p.m. KLCS
Diners, Drive-Ins and Dives Host Guy Fieri starts at an eatery in San Antonio that's an East Coast/Texas deli mash-up offering a variety of succulent smoked meat. Then, in Sebastopol, Calif., he stops at a farm-to-table spot, where the kitchen team puts its spin on stroganoff and bacon-gelato-toffee waffles. 9 p.m. Food Network
Blue Bloods When a video surfaces of cops being harassed by people at a housing complex, Frank (Tom Selleck) goes against Garrett's (Gregory Jbara) advice, ordering a raid to round up anyone in the area with an outstanding warrant. Donnie Wahlberg and Bridget Moynahan also star. 10 p.m. CBS
Mike Judge Presents: Tales From the Tour Bus James Brown is featured in a two-part segment of this live action/animated series. 10 p.m. Cinemax
Van Helsing Doc and Jolene (Rukiya Bernard, Caroline Cave) clash with Denver authorities over the repellent. Kelly Overton, Jonathan Scarfe, Vincent Gale, Missy Peregrym and Jennifer Cheon also star. 10 p.m. Syfy
MOVIES
A Very Nutty Christmas At the same time an avalanche of seasonal cookie orders hits a frazzled bakery owner (Melissa Joan Hart), her boyfriend dumps her, but she soon meets a handsome soldier (Barry Watson) who bears an uncanny resemblance to a famous ballet character. Marissa Jaret Winokur and Conchata Ferrell also star in this new holiday treat. 8 p.m. Lifetime
TALK SHOWS
CBS This Morning (N) 7 a.m. KCBS
Today Samah Dada; Dolly Parton performs. (N) 7 a.m. KNBC
KTLA Morning News (N) 7 a.m. KTLA
Good Morning America Backstage at the Victoria's Secret special; Tory Johnson. (N) 7 a.m. KABC
Good Day L.A. Cheryl Jackson, Minnie's Food Pantry; Grae Drake, Rotten Tomatoes; Glynis McCants. (N) 7 a.m. KTTV
Live With Kelly and Ryan Garth Brooks; illusionist Adam Trent performs. (N) 9 a.m. KABC
The View Ana Navarro. (N) 10 a.m. KABC
The Wendy Williams Show Nicole Ari Parker ("Empire" on Fox). (N) 10 a.m. KTTV
The Dr. Oz Show A doctor who has a special ability to feel other people's pain. (N) 10 a.m. KCOP; 3 p.m. KTTV
The Real Trey Songz ("Blood Brothers"). (N) 11 a.m. KTTV
The Talk Tyra Banks; Carrie Ann Inaba guest co-hosts. (N) 1 p.m. KCBS
Rachael Ray Sean Hayes ("Will & Grace") and husband Scott; Daphne Oz and Hilaria Baldwin; Patti Murin. (N) 2 p.m. KTTV
Dr. Phil A teenager who transitioned into a young woman named Diamond. (N) 3 p.m. KCBS
The Ellen DeGeneres Show Julia Roberts ("Ben Is Back"); Alessia Cara performs. (N) 3 p.m. KNBC
WSJ at Large With Gerry Baker (Premiere) International trade; overseas manufacturing, the economy: Former Treasury Secretary Lawrence Summers. (N) 6:30 p.m. Fox Business
Washington Week The Russia probe: Michael Schmidt, the New York Times; Natasha Bertrand, the Atlantic; Matea Gold, the Washington Post. (N) 7 p.m. KOCE
The Issue Is...With Elex Michaelson Conservative commentator Tomi Lahren; activist Andrew Godinich; Deborah Kobylt. (N) 10:30 p.m. KTTV
The Tonight Show Starring Jimmy Fallon Dolly Parton performs; Nick Kroll. (N) 11:34 p.m. KNBC
The Late Show With Stephen Colbert Former First Lady Michelle Obama. (N) 11:35 p.m. KCBS
Amanpour and Company (N) midnight KOCE
Nightline (N) 12:37 a.m. KABC
SPORTS
NHL Hockey The Ducks visit the Carolina Hurricanes, 4:30 p.m. FS Prime; the Kings are at the Calgary Flames, 6 p.m. FSN.
NBA Basketball The Houston Rockets visit the San Antonio Spurs, 5 p.m. ESPN; the Denver Nuggets at the Portland Trail Blazers, 7:30 p.m. ESPN; the Lakers host the Dallas Mavericks, 7:30 p.m. SPST.
For more sports on TV, see the Sports section.
Customized TV listings are available here: www.latimes.com/tvtimes
Click here to download TV listings for the week of Nov. 24 - Dec. 1, 2018, in PDF format
---