Saturday's TV highlights and weekend talk shows: 'A Midnight Kiss' on Hallmark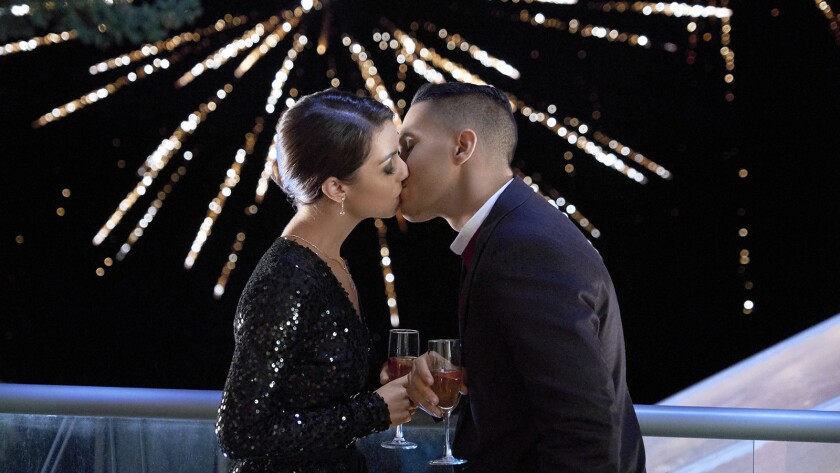 SPECIALS
Mickey's 90th Spectacular Disney spared no expense to celebrate the 90th birthday of the company's first animated superstar: Mickey Mouse, who made his big-screen debut in the 1928 short "Steamboat Willie." Among the celebrities joining this two-hour special are Kristen Bell, Josh Groban, Meghan Trainor, Kelsea Ballerini, Sofia Carson and two original Mouseketeers, Sharon Baird and Bobby Burgess. 8 p.m. ABC
2019 Winterfest Preview Show This new special offers a sneak peek at five world premiere original movies coming to Hallmark Channel in January. Hosted by Taylor Cole and Rukiya Bernard. 10 p.m. Hallmark
MOVIES
The Domestics Kate Bosworth ("Straw Dogs") and Tyler Hoechlin ("Teen Wolf") star a young couple traveling through a gang-ravaged post-apocalyptic countryside in an attempt to get home in this 2018 suspense thriller. Lance Reddick, Sonoya Mizuno, David Dastmalchian and Laura Cayouette also star.8 p.m. EPIX
A Midnight Kiss A brother and sister (Adelaide Kane, Jason Cermak) running a party planning business are hired for their biggest gig yet while he is sidelined by an accident. He finds an old college buddy (Carlos PenaVega) to help out in this new holiday romance. 8 p.m. Hallmark
Life of the Party A recently divorced mom, Deanna Miles (Melissa McCarthy), goes back to college to finish work on her degree at the same Atlanta university her daughter (Molly Gordon) is attending in this 2018 comedy, that McCarthy co-wrote with her husband and director, Ben Falcone. Gillian Jacobs, Maya Rudolph, Matt Walsh, Julie Bowen and Stephen Root also star. 8 p.m. HBO
Patient Zero Matt Smith stars in this 2018 action horror movie set in an apocalyptic future in which a zombie virus is decimating mankind. Smith's character survives his infected bite, which leaves him with an ability to communicate with the undead creatures around him. Natalie Dormer, Clive Standen, Stanley Tucci and Agyness Deyn also star. 10:55 p.m. Starz
WEEKEND TALK
SATURDAY
Good Morning America (N) 7 a.m. KABC
The Alec Baldwin Show Regina King; Gloria Allred. (N) 10 p.m. ABC
SUNDAY
Good Morning America (N) 6 a.m. KABC
State of the Union Counselor to the President Kellyanne Conway. Sen. Lindsey Graham (R-S.C.). Former Gov. Terry McAuliffe (D-Va.). Panel: Rep. Debbie Dingell (D-Mich); Rick Santorum; Linda Chavez; Symone Sanders. (N) 6 and 9 a.m. CNN
CBS News Sunday Morning "Encyclopaedia Britannica's" 250th anniversary; Laurel and Hardy; remembering people lost in 2018. (N) 6:30 a.m. KCBS
Fox News Sunday With Chris Wallace (N) 7 a.m. KTTV; 11 a.m., 4 and 11 p.m. FNC
Fareed Zakaria GPS The History of Impeachment: Peter Baker, cthe New York Times; Noah Feldman, Harvard; Michael Isikoff; Joshua Matz; Tim Naftali, Nixon presidential library. (N) 7 and 10 a.m. CNN
Face the Nation Sen. Richard C. Shelby (R-Ala.). Sen. Jon Tester (D-Mont.). Gayle Smith, the One Campaign. Historians review 2018 and look ahead: Co-author Peter Baker, the New York Times ("Impeachment"); author Michael Beschloss ("Presidents of War"); author Doris Kearns Goodwin ("Leadership"); author Jill Lepore ("These Truths"). (N) 8 a.m. KCBS
Meet the Press Global warming: Michael Bloomberg; Jerry Brown; Kate Marvel; Carlos Curbelo; Michèle Flournoy; Craig Fugate. (N) 8 a.m. KNBC; 3 p.m. MSNBC
This Week The government shutdown: Kevin McAleenan, Customs and Border Protection; Rep. Hakeem Jeffries (D-N.Y.). Planned drawdown of troops in Syria and Afghanistan; the resignation of Sec. of Defense James Mattis: Author Gen. Stanley McChrystal, U.S. Army (Ret.) ("Leaders: Myth and Reality"). Panel: Mary Bruce; Matthew Dowd; Mary Jordan, the Washington Post; author Reihan Salam ("Melting Pot or Civil War?: A Son of Immigrants Makes the Case Against Open Borders"). (N) 8 a.m. KABC
Reliable Sources Media shakeups and takedowns in 2018; challenges for 2019: Sally Buzbee, the Associated Press; Matt Murray, the Wall Street Journal; Kathleen Carroll, Committee to Protect Journalists. #MeToo reporting: Rachel Abrams, the New York Times; Irin Carmon, New York magazine; Ronan Farrow, the New Yorker. The term "fake news": Kathleen Hall Jamieson. The media's biggest winners and losers of the year : David Zurawik, the Baltimore Sun. (N) 8 a.m. CNN
MediaBuzz (N) 8 a.m. and midnightFNC
60 Minutes Massimo Bottura; Scottish island where premium single-malt scotch whiskies are made; Paul McCartney. (N) 7 p.m. KCBS
SPORTS
Premier League Soccer Tottenham Hotspur versus Wolverhampton Wanderers FC, 6:55 a.m. NBCSP; Liverpool versus Arsenal, 9:30 a.m. NBC; Crystal Palace versus Chelsea, Sunday, 3:55 a.m.
College Football South Carolina versus Virginia, 9 a.m. ABC; Peach Bowl: Florida versus Michigan, 9 a.m. ESPN; Cotton Bowl Classic: Notre Dame versus Clemson, 1 p.m. ESPN; Orange Bowl: Oklahoma versus Alabama, 5 p.m. ESPN
College Basketball Davidson at North Carolina, 9 a.m. ESPN2; Howard at Georgetown, 9 a.m. FS1; Kentucky at Louisville, 11 a.m. ESPN2; Xavier at DePaul, 11 a.m. FS1; Texas A&M-Corpus Christi at Oklahoma State, 11 a.m. FS Prime; Georgia Southern at Dayton, 12:30 p.m. NBCSP; Campbell at Miami, 1 p.m. FS Prime; Belmont at Purdue, 1:30 p.m. FS1; New Orleans at Baylor, 3 p.m. FS Prime; Brown at San Diego State, 5 p.m. FS Prime; St. John's at Seton Hall, 10 p.m. Fox Sports Net
NHL Hockey Vegas Golden Knights at Kings, 1 p.m. Fox Sports Net; Arizona Coyotes at Ducks, 7 p.m. Fox Sports Net
For more sports on TV, see
the Sports section.
Customized TV listings are available here: www.latimes.com/tvtimes
Click here to download TV listings for the week of Dec. 30, 2018 - Jan. 5, 2019, in PDF format
---
Inside the business of entertainment
The Wide Shot brings you news, analysis and insights on everything from streaming wars to production — and what it all means for the future.
You may occasionally receive promotional content from the Los Angeles Times.