'Next Top Model' provided a runway to freedom for one young black man trapped by gender conformity
When Miss J. Alexander arrived on set in one of the first episodes of "America's Next Top Model" — in just a T-shirt and heels — jaws dropped. Most television audiences had never seen such combined femininity and blackness on full display in a male body. But they learned to deal with it.
Thirteen seasons later, Miss J. Alexander was joined by André Leon Talley in oversized capes and blinged-out brooches, dripping in self-assurance. Again, viewers had little choice but to accept him as is.
SIGN UP for the free Indie Focus movies newsletter >>
Miss J. and Talley were but small parts of the "Top Model" train led by Tyra Banks, but as the show ended after 22 seasons Friday, I realized that I will deeply miss them. For this lil' sissy boy from South Carolina with an imagination far beyond the confines of my black and conservative lineage, their representation was paramount.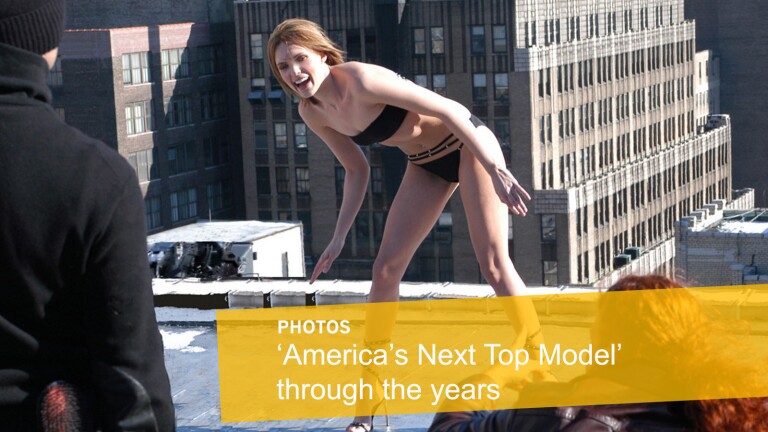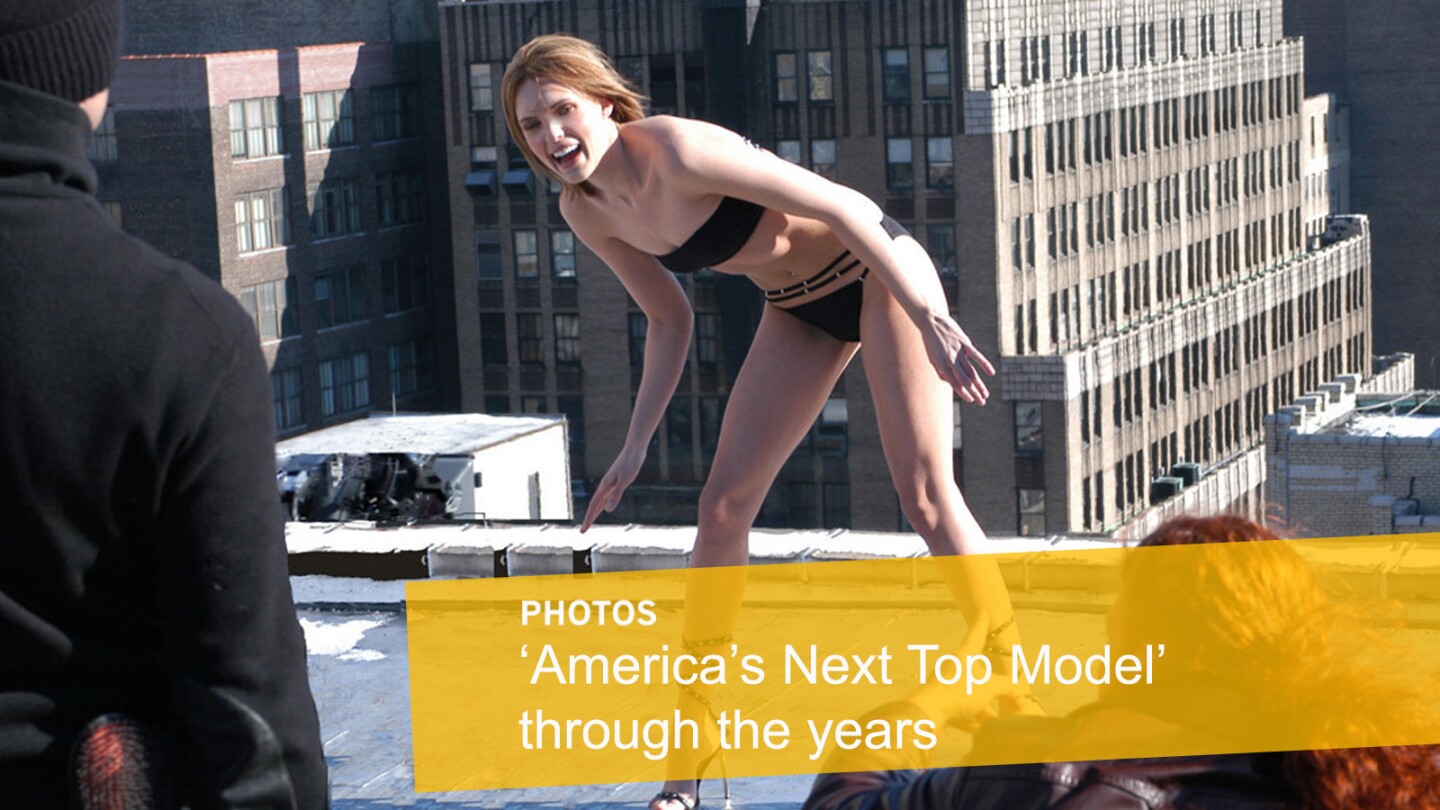 Tessa Carlson, 19, tries to hold a picture-perfect pose for fashion photographer Douglas Bizarro, front, during her first-ever bikini photo shoot, atop a New York City high-rise in chilly weather on the series premiere of "American's Next Top Model."
(John P. Filo / UPN)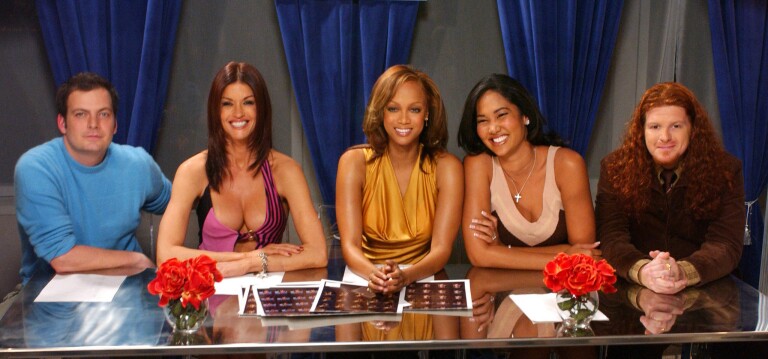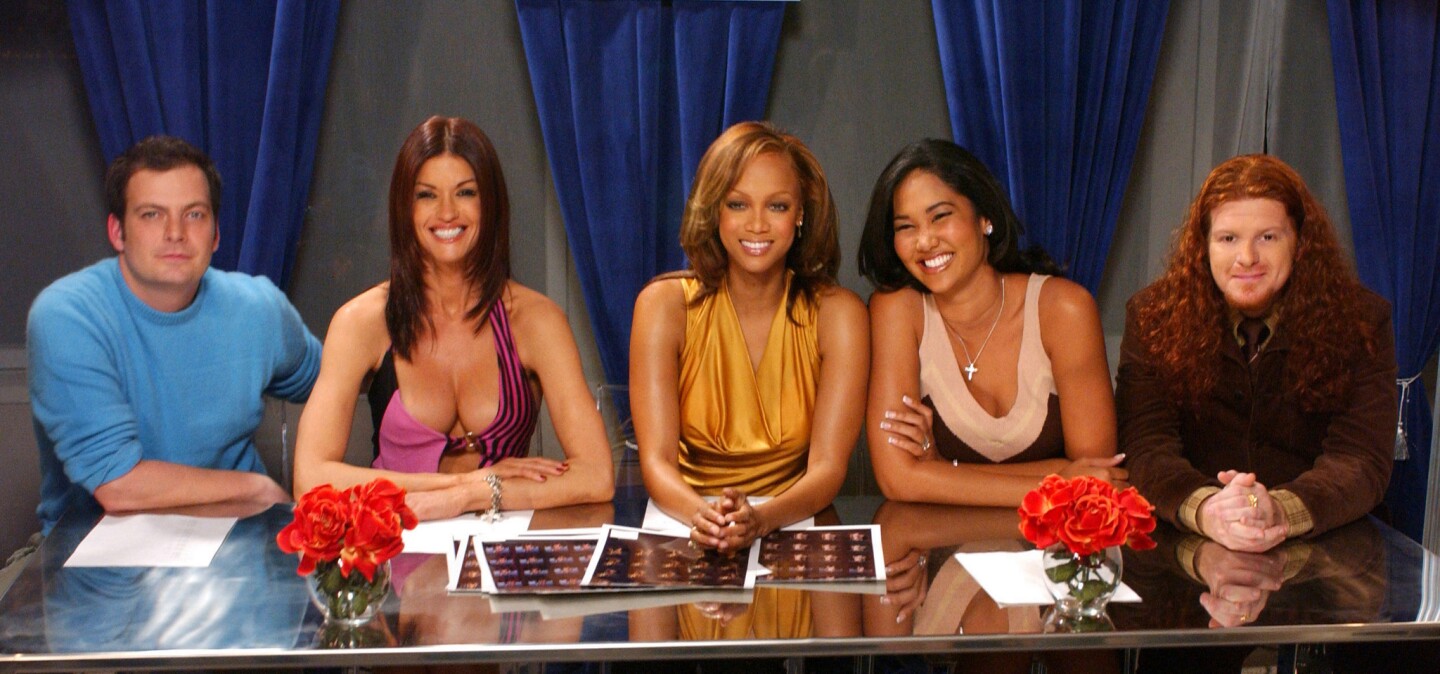 A look at the first judges of "America's Next Top Model." From left are Marie Claire fashion editor Beau Quillian, supermodel Janice Dickinson, supermodel Tyra Banks, hip-hop fashion designer Kimora Lee Simmons and special guest judge, photographer Douglas Bizzaro.
(David M. Russell / UPN)
Yoanna House poses for fashion photographer Massimo Costoli in Cycle 2 of "America's Next Top Model."
(John P. Filo/ CBS)
A look at the contestants from Cycle 4 of "America's Next Top Model," featuring Brandy, Brita, Brittany, Christina, Kahlen, Keenyah, Lluvy, Michelle, Naima, Noelle, Rebecca, Sarah, Tatiana and Tiffany.
(Hyungwon Ryoo / UPN )
Kim Stolz was a contesant on Cycle 5 of "America's Next Top Model." She later became a correspondent for MTV News.
(Jason Willheim / UPN)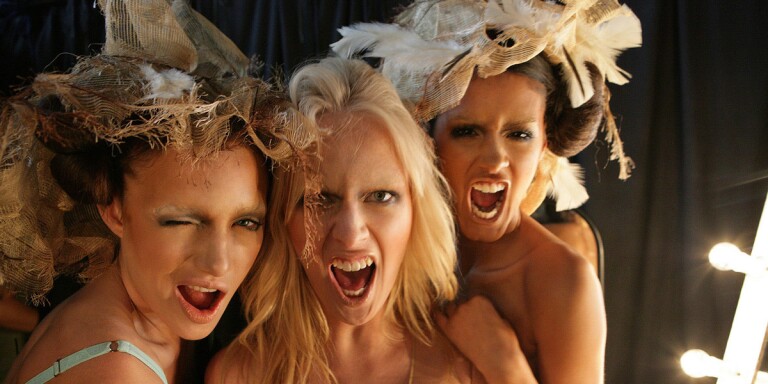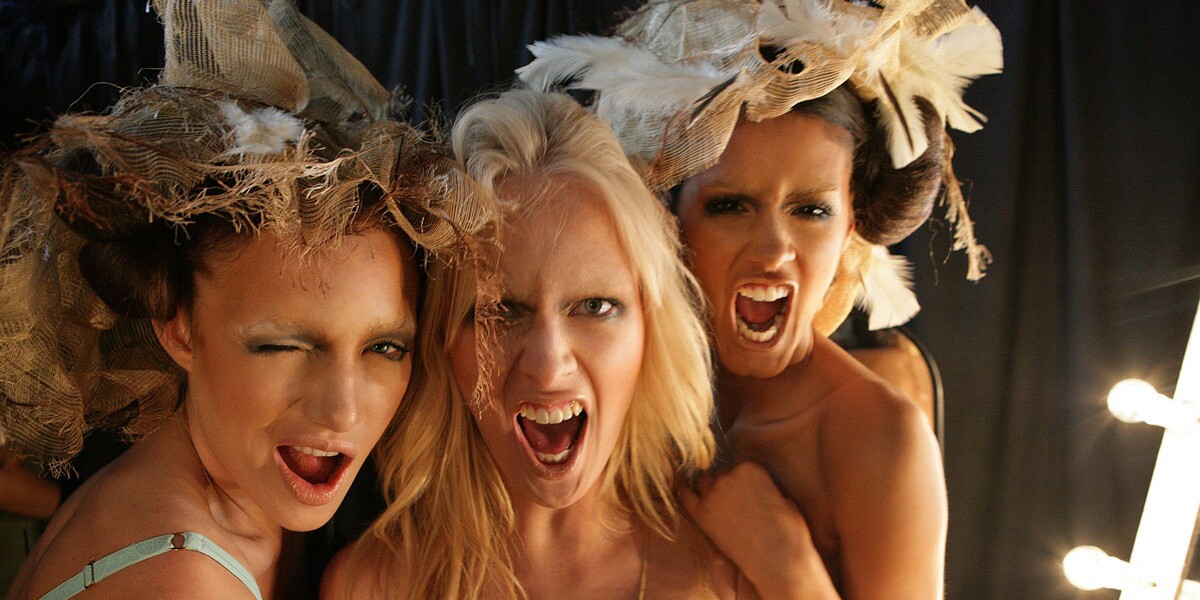 Models Natasha, from left, Caridee English and Jaslene shoot a commercial and a national print ad for CoverGirl on Cycle 7.
(The CW)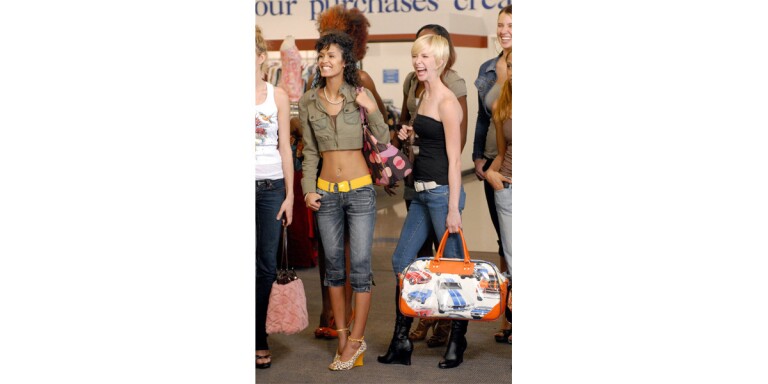 From left, Jaslene, Sarah and Diana get a case of the giggles on Cycle 8 of "America's Next Top Model."
(Michael Yarish / The CW )
Tyra Banks, right, executive producer and host of "America's Next Top Model" shares a laugh with Danielle Evans, the show's Cycle 6 winner.
(Bebeto Matthews / AP)
A look at the contestants from Cycle 7 of the show, featuring Megg, Brooke, Anchal, (second row) Jaeda, Melrose, Eugena, CariDee, (third row) Christian, A.J., Amanda, Michelle, (top row) Megan and Monique.
(De Yonker / The CW)
Jay Manuel and Tyra Banks reveal the participants' makeovers in Cycle 7 of the program. The before and after shots always created anticipation.
(Justin Lubin / The CW)
Tyra Banks, the creator and executive producer of "America's Next Top Model," exchanges thoughts with co-judge Nigel Barker on Cycle 10.
(Eric Liebowitz / The CW)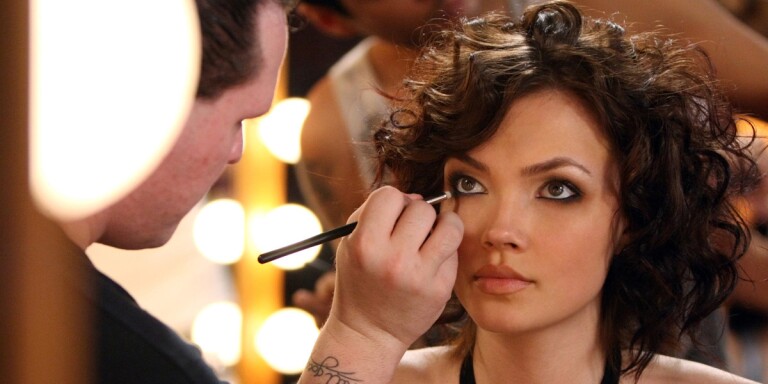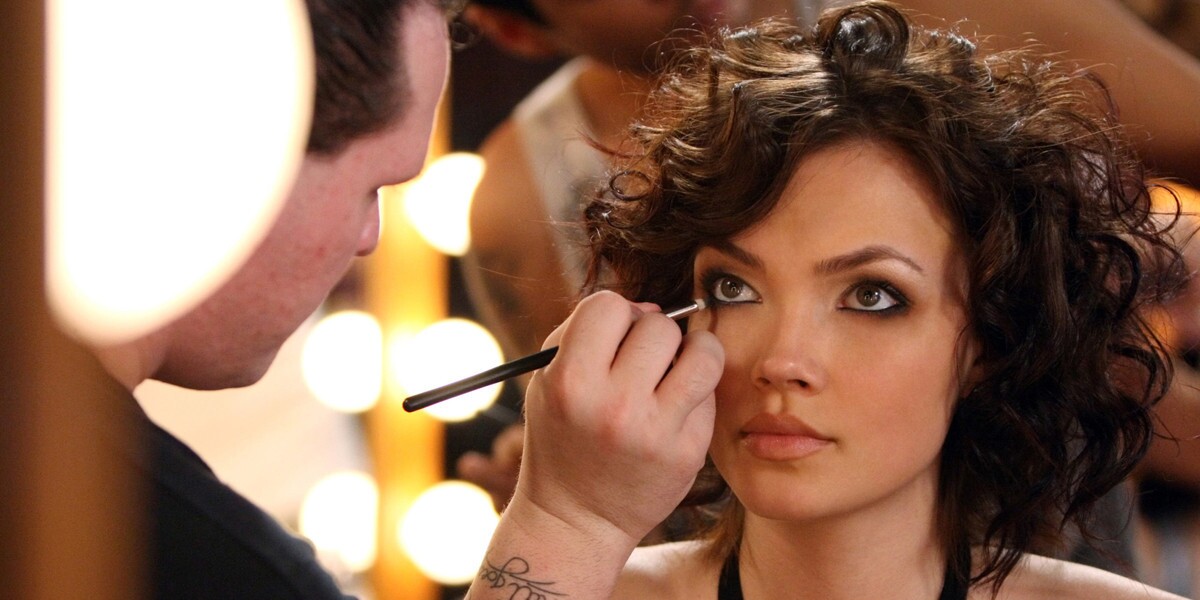 A model gets her hair and makeup done. In this episode, the contestants moved into their house and tackled their first photo challenge, turning hot button political issues into hot pictures.
(Michael Desmond / The CW)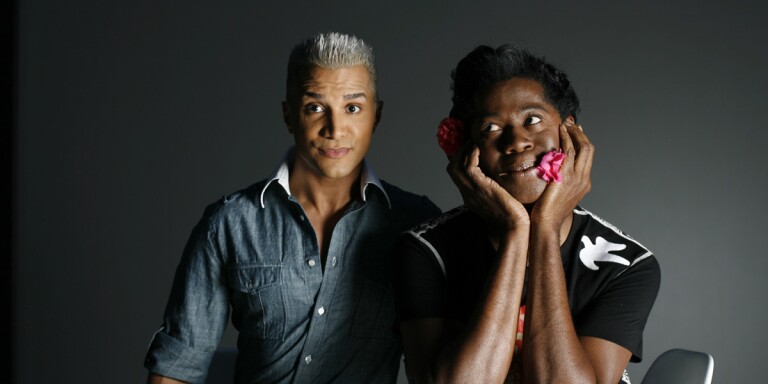 "America's Next Top Model" stars Mister Jay, left, and Miss J, became fan favorites of the long-running reality show.
(Michael Robinson Chavez / Los Angeles Times)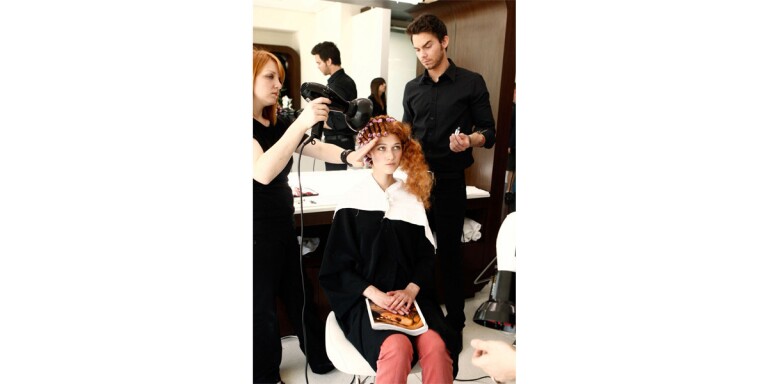 Nicole gets all dolled up for a photo shoot.
(Michael Desmond / The CW)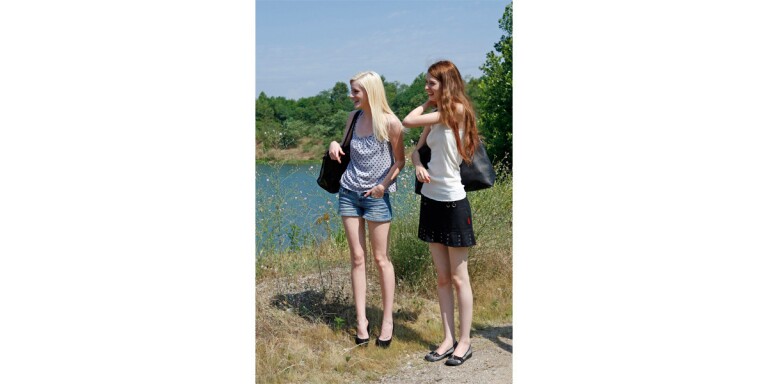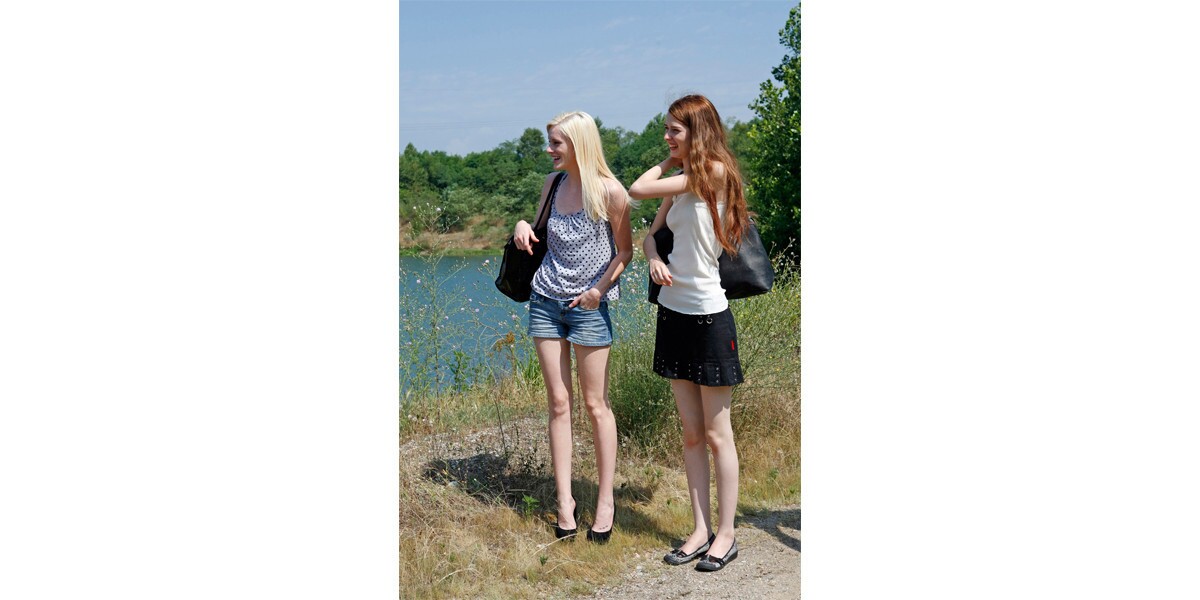 The finalists, Chelsey and Ann, shoot their CoverGirl commercial and print ad on Cycle 15 of the program.
(Ivano Grasso/The CW)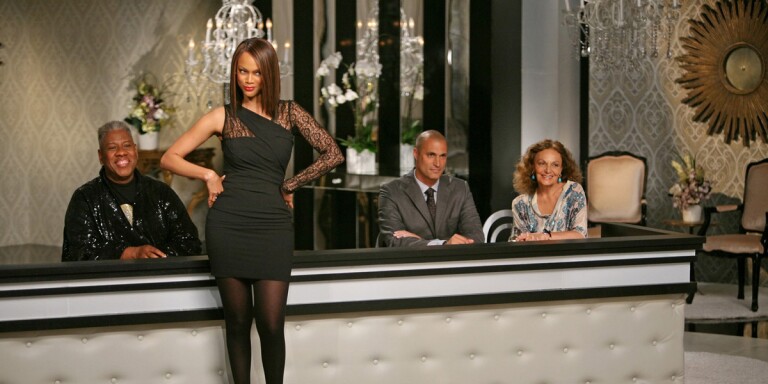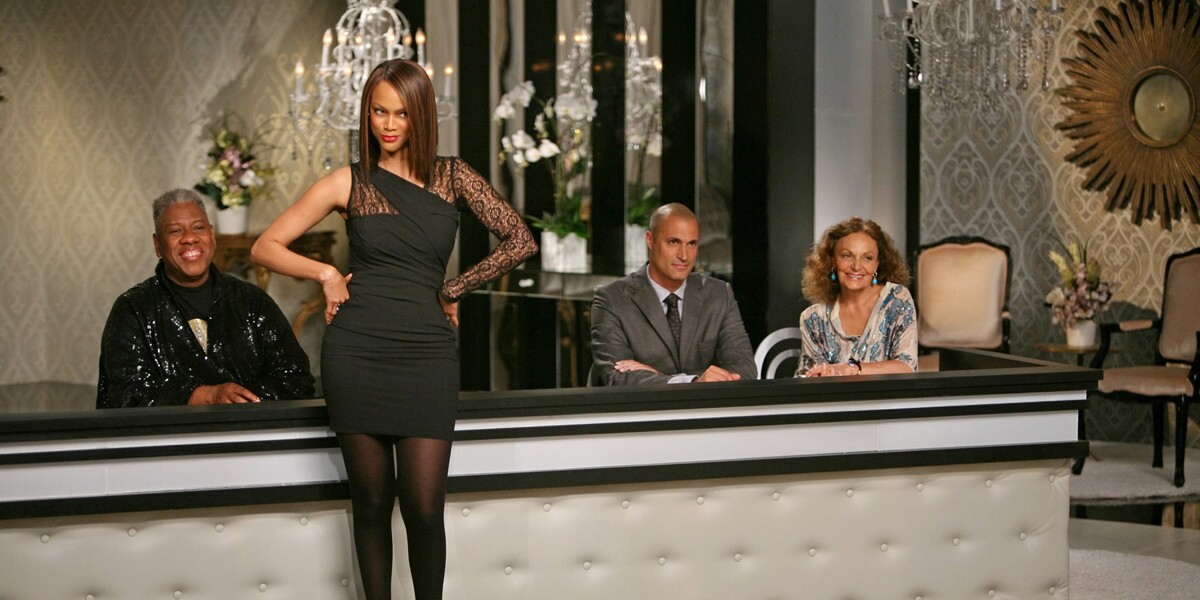 Major American fashion designer Diane Von Furstenberg, right, joins Tyra Banks, Andre Leon Talley, left, and Nigel Barker, second from right, on the judges panel for an episode from Cycle 15.
(Mathieu Young / The CW)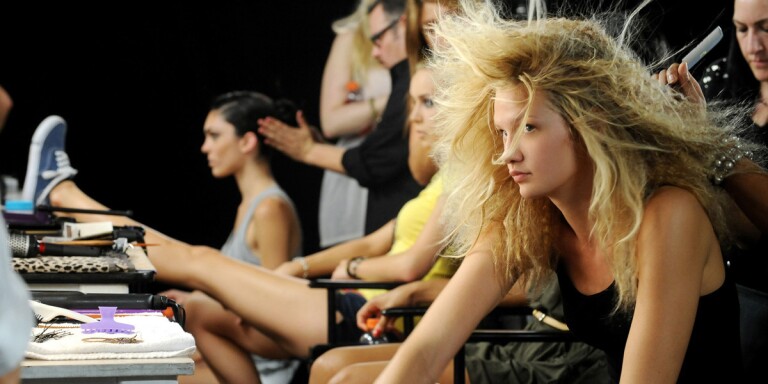 In this episode of Cycle 16, models Mikaela, from left, Alexandria and Molly are shocked to find that fire will be an element of their next runway challenge for designer Geoffrey Mac.
(Jaimie Trueblood / The CW)
Cycle 18 returned with its first-ever "British Invasion," featuring former contestants from "Britain's Next Top Model." Pictured sitting are judges Kelly Cutrone, from left, Nigel Barker, and Kelly Osbourne. Tyra Banks is standing.
(Chris Frawley / The CW)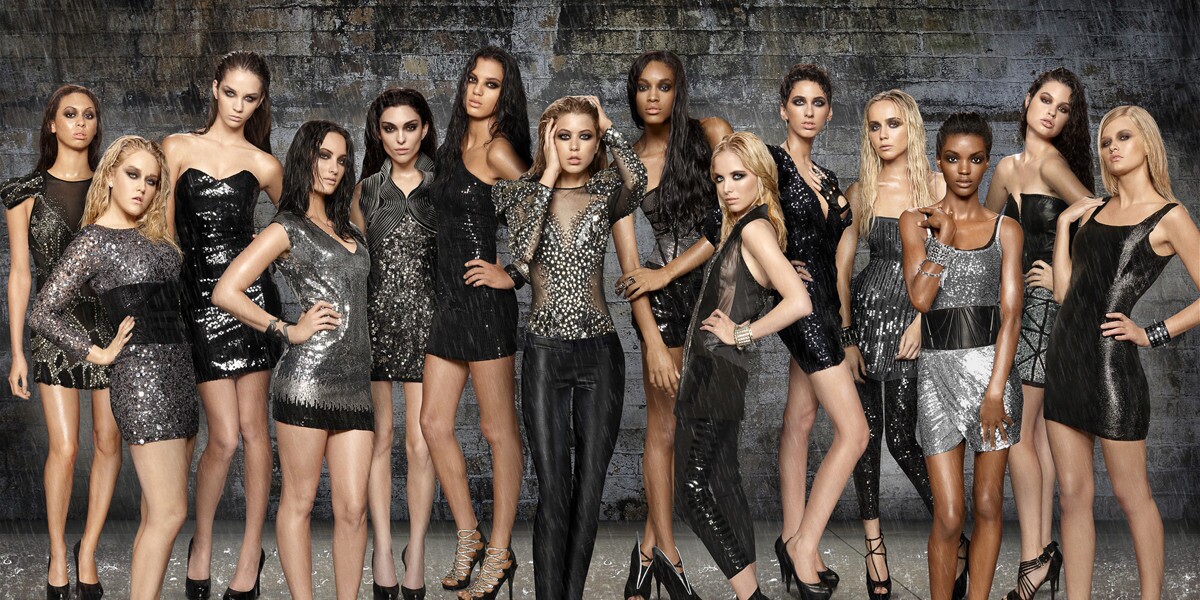 A look at the contestants from Cycle 16 of "America's Next Top Model," featuring, from left, Dominique, Kasia, Brittani, Monique, Mikaela, Angelia, Hannah, Dalya, Nicole, Sara, Alexandria, Ondrei, Jaclyn and Molly.
(Troy Jensen / Pottle Productions)
Maria, of Cycle 19, gets prepped before getting in front of the camera.
(Michael Desmond / THE CW)
They allowed me to imagine a world that accepted gender-bending black folks while I still lived in one where manhood and masculinity were narrowly defined. Together, they introduced gender nonconformity by black men on a mainstream platform.
I was reared in a family that rejected anything outside of the gender binary.
The only male relative in my life didn't believe in anything but traditional masculinity. The women in my life weren't much better. My grandmother would say it was God who gave heels and floral prints to women. That if I "acted like a girl," I somehow disrespected the Lord.
But even at that young age, I knew these conceptions of masculinities were problematic and unbearably restrictive. My fabulousness could not be contained, and these ideas of black manhood didn't fit who I was.
I wanted to trample popular conceptions of black masculinity with every step I took in a pair of heels. But I couldn't act on it. Seeing [Miss J] gave me hope of a future to come.
Tre'vell Anderson, Los Angeles Times
Bucking the system that meant to define me, at 12 I sneaked to watch "Top Model." With my room door locked and the volume just above mute, I tuned in every week, every season, to revel in the gender-bending on display.
Miss J. was the "runway diva extraordinaire" who shepherded the catwalks of supermodels Naomi Campbell and Kimora Lee Simmons, among others. His skill was unmatched in turning gangly ducklings into graceful swans with the very click-clack of his stilettos.
Talley was legendary in his own right for breaking glass ceilings during his 30-year stint at Vogue magazine. His voice, a deep yet feminine tremble, and 6-foot-6 frame on the "Top Model" set well-accented his perfectly coiffed salt-and-pepper fade. He commanded attention.
Their presentation resonated with my inner gender-bender clamoring for liberation. I wanted to be them. I wanted to walk into a room and stun folks with my confidence. I wanted to trample popular conceptions of black masculinity with every step I took in a pair of heels. But I couldn't act on it. Seeing them do so, however, gave me hope of a future to come.
Though I no longer run to my TV to catch the first airing, "Top Model" holds a spot on my DVR. But it wasn't until Banks announced the show's cancellation that I realized the influence it had had on me.
To put it plainly, if not for the show, which introduced me to Miss J. and Andre Leon Talley, I might not have ever known that a black male could redefine gender in a way that made room for his true self. I learned that to live free from the shackles of conformity is a difficult undertaking, but when we find a way to do so, in spite of imposed assumptions, we exist in a state of joyous resistance.
Their examples taught me how to resist, through authentic expression, in a world built to restrict.
Freedom is a realization. And I now know that. For black boys trapped in cycles of gender violence, conformity and confusion, "Top Model" made all the difference.
---------------------
'America's Next Top Model'
Where: KTLA
When: 9 p.m. Friday
Rating: TV-PG-L (may be unsuitable for young children, with an advisory for coarse language)
ALSO:
Why Spike Lee used satire in 'Chi-Raq' to take a shot at gun violence
Tessa Thompson welcomed the challenges of playing a hearing-impaired musician in 'Creed'
For 'The Danish Girl,' Eddie Redmayne studied issues facing transgender people
---
The complete guide to home viewing
Get Screen Gab for weekly recommendations, analysis, interviews and irreverent discussion of the TV and streaming movies everyone's talking about.
You may occasionally receive promotional content from the Los Angeles Times.