Aziz Ansari took to the 'SNL' stage and delivered some stand-up logic to Trump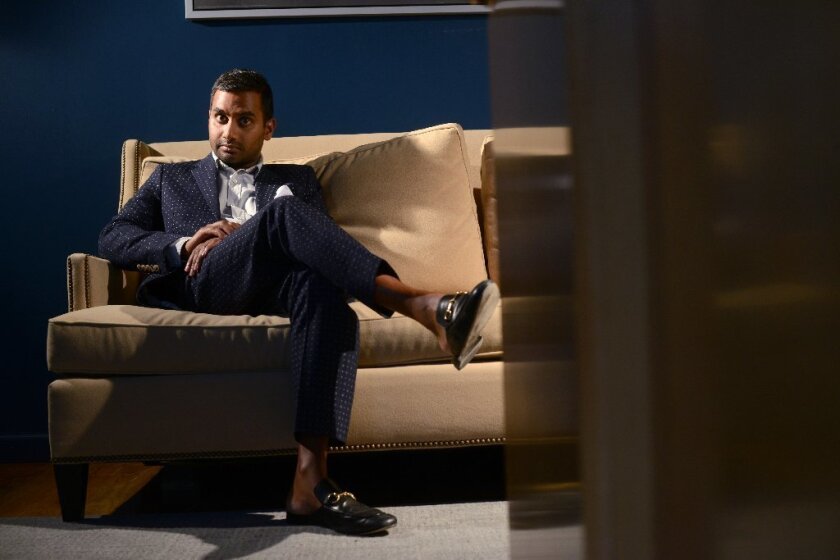 "Saturday Night Live" couldn't have planned a better guest host for its inaugural-weekend show than Aziz Ansari.
Or at least that's the conclusion many came to after the writer-actor-comedian delivered the opening monologue.
Ansari, who made a name for himself as Tom Haverford on "Parks and Recreation," is now co-creator and star of his own self-referential show "Master of None." The Netflix original series won comedy series writing honors at the 68th Emmy Awards.
"Master of None" derives some of its comedic episodes from Ansari's own life experience as the son of immigrants, of being brown, of being Muslim, though he makes light of being an out-of-work actor, dating and just about everything else a guy in his 30s struggles to navigate. (He also explored some of those subjects in his 2015 nonfiction book, "Modern Romance: An Investigation.")
Many of the same themes were highlighted in his "SNL" opening, but framed within the swearing in of Donald Trump as president of the United States.
Ansari riffed about the racist sentiment that Trump's victory has brought out in some small groups of Americans who the 33-year-old comedian referred to as "a tiny group that have gotten fired up about Trump for the wrong reasons."
"I'm talking about the people who were like, as soon as Trump won, were like 'We don't have to pretend like we're not racist anymore!'" he said. "If you're one of those people, please go back to pretending…. We never realized how much effort you were putting into the pretending but you got to go back to pretending. I know it's been a rough couple of years: Obama, 'Empire,' 'Hamilton,' hit after hit after hit. 'Star Wars' movies, where the only white characters are Stormtroopers…. But you just gotta stop."
Ansari, whose parents are from India, referred to this group as the "lowercase kkk." "They're the people who are like 'Trump won, go back to Africa! Trump won, go back to Mexico!' Then they see me, 'Trump won, go back to … where you came from!' Yeah, they're not usually geography buffs."
He went on to examine the way Muslims are often portrayed on TV:
"Why are people so Islamaphobic? Because every time they watch movies or TV shows and where Muslims are praying, that scary-ass music from 'Homeland' is underneath it." He hummed foreboding music, then screamed in terror. "If the music was different [hums an upbeat tune], people would be like, 'Man, Islam is one whimsical religion, isn't it?'"
Ansari has always had great timing, but for him to be hosting "SNL" on this of all weekends, was like comedic and political planets aligning.
ALSO
Fox News downplays Women's March on Washington
'I ain't got no love': Why Donald Trump's musical choices matter
Commentary: When the presidency and television ratings collide
---
From the Emmys to the Oscars.
Get our revamped Envelope newsletter, sent twice a week, for exclusive awards season coverage, behind-the-scenes insights and columnist Glenn Whipp's commentary.
You may occasionally receive promotional content from the Los Angeles Times.