Review: Andy Richter, Adam Conover, Mariah Carey bring twists on Christmas traditions
Christmas is coming, trailing a multitude of overlapping traditions and assaults on tradition. Living when we do, we have decades of Christmas television to add to the trees and mistletoe and sugarplum fairy visions already gathered around the holiday — new traditions to extend, play with and pervert.
"Andy Richter's Home for the Holidays," from the comedy-themed streaming network Seeso, will not be everybody's cup of soured egg nog, to put it mildly. Written by Upright Citizens Brigade co-founder/improv4 humans host Matt Besser and Eva Anderson ("Comedy Bang! Bang!," "You're the Worst"), it features a host of UCB-connected players and was shot at the group's Sunset Boulevard theater. It hearkens back to and makes a travesty of the sort of holiday special supposedly set in the living room of a celebrity host, but with bad words, fart jokes (merely the leading edge of its scatological humor), drunkenness and ads for sex toys.
Longtime Conan O'Brien sidekick and man-about-comedy Richter settles down with his fictional family — including wife Lauren Lapkus (semi-hysterical), sister Diona Reasonover (bitter, in a jolly way), son Mookie Blaylock (does bad impressions), uncle Mike Cassady (at the piano) and mother Betsy Sodaro (difficult) — to welcome their guests to a holiday gathering more in the spirit of "No Exit" or "Who's Afraid of Virginia Woolf?" than Bob Hope, Judy Garland or Johnny Cash.
Coming to their door: Bjork (played by Besser, who is a big, tall man), who deconstructs "The Little Drummer Boy" ("Can you imagine drums in a maternity ward … Maybe a viol, a cello, a nice flute"); "sentient tree" Sappity Tappity (Jon Daly), also a drunk one; Seth Morris as his elsewhere-available character Bob Ducca, impersonating a Make-a-Wish child, enumerating his "many self-diagnosed ailments," including seasonal affective disorder, 'tis the season affective disorder, jingle bells palsy, mitten fungus and scarf burn; a talking gift box (Allan McLeod); and Michelle Obama (Ego Nwodim), with a healthy alternative to "'Twas the Night Before Christmas." Eric Hoffman plays Red Sandwich, i.e., Skelton, who performs his "famous holiday pantomime, the Little Boy Who Didn't Get Anything for Christmas," in black and white. "Isn't it refreshing that in this day and age, we can laugh at that and enjoy ourselves and yet we don't have to resort to using topical humor?" asks Red. Santa is comedian Eddie Pepitone, foul-mouthed and angry.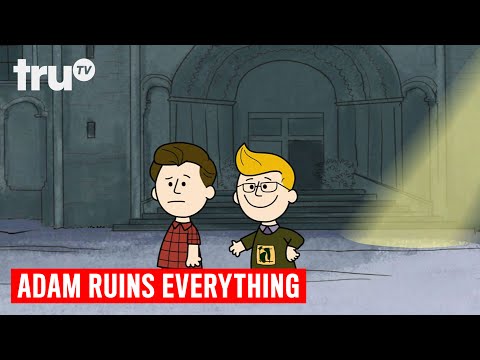 Adam Conover's comical, myth-busting "Adam Ruins Everything" (TruTV, Tuesdays) takes a fly at Christmas this week, taking apart the various traditions of the season, noting its pagan origins, history as "a debauched, violent booze fest" and variations on St. Nicholas, some of them troubling to sensibilities shaped by Clement Moore, and sending Conover and exasperated TV sister Rhea Butcher into a parody of "A Charlie Brown Christmas." ("I don't have time for this," says Butcher. "But I did always relate to Peppermint Patty.") None of this is exactly news, and not all the segments are equally telling — a discussion of the negative worth of Christmas gifts is more academic than practical, and the fact that snowflakes start out essentially alike before becoming, on their trip Earthward, markedly different does nothing to undermine the metaphor. The message at the end you are free to find comforting or disquieting, true by definition or blasphemy: "All traditions started somewhere and all traditions change … . The true meaning of Christmas is whatever you want it to be, because it's all made up."
"The Keys of Christmas," from the YouTube premium service YouTube Red, is more in the traditional spirit but finds its own, new-media way through the tropes with a cast heavy on Internet personalities, mainstream millennial pop stars and executive producer Mariah Carey. Indeed, it starts with a specific swipe at old-school Christmas specials before moving to Ciara's urbanized "What Christmas Means to Me," deftly staged and shot in Manhattan's Madison Square Park, and on to its nominal story, a sort of "A Christmas Carol" by way of "Labyrinth." Tall-haired web-content polymath Rudy Mancuso stars as a bah-humbugging sort too in love with his smartphone to pay attention to his beautiful human girlfriend, Instagram sensation Mariah Strongin.
It's an amiable amble. It does not always make perfect sense, which is not a requirement for a good Christmas story, anyway — I mean, the fact that Scrooge is promised three ghosts over three nights, and instead they come one right after the other, it's just a discontinuity I have to deal with every year. You start picking at loose threads in a Rankin/Bass holiday special and the whole sweater comes apart in your hand. There's just no point to it.
The points here, which are traditional enough, are 1) to string musical numbers like popcorn balls on a through-line of comedy and light inspiration and 2) an assisted journey toward self-knowledge: "In the mystical realm of Winter Wonderland, music not only has the power to heal but also to enlighten," sassy Zen master elf Melanie Iglesias tells Mancuso between slaps.
The hero's journey, in search not of his estranged girlfriend but his stolen phone, will take him through various scenes and sets — a nightclub for the naughty, where Fifth Harmony strikes multiple Beyoncé poses and the crowd takes selfies, a maze of ice, a Christmas village — and various encounters with new-generation, Internet-famous singers, comedians and hyphenates, many of whom have collaborated before, including Lele Pons (at the Club Naughty bar), Anwar Jibawi (a sad elf) and Lorenzo Cromwell (a guy on the street). In Bob Hope Christmas special terms, this is like getting Angie Dickinson, Jack Benny and Bing Crosby to drop by.
Older folks include DJ Khaled as a sort of narrating spirit guide, and Carey as Mariah Carey, but also "the baker," bringing cookies and milk and Christmas mystery. Whether she will get around to singing "All I Want for Christmas Is You" is one mystery whose answer I think you know.
Follow Robert Lloyd on Twitter @LATimesTVLloyd
Get our L.A. Goes Out newsletter, with the week's best events, to help you explore and experience our city.
You may occasionally receive promotional content from the Los Angeles Times.