Critic's Notebook: Believe what Craig Ferguson says about leaving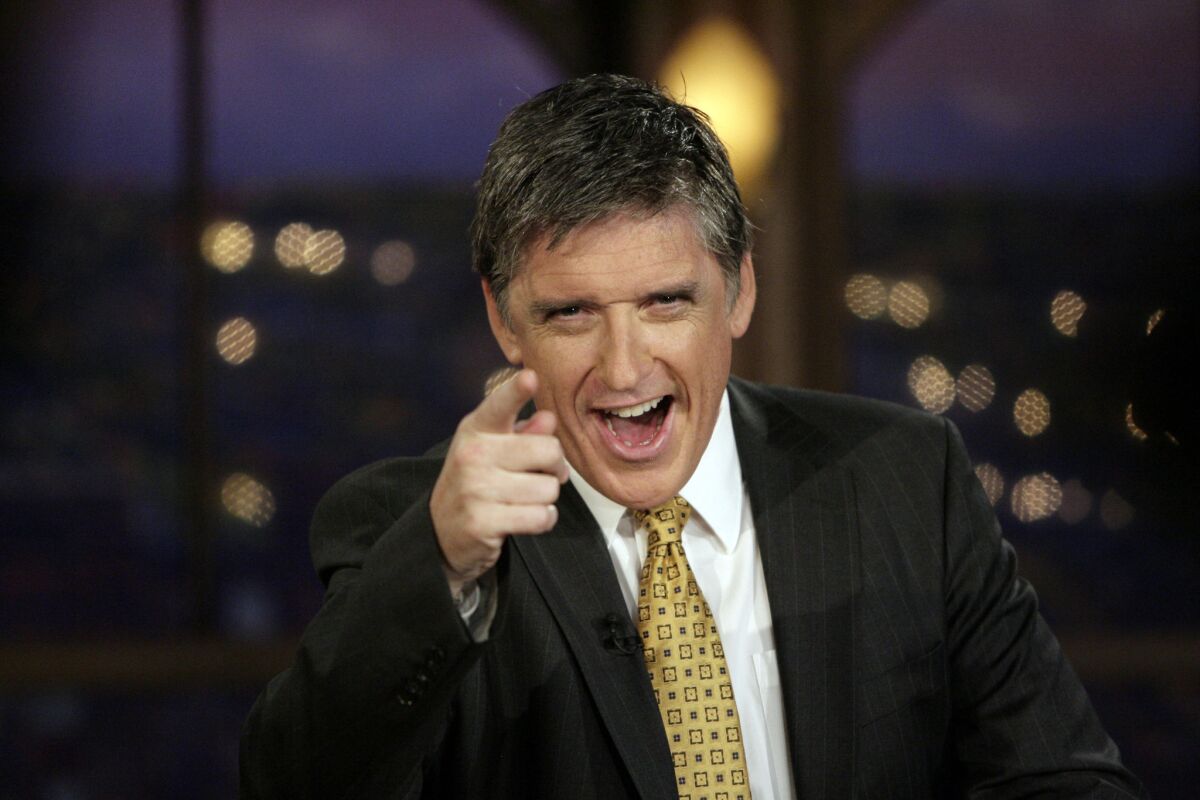 Los Angeles Times Television Critic
The moving finger writes, the little ball goes round and round, the carousel goes up and down, les jeux sont faits, and another transition in the ordinarily static world of late-night talk show television is announced.
No one has to ask for whom that bell tolls. Show business news travels fast, and everyone who remotely would care knows by now that Craig Ferguson will leave "The Late Late Show" in December, upon the expiration of his contract and after a neatly round 10 years.
I would point out that, in any other sort of television, excepting news programs, soap operas and game shows, 10 years would be considered a very long time. Still, this exit will seem to some precipitous and premature.
Ferguson's fate, to put too dreadful a word upon it, became a subject of speculation from the moment, earlier this month, that David Letterman announced his own retirement from "Late Show." It only intensified when Stephen Colbert was named as Letterman's replacement shortly thereafter.
DAVID LETTERMAN: Career in pictures | Memorable guests | Top 10 moments
"You know what they're going to say," Ferguson said Monday night (or early Tuesday morning, to be precise about it), addressing himself to Geoff Peterson, his robot skeleton sidekick, "they're going to say this, it's because you didn't get Dave's job … I said in the newspapers that I didn't want Dave's job and everybody's like, 'Mmm-hmmm.... You do want it.'"
Indeed, the host told Variety this week that he had effectively made this decision two years ago, before the question of who would take Letterman's place became an imminent concern — a job Ferguson will receive several million dollars for not being offered, which is a very poor definition of failure. But some will detect a push behind the jump, whatever Ferguson insists to the contrary.
"This is not Jay-Conan of NBC," he told his audience. "This is not Dave and Jay all these years ago. It's not that. Now, you will read that in areas of the Internet where truth is of absolutely no interest, and you will read that in the informed entertainment press where the truth is of absolutely no interest but in bigger words."
We live in a time of tabloid mores, in which every story is believed — hoped! — to be animated by some horrible, or more horrible, "real story" within, that will come out in time. We are old village gossips sniffing the air for blood, happy to take an opportunity as a judgment. Certainly that is the heart of much comedy, very much including what talk show hosts say in their nightly monologues.
But we should take him at his word. Ferguson is happy to play the fool, but he is an honest fool: "The deal I made with you when I started this show is that I will be as honest as I can be," he said last year on the night of the Boston Marathon bombings. (He rises to tragic occasions, whether national or personal, like no other person on television.) "This is on my mind, I can't pretend it's not there; I'm not one of those people; I'm not a valuable quality entertainer."
I, for one, never figured him as likely for the 11:30 spot. It had once been considered, obviously, as the payout indicates, and we have come to believe that there is a natural succession within networks from the 12:30 a.m. to the 11:30 p.m., chair, as in Jimmy Fallon's recent investiture as host of "The Tonight Show." Still, Conan O'Brien is the only other example, and we know how that worked out.
But Ferguson is an old punk rock drummer. One of the promises of punk is that it will not lie to you, or substitute empty technique for feeling. It will pack up and go home rather than go through the motions.
What he does on television is not meant to be everyone's, or even most people's, cup of tea, and because it trusts in the moment, it is by nature sometimes bound to fail, or offend, or confound. That's what makes it beautiful, and marginal — a late, late show.
As to what he will do next (carpentry and "a killing spree" were both mentioned Monday), well, what of it? There are certainly more things he's capable of, in or out of entertainment, than captaining a talk show.
His view of show business and its attendant glamour is too skeptical and sanguine to imagine he'd clean up after the elephants just to stay in. Even as we subscribe to the view that fame is a wormy apple, we find it tempting. My impression is that Ferguson, who has spoken movingly (and hilariously) of his struggles with drink, and life, and death, measures success by a different yardstick.
When I interviewed him for The Times, back in 2010, he had this to say.
"I don't think I'll get away with this forever," he concluded. "I try and live my life in bite-size chunks. It was a lesson I had to learn when I got sober, but then it became a way of life, a philosophy — live your life a day at a time. Especially because the temptation, especially when you're doing OK, is to think, 'In a couple of years I'm gonna get this, and then I'll have this.' And then what?"
-----------------------------
'The Late Late Show With Craig Ferguson'
Where: CBS
When: 12:37 a.m. weeknights
Rating: TV-14 (may be unsuitable for children under the age of 14)
Get our L.A. Goes Out newsletter, with the week's best events, to help you explore and experience our city.
You may occasionally receive promotional content from the Los Angeles Times.