Edgar Ramirez on his Emmy nod for portraying 'one of the most fascinating characters ever,' Gianni Versace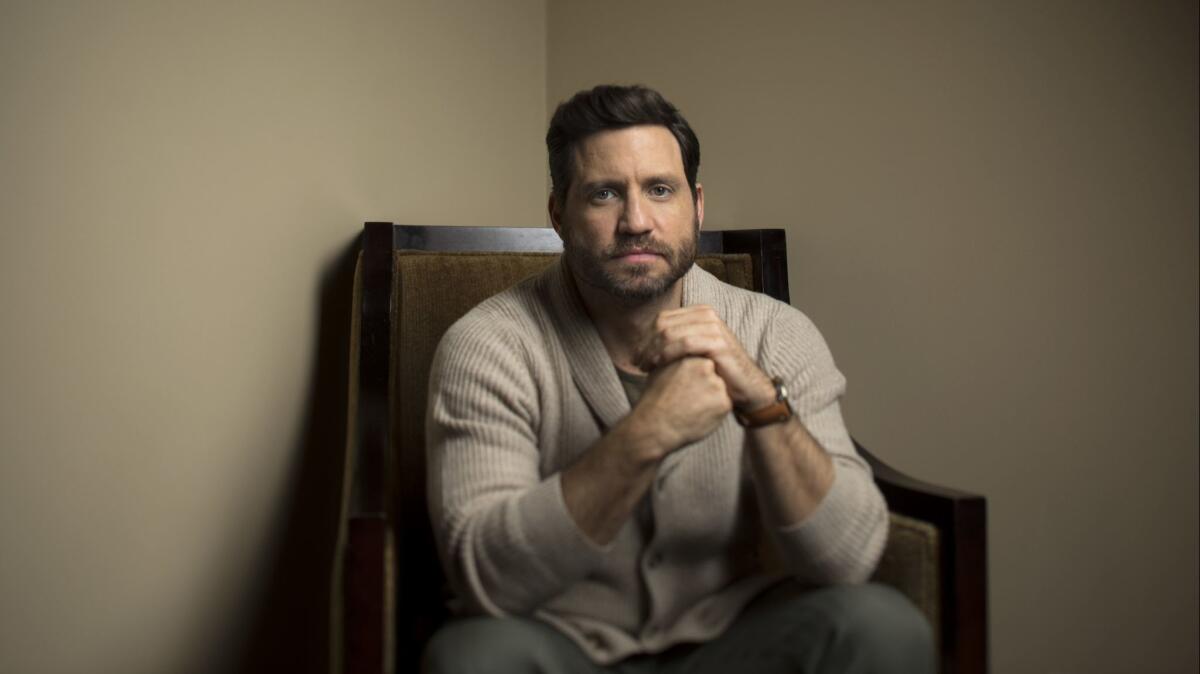 Playing the iconic, ill-fated fashion designer Gianni Versace, who was slain by a serial killer in 1997, was a "profound, transformative life experience," says Edgar Ramirez. But it was the themes of prejudice and homophobia in FX's "The Assassination of Gianni Versace: American Crime Story" that really resonated for the Venezuelan-born actor, who on Thursday earned a supporting actor Emmy nomination for his work.
Where are we catching you?
I'm in Atlanta. I'm shooting a movie here. It's hot. We're one week away from shooting and in rehearsals right now. This was just such a surprise, honestly. I was trying not to think too much about it in the days leading up to it, because you never know. You can't obsess about these things, but when they happen, you celebrate the fact that the show got so much beautiful recognition. I'm very, very happy.
Why was playing Versace such a profound experience, as you've called it?
It not only allowed me to portray one of the most fascinating characters ever, but it also allowed me to meet some of the most important people in my life now. People who are now family, and that is beautiful. It was also one of those roles, those characters, that brings so much to you. What I love is the complexity of the show, the different layers that the show has. And that's something that doesn't happen every day.
The undercurrent of the series is really about homophobia. How does that idea intersect with the search for Andrew Cunanan, the serial killer who murdered Versace?
We have to remember that America in the late '90s was all about "Don't ask, don't tell" — Bill Clinton's solution to the gay issue. And when you look at the story of this serial killer, the search to find him, the effort to understand what he was up to and what he might do next, what comes up over and over again is this denial of sexuality. And the almost refusal to acknowledge that there was a gay world out there. It played against the efforts to find this guy.
How relevant is the show, those social dynamics, today — is homophobia something you worry about, given the increasingly conservative Supreme Court?
Of course, of course. Clearly. Any type of discrimination or overlooking the rights of any individual, any citizen, is very worrisome. And that's what makes this show so relevant — it was 20 years ago, and yet we see signs of new forms of discrimination, a political climate where discriminating is becoming a normalized thing. And that is something that is very worrisome. And it's something that's very global, it's all over the world. This show is a good way to revisit history, to see how things were in order to prevent them. So that history doesn't repeat itself.
The show addresses different forms of homophobia, which isn't always this open, raging sentiment, as you've said, but often a quieter, internalized, and in some ways an even more dangerous thing. Can you elaborate on that?
It's a lack of knowledge. A lack of contact. That's the internalized homophobia. It was almost a refusal that was, maybe not an angry, but was a total lack of knowledge that there was a gay culture out there. It's not the same, today; but of course there's a lot of work ahead of us and there's an urgent need to protect the rights of individuals that have been [established] so far. Language is important, the rules of engagement are important, in order for us to coexist respecting and accepting each other. If we foster an environment where we're allowed to discriminate, then words will be easily turned into action. We've seen that in the past. And that's what's worrisome.
You went through quite a transformation to play Versace — prosthetics, you gained 20 pounds. What was that like and did the physicality help you connect with, and better channel, Versace?
When I saw myself for the first time it was kind of shocking; I hadn't really worked with prosthetics before. I was afraid it would look fake. But it was a matter of time and I got used to it. And it did help me embody the role. I do believe in physical transformation a lot. If you feel it in your body, then the character grows in — or out of — you.
Are you fashion conscious yourself?
Well, I don't follow it to the letter, but I'm not a stranger to it. I pay attention. I have friends in the fashion industry. My style? You gotta be comfortable. I believe in classic pieces, but I also like to play around and have fun.
Get our L.A. Goes Out newsletter, with the week's best events, to help you explore and experience our city.
You may occasionally receive promotional content from the Los Angeles Times.