Samantha Bee talks Emmy noms and Ivanka Trump flap: 'I'm not afraid to court controversy'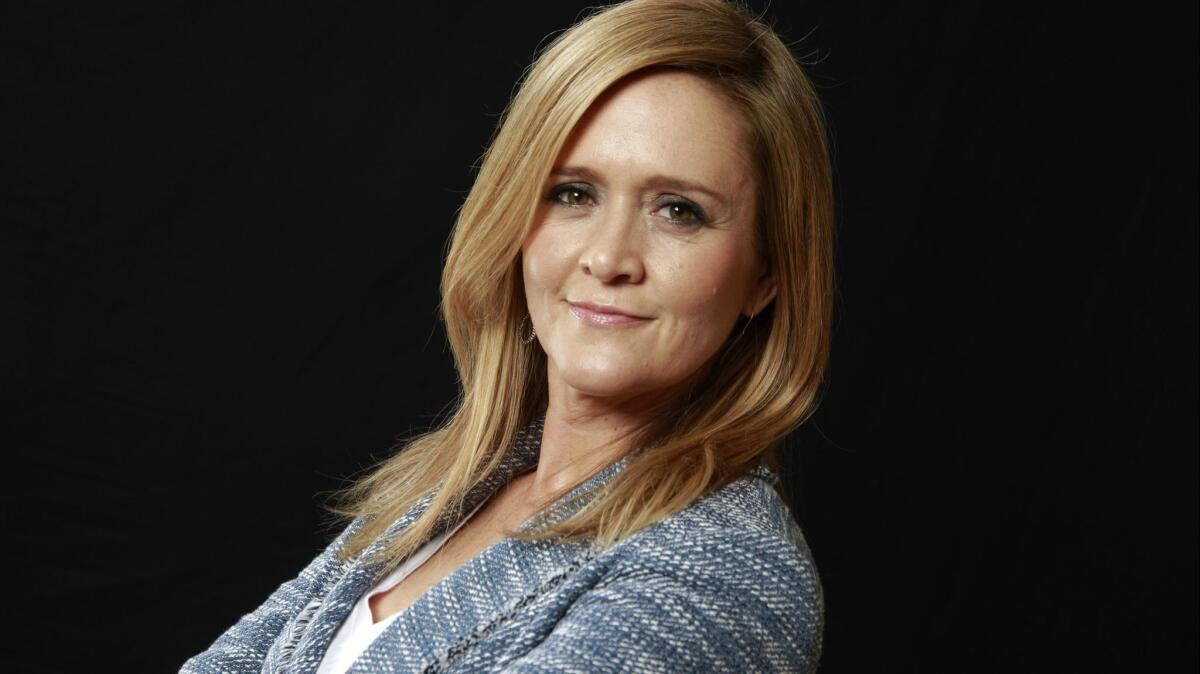 Samantha Bee is the lone woman on the list of Emmy nominees for variety talk series. On her TBS show "Full Frontal With Samantha Bee," she bravely and loudly voices her opinions about politics and the stew of controversial current events that have riveted the world this year, but she didn't feel brave on Emmy nominations morning. She was literally hiding ("like a total chicken") at the hair salon, getting her roots done with a head full of tinfoil, while her staff livestreamed the nominations in the office.
How does this kind of validation feel?
I felt a great sense of happiness, and then I regretted that move [of going to the salon] because everyone was celebrating at the office, and I haven't seen them yet. The Champagne is flowing. It's a good day for a million different reasons, but I'm so happy that our Puerto Rico special was nominated.
I was going to ask you about that next. What was most important to you about telling that story about Puerto Rico?
It remains outrageous how this administration has ignored Puerto Rico. That has not really changed. There's still so much work to be done, it's not like the problem has been solved, and we're coming into hurricane season again. Our show was just a drop in the bucket. We tried our best to bring attention to them, and ultimately we did what we could and I'm very proud of the effort that we made. All I really hope for is that we get to re-run it so that people keep their eyes on Puerto Rico.
Is it hard being a woman in comedy today?
I think a woman's voice in comedy is essential right now for sure. I think it's actually hard to be in the public eye in general, not just being a woman in comedy. It's really challenging to be a person of visibility across the industry, and I'm glad to have the opportunity to do so. It comes with a lot of pressure. I think the flavor of people's criticism is different if you're a woman in comedy — but it's out there for everyone to experience pretty freely — still, there's a special secret sauce that comes with being a woman in the public eye.
2018 Emmy nominations: The complete coverage »
Can we talk about the importance of political comedy in America today?
I do think that people crave another avenue to process what's happening all around them. I'm happy to provide that because this is how we're processing the environment we're living in — for us it feels vital. I'm not sure what else we'd be doing if we weren't getting broadcast — making political comedy shows in a church basement somewhere.
After the flap surrounding your Ivanka Trump comment, what are your feelings on freedom of speech versus taking it too far? Should there be room for mistakes? And does the instantaneous judgment of social media make that hard?
Of course it's really challenging. The frenzy is real — the speed of everything — but I have to say that I'm a part of feeding that frenzy myself. This is a reality of being in the public eye; it's a reality of being an outspoken person now. It's not a great feeling, but I can't really be a person that's railing against what's happening in the culture now. It's going to take me a long time to figure out how I feel about it. It's a unique experience to have the president tweet about you — it unleashes winged creatures in a way that's very unique. I didn't relish it and I'm glad that individual event is behind me for sure, but I can't imagine it won't happen again because what I say is very challenging. It challenges the administration, and a lot of opinions about how things should work. This is the world we have chosen for ourselves. We have a laser focus on things that are important to us.
Is it sometimes scary when those winged creatures get unleashed? Just the speed and the force of the backlash?
I'm not afraid to court controversy. You can't make a political comedy show now from a place of fear and trepidation, and you also can't crowdsource your opinions. You can't make a product now that pleases everybody, and quite frankly, I wouldn't want to. For sure it's crazy out there, but there are a lot braver people than me out there. Probably most people are. I literally hid at the hair salon today from the Emmy nominations — so I know there are people out there made of better stuff than me.
Get our L.A. Goes Out newsletter, with the week's best events, to help you explore and experience our city.
You may occasionally receive promotional content from the Los Angeles Times.