Gold Standard: Emmy snubs and surprises: New faces are in, old institutions are out and Sandra Oh makes history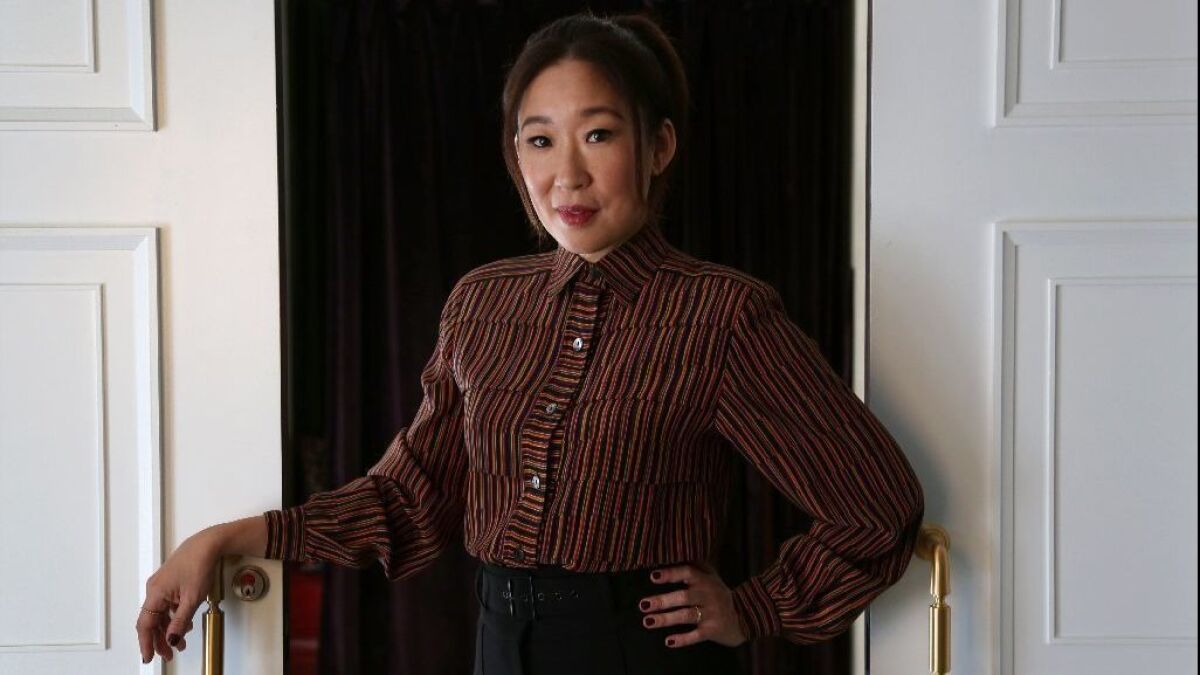 Emmy voters remembered how much they loved Tatiana Maslany and Ted Danson, didn't have much patience for "Twin Peaks" and finally embraced Trevor Noah's vision for "The Daily Show."
Yes, Emmy nominations day wouldn't be complete without the annual airing of grievances, globally trademarked as Snubs and Surprises, though given the depth of choices available to voters, a "snub" isn't really a snub, a word that implies an active rebuff. What we're talking about are more like omissions. Unless it's Jimmy Fallon. Then, yes, dude was snubbed, even after going on an apology tour for tousling Donald Trump's hair.
But this year's slate of nominations showed more creativity than the past, even if some of the choices were a little bit odd. (Nominating a record five "Saturday Night Live" cast members for a so-so season that often found the ensemble shunted aside for guest players makes zero sense. Meanwhile, worthy nominees like "Atlanta's" Lakeith Stanfield and "One Day at a Time's" Rita Moreno are ignored.)
RELATED: 'Game of Thrones' leads with 22 nods. See the full Emmy list »
Still, the question that gnaws at me every year — do Emmy voters even watch the shows they nominate? — was answered more to the affirmative than usual.
I worried that Yvonne Strahovski, the real standout this season from the superb "Handmaid's Tale" ensemble, would be overlooked because voters would simply rubber-stamp the nominations of her cast mates, Ann Dowd and Alexis Bledel, both of whom won Emmys last year. (Bledel took guest actress.) Strahovski was a revelation, actually making us empathize with Serena Joy Waterford, an architect of Gilead and a woman who has imposed a massive amount of misery throughout the show's run. Her nomination showed that voters paid attention to the show's evolution.
Yes, television academy members do repeat themselves. A lot. Last year, five first-year shows found their way into the best drama series race. And of course, all five of those programs — "The Handmaid's Tale," "Stranger Things," "This Is Us," "The Crown" and (even) "Westworld" — were nominated again this year.
BBC America's weird and wild "Killing Eve" should have pushed aside the convoluted "Westworld." But voters did nominate its star, Sandra Oh, making her the first woman of Asian descent to earn an Emmy nod for lead actress in a drama. Oh is terrific as the title character, creating a complex woman who's caustic, witty, intense and imperfect. Hopefully next year, her equally talented costar, Jodie Comer, will find some love as well.
RELATED: Complete coverage of the 2018 Emmy nominations »
Emmy surprises sometimes come when voters course-correct and recognize a series or actor after the initial first-season splash. Last year, it was Zach Galifianakis, nominated for his twin turns as the man-child brothers on "Baskets." This year, Danson received his first nomination for playing a charming demon on NBC's smart and funny "The Good Place" — his 12th lead comedy actor Emmy nomination overall, a record. Maybe next year voters will expand their recognition for a series (Kristen Bell is pretty great too!) characterized by intelligent optimism and decency. We could use a little bit more civility these days. Or so I've heard.
Laurie Metcalf is back too for "Roseanne." Playing Roseanne's combative sister, Metcalf won three Emmys from 1992 to 1994. Since then, she has won two Tonys and earned an Oscar nomination this year for "Lady Bird." She's good. But there was some concern that voters would snub her — yes, in this case, that's a correct usage of the word — because of Roseanne Barr's racist tweet. In the end, they were able to separate the work from the divisive Barr.
(Of the reboots "Roseanne," "Will & Grace" and "Curb Your Enthusiasm," only Larry David's "Curb" caught on with voters in the major categories. Megan Mullally was the only member of "Will & Grace's" much-decorated primary cast to earn a nod.)
Voters also remembered that they gave Maslany the lead actress drama Emmy for "Orphan Black" when the show was last eligible two years ago and realized it was well worth bringing her back for the show's farewell season. Maslany was brilliant as ever in a run of final episodes showcasing her ability to inhabit a host of wildly different characters. She more than earned that sendoff.
It was also heartening to see voters reward Noah. "The Daily Show" and its alums have won the talk series Emmy 15 times, including John Oliver's victory last year. In his third season hosting the program, Noah has become a leading voice of protest, and his humor has been consistently sharp, angry and engaging.
This year's nominations saw the end (or at least a break) of some institutions. "Modern Family's" streak of comedy series nominations ended at eight; Bill Maher was not nominated, a rarity. "Orange Is the New Black" was shut out for the first time in its run.
Still, other stalwarts — William H. Macy ("Shameless") and Allison Janney ("Mom") — remained firmly in place, proof that voters will stick to some favorites for as long as their shows remain on the air. It'd be easy to argue that Alison Brie ("GLOW") and Galifianakis would have been better choices in their respective comedy categories.
But in a year that also saw satisfying recognition for the likes of Henry Winkler ("Barry"), Issa Rae ("Insecure") and Brian Tyree Henry ("Atlanta"), it's hard to complain … well … it's hard to complain that much.
---
The complete guide to home viewing
Get Screen Gab for everything about the TV shows and streaming movies everyone's talking about.
You may occasionally receive promotional content from the Los Angeles Times.