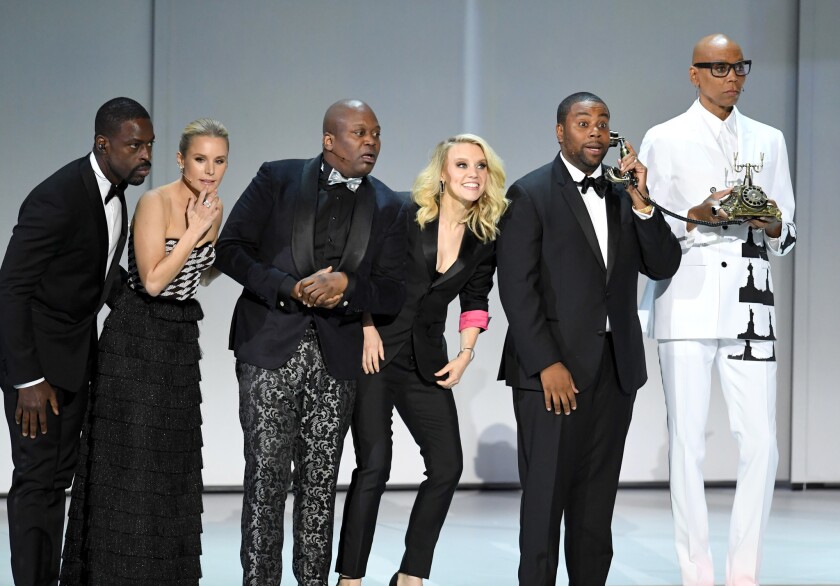 Television Critic
The 70th Primetime Emmy Awards opened on what seemed to be a confident voice.
"We Solved It!" sang Kristen Bell, Sterling K. Brown, Tituss Burgess, Kate McKinnon and Kenan Thompson in a satirical musical number celebrating steps the television industry has made in diversifying its very white, very male ranks. RuPaul sashayed across the stage in red heels. Ricky Martin salsa danced.
In their opening monologue at the Microsoft Theater in downtown Los Angeles, hosts Colin Jost and Michael Che continued the diversity theme that has become so much a part of recent awards shows. When mentioning nominated show "black-ish," Che said, "black-ish is also how I've been asked to behave tonight." And they called Hulu's "The Handmaid's Tale" — one of the most politically prescient nominated shows of the night — "'Roots' for white women."
It was an opening that celebrated television's growing inclusiveness while still poking fun at a dismal track record that until recently included ousted CBS chief Les Moonves, "Today" show anchor Matt Lauer and few lead female actors or performers of color.
FULL EMMYS COVERAGE: Live updates | Winners list | Show highlights
Early in the awards, when Amazon's niche show "The Marvelous Mrs. Maisel," a nostalgic but not incredibly inventive comedy that nevertheless was about a woman trying to find her own voice in 1950s New York, won nearly every comedy award over the topical and sharp black series "Atlanta" and yes, "black-ish," it seemed that a clear Emmys narrative was starting to take shape.
Progress without the edginess of a new and complex era seemed to be the message.
But it didn't take long for the awards show, like the industry it honors, to stray from any one narrative that might sum up the year in TV and fragment into a dozen different directions.
Familiar fare such as FX's "The Americans" won two awards for its final season, while the lesser-known Netflix series "Godless" earned an expected acting win for Jeff Daniels and a surprise nod for supporting actress Merritt Wever.
The fantastical HBO series "Game of Thrones," which has more to do with dragons than diversity, despite its sword-wielding women, won top honors for drama series over "The Handmaid's Tale" and the socially aware "This Is Us." "The Handmaid's Tale" also lost in the drama lead actress and directing categories to "The Crown," a more subdued story of women fighting for control.
When Ryan Murphy won top directing honors for the limited series "The Assassination of Gianni Versace: American Crime Story," he used the opportunity to quickly highlight LGBTQ issues.
The far-flung list of winners wasn't the only sign that the Emmys, like TV audiences, are grappling with how to process a billion different shows across myriad platforms.
This was the first year that a streaming service received more Emmy nominations than cable or broadcast networks. Netflix got 112 nods from the Academy of Television Arts & Sciences, marking the first time in 17 years that HBO did not lead the pack.
In the earlier stages of peak TV, an Emmy win could legitimize a show like "Mad Men." Now the awards ceremony is trying to grapple with an onslaught of programming. Good shows don't necessarily win Emmys anymore. There's just too much.
The show's run reflected this fragmentation.
The lineup of planned skits, prepared presenters remarks and impromptu comments by winners ran the gamut between boring and predictable to utterly surprising.
There were stiff skits featuring the usually amusing Fred Armisen and Maya Rudolph, in which their jokes about the history of the Emmys fell flat.
Better was a more polished and prerecorded bit that Che hosted where he gave fictional Reparations Emmys to black actors who were overlooked in past decades — among them, "The Jeffersons'" Marla Gibbs, "A Different World's" Kadeem Hardison, "Good Times'" Jimmie Walker, "Family Matter's" Jaleel White. "There'd be no Obama without you," Che said sarcastically.
The biggest surprise was when Glenn Weiss, winner for director of a variety series, asked his girlfriend mid-acceptance speech, to marry him. She accepted. In the audience, Claire Foy cried. It was like reality TV, but better.
But presenter and comedian Hannah Gadsby, who has alienated many older male comedians with her female-centric humor, may have best summed up the confusion of the modern TV era. Too many shows, too many fluid genres.
In messy hair and a rumpled suit, she said, "The world's gone a bit crazy … when somebody like me, a nobody from nowhere, gets this gig just cause I don't like men. What are jokes these days? We don't know."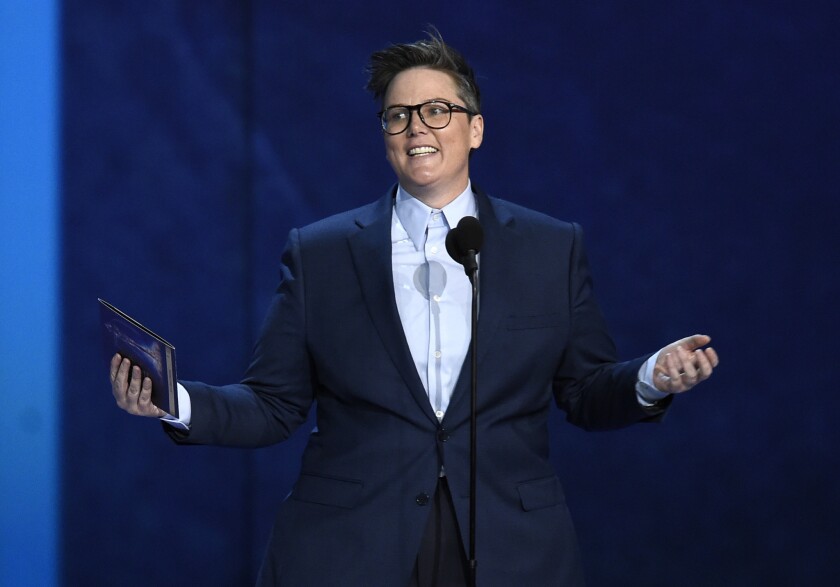 The most exciting Emmy moment, however, didn't happen at the Emmys ceremony. The evening before, at a pre-Emmys party in Los Angeles, actor Tom Arnold got into a scuffle with "The Apprentice" producer Mark Burnett.
Arnold hosts the new Viceland show "The Hunt for the Trump Tapes with Tom Arnold." In the series (which premieres Tuesday), the actor-turned-investigator focuses on finding footage that allegedly exists of President Trump using the "N-word" on set when he used to host the NBC series "The Apprentice."
Trump and Arnold weren't mentioned during Monday's Emmy broadcast. There were already enough disjointed notions about what constitutes entertainment, and modern television, to go around.
More Emmys reading:
Review: 'Weekend Update' meets Hollywood in oddly downbeat Emmy Awards
'Mrs. Maisel' has a marvelous night as Amy Sherman-Palladino makes Emmy history
This year's unpredictable Emmys delivered plenty of surprises (and snubs)
HBO vs Netflix: 'Game of Thrones' helps the premium cable channel tie the streamer for most Emmy wins: 23
lorraine.ali@latimes.com
Twitter: @LorraineAli
---