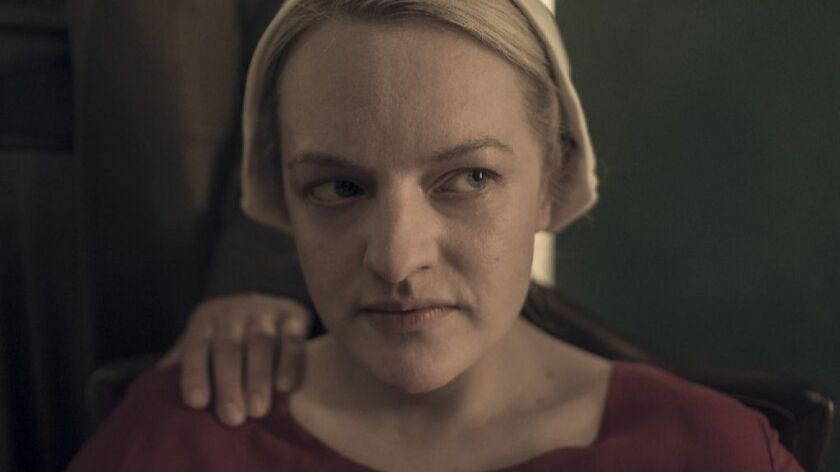 The big four broadcast networks have the Emmys telecast locked up through 2026, by which time we'll probably have some kind of algorithm that'll recommend whether we should watch the ceremony. ("Because you watched 'Stranger Things' … you might want to see David Harbour win an Emmy!")
Last year, "The Handmaid's Tale" became the first streaming series to win the Emmy for drama. This year, Netflix earned the most nominations overall, passing the long-dominant HBO.
Will you need to add more shows to your queue after the Monday ceremony? Let's take a look at the night's most interesting races.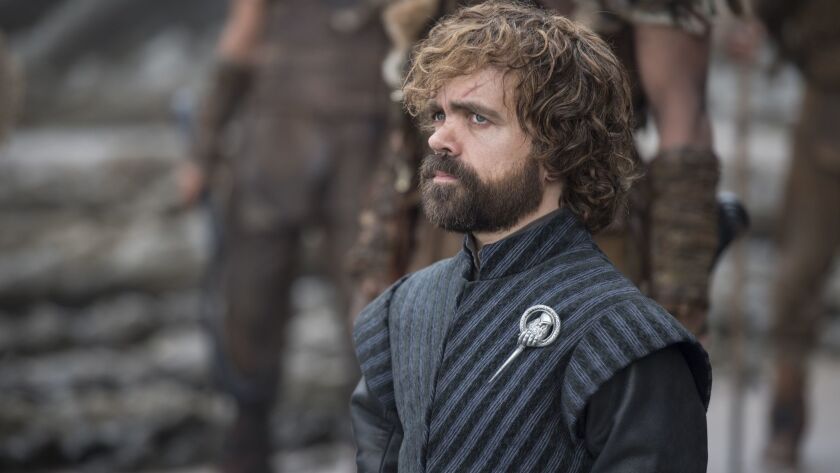 2018 Emmys: Here's the complete list of nominees »
'Thrones' or 'Handmaid's'?
This is essentially a battle between two reigning champions — "The Handmaid's Tale," which won this Emmy last year, and "Game of Thrones," the 2016 winner that wasn't eligible last year because the HBO series is taking forever to come to a conclusion. (We don't even know if the show's final season will make next year's Emmy deadline. HBO President Casey Bloys says "Thrones'" eighth season will premiere in the first half of 2019. The Emmy eligibility deadline is May 31, so they're cutting it close.)
The last "Game of Thrones" episode we saw aired more than a year ago. It was filled with the usual spectacle, but the plot developments felt predictable and the episode itself was anticlimactic. Hopefully, the delay in delivering the final episodes will produce more satisfying results. But I wonder if even hardcore "Thrones" fans think this season deserves an Emmy.
The swan song of "The Americans" most certainly does. But the FX spy series has won only two Emmys for its previous five seasons, both going to popular favorite Margo Martindale. It would be an extraordinary upset for it to win the series honor with that track record, though voters should feel more than a little ashamed for failing to reward the show over the years.
Hulu's "The Handmaid's Tale" caught some heat this season for its dark, despairing story lines. Articles like "Is 'The Handmaid's Tale' still worth the agony of watching it?" popped up. Which is weird, since the show is set in a dystopian future and, as we know from living in a dystopian present, the horrors don't go away overnight. They just keep coming. "The Handmaid's Tale" faced down that truth in its second season, with its final episode offering a signal that viewers may have more to cheer for when the series returns. If it's a choice between "Thrones" and "Handmaid's" — the two dramas earning the most nominations — it's not even close. Blessed be a repeat.
What series takes over for 'Veep'?
The seventh and final season of "Veep" was delayed so Julia Louis-Dreyfus could undergo treatment for breast cancer. (Good news: Louis-Dreyfus says she feels good and strong and is "back to my old tricks.")
"Veep" won the last three comedy series Emmys and, of course, Louis-Dreyfus has taken the lead actress prize for every season of the series. So these absences this year create opportunities.
I've seen some people predicting "The Marvelous Mrs. Maisel" for comedy series. And while I think its lead, Rachel Brosnahan — who, remarkably, had never acted in a comedy before playing an aspiring stand-up on this excellent show — is a lock for comedy lead actress, there's no way "Atlanta" doesn't win the series honor.
After earning six Emmy nominations and winning two last year (Donald Glover won for lead actor and directing), the FX series pulled in a leading 16 noms for its second season. It was the only series to receive multiple nominations for both writing and directing, a strong indication of bedrock support across the academy. Katt Williams won the comedy guest actor Emmy last weekend for his priceless, outrageous turn on "Atlanta's" Season 2 opener. (My belief: If you adopt an alligator, you deserve an Emmy.) All evidence points to "Atlanta" winning. The love is justified.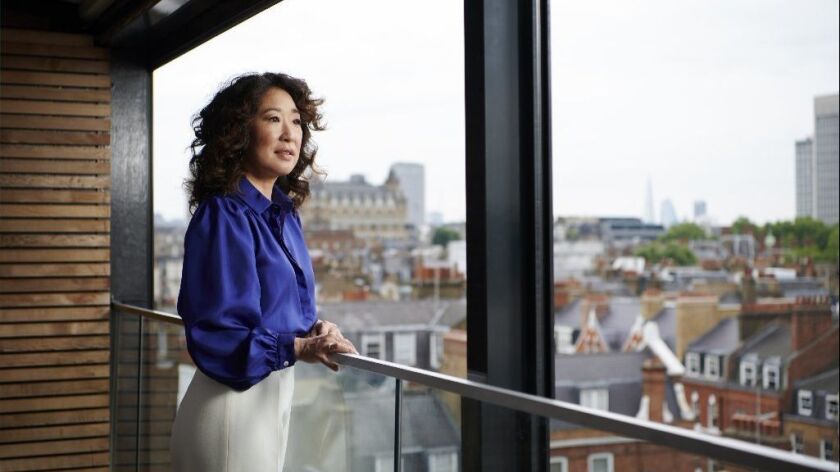 Sandra Oh on making Emmy history, 'Killing Eve' and the joy and grief in feeling recognized »
Will Sandra Oh make Emmy history?
She already did, becoming the first woman of Asian descent to earn an Emmy nomination for lead actress in a drama for her glorious turn on "Killing Eve."
Oh more than deserves the award, but then you could say that about all of the women in her category — Claire Foy ("The Crown"), Tatiana Maslany ("Orphan Black"), Elisabeth Moss ("The Handmaid's Tale"), Keri Russell ("The Americans") and Evan Rachel Wood ("Westworld").
Moss won last year, her first Emmy after being a perennial runner-up for "Mad Men." It's hard to bet against her repeating for capturing all the crushing despair and resounding fortitude her character experienced throughout "Handmaid's'" second season. Though poised for an upset, Oh will probably need another year as "Killing Eve" builds its audience in its second season.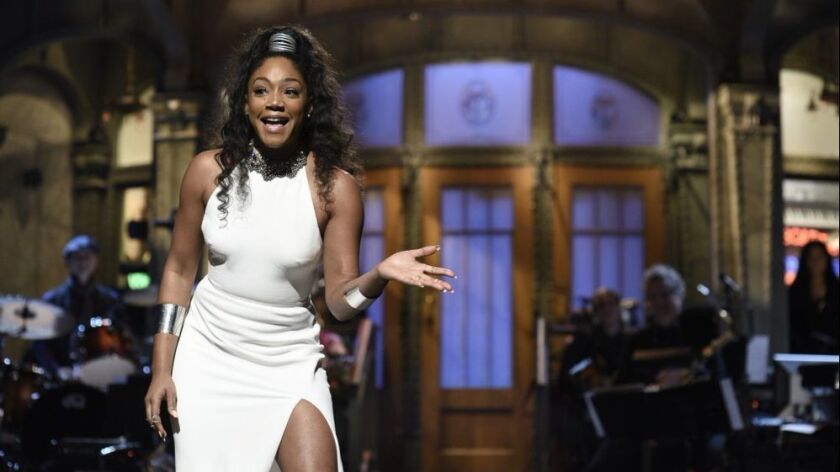 How many more Emmys will 'SNL' win?
The venerable variety series has already taken seven trophies this year, winning awards for comedy guest actress (Tiffany Haddish), variety directing (Don Roy King), music and lyrics, production design, lighting design, make-up and technical direction at last weekend's Creative Arts Emmys.
That makes 71 Emmy wins over the show's 43-year run. And it will certainly add at least one more trophy (variety sketch series) and possibly another (Kate McKinnon, comedy supporting actress) at Monday's ceremony. In case you were wondering: The shows trailing "SNL's" Emmy-record tally: "Game of Thrones" with 45 and "Frasier" with 37. Basically, it's television's equivalent of Cal Ripken's consecutive games played mark. It's a mark that's never going to be broken.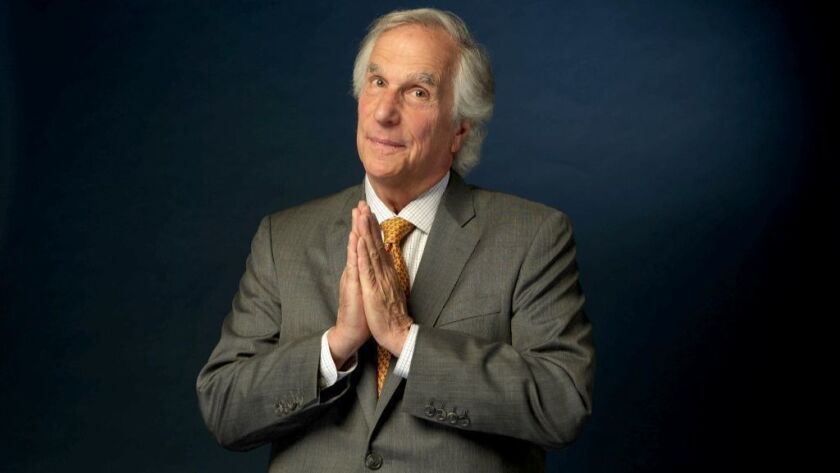 Is it finally Henry Winkler's turn?
Yes, I say, yes! On his sixth nomination — three of them for his iconic performance as the Fonz on "Happy Days" — Winkler appears poised to win his first Emmy for his hilarious, heartfelt turn as the narcissistic acting teacher on "Barry." If you need one reason to watch the show, seeing the 72-year-old legend win for his terrific, late-career resurgence is it.
Emmy coverage on TV, Monday, Sept. 17
E! Countdown to the Red Carpet (N) (1:30 p.m. E!)
Live From the Emmys Hosts Sam Rubin and Jessica Holmes interview nominees on the red carpet. (TVPG) (N) (2 p.m. KTLA).
E! Live From the Red Carpet (3 p.m. E!)(N)
70th Emmy Awards Arrivals Special (N) (4:30 p.m. KNBC).
70th Emmy Awards Michael Che and Colin Jost host. Rating: TV-14 (may be unsuitable for children under the age of 14 with advisories for coarse language and suggestive dialogue) (5 and 8 p.m. KNBC)
Twitter: @glennwhipp
---