Frank and Kathie Lee Gifford a match made for TV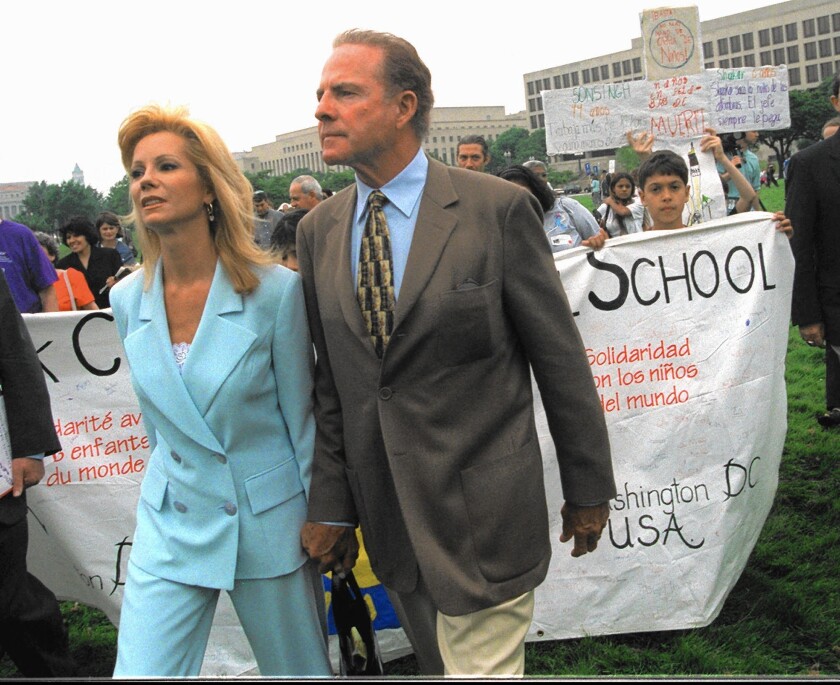 Frank and Kathie Lee Gifford were a match made in TV heaven. They even met on TV.
Frank Gifford was an occasional fill-in host on ABC's "Good Morning America" in the mid-1980s. Then a man about town, he admitted showing up at the early morning program's Manhattan studio a couple of times after a long night at the tavern P.J. Clarke's.
His life changed one of those mornings when his co-host was Kathie Lee Johnson. The two hit it off. But Gifford's first instinct was to set her up with a pal, Tim Mara, one of the owners of his old NFL team, the New York Giants. They didn't click, but in 1986, she became Kathie Lee Gifford.
The couple's 29-year marriage played out in front of viewers over the years, well before reality show cameras made that kind of shared intimacy commonplace.
By the time they met, Gifford, who died Sunday at age 84, had become a TV fixture on "Monday Night Football," then on ABC. While the big draw in the booth was the banter between cantankerous Howard Cosell and former Dallas Cowboys quarterback "Dandy" Don Meredith, the smooth Gifford looked out for fans.
NEWSLETTER: Get the day's top headlines from Times Editor Davan Maharaj >>
"Sometimes he egged on Howard and Don," said CBS Sports Chairman Sean McManus, who worked with Gifford at ABC. "But he always managed to get the call of the football game wedged in between them."
After Johnson became Gifford's third wife, America learned about another side of him. His domestic life became the fodder for his wife when she was a host on "Live! With Regis & Kathie Lee" as it emerged as one of daytime TV's biggest syndicated hits in the late 1980s and 1990s. Viewers heard her describe Frank Gifford as a "human love machine" — a moniker backed by his having fathered two children with her while in his 60s — and call him by the nickname "Lamb-Chop."
"In some ways, it foreshadowed what reality television is now — this urge to live your life in front of millions of people," said David Bushman, television curator at the Paley Center for Media.
The couple's public display of marital bliss even led them to participate in an infomercial in which they endorsed a marriage consultant's series of self-help videotapes and books.
Frank Gifford was sanguine when asked during a 2006 interview with the Archive of American Television how he felt about his wife's candid remarks about their home life.
"Most of the time, I tried not to listen to it," he said. "I know her heart, and I know her soul. She wouldn't hurt anyone."
McManus, who remained friends with Gifford after they worked together, believed he was a willing participant in his wife's on-air shtick.
"I think he probably enjoyed it," McManus said. "I know he took great pride in her accomplishments."
The couple's high-profile relationship was tested by a major scandal in 1997 when Gifford was caught in a compromising situation with a married former flight attendant in what was generally considered a sting operation by a supermarket tabloid.
The Giffords persevered through the tawdry event and in 2000 even sat for an in-depth interview with ABC News anchor Diane Sawyer to tell the world how they had gotten through their marital crisis.
When Kathie Lee Gifford made her TV comeback in 2008 as the co-host of "Today," Frank Gifford was part of the package. The couple often entertained "Today" staffers at their home in Greenwich, Conn., with Frank manning the barbecue grill.
"We all got to know Frank," Hoda Kotb, Kathie Lee's co-host, said on Monday's program. "He wasn't just the husband of someone you worked with. He came on the show a bunch of times, and he was always fun. When he showed up here, we knew we were going to laugh."
stephen.battaglio@latimes.com

MORE:

USC's Cody Kessler enjoys connection to Frank Gifford
Kathie Lee 'remarkably strong' after Frank Gifford's death
---
The complete guide to home viewing
Get Screen Gab for weekly recommendations, analysis, interviews and irreverent discussion of the TV and streaming movies everyone's talking about.
You may occasionally receive promotional content from the Los Angeles Times.