For creators of HBO's unpredictable 'Animals,' the goal is to draw you in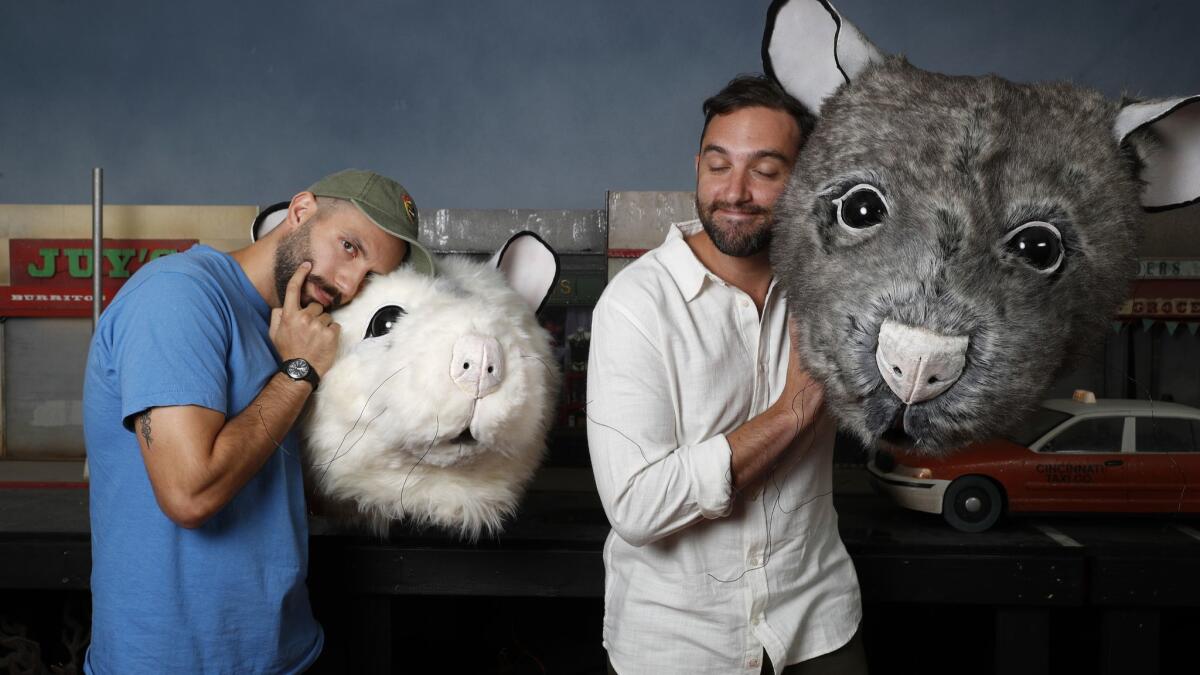 In considering the HBO animated series "Animals," which continues its third season this week, it can be surprising just how far a couple of sewer rats can travel.
Premiering on the network in 2016, the creation of thirty-something friends Phil Matarese and Mike Luciano examined the inner lives and odd exchanges between the many creatures who call New York City home — including dogs, cats, roaches and, yes, rats.
Voice cameos from the comedy world often read like an Upright Citizens Brigade theater marquee — Nick Kroll, Ali Wong, Marc Maron. But always at the center is "Mike and Phil," the two forces behind the show whose back-and-forth crossed many species for oddball sketches that at times resembled a grungier descendant of "South Park."
Since then, the show has encompassed surreal live-action interludes, deep-cut big-screen homages and a post-apocalyptic parallel narrative that when taken together leaves "Animals" feeling like the strangest show on TV.
"More or less by the finish of Season 1, you've skinned the cat really, for lack of a better term," Matarese says, seated on a dark sofa outside the show's Burbank recording studio, which allows for multiple microphones to provide as much of a conversational atmosphere for their actors as possible. "We've made the 'Animals in New York City' TV show. So it was, 'OK, let's pump up the volume of this other stuff that's going on.'"
"I always feel a little highfalutin when I try to articulate this," Luciano adds, "but I feel like something that we have done each season is play with the idea of the form of a TV show a little bit."
Roughly six years ago, "Animals" came from humble beginnings — specifically, street pigeons. After meeting at a New York ad agency, Matarese and Luciano began making each other laugh riffing dialogue for the birds outside their window. That led to downloading some pirated editing software and realizing there was a way to teach themselves animation and audio recording on their laptop to make comic shorts.
"It was nights and weekends, literally, in our office hearing people at the bar downstairs, going, 'Why aren't you working on your passion project?'" Matarese says.
Their vision of the city soon expanded to squirrels, rats and Central Park horses, and though DIY in look and spirit, the shorts looked professional, complete with opening titles and credit sequences.
"We never had millions of views, we weren't a viral sensation," he admits, "but it was this thing that existed, and felt concrete, and felt tangible."
Using Luciano's connections in the city's comedy community, the two of them held live screenings, which led to "Animals" airing at the New York Television Festival and the digital outlet Channel 101 before catching the notice of indie producers Mark and Jay Duplass.
"We had a Skype call with [Mark] in the supply closet of our work," Matarese remembers. "And he basically said, 'We could package it up and we could properly pitch it, or I could fund you guys for a bit and you just keep doing what you're doing.' And we opted for that."
The partners moved to L.A. and set up shop in their two-bedroom apartment, building episodes from intimate, even vulgar sketches between urban wildlife with a patient, mumblecore pace. The results landed at HBO.
"Then it was like, 'Oh, you never need to ask permission for anything in this world,'" Matarese says. "Even beyond shorts and stuff, it's like, just ... do it, and it's going to be dope if you just lean into it and keep demystifying it."
The show continued to experiment into its second season, including a three-episode "Godfather" homage involving territorial alley cats, and a deeper parallel narrative of the animals' human counterparts, who — in a nod to the show's focus — spoke in murmured gibberish but were tangled in dire conspiracies. The conceit culminated with an especially twisted live-action episode called "Humans" that featured RuPaul, "Search Party" star John Early and a cameo from Starburns Industries co-founder (and "Community" creator) Dan Harmon. (Starburns is the production studio for "Animals.")
"I think it all stemmed from pushing ourselves into scary territory that we don't know how it's going to wind up, but the thrill of that spark is what we've learned to always go after," Luciano says.
The two outline their production process, which has evolved into something as idiosyncratic as the show. Episodes begin as bulleted scripts with key lines that are passed between Matarese and Luciano as shared documents, and voice talent is considered, which in one case ranged as much as including Harmony Korine and Shaquille O'Neal.
One of the episodes this season is led by a flamingo and a wolf voiced by David Harbour from "Stranger Things" and Edie Falco, a pairing that came together when Luciano happened to be in New York at the same time.
Once the voices are in place, he branches off to edit the audio while Matarese supervises the animation. Given the style of "Animals," the characters have limited movement, so he takes obsessive care with their facial expressions. He opens a video from production on an earlier season that shows him repeating various changes. "The animation of our show is just eyes," he says. "That's why I'm a nut job."
He then shares a look at one of the drafts at designing a feline character named Nikolai for an upcoming episode, which includes his note to make him cuter and, in a vivid but left-field detail befitting the show, a 'Christophe Waltz button nose." In subsequent versions, Nikolai begins to take shape.
Matarese pauses and then breaks into laughter, "I'm so embarrassed you guys saw me write 'Christophe Waltz button nose'," he admits, slumping in his chair. Seated on a couch against the wall, Luciano laughs right along with him.
With production complete on this season, the partners have kept busy with hashing out animated projects that involve following a set of twins through the years as well as a live-action movie idea that will put the two of them together onscreen.
But with the next season already sketched out with an arc they describe as "Full Metal Jacket" meets "Watership Down," "Animals" keeps evolving.
"It's like bands," Luciano says, "where it's like 'this album,' people love that album. Then the next one you want it to be a little different and it's about being along for the ride. I think we value big swings."
Approaching its fifth episode Friday, "Animals" now relies less on "Mike and Phil" as central characters, but the two of them now appear in live-action sequences as soldiers monitoring a city now left to the animals after a gas attack. In a surreal development, this week's episode will center on sentient inanimate objects, but it's all part of a plan they say will ultimately bring the odd menagerie of "Animals" together.
"I'm really excited to see, after the airing of episode eight or so, how people are, 'What the [hell] did I just watch for eight weeks?'" Matarese says with a laugh.
'Animals'
Where: HBO
When: 11:30 p.m. Friday
Rating: TV-MA (may be unsuitable for children under the age of 17)
Follow me over here @chrisbarton.
ALSO:
Get our L.A. Goes Out newsletter, with the week's best events, to help you explore and experience our city.
You may occasionally receive promotional content from the Los Angeles Times.