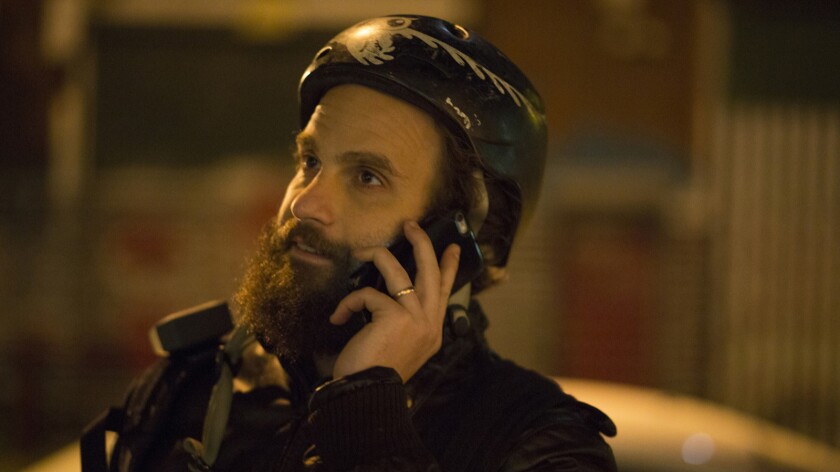 What is turning out to be a great season for naturalistic comedies – "Atlanta" and "Better Things" having just begun on FX, with HBO's "Insecure" and "Divorce" up ahead – continues this week with "High Maintenance," which premieres Friday on HBO. Less concerned with being funny than with being real, which makes it often funny, it uses the clientele of a New York pot dealer (Ben Sinclair as "The Guy," as in "my weed guy") to tell a variety of freestanding short stories.
Created, written and directed by Katja Blichfeld and single regular cast member Sinclair, who are also married, the series moves Friday from Vimeo, where it has lived since 2012, to HBO for six new half-hour episodes. To say that it's been developed from a Web series is really just to say it's been put on TV. Typically, when a series steps up from the Internet, there is some sort of "professionalization," a tightening of the screws, an obvious bump in the budget. But "High Maintenance" already looks like money, its aesthetic was fully formed before the leap, and it's already one of the best written shows on the many-platformed medium that now is television. (The Web episodes are now available via HBO Go.)
There are a few more recognizable faces onscreen, to be sure (though one of the most recognizable, Dan Stevens from "Downton Abbey," is reprising a character he played in an episode of the Web series); set pieces might be a little bit grander; possibly Blichfeld and Sinclair can film in places they couldn't have before, write more locations into a story, fill them with more people. But it is, for the most part, the same intimate series it was to begin with, carried by actors whose interesting faces may be less familiar but whose work is uniformly splendid. (Blichfeld worked in casting for years.)
Though the Guy has been made marginally less tangential here – we see a little more deeply into his private life – he remains less important than the people he meets and interacts with; in some stories – they come generally two per episode – he barely appears at all; in a couple his own experience becomes very much the point. He is a helpful, present presence, sometimes hanging around to smoke with a client, at the client's request, without being particularly an agent of change. He's just a guy, the Guy.
It is not so much multicultural as it is authentically cosmopolitan; characters come in many colors, ages, sexual orientations, marital statuses, classes. There are family stories and dating stories and stories about loneliness. Here and there a narrative turn is visible before you arrive, but more often the directions they take are unpredictable, heading to a shaggy dog kicker or some poetic moment that is less an ending than an adjustment.
Coming from the Web, with its short-form episodes, Blichfeld and Sinclair have learned how to tell stories quickly without seeming rushed and to make the most of every shot, line or look. Even when the cuts come fast, they stay elegant; the images all register. We cut into conversations in the middle, suggesting talk that has been going on awhile and might go on longer. Scenes show as much as they need to, and just a little more, without seeming interrupted. Small gestures read large; sighs speak volumes; every room describes the people in it; every picture tells 10 stories.
You do not have to be a pot smoker to like it, I can personally attest. Although marijuana threads through the episodes, it is not the actual point of the show — which is human variety, haplessness and tenderness. The show itself doesn't take any kind of strict position on drugs. But it probably helps not to disapprove too much.
On Twitter @LATimesTVLloyd
---