Julia Louis-Dreyfus accepts Mark Twain Prize, finding humor in cancer — and the current administration
During her 35-year career on television, Julia Louis-Dreyfus developed a reputation for fearlessness, with nothing being off limits.
She stayed true to that reputation on Sunday when she was honored with the the Mark Twain Prize for American Humor at the John F. Kennedy Center For the Performing Arts in Washington, allowing her recent battle with stage two breast cancer to became a source of comic material for the night.
"Last year I was lucky enough to get an Emmy Award for my performance on 'Veep,' which was an incredible thrill and it set some kind of a record for the most Emmys for doing something or other, and 12 hours later I was diagnosed with cancer — another hilarious turn of events," Louis-Dreyfus said in her speech when accepting the award. "I'm only half kidding, of course. Cancer isn't at all funny, but a big part of dealing with it has been finding the funny parts. The old cliché about laughter is the best medicine is true, which is good because that's what the current administration is trying to replace Obamacare with."
(She also made reference to politics with a pointed remark about recently confirmed Supreme Court Justice Brett Kavanaugh: "When I was a kid, Kennedy Center did seem like a fancy-sounding name," she said. "Now that I think about it, Kennedy Center could easily be another euphemism for Devil's Triangle. You know, the famous drinking game.")
Louis-Dreyfus' friends and colleagues milked laughs from her recent medical challenge as well. In a recorded segment during the presentation, friend Larry David suggested that her illness was a well-crafted performance used to earn the Mark Twain Prize.
"As long as I'm here, I would like to mention to the Mark Twain committee that I did go to the doctor in the last week and they did some tests — I'm waiting to hear the results," said the comic writer who worked with Louis-Dreyfus on "Seinfeld" and "Saturday Night Live." After some sincere remarks expressing his love for Louis-Dreyfus, he started coughing.
Louis-Dreyfus' cast mates on "Veep" talked about their own fictitious maladies in a documentary-style short that at first appeared to be their reaction to the star's medical condition.
"I actually had a full nervous breakdown right after the Emmys," said Timothy Simons, who plays deeply flawed Congressman Jonah Ryan on the show.
"Frankly the public's attention was really on Julia, so when I had my stroke, I got no attention at all," said cast member Kevin Dunn.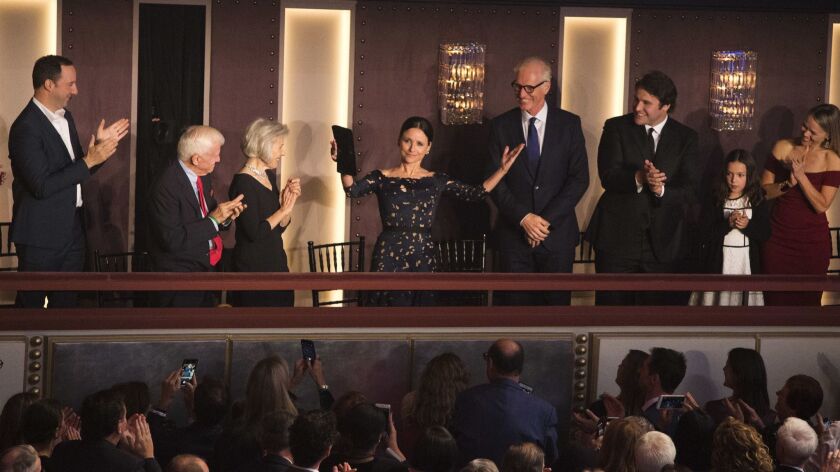 The moments of dark comedy may help diffuse any concerns the audience may have over Louis-Dreyfus' health (she has returned to work on the final season of "Veep" and looked vibrant on stage and on the red carpet).
Most of the ceremony, which is set to air Nov. 19 on PBS, was a celebration of Louis-Dreyfus' enduring and influential TV career. Her barrier-breaking roles as the hedonistic Elaine Benes on "Seinfeld" and the foul-mouthed narcissistic politician Selina Meyer on "Veep" are seen as milestones for the generation of comic actresses that followed her.
Abbi Jacobson and Ilana Glazer, the creators and stars of the Comedy Central series "Broad City," credited Louis-Dreyfus for leading the charge for authentic and flawed women in comedy, giving their generation the inspiration and permission to be "bold and weird." They said they loved Elaine Benes because she could hang out with the guys on "Seinfeld" but not change the way she was in order to please them.
Jacobson and Glazer were joined on stage by a dance troupe to perform a work based on the famed "The Elaine Dance." It was a trademark move of Louis-Dreyfus' character in which her movements — most notably her thumbs thrusting in the air — had no connection to the beat of whatever music is playing. Audience members were also asked to join in for the cameras.
Louis-Dreyfus, 57, was also praised by colleagues and friends — including Stephen Colbert, Bryan Cranston, Tony Hale, Keegan-Michael Key, and previous Mark Twain Prize recipient Tina Fey — on stage and in recorded interviews — for her charm and decency off camera. "I was a starving actor and she kind of forced the writers to write more stuff for me so I could make some more money," said Steve Carell, who was cast in Louis-Dreyfus' first post-"Seinfeld" series, "Watching Ellie."
Jerry Seinfeld recalled how the casting of Louis-Dreyfus on "Seinfeld" was the result of a network note from NBC executives who believed the show needed a female character. He confessed that his role of playing Elaine's ex-boyfriend who remained her pal was "way, way beyond" any acting ability he had. But he said there was little acting required on his part.
"I just really, really liked Julia," Seinfeld said. "I could not get enough of her. I never said or did anything inappropriate. But that whole time, nine years, I was not acting. I couldn't. I thought she was funny, charming, beautiful, intelligent, every single second I spent with her on stage and off. Bingo, no acting required. Speak the lines in the script. Three stupid guys, one incredible woman. Nine years, 180 episodes, syndication, DVD, piece of cake."
The hardest part, he said, was seeing her in roles on other shows in which she had relationships with other men after "Seinfeld" was over.
"I suffered quite a bit of fake pain from this fake relationship," he said. "But somewhere in the back of my mind these are things she was required to do if she was to receive the Mark Twain Prize."
Louis-Dreyfus' husband, Brad Hall — with whom she started her career in the comedy clubs of Chicago — and her family looked on as she accepted the honor, but even they were not exempt from the barbs in her speech accepting the prize.
"When you're a working mother, you really worry about the time spent away from your kid," she said. "You try your best to be there as much as possible but the truth is that you miss stuff and you worry they are just going to get all screwed up and suffer all kinds of angst and neuroses when they grow up. And then you get the Mark Twain Prize and I've got to say — it's worth it."
Louis-Dreyfus is the sixth woman to earn the Mark Twain Prize, which was first given by the Kennedy Center in 1998. Other recipients include Richard Pryor, Jonathan Winters, Lorne Michaels, David Letterman, George Carlin, Ellen DeGeneres, Lily Tomlin and Eddie Murphy.
Twitter: @SteveBattaglio
---
The complete guide to home viewing
Get Screen Gab for weekly recommendations, analysis, interviews and irreverent discussion of the TV and streaming movies everyone's talking about.
You may occasionally receive promotional content from the Los Angeles Times.