Mary Tyler Moore, who died Wednesday at age 80, was the second great woman of television. Lucille Ball only preceded her in time; in cultural impact, both in front of and behind the camera, as comedians and producers, they were peers, each presenting and enacting, each in her own way, a picture of a strong woman, eternally optimistic, never to be held down. Each had impeccable timing and a natural command of the television stage.
Moore's television work, though it included a few late nonstarters and some one-off specials, is based in two of the medium's greatest series, "The Dick Van Dyke Show," in which she played wife Laura to Van Dyke's Robert Petrie, and "Mary Tyler Moore," which ran from 1970 to 1977 and was one of several shows that she produced with then-husband Grant Tinker. Each series defined its decade, or an important piece of it.
FULL COVERAGE: Mary Tyler Moore | 1936-2017 »
"The Dick Van Dyke Show" was inaugurated practically alongside the Kennedy administration, and the Petries had some of that New Frontier spirit, along with the First Couple's youth and sex appeal. They were mid-century modern, looking ahead toward the streamlined future, not back to the picket-fence comforts of the '50s. They were handsome and animal; long and lean, both Moore and Van Dyke were good with their bodies — Laura, like Moore, had been a dancer, and the producers found occasions to highlight that talent.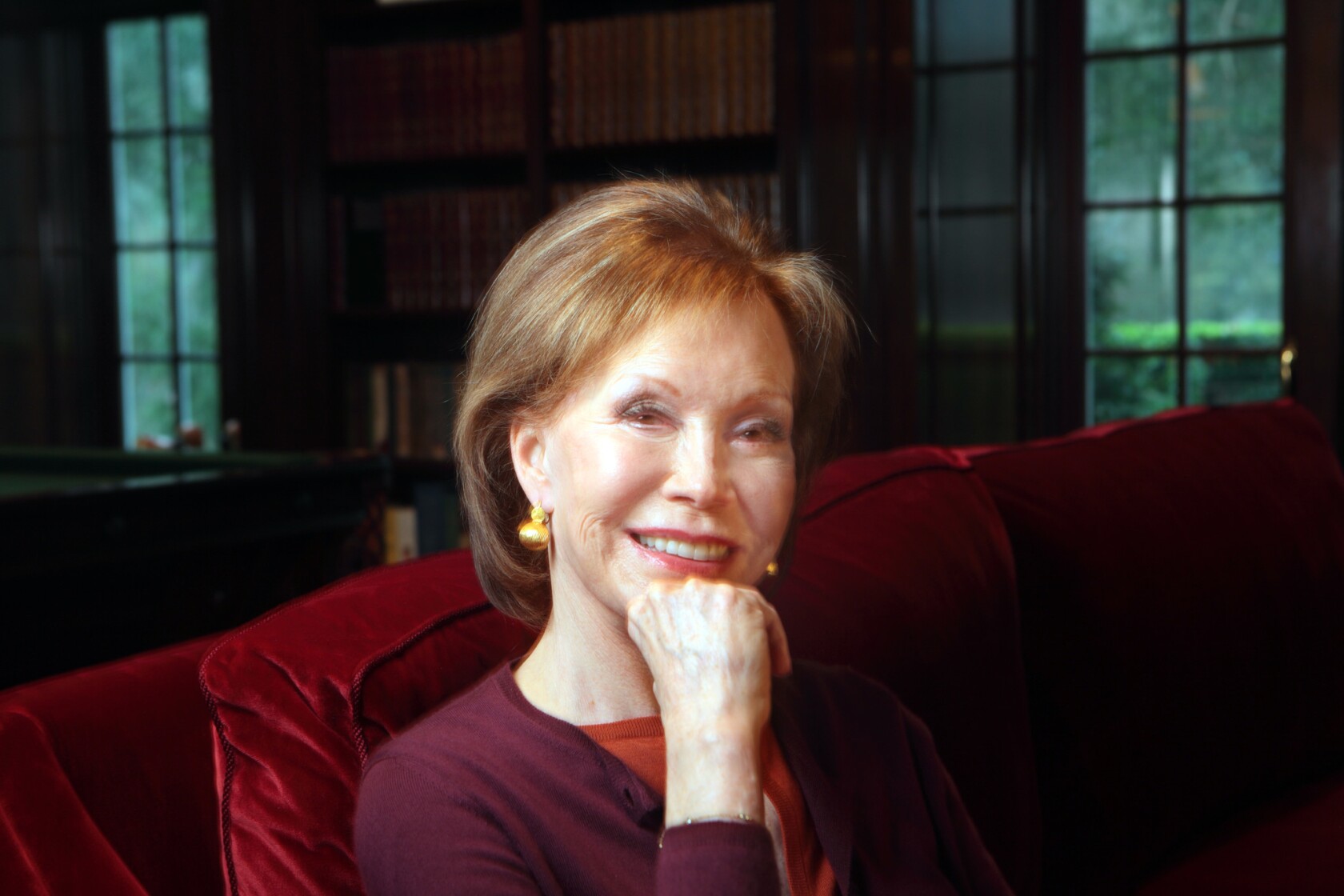 Mary Tyler Moore cemented her status as one of the great television actresses of all time with two timeless hits: "The Dick Van Dyke Show" and "The Mary Tyler Moore Show."

Moore was born in 1936 in Brooklyn Heights, but her family moved to Los Angeles when she was 8 years old. As a teenager, she aspired to be a dancer and appeared in several commercials at the beginning of her career.
(Carolyn Cole / Los Angeles Times)
Mary Tyler Moore arrives at the Emmy Awards in 2001.
(Lori Shepler / Los Angeles Times)
Mary Tyler Moore appears on the set of "The Dick Van Dyke Show."
(Paul Brownstein Productions)
Mary Tyler Moore accepts her Screen Actors Guild Life Achievement Award during the 18th SAG Awards show at the Shrine Auditorium in Los Angeles in 2012.
(Robert Gauthier / Los Angeles Times)
Mary Tyler Moore attends the 60th Primetime Emmy Awards in Los Angeles in 2008.
(Chris Pizzello / Associated Press)
Academy Award-nominated film and Emmy Award-winning television actress Mary Tyler Moore poses during a 1979 photo portrait session in Los Angeles.
(George Rose / Getty Images)
Dick Van Dyke, left, and Mary Tyler Moore, co-stars on "The Dick Van Dyke Show," appear backstage at the Palladium with their Emmys for best actor and actress in a series at the Television Academy's 16th annual awards show in 1964.
(Associated Press)
Mary Tyler Moore appears with her then-husband, Grant Tinker, at the Emmy Awards in Los Angeles in 1966.
(David Smith / Associated Press)
Actress Mary Tyler Moore and actor Michael Douglas attend a Juvenile Diabetes Research Foundation event in 1997. Moore had Type 1 diabetes.
(Getty Images)
Posing in a 1972 publicity photo for "The Mary Tyler Moore Show" are, back row, from left, Valerie Harper as Rhoda Morgenstern, Ed Asner as Lou Grant and Cloris Leachman as Phyllis Lindstrom, and front row, from left, Gavin McLeod as Murray Slaughter, Mary Tyler Moore as Mary Richards, and Ted Knight as Ted Baxter.
(CBS Photo Archive)
Mary Tyler Moore, center, and Dick Van Dyke, right, are colorized in the newly released "The Dick Van Dyke Show."
(Calvada Productions)
Moore auditioned to play Danny Thomas' daughter on "The Danny Thomas Show" but didn't land the part. However, Thomas later remembered her and recommended her for a role on another sitcom he was producing, "The Dick Van Dyke Show," based on creator Carl Reiner's time as a comedy writer for "Your Show of Shows." When Moore joined the series, playing Laura Petrie, the wife of Dick Van Dyke's Rob Petrie, she was just 23 years old -- 11 years younger than Van Dyke. The role made Moore a star and earned her two Emmy Awards.
(CBS Photo Archive / Getty Images)
After the end of "The Dick Van Dyke Show" in 1966, Moore went on to appear in a string of films for Universal, where she was under contract. Among them were "Don't Just Stand There," "What's So Bad About Feeling Good?" and "Thoroughly Modern Millie," shown, with Beatrice Lillie.
(Universal)
Mary Tyler Moore and then-husband Grant Tinker appear at a Hollywood event in 1966.
(Michael Ochs Archives / Getty Images)
Moore got her second sitcom, "The Mary Tyler Moore Show," in 1970. Moore played Mary Richards, a single TV news producer in Minneapolis, in this popular and critically acclaimed sitcom that ran for seven seasons. The series made stars of many people in its supporting cast, including Betty White, Ed Asner, Valerie Harper and Cloris Leachman. The final episode, which aired in 1977, featured the entire cast gathering for a hug and then slowly shuffling off camera together, still in hug formation.
(CBS Photo Archive / Getty Images)
In 1969, Moore founded her own production company, which produced "The Mary Tyler Moore Show" and its spin-offs, "Rhoda," shown, and "Phyllis," as well as many other TV series in the 1970s and '80s, including "The Bob Newhart Show," "WKRP in Cincinnati" and "Hill Street Blues." She also owned a record label, MTM Records, which specialized in country music.
(CBS Photo Archive / Getty Images)
With "Ordinary People," a wrenching domestic drama about the troubles of an upper-middle-class family after the death of their eldest son, Moore earned her first Academy Award nomination playing the grief-stricken mother opposite Donald Sutherland, left. She didn't win, but the film earned awards for best picture and director, among others.
(Paramount Studios)
After "The Mary Tyler Moore Show," Moore had a series of short-lived variety shows and sitcoms into the 1980s. After that, she made guest appearances on other series, including "That '70s Show," "Ellen" and "Hot in Cleveland." In 2002, she reunited with Dick Van Dyke for the TV movie "The Gin Game," based on the play about two elderly members of a senior citizens home who strike up a friendship. The next year, the cast of "The Dick Van Dyke Show" reunited for a TV special.
(Michael Ansell / KCET)
Former President Clinton leans in to chat with Mary Tyler Moore, the Rev. Billy Graham and Lauren Bacall at the 75th anniversary gala for Time magazine at New York's Radio City Music Hall on March 3, 1998.
(Sonia Moskowitz / Associated Press)
Moore has written two memoirs about her life. In the first, published in 1995, she revealed that she was a recovering alcoholic. In the second, published in 2009, she talked about living with Type 1 diabetes. She also served as the international chairman of the Juvenile Diabetes Research Foundation.
(Evan Agostini / Getty Images)
In 2000, Moore testified before Congress, along with actor
Michael J. Fox
, on behalf of stem cell research. In addition to her
diabetes
and stem cell work, she co-founded Broadway Barks, a New York City animal adoption event, and founded a center for Civil War studies in a house in West Virginia once owned by her great-grandfather and Maj. Gen. Thomas "Stonewall" Jackson.
(Kamenko Pajic / Associated Press)
Mary Tyler Moore accepts her Screen Actors Guild Life Achievement Award from Dick Van Dyke at the Shrine Auditorium in Los Angeles on Jan. 29, 2012.
(Robert Gauthier / Los Angeles Times)
If Rob Petrie was traditionally the breadwinner and occasionally called on to comfort Laura in a quasi-paternal way — Moore could cry funny, and so the scripts often contrived to make her upset — they are nevertheless very much equals in a partnership, on a journey together. There is no sense they are settled in. That the show left the air of its own accord was, in some way, an acknowledgment that the Petries had somewhere else to be.
Mary Richards, Moore's character in her self-titled series, though a single, childless career woman — and not regretfully so — was not so much a departure from Laura Petrie as a kind of alternate timeline version of her. (Mary's significant other is her boss, Ed Asner's Lou Grant, and more broadly, her job.) She shared her predecessor's intelligence and independence, her generosity of spirit. They could milk apprehension in an unfamiliar situation, but they never backed down. They had spine but lacked ego.
And though they were not as nice as other characters sometimes imagined them to be, they were kind. Within the show she built for herself, Moore was very much an ensemble player, often a straight woman to more exaggerated characters — and that too is a kind of kindness.
We will remember her as likable — a wide smile, a welcoming voice — though it is not enough to be likable to make the lasting impression Moore leaves. There was intelligence behind her acting choices. She could swing in other directions too: In "Ordinary People," for which she was nominated for the Academy Award for lead actress, she played a woman frozen into a dead semblance of graciousness by tragedy.
And Moore's life was challenging in ways that were not necessarily reflected in the those characters. She was an actress, after all.
Follow Robert Lloyd on Twitter @LATimesTVLloyd
ALSO
Mary Tyler Moore, beloved TV icon who symbolized the independent career woman, dies at 80
'Who didn't love her?': Mary Tyler Moore is remembered by celebrities as an inspiration, trailblazer
Actor and director Robert Redford remembers 'Ordinary People' star Mary Tyler Moore
---