Review: Sex, love and aliens in eternal wild child Gregg Araki's 'Now Apocalypse'
Television Critic
"Everything in my life right now is a question mark," says Ulysses (Avan Jogia), a Hollywood slacker, near the top of Gregg Araki's new series for Starz, "Now Apocalypse." When we meet him, Ulysses has already given up the idea of being an actor, is smoking a lot of weed, dating by app and recording a vlog, mostly to "download" his thoughts so as to keep his head from exploding. He has been having strange dreams that he isn't sure are dreams.
It's not clear whether these monologues ever go public, but they let Araki bring in narration without a narrator, and download some of his own thoughts on the business he's in: "Movies are even more irrelevant now than books," says Ulysses. "It's all stupid superheros and YA [crap]. And thanks to Instagram, art and photography, all that's pretty much all obsolete now too."
Created and directed throughout by Araki, with Vogue sex and relationships columnist Karley Sciortino as a principal co-writer, "Now Apocalypse," which premieres Sunday, is very much about sex and relationships, but also about alien infiltration and possibly the end of the world. It will not be everyone's cup of tea. It is not meant to be.
For one thing, there's a lot of sex, of various sorts, combinations and numbers, with little standing on ceremony. In the series opening, Ulysses returns home from one sexual encounter only to encounter a sexual encounter between his friend and roommate, Ford (Beau Mirchoff) and Ford's girlfriend, Severine (Roxane Mesquida), an "astrobiological theorist" with the style of a femme fatale, who calls monogamy "a form of social control which is contrary to our nature."
Ulysses is attracted to Ford, a guileless big lug with a screenplay to sell, though Ford is very heterosexual, where Ulysses is merely mostly gay. Best friend Carly (Kelli Berglund), an actress working as a webcam girl (so more sex), rounds out his world.
ALSO: 'Whither HBO?' Again? Exit Richard Plepler, enter Bob Greenblatt and a new era »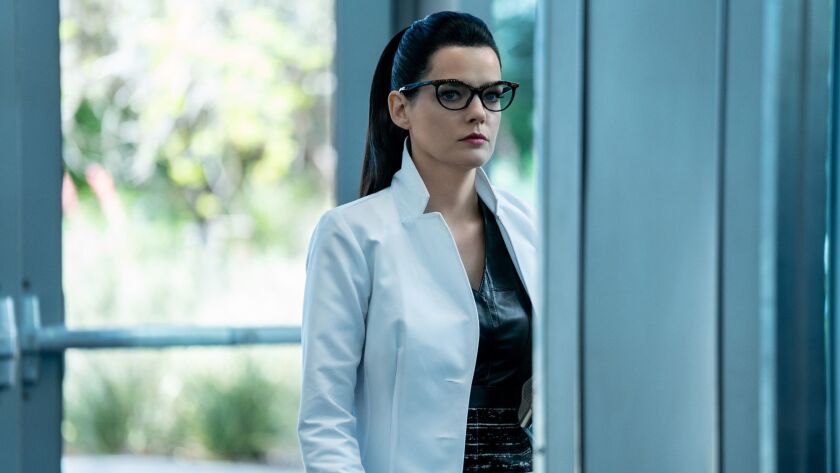 REVIEW: Ricky Gervais gets spiny and squishy in the Netflix comedy 'After Life' »
Araki's cast is largely youthful and universally good-looking; but for all that any of them could work as an underwear model (or, some have said, but I won't, in porn), they have character – even Mirchoff, who is 100% beefcake.
Some of them are naked some of the time — it's a matter of bare torsos and buttocks, rendered with an antique glossy glamour — but the framing is relatively modest. The sex scenes, of which there are plenty (even one involving a delivery man) are too much to the point here to be called gratuitous, and they usually don't go on long before something frustrating or funny happens.
I can't think of anything on television quite like it, apart from some Adult Swim oddities, "American Gods" (also on Starz, and a show that pairs well with this one) and the 2017 "Twin Peaks" reboot, and they are not quite like it either. It is very much in the vein of Araki's own earlier work, though, and in some particular ways a more madcap version of his pre-apocalyptic 2010 feature "Kaboom," which won the first Queer Palm at Cannes, and with which it shares a cinematographer, Sandra Valde-Hansen, and a production designer, Todd Fjelsted (who more recently designed and won an Emmy for "GLOW").
I like it very much for its cheery energy, its elegant awkwardness, its lack of cynicism or pretension, and its C-movie features twisted into goofy poetry. I like that it isn't drawn from the usual well of television, but formed from a primordial soup of David Lynch, John Waters, George Kuchar, Paul Morrissey, Russ Meyer and Hal Hartley, "Rock & Roll High School" and "The Rocky Horror Picture Show." These influences date it in a funny way, even as, in a tamer day, they make it unusually alive and lively.
But Araki's sensibility is kind of old-fashioned; he misses the time when movies and books were meaningful, before art was obsolete. His people live with the kind of furniture you could score in thrift stores in the 1980s but need a six-figure salary to afford now, giving the show the effect of existing in multiple times, and there is something decidedly late-20th century as well in his saturated palette and love of colored lights. Some jokes boil down to "kids these days," though in the sense that they're too touchy and overly concerned with labels — as his heroes are not.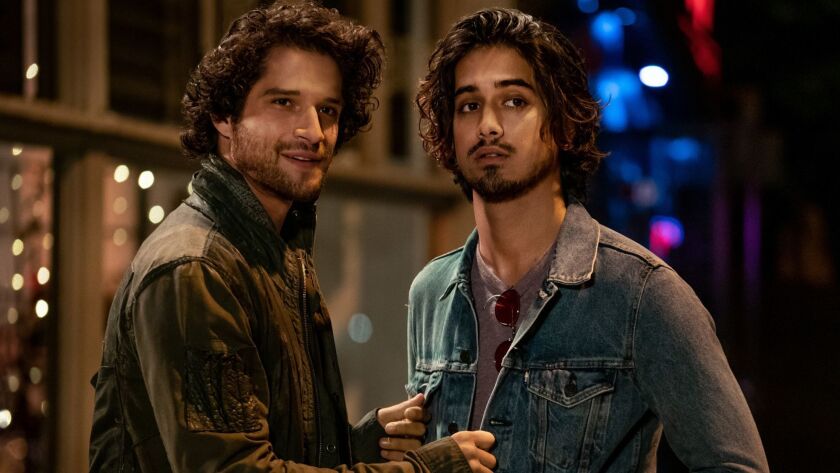 REVIEW: Never mind the joke title, 'PEN15' may be the year's best new show »
At 59, with nearly a dozen films to his credit, including "The Doom Generation" and "White Bird in a Blizzard," Araki has somehow been able to preserve his inner wild child. "Now Apocalypse" is absolutely professional and yet it feels at times almost like a student work, slightly cockeyed and, for all its ironies, super sincere.
"You wouldn't know it by my outfit, but I have a surprisingly high tolerance for sincerity," Carly says at one point. She might be speaking for the series she's in. People are looking for love, which, Ford observes to Ulysses, "is strange, dude, and super confusing."
One supposes there will be some kind of actual confrontation between the human heroes and the aliens Ulysses has been seeing — only five out of 10 episodes were available to review — but I don't expect any great meaning will emerge from it. Characters will meet various challenges; they may abandon bad habits and acquire better ones. But they are all right as they are; they only need to find where the puzzle fits them. Still, they build up something like depth just by … doing stuff.
"Now Apocalypse" isn't exactly critic-proof. One could cavil, if one were inclined, about the pacing or a tendency to wander off topic – not that I am making them – but as far as its content is concerned, to speak ill of the show would only be to reveal one's own tastes and tolerances. On the series' terms, everything here feels necessary and inevitable — the only way, and best way, this weird little epic could possibly go.
'Now Apocalypse'
Where: Starz
When: 10:30 p.m. Sunday
Rated: TV-MA (may be unsuitable for children under the age of 17)
Follow Robert Lloyd on Twitter @LATimesTVLloyd
---
The complete guide to home viewing
Get Screen Gab for weekly recommendations, analysis, interviews and irreverent discussion of the TV and streaming movies everyone's talking about.
You may occasionally receive promotional content from the Los Angeles Times.