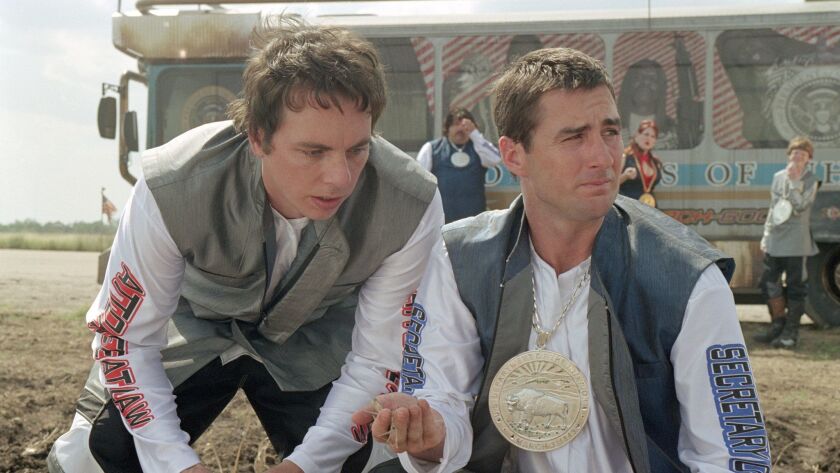 UNDERRATED
"Twin Peaks: Fire Walk With Me" (1992): Now that David Lynch's provocatively inscrutable world has come to Showtime to baffle a new generation, it's worth making time to appreciate this dark, at times weirdly funny prequel, which received a harsh reception at the time. While those expecting a tidy finish should give this film a wide berth — and the whole series, for that matter — it's a sometimes-harrowing glimpse into the late Laura Palmer's descent, led by an unhinged performance by Cheryl Lee. Plus, it's worth hearing where Run the Jewels' El-P found one of the samples on his 2007 album "I'll Sleep When You're Dead."
Do Make Say Think's "Stubborn Persistent Illusions": A Canadian standard-bearer of what was once called "post-rock," this instrumental collective recently returned with its first album in 10 years and, improbably, it's one of its most rewarding albums yet. Setting aside its contemporaries' by now tired guitar dynamics, Do Make Say Think blends immediate melodies and a propulsive drive on tracks such as the celebratory "War on Torpor" and the mid-album double-feature of "Bound" and "Boundless," which uses flickering guitars alongside restless rushes of keyboard and rhythm that can't help but pull you along.
OVERRATED
The third installment of "Fargo": It seemed impossible on paper, but Noah Hawley's loving tribute to the Coen brothers' bent world of criminal behavior and the righteous few who stand in their way may be stumbling with its latest installment. Though Ewan McGregor gamely contorted his voice into a Midwestern patter, his twin brother roles feel more gimmicky than the grounded weirdness of seasons past, and for all the easy menace in the series' previous villains, David Thewlis' erudite yet vulgar crime figure is almost cartoonish behind his ravaged dental work. Aw jeez, if only they hadn't set the bar so high, ya know?
"Idiocracy" (2006): Mike Judge's biting satire has been reappraised multiple times for its spot-on vision of the future of U.S. politics and pop culture. However, as a comedy, "Idiocracy" remains an utter failure — despite the combined on-screen efforts of Maya Rudolph, Dax Shepard and Luke Wilson. As if current events haven't borne its premise out already, there's been recent talk about a presidential run for America's new sweetheart, Dwayne Johnson, who is just a patriotic vest away from the film's President Camacho (Terry Crews). It's just too bad the Oscars don't have a speculative documentary category.
See the most-read stories in Entertainment this hour »
Follow me over here @chrisbarton.
ALSO:
The birth of modern stand-up is chronicled in Jim Carrey-produced 'I'm Dying Up Here'
'Catastrophe' co-creator Rob Delaney on his show's third season and exploring the realities of marriage
Comic Sebastian Maniscalco recounts his road from the Four Seasons to the Comedy Store (and beyond)
---