Rose Parade hosts Bob Eubanks and Stephanie Edwards prepare to banter one last time
New Year's Day is grounded in tradition — resolutions, bowl games and the Tournament of Roses Parade. And for more than three decades, Rose Parade anchors Bob Eubanks and Stephanie Edwards have been an integral part of that tradition.
As the veteran commentators of KTLA-TV's live broadcast from Pasadena, Eubanks and Edwards deliver upbeat banter and near-encyclopedic knowledge of each float, marching band and equestrian unit making its way along the 5 1/2-mile route on Colorado Boulevard.
But this New Year's Day will mark the end of an era when Eubanks, 77, and Edwards, 72, spend their last Rose Parade in KTLA's elevated broadcast booth.
Both mutually agreed months ago that this parade, themed "Find Your Adventure," would be their last.
"I'm an ambivalent person, but with this decision I am completely convinced this is the right thing to do at this time," said Edwards, who joined the broadcast in 1982. She was seated next to Eubanks in a cozy room at the Tournament of Roses headquarters in Pasadena.
Eubanks, who has been hosting the parade since 1979, said, "It's like what [Los Angeles Dodgers] announcer Vin Scully said one day. You don't want someone else saying, 'It's time to go now.' Our ratings are normally twice of all the other stations combined. We're very proud of that and we've worked very hard for it. I want to leave while we're on top."
Join the conversation on Facebook >>
Last year, more than 1.3 million viewers turned in for the live parade on KTLA. ABC and NBC, the remaining broadcast networks that show the parade, drew a total of 377,000 viewers.
"I've been told that for many people tuning in, we're their comfort food, their meat and potatoes," Edwards said. "When they tune us in, they know the world hasn't blown up yet."
The two depart as perhaps the longest-lasting partnership in TV history to host a live broadcast. KTLA has been collecting good wishes from viewers for a book that will be presented to the two hosts.
"They have done just a great job, and offered a unique perspective that has been wonderful," said Tournament of Roses Executive Director Bill Flinn of Eubanks and Edwards. "They were always capable of feeding off each other. They really set the bar for others to match."
Former "Entertainment Tonight" host Leeza Gibbons and Hallmark Channel's "Home & Family" host Mark Steines will take over parade-hosting duties in 2017 for KTLA.
At the Tournament House, Edwards and Eubanks automatically fell into the spunky, teasing rhythm that they display on-screen. They have a youthful vitality and make a striking pair: Edwards with her red hair and what she calls her "pillow voice" and Eubanks with his seasoned broadcaster cadence.
"A lot of people think we're married to each other," Edwards said. "We're not. We're both married to other people and rarely see each other throughout the year. We have an on-camera marriage."
Interjected Eubanks: "But in all these years, we've never had a cross word."
Edwards: "That's because I defer to the voice of male authority. If I had one thing all over again, I would not defer as much."
Eubanks: "Oh, for crying out loud."
Edwards: "Too late to fix it now."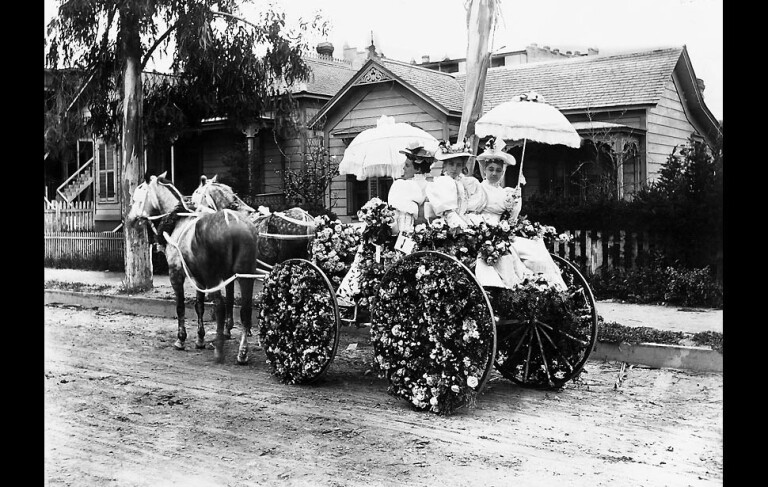 Jan. 1, 1895: This flower-decked carriage won first prize in the 1895 Tournament of Roses Parade.
Jan. 1, 1900: Maj. Gen William R. Shaftey, left, Pasadena Mayor George Patten, center, and Gen. Harrison Gray Otis, president and general manager of the Los Angeles Times. The carriage was drawn by a pair of white horses, and adorned with roses and an American flag.
Jan. 1, 1904: Automobles in the 1904 Tournament of Roses parade.
Jan. 1, 1910: "A Midsummer Night's Dream," the Pasadena High School float. This photo was the lead image in the Los Angeles Times' Jan. 2 coverage of the 1910 Tournament of Roses.
(M.E. Rafert)
Jan. 1, 1915: An ostrich named Cloudburst pulls Virginia Moon in her L.A. Ostrich Farm entry in the Rose Parade. Before football became the Rose Bowl tradition, ostriches were raced after the parade.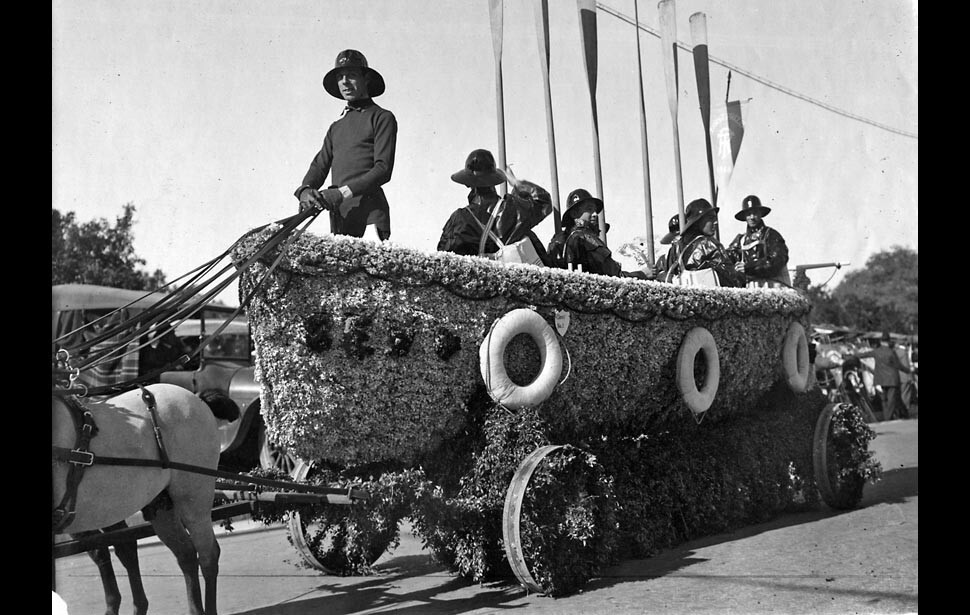 Jan. 1, 1918: The Adolphus Busch Estate float won first prize in the commercial float category. First prize was a $50 silver trophy and blue banner.
Jan. 1, 1920: General view of the 1920 Tournament of Roses parade.
Jan. 1, 1924: City of San Gabriel float with a reproduction of the San Gabriel mission. Cast members of the Mission Play ride on the float. The float, titled "Mission Play," won third prize in the historical division.
Jan. 1, 1925: The Catalina Island Co. float in the 1925 Rose Parade.
Jan. 1, 1926: Two girls dressed in rose costumes stand beside a float at the Rose Parade in Pasadena. This uncropped image was scanned from the original glass negative.
(Los Angeles Times Archive/UCLA)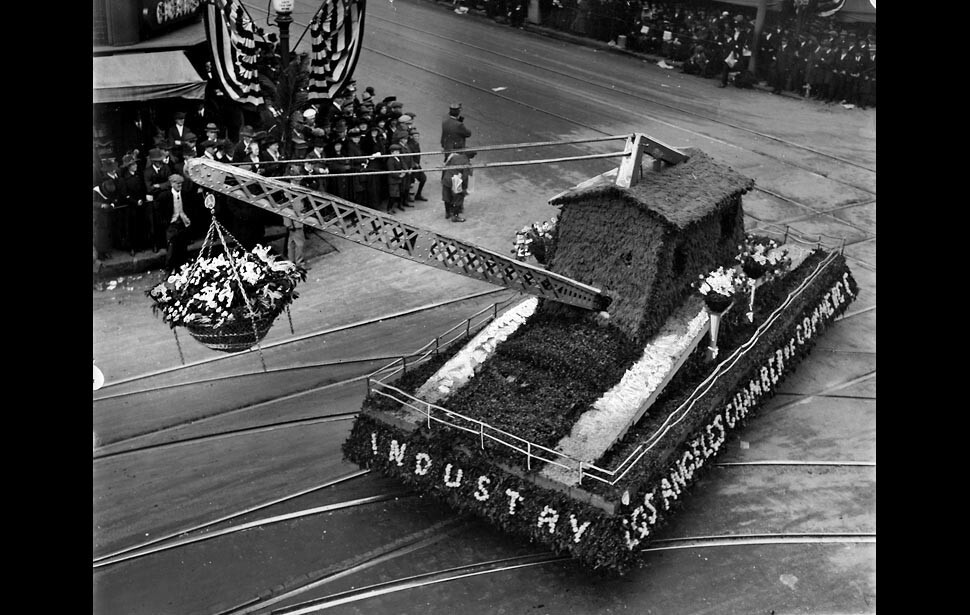 Jan 1, 1926: "Industry," the Los Angeles Chamber of Commerce float turns a corner during Tournament of Roses Parade.
Jan. 1, 1926: A victim is removed after the collapse of a Rose Parade grandstand at Colorado Boulevard and Madison Avenue. Eleven people died from injuries sustained in the collapse.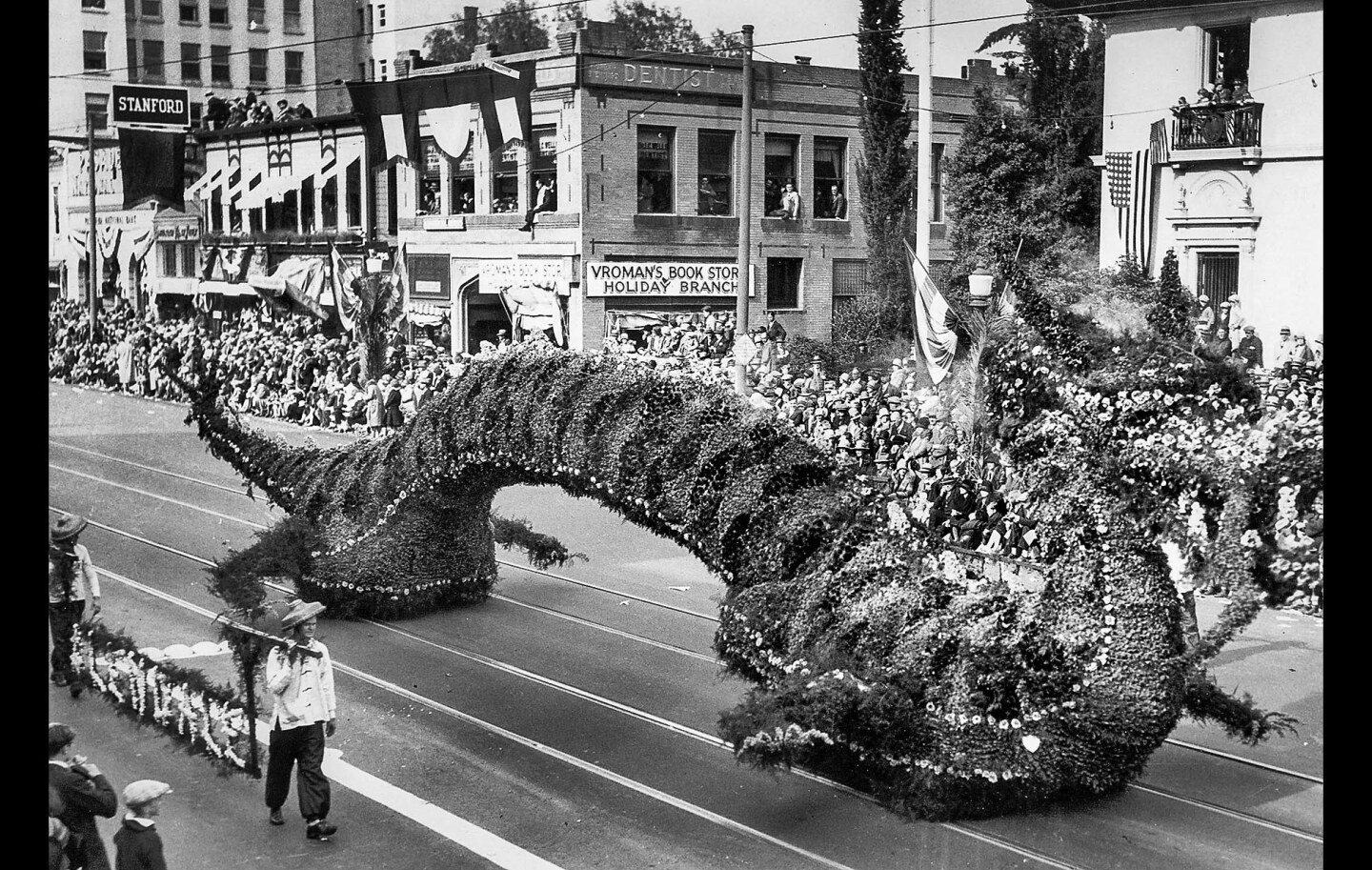 Jan. 2, 1928: The Glendale float in the Tournament of Roses Parade.
(Los Angeles Times)
Dec. 27, 1929: Map of 1930 Tournament of Roses parade route published in the Los Angeles Times.
Jan. 1, 1932: City of Inglewood float titled "Boxers" in the Tournament of Roses Parade.
Jan. 2, 1933: Tournament of Roses Parade grand marshal actress Mary Pickford.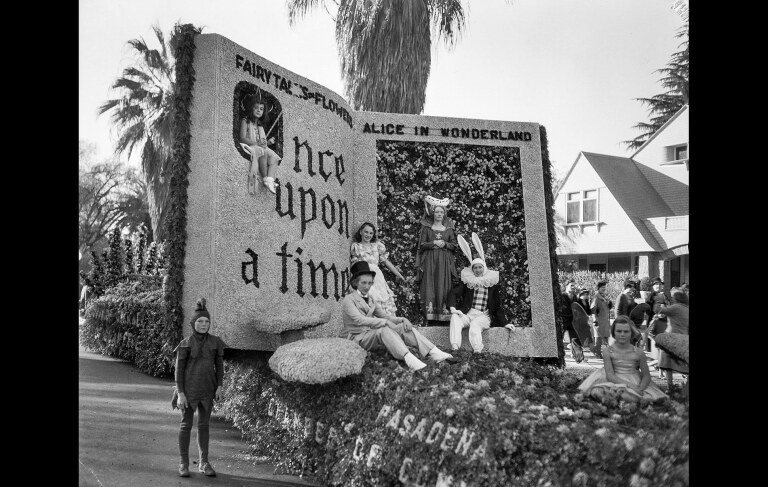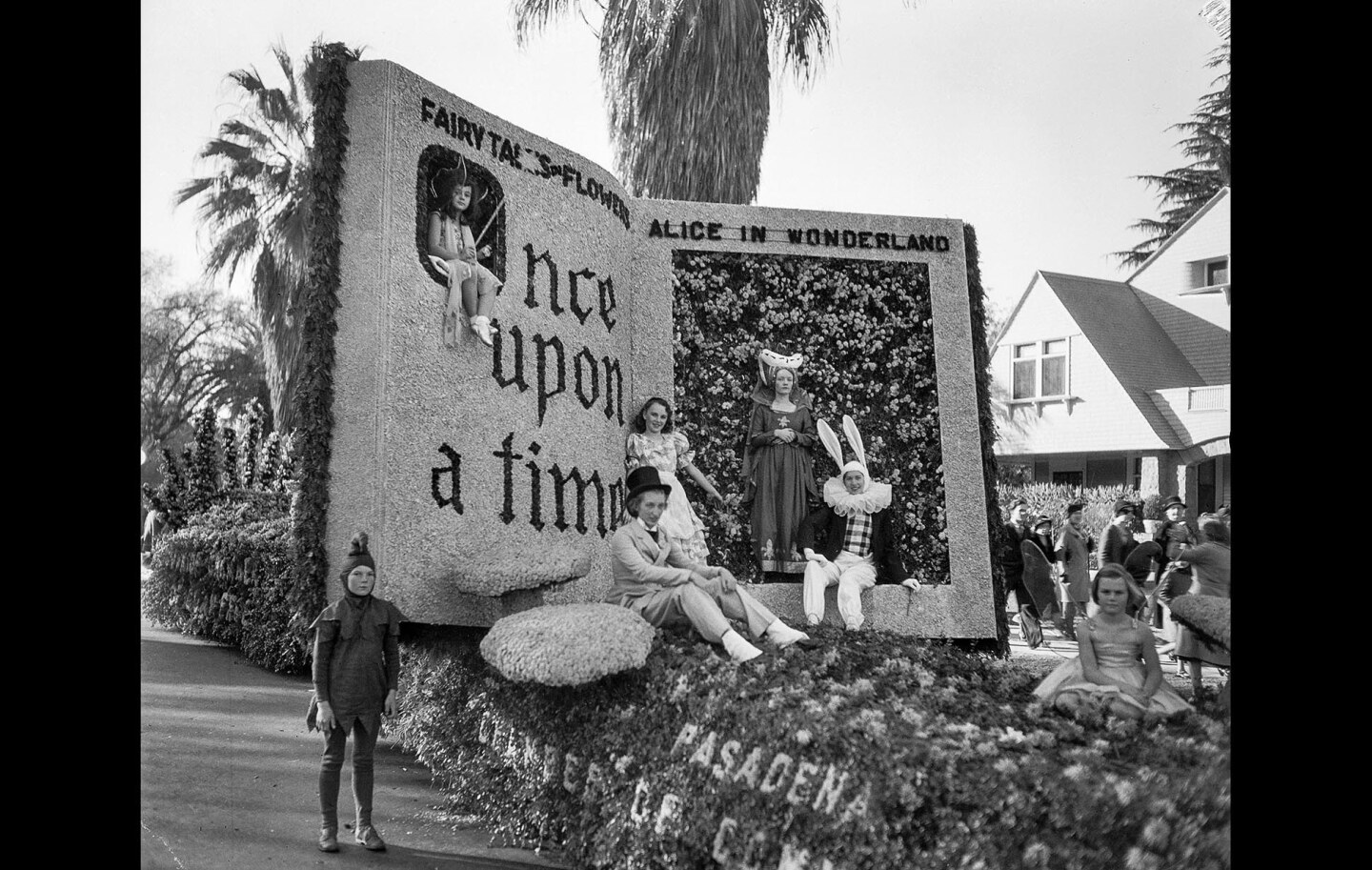 Jan. 2, 1933: The Pasadena Chamber of Commerce's "Alice in Wonderland" float before the start of parade.
(Los Angeles Times Archive/UCLA)
Jan. 2, 1933: Fairies Dorothy Jean Durand and Mary McCrory before the Tournament of Roses Parade. They rode on the "Pasadena Fairyland" float sponsored by the Pasadena Park Department.
(Los Angeles Times Archive/UCLA)
Jan. 2, 1933: Aerial view of 1933 Tournament of Roses Parade. At the top is the intersection of Colorado and Orange Grove boulevards.
(Wide World Photos)
Jan. 1, 1934: Tournament of Roses Queen Treva Scott, top of float with umbrella, and her court during a rainstorm. It has rained 10 times on the parade day, but the parade has never been canceled because of weather.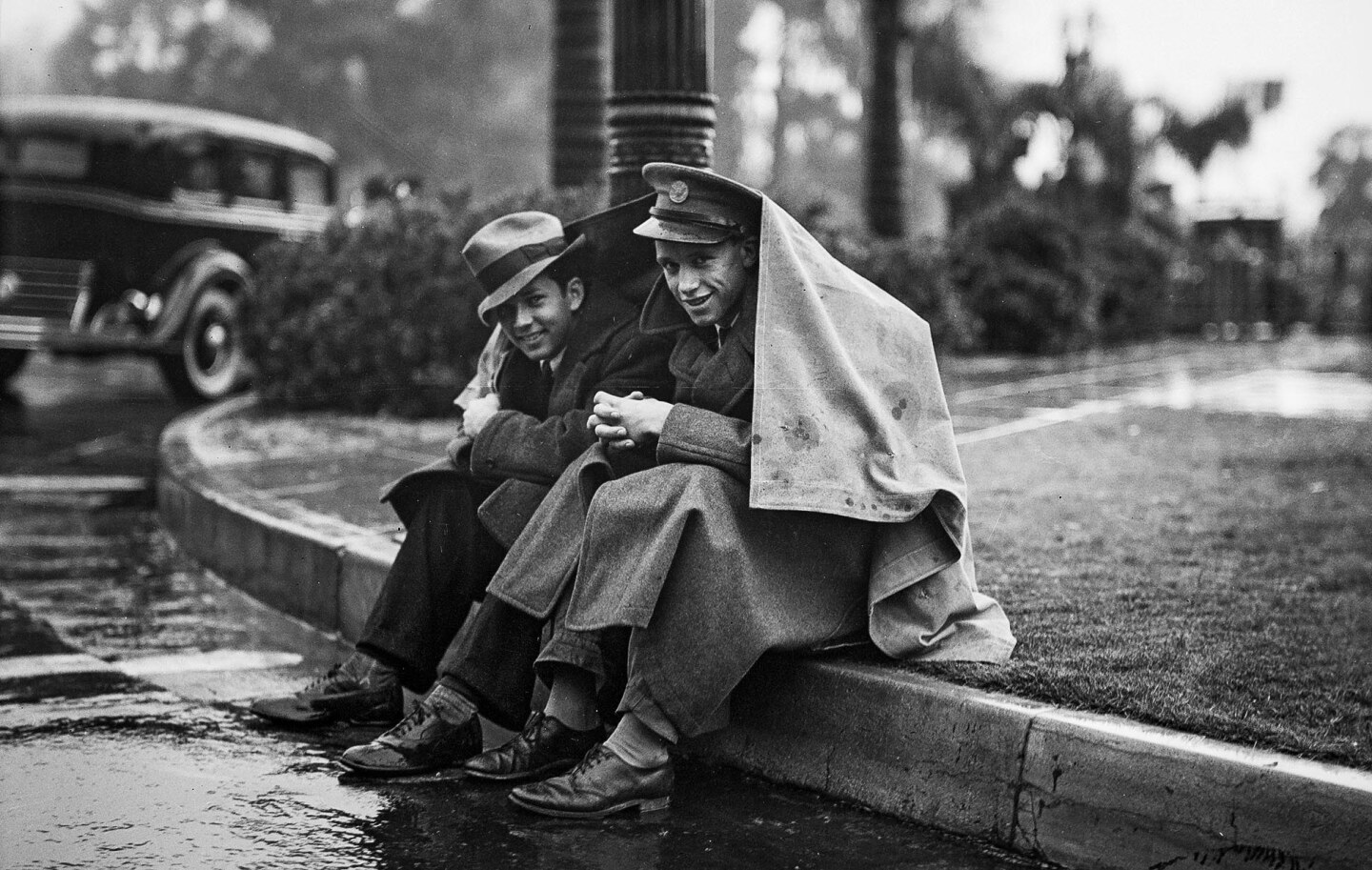 Jan. 1, 1934: Two unidentified spectators are bundled up during a rainy Rose Parade in Pasadena.
(Los Angeles Times Archive/UCLA)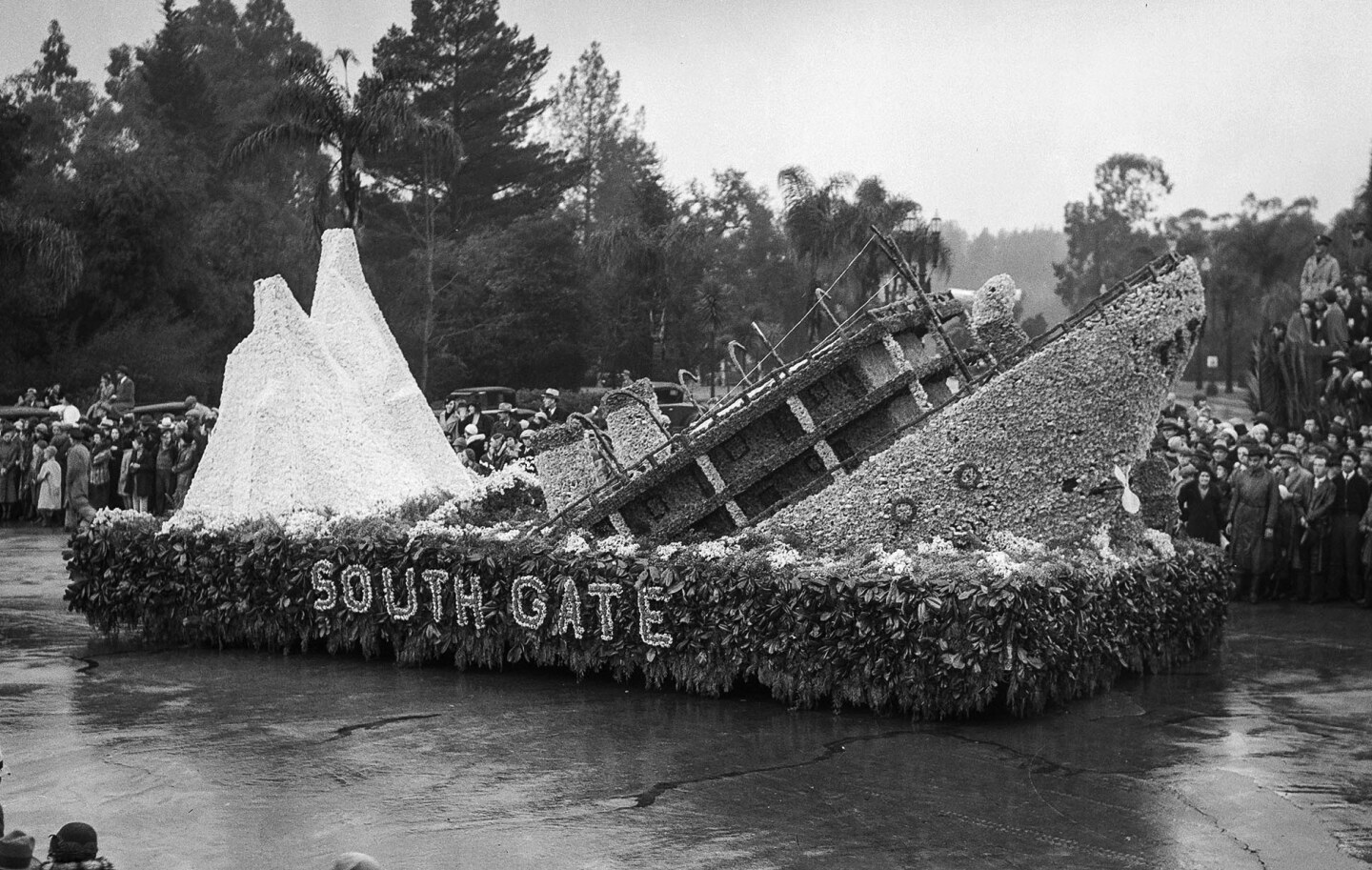 Jan. 1, 1934: The city of South Gate's Rose Parade float, "Titanic," is shown on Orange Grove Boulevard just before it turned onto Colorado Boulevard.
(Los Angeles Times Archive/UCLA )
Jan. 1, 1934: The Salvation Army band marching in the rain during the Tournament of Roses Parade.
Jan. 1, 1934: The city of San Diego float "Old Ironsides," during the Tournament of Roses Parade. This photo was published in the Jan. 2, 1934, Los Angeles Times.
(Los Angeles Times Archive/UCLA )
Jan. 1, 1935: Rose Parade Queen, Muriel Cowan on the back of the "Firebird" float.
(Los Angeles Times Archive/UCLA)
Jan. 1, 1935: View of Santa Barbara's sweepstakes winning "Peacock" float. The float was photographed at the intersection of Orange Grove and Colorado boulevards.
(Los Angeles Times Archive/UCLA)
Jan. 1, 1935: Closeup of the Long Beach float with Venus, Virginia Johnson, in a sunburst throne with her attendants, Joan Slaughter, Margaret Burley, Mary Lou Turner and Gladys McCleary. This float won the theme prize.
(Los Angeles Times Archive/UCLA)
Jan. 1, 1937: Tournament of Roses Queen Nancy Bumpus on a float with the theme "The Romance of the Rose."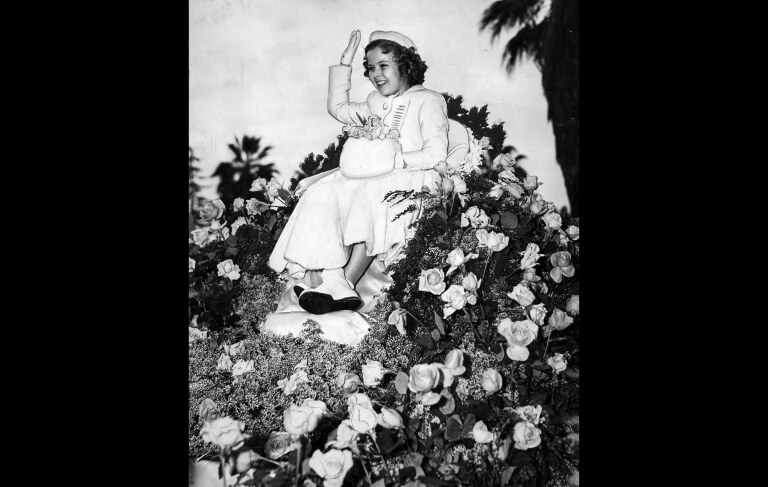 Jan. 2, 1939: Tournament of Roses parade Grand Marshal Shirley Temple rides on a float covered with a bed of roses. This photo was published in the Jan. 3, 1939, Los Angeles Times.
Jan. 2, 1939: The Dr. Ross Co. float won the president's trophy, but also had a brake failure on Colorado Boulevard. The runaway float, left, is swinging around the Eagle Rock float before coming to a stop. Five people were injured.
(Dick Whittington)
Jan. 1, 1940: A majorette marches with a band in the Tournament of Roses Parade in a photo published in The Times the next morning.
Jan. 1, 1946: The Long Beach float won the sweepstakes award in the annual Rose Parade. The 1942-45 parades were canceled because of World War II.
(Paul Calvert)
Jan. 1, 1947: "Holiday the Year Round," the Tournament of Roses Parade float entered by San Pedro featured a huge ocean wave of blue and white flowers.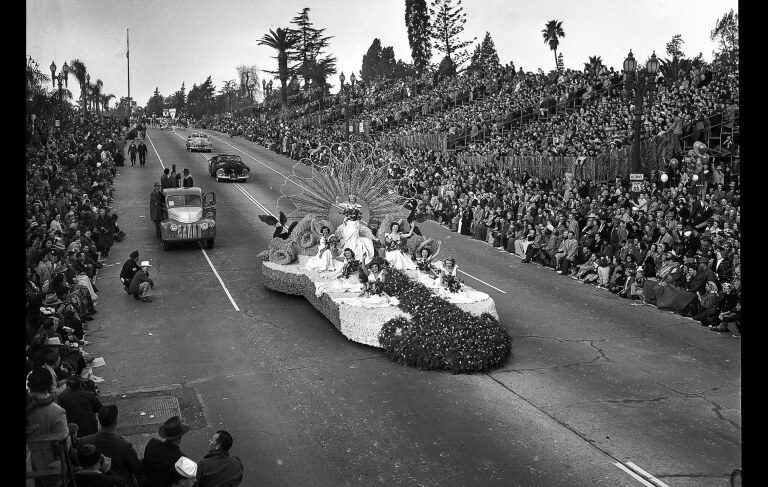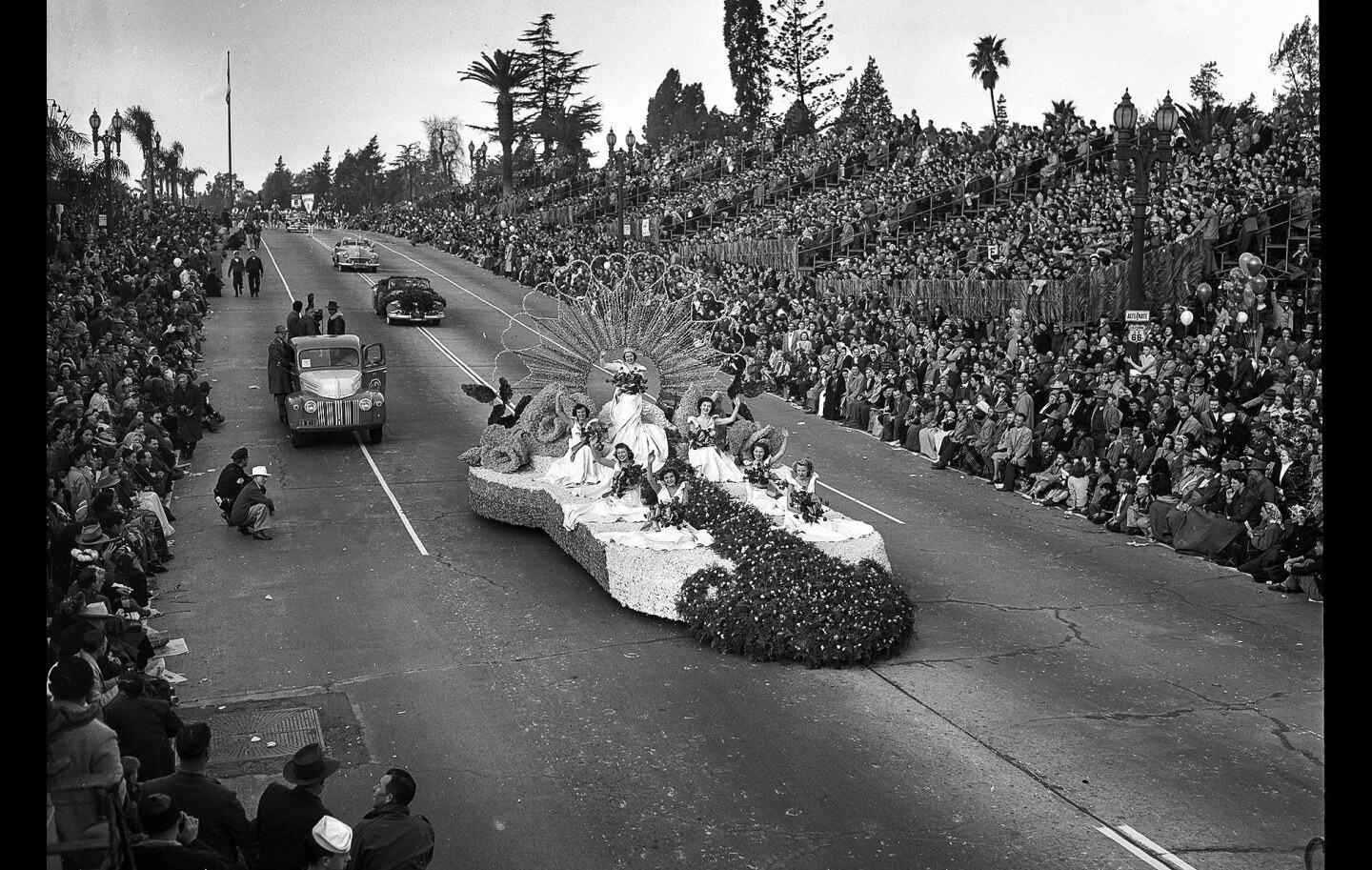 Jan. 1, 1948: Rose Queen Virginia Goodhue reigned from a towering floral throne flanked by her six princesses. Four huge roses formed from a mass of blossoms outlined the outer edges of the beautiful float.
They both laugh. "Do you see why I've had so much trouble through the years?" Eubanks said. "I love her."
It's precisely this kind of chemistry that has made them the most popular hosts of the parade.
Evidence of their popularity as a dynamic New Year's duo was tested in 2006 when Edwards was demoted by station management and banished to the rain-drenched viewer grandstands while her younger replacement, KTLA morning news anchor Michaela Pereira, sat in the warm, dry booth with Eubanks. Viewers responded angrily, but the station still proceeded in dropping Edwards from the parade for the next two years, prompting more negative response.
New station management brought her back in 2009 and reunited her and Eubanks.
"Being in that rainstorm was the best thing that happened to my career, the best," said Edwards of the incident. "Mine too," quipped Eubanks.
John Moczulski, vice president and station manager for KTLA, said, "Bob and Stephanie are two very different people who have grown together. It was like they were sitting on the couch beside you as you watch the parade. Their observations were from the heart."
But you can't have roses without thorns, and it's also the duo's unscripted prickly exchanges that have often spiced up the proceedings. Fans still recall the instance in 2009, when Edwards offered that "aloha" not only means "hello" but "be quiet," to which Eubanks responded, "Well, then, aloha!"
A composite image of past Rose Parade queens, from left: 1907 Rose Queen Joan Woodbury; May McAvoy, 1923; Dorothy Edwards, 1933; and Marilyn Smuin Martell, 1955.
(Tournament of Roses)
A decorated carriage dubbed "Tallyho" takes part in the Tournament of Roses Parade circa 1895-99. "Could be" a royal court, says USC Libraries. But the first queen wasn't chosen until 1905.
(USC Digital Library)
In the back of a horse-drawn float from the 1905 Tournament of Roses parade is a woman in a crown. In 1905, Hallie Woods became the first Rose Parade queen.
(USC Digital Library)
The 1934 Pasadena royal court with Frank Thomas, Alabama head football coach, outside L.A.'s Ambassador Hotel.
(Los Angeles Times)
In this 1945 photo op, the members of the royal court help Santa -- who pretends seasickness.
(Los Angeles Times)
Jimmy Stewart sat in with the 1949 Rose Parade royal court.
(Los Angeles Times)
In their mod hats of the era, plus a captain's hat, the 1969 royal court toured a cruise ship in San Pedro.
(Los Angeles Times)
The 1971 royal court in front of the Tournament House, Pasadena headquarters for the Tournament of Roses Assn.
(Los Angeles Times)
Edwards recalled another similar moment in their decades-long history together: "I have this driving desire to talk about the three kinds of glue that are used to put the petals on the float. I started to one year and Bob said, on the air, 'Nobody is interested in that.' I could have kicked him."
As she talked, Eubanks broke out laughing.
Edwards continued, "It's about what interests the audience, and I will go to my grave knowing they would have loved to know about the three different types of glue," she said defiantly.
Edwards was the first female co-host of the ABC morning news show that would eventually become "Good Morning America." Other hosting gigs included "Leave It to the Women" and "Live With Sam [Rubin] and Stephanie." She was also the on-air spokesperson for 18 years for Lucky, a national grocery store chain.
Eubanks' broadcasting credentials range from being the radio DJ who helped bring the Beatles to the Hollywood Bowl in 1964 to his well-known stints as host of "The Newlywed Game."
They first hosted the parade together in 1982, when the weather literally rained on their parade — one of the few days in the 68 years since KTLA has been covering the parade that dark clouds shadowed the proceedings. That parade was also notable for several float breakdowns, which has always been one of Eubanks' primary concerns — looking down the parade route and seeing nothing coming.
But Edwards remained cool during her on-air audition, and Eubanks (as well as station management) witnessed a solid chemistry between the two commentators.
"If Bob had not wanted me to continue, I wouldn't be here," Edwards said. "So I owe him that, and I am grateful for that" — she paused a beat before adding, "as I continue to steam and chew my tongue."
As the final curtain draws near, Edwards and Eubanks concentrated on their usual pre-parade ritual, which involves filming promos, studying the floats and participating in script meetings where they examine a deluge of facts about the parade. On New Year's Eve, they'll rehearse, and then separate to rest up for the big day — a day that will certainly be one of their biggest.
"We can ad-lib all we want this year," Edwards joked. "They can't fire us."
ALSO
How cable and broadcast TV news fared in 2015
Misfit TV shows are finally getting the respect they deserve
Christmas with 'Doctor Who' and 'Call the Midwife' delivers suspense and tizzies
---
The complete guide to home viewing
Get Screen Gab for weekly recommendations, analysis, interviews and irreverent discussion of the TV and streaming movies everyone's talking about.
You may occasionally receive promotional content from the Los Angeles Times.