Dana Carvey says Ross Perot loved how the comedian poked fun at him on 'SNL'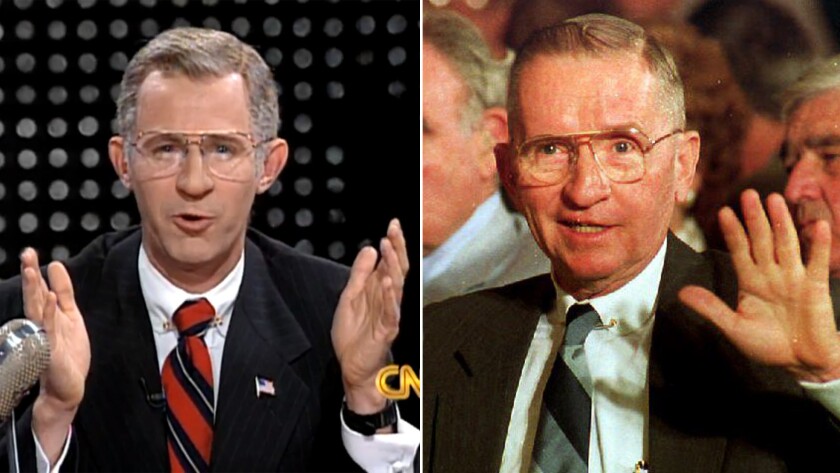 Throughout the 1990s, Dana Carvey often donned a wig and glasses on "Saturday Night Live" to poke fun at H. Ross Perot, the Texas billionaire who ran for president twice as an independent candidate.
Upon hearing the news that Perot had died on Tuesday, the comedic actor spoke with The Times to pay tribute to the real-life character he spoofed onscreen.
"I really enjoyed doing Ross Perot, such a fun character to play," he told The Times while driving. "He had this distinct Texas drawl and this old-fashioned pragmatic servitude about his policies, and he'd be very impatient when people didn't get it. He was a colorful American character."
Carvey captured Perot's quirky stream-of-consciousness delivery, complete with the Texan's tinny twang. He played the character in 10 sketches, and opposite three different actors as Larry King: Norm MacDonald, Kevin Nealon and Will Ferrell.
Never did his sendups offend Perot himself.
"He loved it and was very nice about it," said Carvey. "In fact, he called me up once because he wanted me to be with him in Texas on election night!"
The actor then reprised his Perot impression on the phone during this interview: "He said to me, 'I got an idea: You go out and do me, and I'll do me. Then there's two of me!'" he said, complete with Perot's laugh. "He had a very good sense of humor about it."
Watch the many times 'Saturday Night Live' spoofed Ross Perot »
Carvey remembered when he was first tasked with taking on the Texas tycoon.
"He just suddenly was on the scene, it seemed," he recalled. "On a Monday, people had never really heard of him; then on Tuesday, Lorne Michaels had a VHS tape of him and asked me to take a look and see if there was anything there."
What he found was comedy gold. "I thought, oh my God, this is amazing — a fully formed, comic character," he continued. "He just had a funny way of talking. It was not a lot of heavy lifting on my part!"
Of all the times he put on his Perot impression, Carvey's favorite is the 1992 sketch "Joyride With Perot," with the late Phil Hartman making his one and only appearance as James Stockdale, Perot's vice-presidential running mate.
"It was after a very odd debate, and he seemed very incoherent," Carvey said of Stockdale, who answered a question with "Who am I? Why am I here?" at that now-infamous debate. That led to the sketch in which "we were driving out to the woods, and got him to go out of the car, like he was dropping him off and getting rid of him."
In fact, whenever Carvey has spoken at events about his career, he has tried his best to throw in a signature Perot non sequitur. His favorite? "He once said, 'You can't put a porcupine in a barn, light it on fire and expect to make licorice!'"
While Perot and Carvey didn't keep in touch much after the tycoon's election attempts, Carvey will always remember his time playing Perot — and other real-life figures — fondly.
"I know people I used to do in the early '90s are up there in years," he said. "He lived a good long life."
Twitter: @cashleelee
---
The complete guide to home viewing
Get Screen Gab for weekly recommendations, analysis, interviews and irreverent discussion of the TV and streaming movies everyone's talking about.
You may occasionally receive promotional content from the Los Angeles Times.