Roy Choi on how his new TV shows 'Broken Bread' and 'The Chef Show' feed his L.A. love
Television Critic
You may know Roy Choi from the Kogi Korean BBQ food truck, Kogi taqueria, A-Frame, the Alibi Room or his new Las Vegas restaurant, Best Friend. That Choi also now finds himself at the center of not one but two television series closes a circle in the career of the L.A. chef that began with TV. At rock bottom in the mid-1990s, after "a three-, four-year gambling spiral" and a routine of "basically just partying in K-town, sleeping on couches, getting into fights every night, getting drunk," his life was saved by an episode of Emeril Lagasse's Food Network series "Essence of Emeril": "Watching that show gave me one last hope."
Already airing and streaming is the terrific "Broken Bread," a co-production of KCET and the web-based video platform Tastemade, which looks at food and food systems with an eye toward social justice, sustainability and personal empowerment. (New episodes air Wednesdays at 8:30 p.m. on KCET, and can be streamed from the KCET and Tastemade websites.) "This show in a way is a bit of a battle cry," Choi told me recently when we met to talk at a Korean coffee house in a strip mall built where an earlier mall burned in the 1992 riots.
The series, which makes good use of host Choi's sweetness and urgency, is beautifully produced and often moving as it focuses on individuals finding innovative solutions to food-related social problems, or addressing social problems through food. Subjects include access; waste ("not only wasted food, but how we waste people," Choi says); veganism and alternatives to meat; the gentrification of cannabis; the transformative power of kitchen work; and a history of Watts, which includes the story of Locol, the healthy-alternative fast food restaurant Choi and Michelin-starred San Francisco chef Daniel Patterson opened in Watts in 2016. (Locol losed last August, but the partners continue to pay rent on the space as they work on what Choi calls "Locol 3.0," envisioned as a "tech-based delivery service app"; meanwhile, says Choi, "If you call, we will cater.")
Choi's other series is "The Chef Show," a charming food-and-friendship show done in collaboration with director-actor Jon Favreau. It premieres June 7 on Netflix and takes its inspiration from the "cooking-to-camera" shows Choi grew up on. He worked as an advisor on Favreau's 2014 food-truck road film "Chef," and the two clicked; this show, which features celebrity guests and fellow chefs, was created partly as an excuse for them to hang out. One episode, featuring "Good Food" radio host Evan Kleiman and Jitlada proprietor Jazz Singsanong, is partly an homage to the late Times food critic, and early Choi supporter, Jonathan Gold.
Where did you grow up exactly?
Right here, on the Vermont side, mostly, and then I moved to Orange County in high school.
How different was that?
Very different. The transition was tough for me at that time, but looking back I think it built a lot of who I am. I've lived through a lot of different neighborhoods. In L.A. we moved seven times, and in Orange County, we moved three, four times, from apartments to suburbs, inside and out. It's always hard to move, but now that I look back on everything that happened with Kogi, I realize I knew exactly how to cook for a lot of people. I know what it's like to be a teenager in Orange County, I know what it's like to be a kid in L.A., I know what it's like to not have any money and have your lights turned off, I know what it's like to live in a house with five rooms. I know what it's like to have friends who go surfing and listen to Depeche Mode, and to ride a low rider and listen to Roger Troutman. And so when we first started serving the taco, spiritually I was able to tell a story a lot of people could relate to, from Whittier to Van Nuys, Koreatown to Carson. I could give every neighborhood what they needed, cause I had lived through it.
What was your experience of food as a child?
I was a latchkey kid, from 4 or 5 years old. My parents worked and sold and hustled; they were gone from the morning, and I pretty much took care of myself. But in a Korean household you're always eating with your family no matter what, and you're always cooking. And our food is not one you can just open a package and eat right away; a lot of our food takes time to develop. It needs to ferment, it needs to pickle, it needs to cook for hours. And I didn't grow up around much junk food or packaged food; when I moved to Orange County, I got introduced to cereal and Pop Tarts, granola bars. That was a whole new world for me too.
I also grew up in a Korean restaurant. A lot of relatives had hamburger shops, so I ate a lot of that. My dad really liked going to Japantown and Chinatown. Before I was born, he worked at Grand Central Market and Lawry's, so we would go to Lawry's or Benihana for special occasions; Yoshinoya was a big treat for us at a certain time. While my parents were trying to get into the jewelry business downtown, we would be on 6th and Hill a lot; there was an old restaurant there, the Yorkshire Grill, and we used to eat there a lot. Clifton's, the Pantry, burger stands, Norm's coffee shop, Ships coffee shop, taco trucks, tamales, Tommy's chili — it was all that true L.A. food, for that time.
Did you, yourself, cook?
Not professionally. I worked in like friends' hamburger shops all my life, grew up in a Korean restaurant where after school I would make dumplings, and clean and peel vegetables. Throughout high school, I worked as a busboy, dishwasher, teppanyaki grill cleaner, salad bar assembler and breakdown guy. So it was very natural for me, but I was so close to it that I don't know if I ever thought of it as a career.
One of the themes of "Broken Bread" is that working with food can transform your life.
Definitely. A lot of us don't fit into the traditional educational system and are, I don't want to say victims, but we're casualties of a system that doesn't consider diverse backgrounds and financial situations. It's that whole cycle we're exploring on the show — the communities that need nutrition the most have the least; the communities that need art programs the most don't have them. The thing about the kitchen is it's very much a hands-on learning program. A lot of us who don't register information in an intellectual way are able to really rise in an environment that allows us to be ourselves. A kitchen remains a place you can stumble into and find yourself.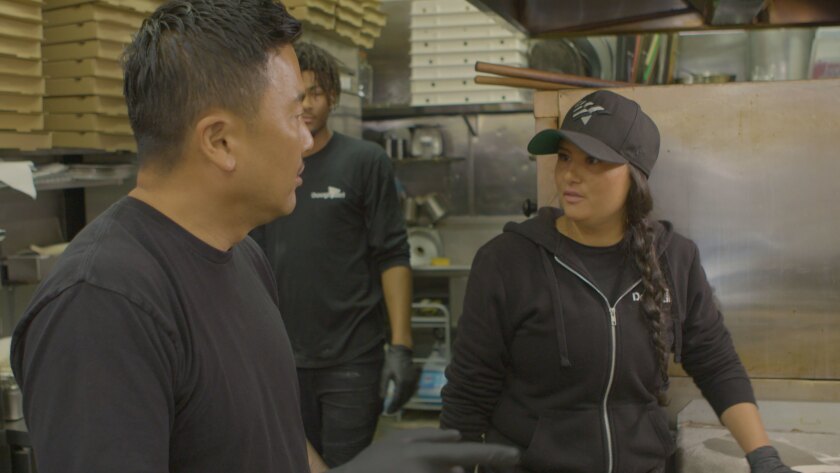 I always equate it to like a dojo: You can be upside down in your life or just on the road to nowhere and completely find yourself. It happened to me. I've seen it happen to hundreds of cooks that come through my kitchens. 'Cause the hands-on part is something we've lost touch with. We don't give enough power to the intelligence of our feeling, our love, our emotions. I don't want you to think I'm getting corny for the sake of nothing; those things are the value system in the kitchen. Emotion, sensitivity, love, caring, dexterity — these are things that we grade ourselves on.
And there's an element of discipline.
And there's a discipline. A lot of us don't like to be told what to do. I still, in my mid-40s, don't like to be told what to do. But in a kitchen you're forced to connect to authority. Everything else in your life, you're like, "F the police" — you pee on the "No Skateboarding" sign, in school you flip the desk, you're the class clown — but for some reason in a kitchen you embrace that authority. Again, for a lot of kids like myself out there, the intangible nature of education creates this anxiety — what I mean by that is there's nothing to validate exactly what you're learning.
"Why do I need algebra?"
Why do I need to know about the pioneers? I'm an Asian kid in Koreatown or a Latino kid in Boyle Heights; what does Lewis and Clark have to do with me? But in a kitchen there's 100 pounds of onions right there, there's a chef that you respect, there's all these people around you really working hard and there's a goal you've agreed to be a part of. And that is really empowering. You're the detention kid, you're the one that gets pulled over by the cops, you're the one that gets yelled at by your parents. But you get into a kitchen and you realize that everyone in there was [like] you on the outside.
Cooking is interesting in that it combines the high and low. The most elevated chefs rely on flavors and ideas born in the home and on the street.
And in many cases those chefs came from the bottom. A lot of them forget that when they get there. If you're in a kitchen you weren't born with a silver spoon in your mouth, 'cause why would you go to the service side if you're the one getting fed all the time? A lot of high-tier chefs came from the bottom, but they forget. I'm not the only one, but what I try to do is I try to get people not to forget, to continue to create the ligaments that tie us together.
Does "The Chef Show" feel like a fulfillment of that moment watching Emeril all those years ago?
Most definitely; I grew up on Paul Prudhomme, Sarah Moulton, "America's Test Kitchen," Emeril, Julia Child and "Jacques and Julia," Ming Tsai, Sam Choy, Martin Yan. It's something that I always dreamed of doing, but I'm not a natural-born entertainer — I didn't think I could hold a camera on my own. Even if you look at "Broken Bread," I'm pushing the camera outward versus being on me. But having Jon by my side allowed me to be me, and he could carry the camera. I always wanted a cook-to-camera show; "Broken Bread" is my activist side, but this is my chef side. The great thing is that we don't have any made-for-TV stuff — it's not like we're pulling a fully baked pie out of the oven. The show is like a podcast, and through the episode you see the whole dish being made.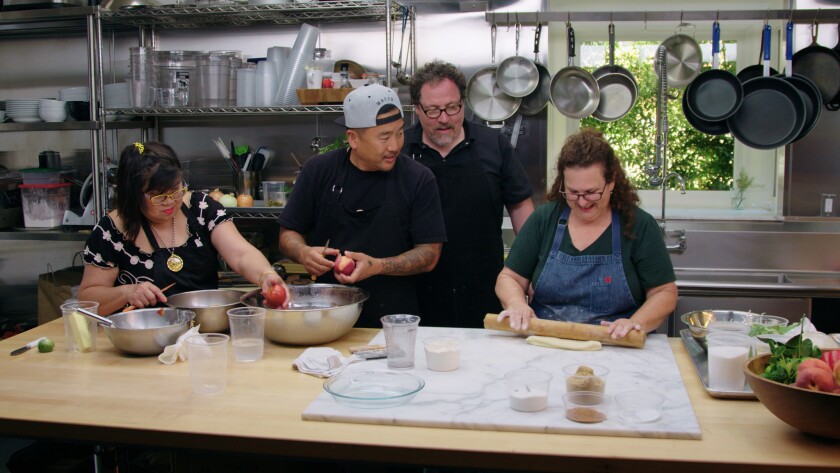 What's the status of Locol?
We're still alive, trying our best. We really believed in what we were doing, and we still do. Just financially it didn't work. I mean, we were open for almost three years. It wasn't like we opened and a month later we closed. When we announced, "Hey, we're going to take a step back, we're going to rethink this model," it was just so easy to point the finger and say, "You failed." But we created a lot of new jobs — cooks have moved on to the restaurant Alta Adams, they've moved on to other kitchens, they've moved on to my kitchens here in L.A. And we created offshoot companies, like the Ambassadors, which is a security program.
We invested almost $3 million in the community. We paid salaries for over 40 people for three years; we created subsidiary jobs in construction, demolition, painting, art. I know this is not tangible, but there were three years of memories created, especially with the children, that will always be there. Maybe I'm a little idealistic, but to me those things mean something. You can't judge everything on this binary code of success or failure.
We still have the building, Even when we announced our closing of the retail site, we've still paid rent to be there every single day. We are running catering out of it and developing our 3.0 version, which will be, like, a tech-based delivery service app, but it'll still have the foundational elements of Locol: Start with the community, hire from the community, work within the community, serve all-natural ingredients, wholesome food, and be a resource and a peace center for the community.
It reminds me of Mar Diego, in the "Transformation" episode, who puts at-risk kids to work in her pizza place, Dough Girl.
Yeah! In our world we're so macro on everything, but the way we work, Mar and I, she's very micro — it's like, "If I can help one kid, to me that's a success." That's the same way we looked at Locol. For Mar, it's one kid, one pizza, one step at a time. And then these kids carry that skill and move on. And that's a big part of what drives me as well. I always think of future generations when I try to do something. We have to come to the point where we admit where things are really as bad as we think they are, but the solution is probably not as hard as we think it is.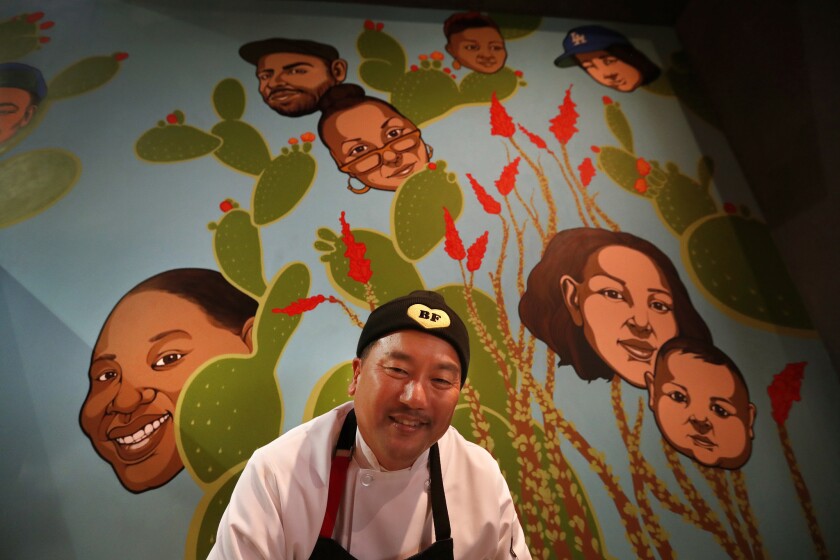 My dream is that "Broken Bread" becomes the hottest show on TV. What I mean by that — I want to really put this in context — is that what we're covering will drive popular culture, the idea of loving and caring and challenging these problems. Because to me it's a little bit of follow the leader — if this hits, then other studios will say, "We need a social justice show as well," and that will drive the conversation and the marketplace.
I'm excited to see if that could happen. Tony Bourdain was definitely swimming in those waters and people were interested. Jonathan Gold was writing about this and people were interested. So I hope we can continue that lineage.
Follow Robert Lloyd on Twitter @LATimesTVLloyd
---
The complete guide to home viewing
Get Screen Gab for weekly recommendations, analysis, interviews and irreverent discussion of the TV and streaming movies everyone's talking about.
You may occasionally receive promotional content from the Los Angeles Times.