Owning 'The Late Show With Stephen Colbert' is key for CBS, exec says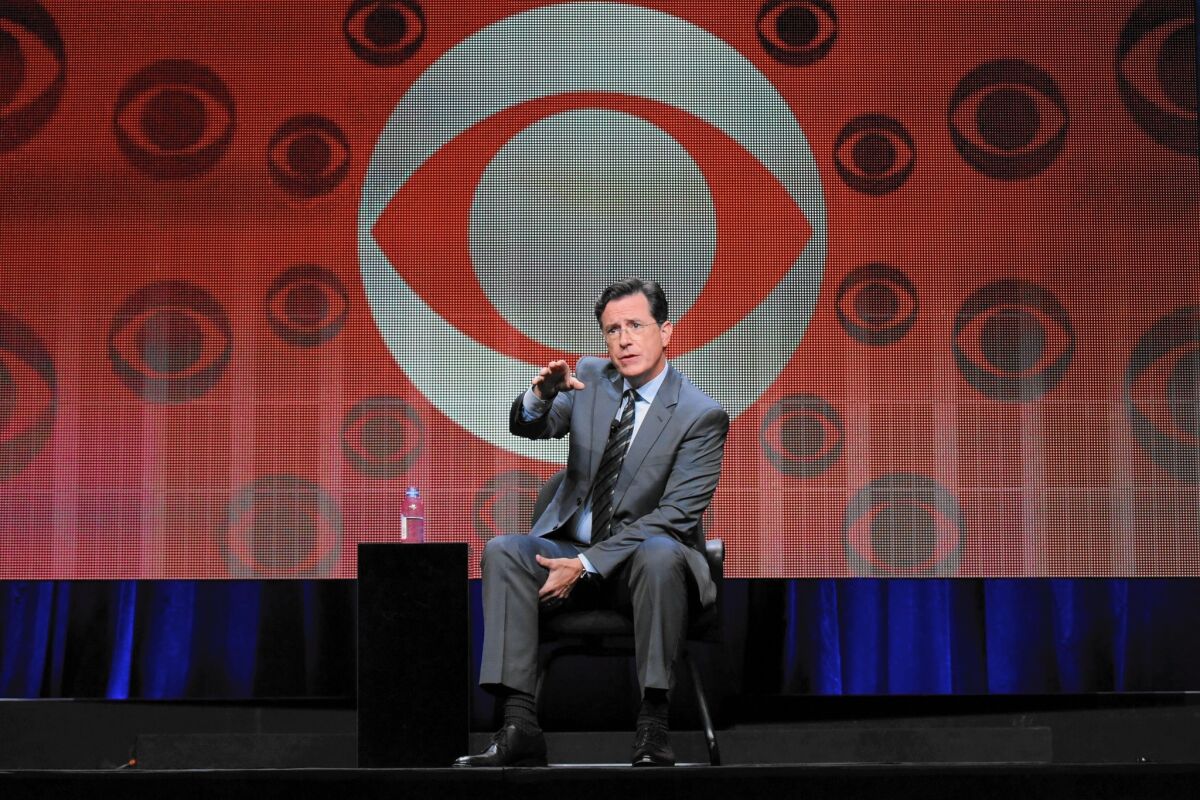 CBS is looking to be the night owl that becomes a cash cow.
With the departure of David Letterman in May, the network for the first time will own and produce both of its late-night shows — "The Late Late Show With James Corden" and "The Late Show With Stephen Colbert," which premieres next month.
CBS licensed "Late Show With David Letterman" and the shows that followed it in the 12:35 a.m. slot from Letterman's company, Worldwide Pants, and was a profit participant in the programs.
SIGN UP for the free Indie Focus movies newsletter >>
"We're owners, not renters," Nina Tassler, CBS' entertainment chief, said Monday at the Television Critics Assn. summer press tour in Beverly Hills.
Tassler added that the "future looks bright" for the network's new late-night tag-team.
"You will get sort of the full effect of the magic that is Stephen," said Tassler, who predicts his signature style will be on full display with the upcoming presidential election. "He is a creative force.... He's the smartest guy in the room; he has a great imagination."
In a panel later Monday, Colbert took the stage to prove the point. It didn't take long before his 30-minute question-and-answer session with reporters turned to Republican presidential hopeful Donald Trump. Colbert said he only hopes the real estate baron and reality show star is still in the race when his show premieres Sept. 8.
"I want to do a joke on Donald Trump so badly, and I have no venue," said the 51-year-old comedian. "Right now I'm just dry-Trumping."
Full coverage: Television Crtitics Association press tour 2015
He later landed another jab at Trump: "Every night before I go to bed, I light a candle and pray that he stays in the race. And I also pray that nobody puts that candle anywhere near his hair."
He insisted the broadcast network, which traditionally is far more cautious than his former employers at Comedy Central, is giving him creative freedom.
"CBS has asked nothing of me other than I fill an hour," said Colbert, whose first guests are slated to be George Clooney and Kendrick Lamar. "They liked the show I used to do and asked, 'Would you mind adding another 120 hours a year?'"
Now, it's just a waiting game to the big launch.
"I'm anxious to get on the air," he said. "I don't like comedy in theory — that's just theology. I want to get to the religion."
Tassler said Colbert will be a strong lead-in for Corden, who took over "The Late Late Show" in March. The British native is particularly adept at getting show clips to go viral.
Photos: The scene at Summer TCA 2015
"It is a big part of how people watch late night," Tassler later told a small group of reporters, referencing the popularity of Corden's Justin Bieber and Tom Hanks bits. "The reality is, people have a lot of different ways to get their comedy, and getting it snack-sized throughout the day is a big part of it."
Tassler said the online interest can sometimes drive viewers to the actual show. Late this month, Corden is scheduled to shoot an entire episode from YouTube Space LA.
If nothing else, the clicks are a source of revenue. Although it might fall short of linear or traditional TV advertising revenues, Tassler noted: "Money is money."
Meanwhile, CBS' entertainment chief also boasted about the network's two days of NFL games, Thursdays and Sundays, while also getting the next Super Bowl.
With their robust ratings and profitability, the NFL games also function as powerful promoters of the network's fall programming.
Tassler also cried "boo, boo, boo, boo, boo" when asked about how she felt about CBS' Emmy showing. The network received 41 prime-time nominations in July — behind only HBO and ABC. But CBS was shut out in the best drama and comedy categories.
"You know, look, I'm bummed. What can I tell you? I think we have phenomenal performances, great writing, great directing," she said.
CBS ended last season as the most-watched network with 11.22 million viewers and finished second among adults ages 18 to 49 — a 4% dip from the previous year for the highly sought after demographic. It enters the fall season with just five new series, including the anticipated launch of "Supergirl," and will leave nearly all its returning shows in their current time slots.
Tassler, in a pivot from previous years, talked about the importance of multi-platform viewing. She used "Scorpion" as an example, noting that roughly 6 million viewers were added when DVR, on-demand and streaming were tallied.
"The backdrop of the new season will once again be a TV business that continues to change at a very rapid pace, and that's fine by us," she said.
The executive was vague about the revenue potential generated from nonlinear platforms, insisting instead that as long as viewers were watching in some fashion, that was all that mattered.
"We want to be wherever people want to watch — doesn't matter if it's on TV, tablet or on a phone, as long as they're watching," she said.
MORE FROM TCA:
'American Horror Story': Lily Rabe to play Aileen Wuornos; Lady Gaga's role revealed
TCA Award winners include 'Empire,' 'Inside Amy Schumer,' 'Better Call Saul,' 'Mad Men'
Reelz CEO is 'darn proud' the network aired Miss USA pageant
---
Get our L.A. Goes Out newsletter, with the week's best events, to help you explore and experience our city.
You may occasionally receive promotional content from the Los Angeles Times.