TV Picks: 'Boxed In,' 'Little Horribles,' 'Chef's Table'
"Boxed In" (IFC.com); "Little Horribles" (YouTube). I am rather in love with these two Web comedies, written, directed and starring Amy York Rubin. "Boxed In," presented under the flag of IFC, is new; "Little Horribles," posted on Rubin's own Barnacle Studios YouTube channel, dates from 2013. Rubin has not been unoccupied in the meantime — she's also directed Maria Bamford and Melinda Hill's Funny or Die Web series "The Program," the Kate McKinnon Above Average Web series "Notary Publix" (my review here) and the YouTube Red series "Foursome," among other things. But it's good to see her in front of a camera, which likes her, as much as she paints herself, or her character, as being bland or even invisible next to prettier people. (She appeared in some episodes of "Looking," the Internet tells me, but her on-screen credits are few.)
"You're not like very femme or very butch," someone tells her in "Fashion," the first of six episodes of "Boxed In." (Context: Rubin is gay.) "You're more like sporty — or business casual. … You know like if Anne Heche and Portia de Rossi had a love child that was into like culottes or something or like a high-heeled Croc. Right in the middle." In the "Little Horribles" episode "Stunning," she becomes a nonentity in the company of a gorgeous writing partner; in "Basketball," she's benched in favor of a mansplaining stranger.
But Rubin is quite charismatic, in her low-key way, with her repertoire of shrugs and grimaces and eye-darts, her sotto voce "Oy." Though her character might waffle a bit — it is a comic tradition to be blown about in the wind, after all — Rubin holds the screen well; she dominates a scene even when she's being ignored within it. She's familiar and real and has that quality, for me at least, of seeming at once like someone I know from TV or the movies — to the extent that I'm nearly sure she has starred in things I've seen that somehow evade my attempts to establish their existence — and someone I know from my own life. Some actors are like that.
"Little Horribles" finds her in a variety of asymmetrical social situations in which intelligence is no guarantee of success. As in "Little Horribles," the episodes — which run a few to several minutes — might be sketches, or short stories, or scenes from a longer film, or a highly compressed episode of "Curb Your Enthusiasm." There are appearances by the great Cynthia Stevenson as Amy's mother in a vacation-set episode in which Amy decimates and attempts to restock a hotel minibar; and Ilana Glazer, also great and of "Broad City," as a colleague whose bored looks are out of sync with her LOL, LMFAO responses to Amy's humorous texts. Dating and exercise and food and space on an airplane are other subjects — not unusual topics, but handled in their own way.
"Boxed In" is more specifically about questions of identity and self-presentation, the roles we assign others and the roles we take on ourselves; it deals in restrictive certainties, promising ambiguities, missed cues and mixed signals. (Explicitly at times: In the episode "Types," which begins with an epigram from Kurt Vonnegut — "We are what we pretend to be, so we must be careful about what we pretend to be" — Amy and a friend categorize women in a bar as old-school lesbians, super-stylized lesbians, trash lesbians, Jewish artsy lesbians and so on. (They are categorized back: "Are those lesbians? I can't tell." "I think they're just sad.") The series finale is a musical tribute to mainstream approval that begins, "Stop! Everyone stop what you're doing! A traditionally attractive female celebrity just made an ambiguous comment about her sexuality!" and moves on to the chorus, "Tell your friends/Spread the news/Someone famous might be gay."
Chef's Table (Netflix). Created, produced and sometimes directed by David Gelb, director of the film "Jiro Dreams of Sushi," this dreamy, creamy, often heartbreakingly beautiful documentary series, which tracks chefs in their natural habitats, returns for a second season. The restaurants tend to rank high on lists that themselves tend to rank high — Michelin and such. The food tends to be fantastically conceived and presented, sensual and intellectual, traditional and innovative and, in the way of modern fine food, to come in small portions, the better to concentrate the mind. And though the women and men responsible are very different in their background, bearing, circumstances and specialties, all think like artists; all are ambitious not just for (or even for) success, but for satisfaction; all seek, each in their own fashion, a kind of spiritual communion through food. Love is a word they all use.
That it is food I'll never taste in restaurants where I will never eat because they are too remote or too expensive is beside the point; we largely understand food is at a distance, anyway — in books, on television, all the things on a menu we forgo for what we finally order. Food is for contemplation as well as tasting. We eat with our eyes, famously sometimes bigger than our stomachs, but also with our minds, our memories. (When profiled Chicago chef Grant Achatz, of Alinea, lost his taste buds as a side effect of treatment for cancer, he kept designing new dishes, drawing pictures and describing the balance of flavors to his collaborators, working from sense memory like the deaf Beethoven. Spoiler alert: It all worked out.)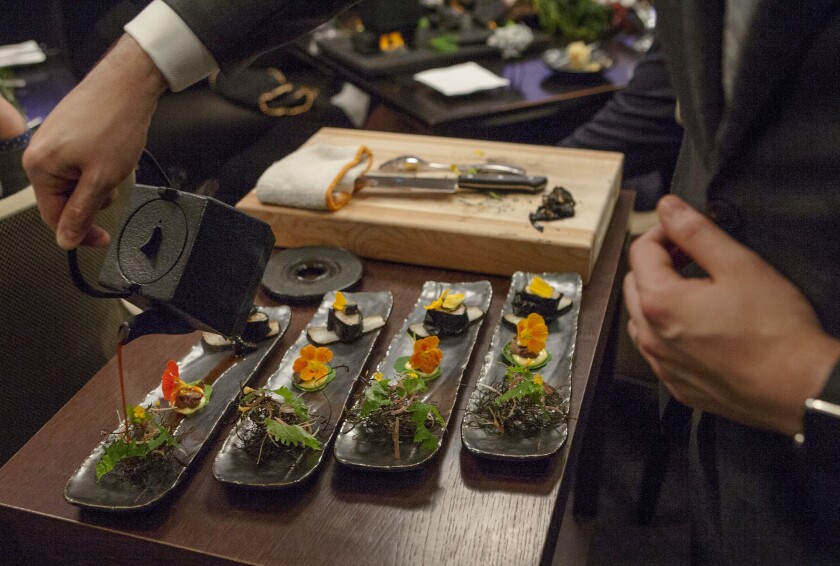 The new season lands in San Francisco (for Dominique Crenn's Atelier Crenn) Chicago (Achatz's Alinea), Mexico City (Enrique Olvera and Pujol), Bangkok (Indian transplant Gaggan Anand's Gaggan), São Paulo (Alex Atala, Dom) and Slovenia (Ana Ros, Hiša Franko). While the settings are disparate, the episodes share certain formal qualities and follow a similar plan in establishing the person in the place, weaving in family history with old photos and films, building an atmospheric narrative that resolves finally into a parade of tenderly photographed dishes. There is tension at times, and even suspense, but never the sense of being rushed.
Food here is inextricable from human relationships, with a person or a people; with the land and the sea and the ingredients they give over; and with the particularity of place, whether city, village, town, countryside, mountainside, forest or jungle. The cinematography and scoring are almost too lovely at times — a little push and you might think yourself in an Apple ad — but you will likely be too emotional to care.
Follow me on Twitter @LATimesTVLloyd
---
Inside the business of entertainment
The Wide Shot brings you news, analysis and insights on everything from streaming wars to production — and what it all means for the future.
You may occasionally receive promotional content from the Los Angeles Times.