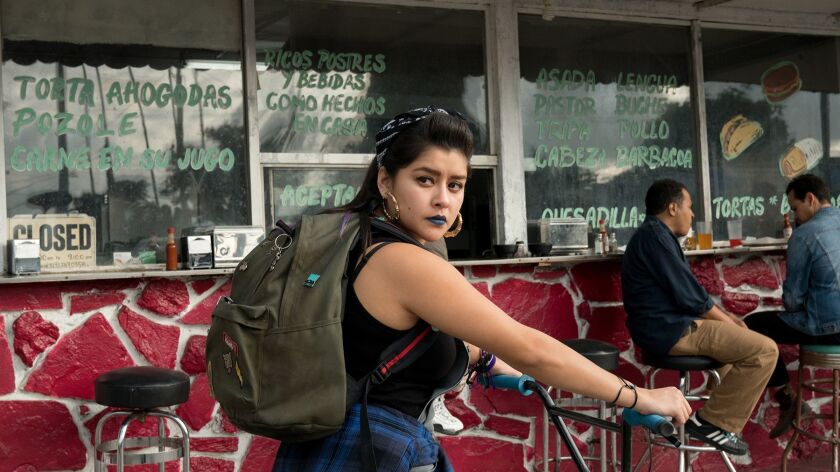 Television Critic
Gentrification and the landscape-altering socioeconomics of modern Los Angeles loom large in "Vida," Starz's half-hour series set in Boyle Heights amid the city's moneyed real-estate boon and affordable housing crisis.
It's a Latinx community on the verge of whitewash, like Silver Lake 20 years ago. But the neurotic hipsters who populate shows such as "You're the Worst" or "Love" haven't taken over yet. Taquerias, lavanderias and old bungalows with wrought-iron fences still outnumber gastropubs, art galleries and flipped remodels with horizontal wood "gentrifences."
"Vida," which premieres Sunday, follows adult sisters Emma (Mishel Prada) and Lyn (Melissa Barrera) as they return home upon news of their mother's untimely death. She left behind the family business, La Chinita bar, the family apartment above the bar, and the entire apartment building.
Now the young women must decide what to do with the debt-ridden, DTLA-adjacent property: Sell to predatory developers or hang on as a tsunami of change looms just over the horizon.
The politics of displacement and gentrification are rendered personal throughout the first six episodes of "Vida," as the Mexican American sisters struggle to readjust to their childhood neighborhood … and each other.
Emma is a Type-A personality with a corporate career and several dress suits back in Chicago. Lyn is a free-spirited vegan who's been living in San Francisco off borrowed money and the credit cards of wealthy boyfriends. But the sisters are bound by blood, history and the place they once called home.
Together they now must contend with the encroaching threat outside the door, and a deeply kept secret of their mother's that has lasting implications.
Part of that secret involves mama's old "roommate," Eddy (Ser Anzoategui). She's the heart and soul of the bar and a trusted figure in the community. Her gender-bending looks and lifestyle don't seem to bother many in the predominately Catholic community, though the same can't be said of how Emma was treated when she lived at home. Her own mother sent her away at an early age when she caught her with another girl. "Hypocrite," says Emma when she discovers her mother was married to Eddy.
Sexual identity, and plenty of graphic sex, are a big part of the picture here, but the more interesting subplots are in "Vida's" depiction of the Boyle Heights resistance. It's culled from real-life events in the Eastside neighborhood, a movement in which local groups have opposed the spread of the predominantly white Arts District.
Marisol (Chelsea Rendon) belongs to such a group. They seek to destroy the "occupation" and end the "Christopher Columbusing" of their neighborhood by any means necessary. Armed with a spray can, she challenges interlopers then posts her confrontations on a resistance blog. She sprays an expletive across the front window of an art studio — "… WHITE ART" — stunning the owner, who shakes his man-bun in disbelief.
The series, run by writer and executive producer Tanya Saracho ("How to Get Away With Murder," "Girls"), revolves entirely around women, be it the sisters, Eddy, Marisol or the older female tenants in the building. Men occupy the periphery as love interests, brothers or dads. It's a perspective that's still scarce on TV — that of Latina lead characters. You can count such series on one hand.
"Vida" isn't perfect. The dialogue is sometimes clunky and the fleshing out of characters feels a bit forced over the first couple of episodes. Its few white characters are either shallow hipsters or idle rich who live in pricey high rises and party at mansions on a hill. But maybe it's a conscious stereotyping: a move that turns the tables on decades of Hispanic misrepresentation on TV. In "Vida," the maid who cleans up after that decadent hilltop party is the only person who makes a lasting impression on Lyn — and the viewer.
The series is a fresh perspective on the Latinx Angeleno experience, and a snapshot of our diverse city as it moves closer to the brink of irrevocable change.
"Developers are buying up property," says Eddy, "and building it back up in a way that no one can afford it." Says Emma: "Somebody's affording it.
'Vida'
Where: Starz and Encore
When: 8:30 p.m. Sunday
Rated: TV-MA (may be unsuitable for children under the age of 17)
ALSO
Starz's 'Vida' puts the spotlight on gentrification and brown queerness in Boyle Heights
'Out!' Boyle Heights activists say white art elites are ruining the neighborhood...but it's complicated
Gentrification pushes up against Boyle Heights — and vice versa
Stories of the Plush Pony: Artist Laura Aguilar's portraits capture a lost era at a working-class lesbian bar
Artist-run space 356 Mission is leaving Boyle Heights. Founders Laura Owens and Wendy Yao explain why
Boyle Heights activists blame the art galleries for gentrification
---