Starz's 'Vida'  puts the spotlight on gentrification and brown queerness in Boyle Heights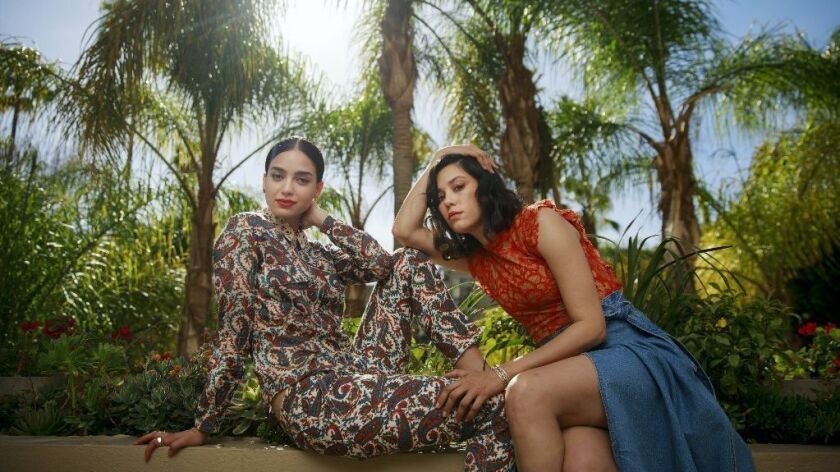 A young Latina activist glares into a camera, her stern expression revealing her anger and determination to fight a gentrification movement she fears has invaded her Eastside community.
"If they think we're going to take this occupation, this recolonization, laying down, they got another thing coming, mi gente. Como dijo Zapata, we're not … kneeling for you," says the woman, named Mari, referring to the words of Emiliano Zapata as a leader of the peasant uprising during the Mexican Revolution.
Her main targets are two Latina sisters, Emma and Lyn, who grew up in the same neighborhood as Mari, left and returned to operate their deceased mother's bar in Boyle Heights. Mari calls the sisters vendidas, White-tinas, Tia Toms — sellouts, white Latinas and Aunt Toms — because they threaten to upend the bar and attract more affluent patrons to the area.
That conflict is at the core of "Vida," Starz's new drama that centers on the simmering controversy of genteification--Latinos gentrifying their own communities. The series, which premieres May 6, opens with Mari (Chelsea Rendon) making her declaration in the vlog that is her vehicle to campaign for her cause.
Emma (Mishel Prada) and Lyn (Melissa Barrera), who were estranged, have to reconcile when their mother dies. Their forced reunion to take over the bar is complicated by their shock when they discover that their mother was a lesbian and had married a woman who inherited a third of the bar.
"Vida" is the first of several shows Starz plans that are based on Spanish-language formats or created by Latinos. The premium network is reaching out to what network honchos say is an underserved population.
It approached Tanya Saracho, a former playwright who had worked on TV series including "How To Get Away With Murder." Said Marta Fernandez, senior vice president of programming at Starz via email: "We loved her writing, loved her voice and after meeting her, knew she could handle the job. We also chose her because we realized that there weren't enough Latina showrunners out there."
Although she was relatively unfamiliar with Los Angeles — she was born in Mexico and started her career in Chicago — she jumped at the chance to depict the intersection of Latino culture, sexuality and politics in Boyle Heights, a part of town that isn't often represented on TV or film.
"We don't get a lot of chances to tell our complicated narratives," she said in a phone interview. "They stick us in the cartel narrative of the good Latina...or they're maids. I feel like progress will be made in the landscape of Latino influence when we get to tell those murky, real close-to-life narratives."
Focused on maintaining authenticity, Saracho assembled a writers room mostly comprised of veteran and inexperienced gay Latinas.
"I just wanted to put together the best Latinx writers," she said. "I didn't care about the level.They have a passion for 'Vida' in a different way, in a higher way."
She set the series in Boyle Heights, where longtime residents of the predominantly Latino community have been at war with developers of new art galleries, cafes and other businesses that they feel are displacing them and ruining the cultural flavor of the area.
Mari's anti-gentrification group, Vigilantes de Los Angeles, resembles in some ways the neighborhood's Defend Boyle Heights activist group, which has been described as radical and militant. She rides her bike around the neighborhood, spray-painting the word "Chipsters" (Chicano hipsters) in red on businesses owned by white or Latino gentrifiers.
The organization has also been accused of vandalizing art galleries, spray painting the words "White art" on walls. The group in earlier statements denied responsibility but added that they felt the vandalism was justified. (Group leaders declined to be interviewed for this piece.)
To capture the atmosphere of the furor, Saracho and her team of writers took in the vibes of the Boyle Heights, Lincoln Heights and Eastside areas — the restaurants, food trucks, street vendors and performers of Mariachi Plaza. They also visited a local mariachi association, residents' homes and local organizations such as Las Fotos Project, a photography organization for teenage girls.
"I'm building this world with a lot of respect, with a lot of admiration," Saracho said. "We try for the images, the sounds to be true to life as much as TV can get true to life."
Barrera ("Club De Cuervos") said the show is especially important now, when Latinos aren't just underrepresented in media, they're constantly otherized and discriminated against. She and Prada said Latinos need to create more realistic and positive images to dispel longstanding stereotypes.
"I grew up watching American television, and there was no show like this," said Barrera, who grew up in Monterrey, Mexico, and got her start in telenovelas. "We would have appreciated having Latinas in the forefront of a TV show to identify with, so it feels like we're doing something very important with this show."
Her character, Lyn, appears to be a bubble-headed beauty who flaunts her sexuality to get what she wants. But as the series progresses, she reveals a loneliness behind her persona.
Emma, on the other, is an uptight, career woman who seems to purposefully distance herself from her roots. But as she grapples with the fate of her mother's bar, her own sexuality and new relationship with her mother's widow, Eddy (Ser Anzoategui), her inner pain is unveiled.
"I wanted to portray these complicated, often fea girls. Ugly girls, because sometimes they don't behave so good, but that's real," Saracho said, adding that she injected herself into every character, as did the other writers of the show.
"I am all of them," she said. "Un tantito here, un tantito there."
That includes her queerness, which is a central element of the drama.
"We don't get to see a lot of brown dykes on TV," she said. "Those are narratives that have not been allowed to us."
Saracho said she is queer in the same way Emma is queer — it's part of her identity, she doesn't hide it, but she also doesn't lead conversations with it.
Other characters on the show include Eddy, played by nonbinary actor Ser Anzoategui, whose rough exterior and kind heart counters stereotypes about "butch" lesbians, and Cruz, (Maria-Elena Laas), a proud and confident lesbian.
"They each have their own circles," Saracho said. "There's a trans girl, a genderqueer boy, and I'm like, 'Yep, that's what it looks like,' but without having to explain it. I just want you to see it and say, 'That is a rich world.' "
She hopes that "Vida" opens the doors for other queer and Latino filmmakers and actors.
"I hope to see more Latino stories on television, not just on a personal level, but for us in the industry," Saracho said. "We shouldn't just exist when a show is attempting to be diverse. We have good stories, and we are worth it."
ALSO
Review: In Starz's new 'Vida,' the politics of gender and gentrification on L.A.'s Eastside get personal
'Out!' Boyle Heights activists say white art elites are ruining the neighborhood...but it's complicated
Gentrification pushes up against Boyle Heights — and vice versa
Stories of the Plush Pony: Artist Laura Aguilar's portraits capture a lost era at a working-class lesbian bar
Artist-run space 356 Mission is leaving Boyle Heights. Founders Laura Owens and Wendy Yao explain why
Boyle Heights activists blame the art galleries for gentrification
alejandra.reyesvelarde@latimes.com
Twitter: @r_valejandra
---
The complete guide to home viewing
Get Screen Gab for everything about the TV shows and streaming movies everyone's talking about.
You may occasionally receive promotional content from the Los Angeles Times.