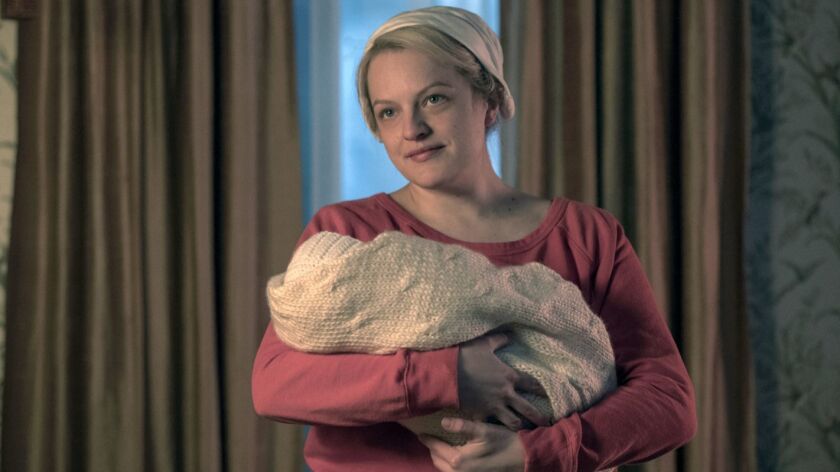 The Writers Guild Awards nominees for TV, new media and news were announced Thursday. And while some familiar names are on hand from the Golden Globes contenders revealed earlier in the day, there were also some coincidental amends made for shows some felt were snubbed.
The drama series category includes FX's "The Americans" as well as Hulu's "The Handmaid's Tale," "Succession" from HBO, AMC's "Better Call Saul" and "The Crown" on Netflix. Of these, only "The Americans" made the list for the Golden Globes, which otherwise tilted more toward newcomers this year such as Amazon's "Homecoming" and BBC America's "Killing Eve."
The WGA Awards' comedy series nominees also deviated from the Hollywood Foreign Press Assn.'s, which left out last year's winners "Atlanta" and the Netflix wrestling series "GLOW." However, in a repeat from the morning's nominations, the Writers Guild also recognized HBO's "Barry," Amazon's "The Marvelous Mrs. Maisel" and "The Good Place" on NBC.
Spanning categories that also included new series, long form original and adapted, the WGA Awards also recognized Ryan Murphy's series "Pose," Netflix's Halloween-ready series "The Haunting of Hill House," HBO's "Sharp Objects" and Hulu's "The Looming Tower." The contenders also include four variety/talk contenders from the late-night universe in the staffs from "Full Frontal With Samantha Bee," "Last Week Tonight With John Oliver," "The Late Show With Stephen Colbert" and "Late Night With Seth Meyers."
A list of the WGA Awards' TV nominees are below. Click here for the full list:
DRAMA SERIES
"The Americans," written by Peter Ackerman, Hilary Bettis, Joshua Brand, Joel Fields, Sarah Nolen, Stephen Schiff, Justin Weinberger, Joe Weisberg, Tracey Scott Wilson; FX Networks
"Better Call Saul," written by Ann Cherkis, Vince Gilligan, Peter Gould, Gennifer Hutchison, Heather Marion, Bob Odenkirk, Thomas Schnauz, Gordon Smith, Alison Tatlock; AMC
"The Crown," written by Tom Edge, Amy Jenkins, Peter Morgan; Netflix
"The Handmaid's Tale," written by Yahlin Chang, Nina Fiore, Dorothy Fortenberry, John Herrera, Lynn Renee Maxcy, Bruce Miller, Kira Snyder, Eric Tuchman; Hulu
"Succession," written by Jesse Armstrong, Simon Blackwell, Jon Brown, Jonathan Glatzer, Anna Jordan, Lucy Prebble, Georgia Pritchett, Tony Roche, Susan Soon He Stanton, Daniel Zelman; HBO
COMEDY SERIES
"Atlanta," written by Ibra Ake, Donald Glover, Stephen Glover, Taofik Kolade, Jamal Olori, Stefani Robinson, Paul Simms; FX Networks
"Barry," written by Alec Berg, Duffy Boudreau, Bill Hader, Emily Heller, Liz Sarnoff, Ben Smith, Sarah Solemani; HBO
"GLOW," written by Liz Flahive, Tara Herrmann, Nick Jones, Jenji Kohan, Carly Mensch, Marquita Robinson, Kim Rosenstock, Sascha Rothchild, Rachel Shukert; Netflix
"The Good Place," written by Megan Amram, Christopher Encell, Kate Gersten, Cord Jefferson, Andrew Law, Joe Mande, Kassia Miller, Dylan Morgan, Matt Murray, Rae Sanni, Daniel Schofield, Michael Schur, Josh Siegal, Jen Statsky, Tyler Staessle; NBC
"The Marvelous Mrs. Maisel," written by Kate Fodor, Noah Gardenswartz, Jen Kirkman, Sheila Lawrence, Daniel Palladino, Amy Sherman Palladino; Prime Video
NEW SERIES
"Barry," written by Alec Berg, Duffy Boudreau, Bill Hader, Emily Heller, Liz Sarnoff, Ben Smith, Sarah Solemani; HBO
"The Haunting of Hill House," written by Meredith Averill, Charise Castro Smith, Mike Flanagan, Jeff Howard, Rebecca Leigh Klingel, Scott Kosar, Liz Phang; Netflix
"Homecoming," written by Micah Bloomberg, Cami Delavigne, Eli Horowitz, Shannon Houston, Eric Simonson, David Wiener; Prime Video
"Pose," written by Steven Canals, Brad Falchuk, Todd Kubrak, Janet Mock, Ryan Murphy, Our Lady J; FX Networks
"Succession," written by Jesse Armstrong, Simon Blackwell, Jon Brown, Jonathan Glatzer, Anna Jordan, Lucy Prebble, Georgia Pritchett, Tony Roche, Susan Soon He Stanton, Daniel Zelman; HBO
LONG FORM ORIGINAL
"Castle Rock," written by Marc Bernardin, Scott Brown, Lila Byock, Mark Lafferty, Sam Shaw, Dustin Thomason, Gina Welch, Vinnie Wilhelm; Hulu
"My Dinner With Hervé," teleplay by Sacha Gervasi, story by Sacha Gervasi and Sean Macaulay; HBO
"Paterno," written by Debora Cahn and John C. Richards; HBO
LONG FORM ADAPTED
"The Assassination of Gianni Versace: American Crime Story," written by Maggie Cohn, Tom Rob Smith; based on the book "Vulgar Favors" by Maureen Orth; FX Networks
"The Looming Tower," written by Bash Doran, Dan Futterman, Alex Gibney, Shannon Houston, Adam Rapp, Ali Selim, Lawrence Wright; based on the book "The Looming Tower" by Lawrence Wright; Hulu
"Maniac," written by Nick Cuse, Cary Joji Fukunaga, Amelia Gray, Danielle Henderson, Mauricio Katz, Patrick Somerville, Caroline Williams; based on the Norwegian television series "Maniac" by Espen PA Lervaag, Håakon Bast Mossige, Kjetil Indregard and Ole Marius Araldsen; Netflix
"Sharp Objects," written by Ariella Blejer, Scott Brown, Vince Calandra, Gillian Flynn, Dawn Kamoche, Alex Metcalf, Marti Noxon, based on the book by Gillian Flynn; HBO
Twitter: @chrisbarton
ALSO:
---