Appreciation: Zsa Zsa Gabor: An independent woman who elevated her fabulous self into the celebrity stratosphere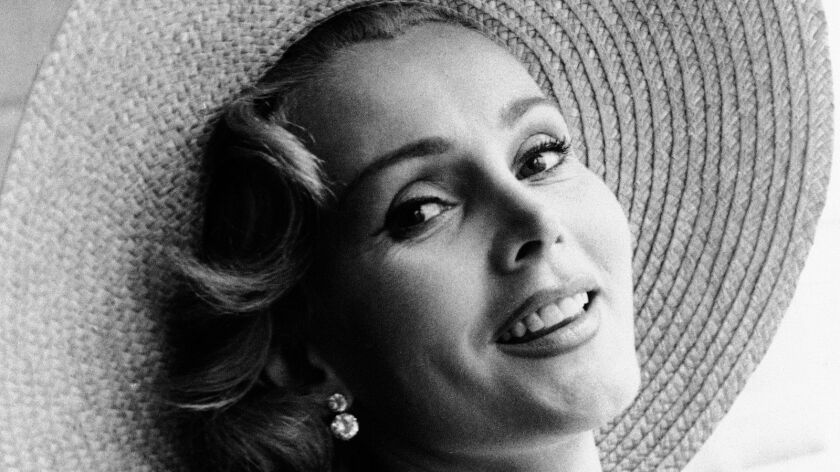 What did Zsa Zsa Gabor do, exactly? She acted a little, got married a lot. Mostly she was a professional presence, the lively public performance of a fabulous self. She was a confectionary sort of person, sugar and cream spiked with something a little stronger, as soft as her name, as hard and bright as diamonds. She put the pop in the pop culture.
Born in Budapest in 1917, Gabor came to America from Hungary in 1941, more or less alongside her older sister, Magda; younger sister Eva, best known now as the star of the '60s sitcom "Green Acres"; and mother Jolie. It will be said many times in wake of her death Sunday at age 99, that the Gabors were the Kardashians of their day, famous for being famous. ("They burst onto the society pages and into the gossip columns so suddenly," friend Merv Griffin recalled, "and with such force, it was as if they'd been dropped out of the sky.") But it is true only to a point.
If they came to America to make their way in high society, they were also refugees — literally, having left Europe in advance of Hitler — hard-working, independent women. Survivors, on a rarefied level. Zsa Zsa liked to let it be known that she paid her way. Scandal, when it touched her, was glancing — apart from a couple of tabloid-covered affairs, her best-known breach of the peace was slapping a Beverly Hills policeman during a stop for a traffic violation. (She denied it, and also called him an Adonis, but was convicted and spent a few days in jail.)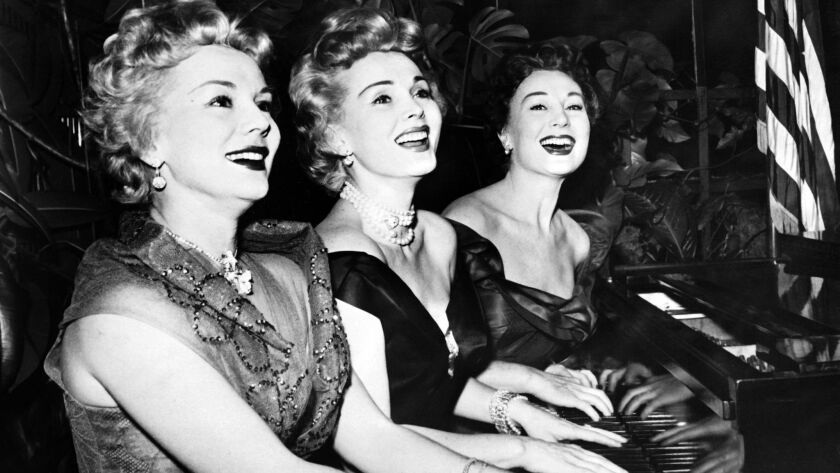 The men in her life, even when as rich and famous as hotelier Conrad Hilton or actor George Sanders, seem like bit players; her multiple marriages — eight or nine by varying counts — may be seen as a search for love, but, as she more than once told it, they were also a flight from boredom.
"Have any of your husbands had prostate problems?" Dame Edna Everage (Australian comedian Barry Humphries) asked her in a 1987 interview. "I never give them enough time," Zsa Zsa replied.
While her sister Eva was a focused actress, Gabor's own film career was hodgepodge and eccentric, including small roles in big movies and big roles in small ones. In 1958, she had a brief part in Orson Welles' Hollywood art-house classic "Touch of Evil" and starred in the sci-fi Amazon film "Queen of Outer Space," in which, surprisingly, she does not play the Queen of Outer Space. Her first major role was for John Huston in 1952's "Moulin Rouge," but the parts were mostly minor after that.
Television was the medium that best conveyed her earthy, approachable glamour. She was a born guest, and a guest star, propulsively talkative, blithely self-revealing, casually aphoristic. Appearing opposite Jack Paar, Johnny Carson, David Frost, Arsenio Hall, Phil Donahue or Joan Rivers, on Bob Hope specials, Dean Martin roasts, "The Hollywood Squares" or "Laugh-In," "Batman" or "It's Garry Shandling's Show," she filled up the small screen with glitter and light, the promise of fun, and the hint of some parallel world where her sort of rare bird was the norm.
How self-aware was this presentation, how much a creature and how much a creation? Who can say? The bottle-blond bombshells of her era were smarter than they let on — and as sex bombs go, Gabor could seem surprisingly proper, even chaste. I imagine that a life in modern reality television would hold no interest for her. She could sound at times like the product of cushioned privilege, a step removed from reality. But she never played dumb.
Follow Robert Lloyd on Twitter @LATimesTVLloyd
ALSO
Zsa Zsa Gabor dies at 99; she had glamour and husbands in spades
---
The complete guide to home viewing
Get Screen Gab for weekly recommendations, analysis, interviews and irreverent discussion of the TV and streaming movies everyone's talking about.
You may occasionally receive promotional content from the Los Angeles Times.