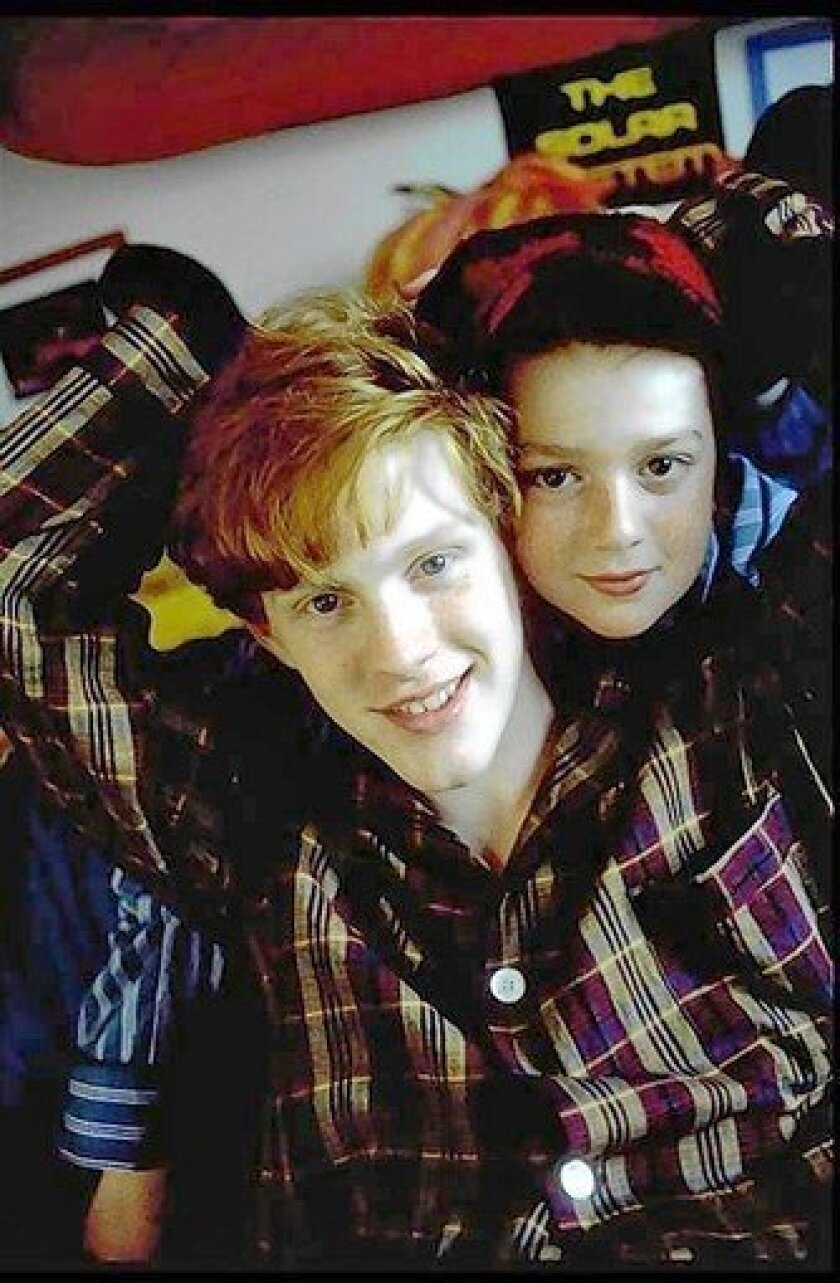 Tuesday night at the Orpheum Theatre in downtown Los Angeles, as the grand finale of the Cinefamily's "Everything Is Festival," a tribe will gather to celebrate a children's show that was something more than a children's show. "The Adventures of Pete & Pete," which ran on Nickelodeon in assorted sizes from 1989 to 1996, told the story of two brothers named Pete living in a town called Wellsville with their father and their mother and the metal plate in their mother's head, which got its own credit in the opening titles — as did Petunia, the younger Pete's dancing-girl tattoo.
By rendering the ordinary events of childhood and adolescence — staying up late, hating shop class, discovering music, ruing the end of summer — as the epic stuff of legend, the series captured the actual depth and intensity of feeling that comes with being young. Poignant without being sentimental, oddball but never merely weird, the show was made to be "funny, sad, strange and beautiful," according to its creators, Will McRobb and Chris Viscardi, and was.
"Were we trying to hit something deeper?" McRobb asked over lunch recently, near where he and Viscardi are helping develop a new Nickelodeon cartoon, "Sanjay & Craig," about a boy and a snake. "I think the answer is that we were going for something personal, I was writing for the guy I was when I was 11 — who grew up to be the guy who wrote the shows."
"I was writing from the perspective of the kid I wanted to be," said Viscardi, "which is probably why I wrote more episodes about little Pete and his friends, the most gung-ho, legendary over-the-top adventures I did not have growing up but certainly wish that I had."
Tuesday's event is the third public reunion since November. The first, a panel discussion held at the Cinefamily's Silent Movie Theater headquarters, sold out in hours; the next — back-to-back shows in February at New York's Bowery Ballroom — in minutes.
Along with the creators, primary director Katherine Dieckmann and the main cast — including Michael Maronna (Big Pete, red-haired, wide-eyed, dreamy), Daniel Tamberelli (Little Pete, compact, intense, given to original imprecations on the order of "Suck chowder, jerkwood" and "No comment, grungeback"), Alison Fanelli (Ellen, Big Pete's best friend) and Toby Huss (Artie, the Strongest Man in the World) — the New York show featured a unique performance by the Blowholes, the band Little Pete formed in the episode "A Hard Day's Pete" and whose members also included indie musicians Syd Straw (known to the ranks as math teacher Miss Fingerwood) and Marshall Crenshaw.
The Orpheum show will match if not better that, with the first live appearance by Polaris (three-quarters of the Connecticut-based Miracle Legion), a group that lived only within the series, performing its theme and other soundtrack songs. They have been rehearsing in a warehouse district in Providence, R.I., where (as leader Mark Mulcahy told McRobb), they were approached by the "scabby punk band" rehearsing next door and nervously asked, "Are you guys a Polaris cover band?"
"We are Polaris," they were able to say.
An indie spirit suffused the production. The show, which filmed in northern New Jersey in all kinds of weather ("That there were four seasons was important to us," said McRobb), was visually splendid, shot with the considered delicacy of contemporary independent film — and with some of the same personnel.
"You'd go to a Hal Hartley movie and you'd see Martin Donovan or Damien Young — one call to their agent and they're on the set a few days later," said McRobb. "It was that era in New York and those guys were at that point in their career — even Steve Buscemi would drive out from Brooklyn to New Jersey for a couple days and do it." Iggy Pop, Debbie Harry, Janeane Garofalo, Chris Elliott, Bebe Neuwirth, J.K. Simmons, Juliana Hatfield and William Hickey were among the show's guest players.
"A lot of the directors had never done anything before," said Viscardi, "and they were trying to cram everything they could into that episode; they were really approaching it as making a 30-minute movie. It was exhausting for the crew to approach every episode that way, but the directors absolutely loved it. And they all brought their own style; creativity just poured out of them."
"And we felt like the show was going to get canceled every week," said McRobb, "so we put everything we had into every show."
What they put in has come back to them at these reunion shows. "These fans were just, like, trembling to shake our hands and tell us what it meant to them," said Viscardi. "It was very humbling. I think that's why everybody in the cast wanted to do another show, because I think for the first time they really got a sense of how deeply it touched some kids — 15, 20 years later, and they're still really affected by it."
"We were writing the show at about the age that the audience who come to these reunions are now, in their mid- to late 20s," said McRobb, "and we were entering a period in our lives at that time of intense nostalgia for our childhoods. And we were really as reverent about it as we could be, along with our late twentysomething personalities — you blend those together, you got 'Pete and Pete.'"
"I went to Comic-Con for the first time four years ago," said Viscardi, "and it was overwhelming in all good ways. I kept thinking, 'Yeah, we can laugh at these folks for dressing up and being silly, but we should all work on something whose fan base is this passionate. And then I realized, we did. After both the L.A. and New York shows, a kid came up to me and pulled up his sleeve and there was a Petunia tattoo on his arm. That's when you know you've really connected with somebody, when they've emblazoned something in their skin for the rest of their lives."
---