Reviews: IFC goes wacky with 'Comedy Bang! Bang!' and 'Bunk'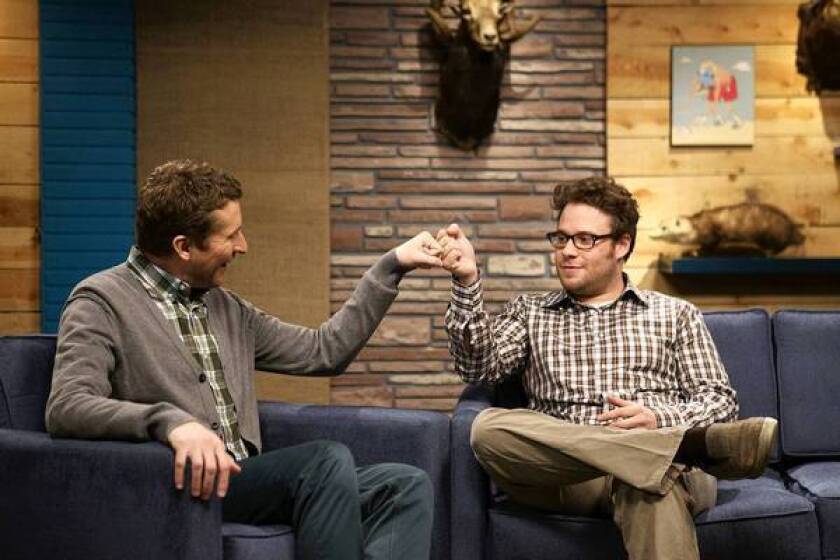 IFC, with the mission creep common to basic cable, has been slowly and for some time becoming a comedy network.
Its initials stand for Independent Film Channel, and it does still show movies (though not particularly independent ones), but its aspirations are nowadays more defined by its flagship original, "Portlandia,"and reruns of "Arrested Development." Factoring out the flicks, Comedy Central and Adult Swim are the networks it now most resembles.
Friday brings two amusing new series to its lineup: "Comedy Bang! Bang!," which is kind of like a talk show, and "Bunk," which is kind of like a game show. Both exist within that contemporary aesthetic space defined by mockumentary comedies at one end and reality television at the other, where the raw and the cooked-up, the scripted and ad-libbed, are so tightly interwoven that it scarcely matters which is which — even as the ambiguity remains essential to the flavor.
"Comedy Bang! Bang!" is adapted from host Scott Aukerman's podcast of the same name (formerly "Comedy Death-Ray"), but its sensibility owes more to "Between Two Ferns," the Zach Galifianakis-hosted Internet mock-talk show Aukerman produced and directed. Galifianakis is also the new show's first guest; Amy Poehler, Seth Rogen, Paul Rudd and the ubiquitous Jon Hamm, are among those to come. It also smacks of Adult Swim's influential "Space Ghost Coast to Coast" — bandless "bandleader" Reggie Watts holds down the Zorak chair — with its repertoire of uncomfortable long pauses, missed cues and juxtapositions of the violent and the bland.
Though it does not seem to be entirely scripted, it is (as opposed to the rambling podcast) highly organized and includes invented guests alongside those appearing as not necessarily reliable versions of themselves.
This exchange strikes me as representative of its gestalt:
Galifianakis, apropos of nothing: "My brother likes his shirts like he likes his movies — triple X."
Aukerman: "That's interesting about your brother. That story you just told."
Where "Comedy Bang! Bang!" is dust-dry, "Bunk" does its work with a kind of idiot enthusiasm. Hosted by the tall and barefoot Kurt Braunohler (who often works alongside Kristen Schaal, of"Bob's Burgers"and"30 Rock"), it is a panel show in which a revolving trio of professional funny people "compete in a series of inane and ridiculous challenges" that are, essentially, improv games. (The "winner," chosen by Braunohler, receives a supposedly self-selected, unlikely prize: super powers, an alibi from a priest, swapping lives with a baby.)
The contestants are asked to "shame a puppy" ("You will never know how delicious chocolate is," round-winner Kumail Nanijani tells his), to invent new road signs and superstitions, to draw arms (expressing "fear") on the Venus de Milo and to design a family-friendly substitute for the genitals on Michelangelo's "David." Their solutions tend to be more silly than clever, but silliness has its place, after all, and its recreational uses. (It's what sets Jimmy Fallon's show apart.) So come and get it.
---
'Comedy Bang! Bang!'
Where: IFC
When: 10 p.m. Friday
Rating: TV-14 (may be unsuitable for children under the age of 14)
'Bunk'
Where: IFC
When: 10:30 p.m. Friday
Rating: TV-14 (may be unsuitable for children under the age of 14)
---
Inside the business of entertainment
The Wide Shot brings you news, analysis and insights on everything from streaming wars to production — and what it all means for the future.
You may occasionally receive promotional content from the Los Angeles Times.