Late night: Colbert makes Vince Gilligan continue 'Breaking Bad'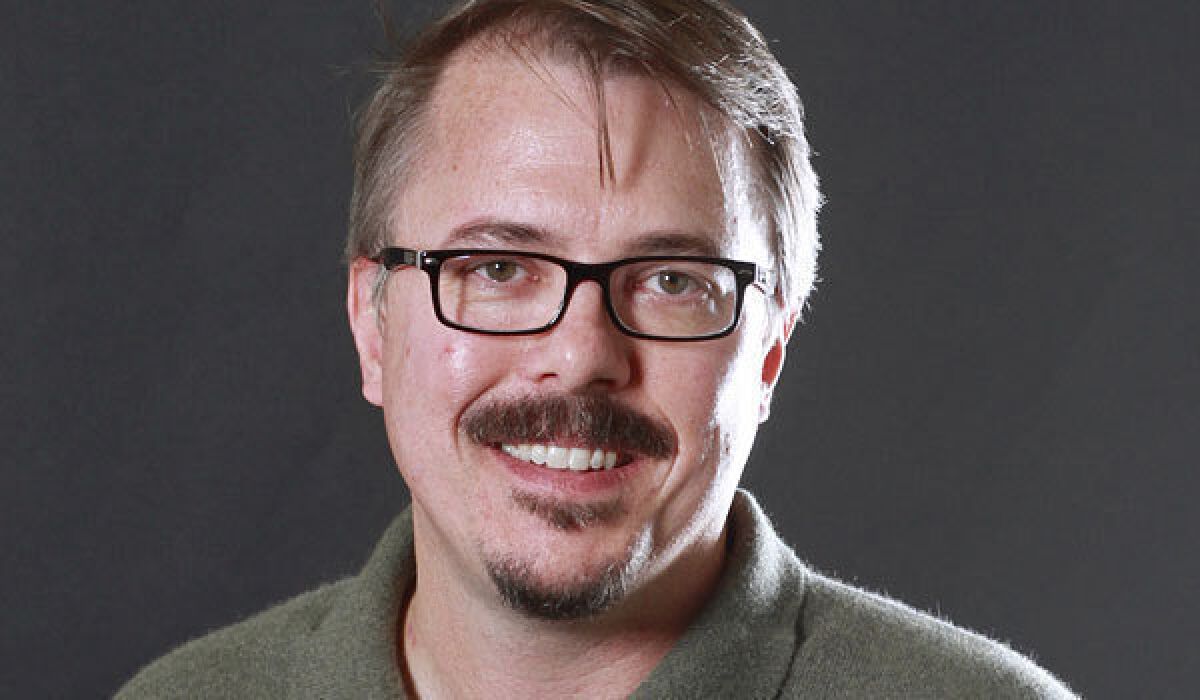 Basking in the post-finale glory, "Breaking Bad" creator Vince Gilligan was the guest on "The Colbert Report" on Monday night. But instead of heaping praise on the writer, Stephen Colbert begged, needled and, in the end, forced him to continue the series.
In case you've been living in a self-imposed media blackout, the 6-year-old series came to a rousing conclusion on AMC on Sunday night to huge ratings and very satisfied fans. It's the rare case of a series going out on top. But according to Colbert, Gilligan should have kept going.
"Why stop?" he asked. "Are you allergic to cash?"
As Colbert points out, 10.3 million people watched the finale. "It blew the doors off all your previous ratings," he said.
PHOTOS: 'Breaking Bad' scenes | Every season, every episode
Gilligan pointed out that the show's first episode, which aired back in January of 2008, had under a million viewers, crushed by "a big football game" that aired at the same time.
Nice guy that he is, Gilligan did reveal that he hasn't necessarily washed himself clean of the criminal world of Walter White. Colbert wondered if it would be hard to get Walter out of his head.
"You know what? Yeah, I think it will be hard," Gilligan said. "He's a tough guy to have stuck in your head 24 hours a day, six years straight."
But lest you think that Gilligan runs the risk of becoming an amoral monster (a la Mr. White), he did tell Colbert: "There were times it became extremely difficult to root for him, because he became kind of a bastard a lot of times."
PHOTOS: Before they were actors on 'Breaking Bad'
He also revealed what he thought the most evil thing Walt did in the show's entire run. He said it came in the final season, in the episode "Ozymandias."
"It's when Walt said to Jesse, with apparent glee, 'I watched Jane die'," Gilligan said. Jane, played by Krysten Ritter, was Jesse's drug-abusing girlfriend who choked to death on her own vomit during Season 2, and Walt watched and did nothing to help her.
Gilligan went on to compare the end of "Breaking Bad" to both "Lord of the Rings" and "The Searchers."
PHOTOS: 'Breaking Bad's' darkest moments [spoilers]
"I think he's coming back for his Precious, and his Precious is the blue meth and the lab, the lab he constructed," Gilligan said.
He also explained the ending of "The Searchers," in which John Wayne saves Natalie Wood's character from the Comanches, and takes her home.
"We stole from the best," Gilligan said.
But it wasn't the interview that Colbert had in mind when he brought Gilligan out from Los Angeles. In the show's signoff, Colbert reveals that he has chained the writer in the basement of the show with one task -- to write more "Breaking Bad."
Will Gilligan be able to think his way away from his most strident fans? We'll see.
ALSO:
'The Simpsons' to kill off character this season
Critic's Notebook: Last thoughts on 'Breaking Bad'
'Breaking Bad' finale sends out Walter White with a ratings record
PHOTOS, VIDEOS & MORE:
PHOTOS: Real places, fake characters: TV's bars and eateries
CRITICS' PICKS: What to watch, where to go, what to eat
Violence in TV shows
Get our L.A. Goes Out newsletter, with the week's best events, to help you explore and experience our city.
You may occasionally receive promotional content from the Los Angeles Times.