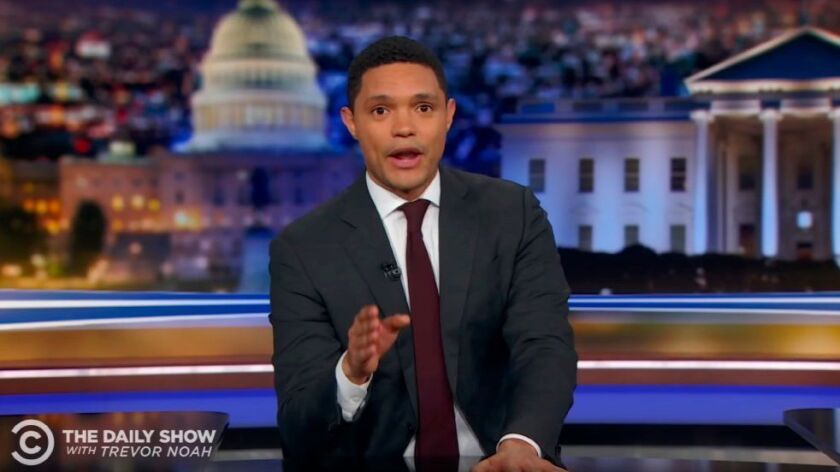 Late-night TV hosts Stephen Colbert, Trevor Noah and Jimmy Kimmel found plenty of punch lines in President Trump's State of the Union address Tuesday night, cracking jokes about Trump's rhetoric on immigration, his demand for a border wall and the length of his speech.
"This was not a particularly good speech, but what it lacked in quality it made up in length," Colbert said of the 82-minute speech.
"His speech was longer than his tie," Kimmel said. "His speech was so long Robert Mueller handed down another five indictments."
From discussing the booming economy to the growth of American jobs since he took office, Trump's monologue emphasized the need for a wall along the border, the "crisis" of immigration and the "savage" MS-13 gang.
"The real theme of his speech was that we're all going to die … Mexican style," joked Noah on Comedy Central's "The Daily Show.".
Over on ABC's "Jimmy Kimmel Live," the host weighed in: "They had a lot of exciting new ideas. For instance, did you know Mexicans are scary and we need to build a wall to keep them away?"
To Trump's claim that tolerance for illegal immigration is cruel, Colbert on CBS' "Late Show" mockingly responded: "I mean, not kids-in-cages cruel, but still pretty bad," he said in a Trump-like voice.
"The point is … tolerance is cruelty, war is peace, freedom is slavery, and I weigh 239 pounds," Colbert said, impersonating Trump.
"But before you feel dejected, my friends," Noah sardonically said to his viewers, "the president has some good news: You see, these problems can all go away for the low, low price of $5.7 billion."
Without all the "forced applause breaks," Kimmel said, Trump's speech would've run much shorter.
"There was so much clapping because [Republicans] know [Trump] is going to go home and is going to watch it back and he's going to see who was clapping and who was not," he said, pointing to audience members.
---