From the Archives: Our first review of 'American Idol': This show could use a gong for everyone
In 2002, Times pop music critic Robert Hilburn reviewed "American Idol" about a month into the show's run. Here is what he had to say:
The biggest misconception about "American Idol" is that industry pros would actually spend 90 seconds listening to these mostly drab performers -- as the judges do on the hit TV show that mixes the Cinderella aspects of "Star Search" with the humiliation of "Survivor."
Knowing how impatient label talent scouts are, my guess is that few of the six singers still in the competition would get more than 30 seconds at the microphone before being shown the door -- assuming they would even get in the door.
See more of Entertainment's top stories on Facebook >>
The fact that these six are supposed to be the best of 10,000 original candidates is sobering. Then again, the show -- with its glitz and inbred dumbness -- is hardly designed to find the next Kurt Cobain or Ryan Adams.
This is another show made for "Star Search" hero Sam Harris.
The second misconception about "American Idol" is that Simon Cowell, the British record executive who is one of the three judges, is going out of his way to be mean to the contestants so that he serves as the show's equivalent of "Weakest Link" hostess Anne Robinson.
FULL COVERAGE: Saying farewell to 'American Idol'
In truth, Cowell comes across as the only judge who consistently makes sense. If anything, he's restrained in his remarks.
When he called Floridian entry Christina Christian "good" after her pedestrian version of Bill Withers' "Ain't No Sunshine" on last week's show, you wondered if he really didn't mean "tolerable."
Then again, you were thankful for anything even approaching the rational after hearing cheerleader Paula Abdul gush about Christian: "What a job! I think this is your golden moment. From top to bottom ... you are a star."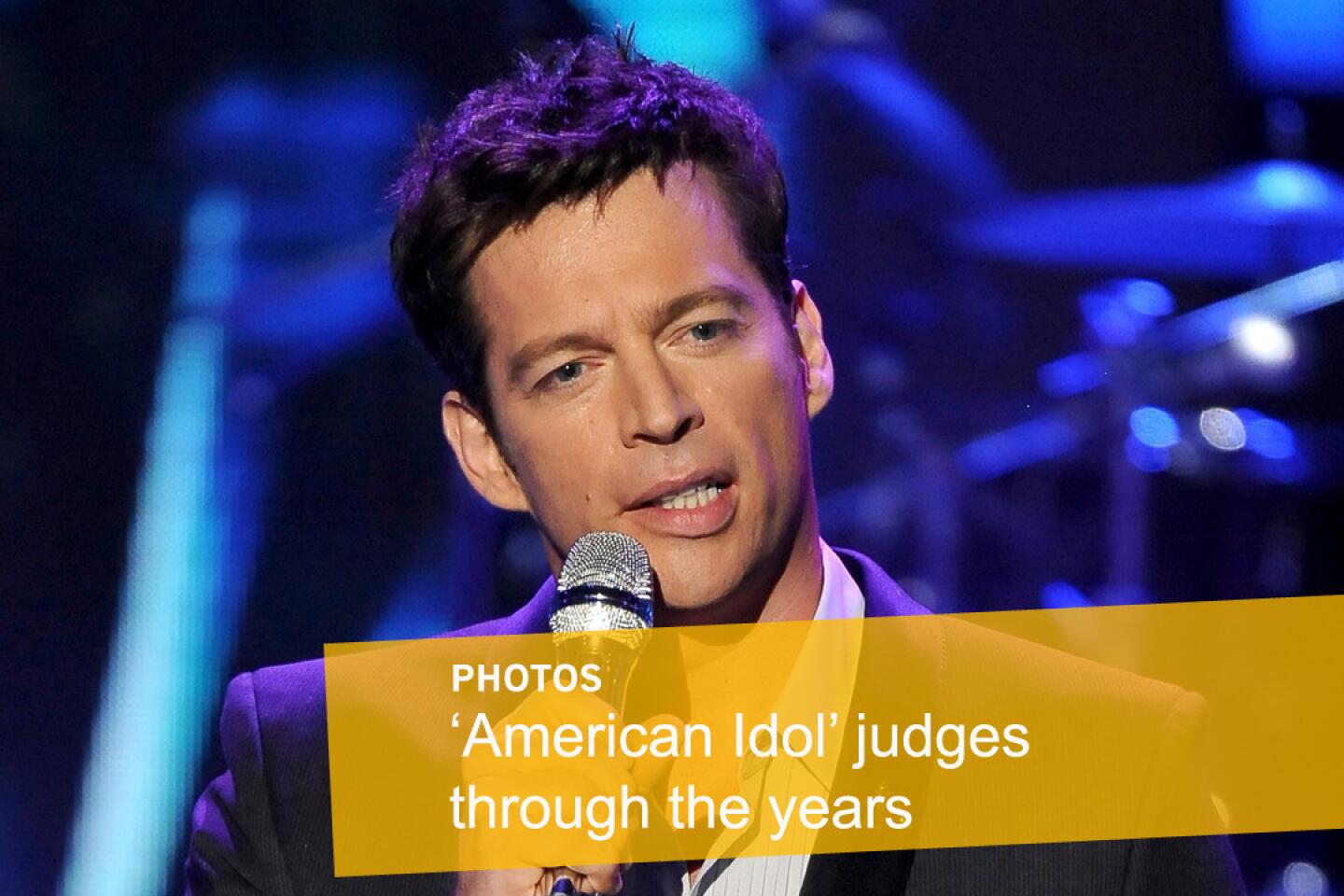 Singer Harry Connick Jr., who acted as a mentor for the top 5 finalists in 2010, joined the judging panel of "American Idol" in 2014. Connick, along with Jennifer Lopez and Keith Urban, will make up the panel on Season 15 of "American Idol."
(Frank Micelotta / Associated Press)
Pop star Jennifer Lopez joined the judging panel for Season 10, left two years later, then returned for Season 13 and will be there to see the show through its final season.
(Genaro Molina / Los Angeles Times)
Keith Urban first appeared on "Idol" during the Season 8 finale to perform his 2009 hit "Kiss a Girl" as a duet with eventual winner Kris Allen.

As a judge, the country star's quiet and kind demeanor has made him a fan favorite. He'll be a judge for the show's final season.
(Evan Agostini / Invision / Associated Press)
Years on the show: 12.
Musician-producer Randy Jackson was the longest-lasting judge on the show, ending his run after Season 12.
(Allen J. Schaben / Los Angeles Times)
Years on the show: 1.

While Carey was initially excited to land a seat at the judges' table, "Idol" fans criticized her bland presence and on-screen spats with Nicki Minaj.
(Michael Buckner / Getty Images For BET)
Years on the show: 1.

Nicki Minaj stood out on the panel for her flamboyant personality -- and for her ongoing feud with fellow judge Mariah Carey, which sometimes overshadowed the talent competition.

The rapper-singer also flaired tempers by showing up nearly 15 minutes late to "Idol's" first live show of the season.
(Ben Gabbe / Getty Images)
Years on the show: 8.
Paula Abdul chose to leave the top-rated show rather than accept a salary below her asking price. Though Abdul later reunited with Simon Cowell briefly on "X Factor," she was overhauled in yet another reality judge shakeup.
(Barbara Davidson / Los Angeles Times)
Years on the show: 2.
Kara DioGuardi joined the judges' panel in Season 8 of the Fox juggernaut. She departed from the show in 2010 when her contract wasn't renewed, leaving Randy Jackson as the only returning judge for the following season.
(Chris Pizzello / Associated Press)
Years on the show: 1.
Ellen DeGeneres, second from left, was brought on for the ninth season as a replacement for Paula Abdul, who exited in a contract dispute. Some fans enjoyed DeGeneres' lighthearted quips, but she was attacked by many "Idol" fans for having no background in the music industry and adding little to the show. She announced her departure in July 2010.
(Michael Becker / Associated Press)
Guest judge: Lionel Richie was a guest judge during Season 2.
(Allen J. Schaben / Los Angeles Times)
Guest judge: Filmmaker Quentin Tarantino was on the show as a mentor and guest judge in Season 3.
(Spencer Weiner / Los Angeles Times )
Guest judge: "How I Met Your Mother" star and Tony Awards host Neil Patrick Harris sat at the judges' table to help weigh in on the singers during the Season 9 Dallas auditions. Harris was part of a slew of guest judges who included Victoria Beckham, Mary J. Blige, Shania Twain, Joe Jonas and Kelly Clarkson.
(Kirk McKoy / Los Angeles Times)
Mary J. Blige was a guest judge during the selection phase of Season 9 in Los Angeles.
(Kirk McKoy / Los Angeles Times)
What did you expect from a pop star who has exhibited no real talent herself other than video choreography?
Randy Jackson, the third judge, is also prone to overstatement.
"Excellent, excellent, excellent, excellent," he raved after watching R.J. Helton smother the life out of Stevie Wonder's "Superstition."
Abdul, the former Laker Girl, exclaimed: "That's what I've been waiting for!"
Only Cowell seemed to notice that Helton's performance is as sleazy as a Chippendale stripper's.
"Boy band, yes," he said sternly. "American Idol," no."
To really liven things up next season, the show's producers ought to borrow a feature from the old "Gong Show," which allowed judges to bring a merciful halt to a performance at any point.
The devilish stroke would be to have a panel of critics with the ability to kick off judges who make inane remarks. That way we could have two contests each week -- contestants and judges.
Here's how it might have worked with a couple of the contestants on last week's episode of "American Idol." The idea is, you get two "gongs" before being booted off the panel.
First, Nikki McKibbin, a bright-eyed Kelly Osbourne look-alike, performs a painfully derivative version of the Pat Benatar hit "Heartbreaker." The judges remarks are condensed.
Randy's evaluation: "Love the outfit, love the hair.... "
Paula: "It's a great thing from week to week how you keep finding your own path.... Congratulations."
Simon: "We are trying to find the best undiscovered talent in America. That was a copycat performance -- not good enough and you will not win the show."
Verdict: You have to feel sorry for Jackson because you know this veteran musician and record producer must have to spend half his life telling people he's not part of the Jackson 5 family. Still, he's halfway to a gong with that answer. Only Abdul, however, gets officially gonged here. McKibbin, by the way, would be out the door in 15 seconds.
Second, Ryan Starr with a punkette performance of Donna Summer's "Last Dance."
Jackson: "It wasn't exciting to me. I thought you performed it better than you sang it."
Abdul: "I disagree completely. You picked a song you were allowed to enjoy yourself and have fun. It was in your range, and everyone enjoyed it. Good for you."
Cowell: "What we are looking for is originality. If you survive this week, and I think you probably will, you've got to make up your mind what you want to be, because I haven't got a clue."
Verdict: Right on, Simon! He was wrong, though. Starr, quite rightly, was the one voted off the show last week. Abdul is gonged again, so she's history on the show. Jackson gets gonged here for offering any praise, meaning one more gong and he's out, too.
The most striking talent on last week's show by far was Amanda Gray, a 23-year-old former Miss Atlanta whose rendition of Gladys Knight's "If I Were Your Woman," had moments of genuine style.
Even then, Abdul seemed out of control with her comments: "You just keep pole-vaulting higher and higher and higher. Good for you."
Simon, again, wins the round by pointing out that if viewers don't vote Gray the winner in the contest, it's madness.
The winner will be chosen Sept. 3-4.
Wake me when it's over.
MORE:
'American Idol': The slow fade of an instant hit
'American Idol': Where even the losers were winners
From the Archives: Some 'American Idol' thoughts from Simon Cowell in 2002
Get our L.A. Goes Out newsletter, with the week's best events, to help you explore and experience our city.
You may occasionally receive promotional content from the Los Angeles Times.